January 25, 2019
This Christmas was a very food filled one. We did our normal stocking exchange with my family. My sister stepped up with some really interesting vegan treats, though it was mostly because she was in search of a special sauce that she ordered online. Since she had to pay for shipping she got a bunch of other yummy treats. So here we go, starting with the special sauce that started it all.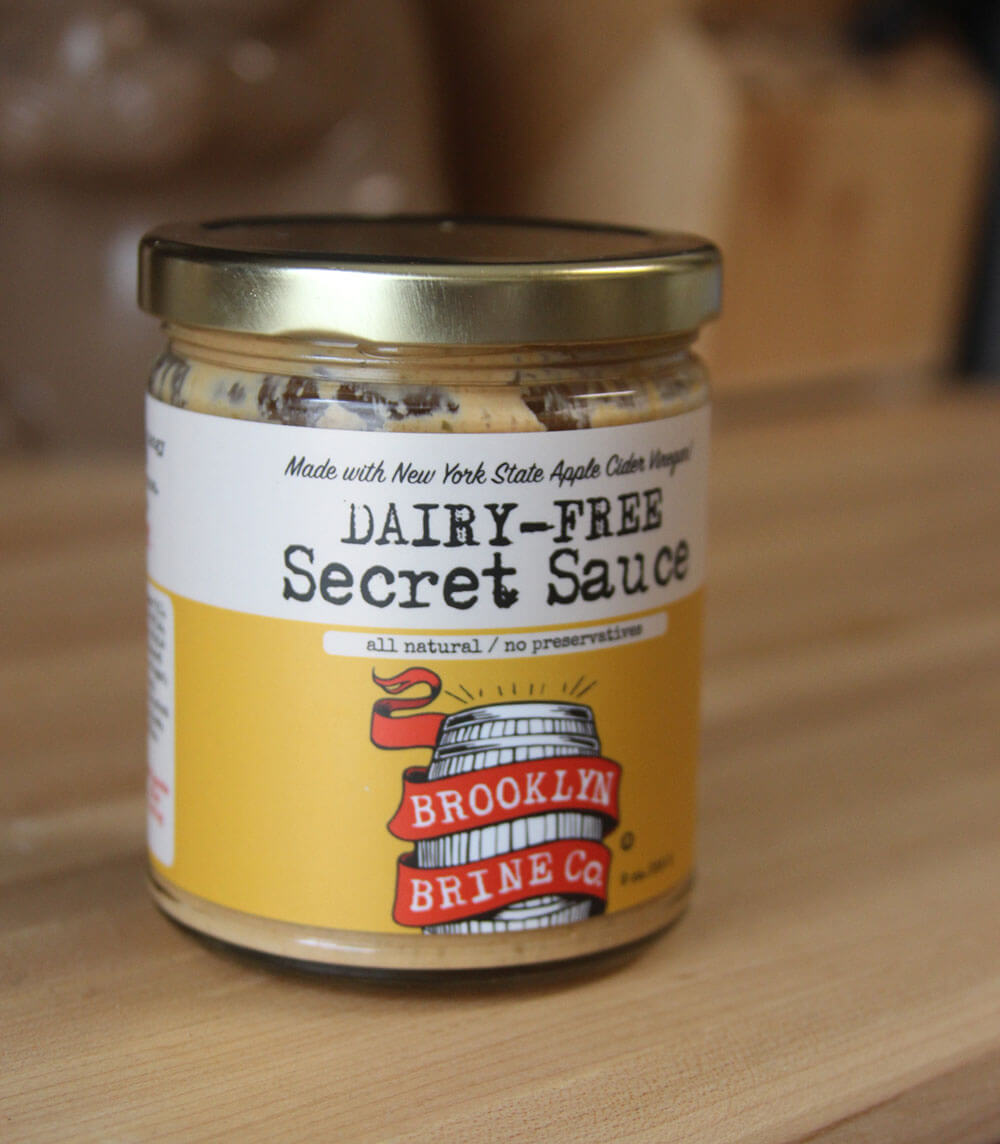 My sister explained that she went out of her way to get this special sauce. Her fiancé bought it for himself and couldn't stop thinking about it when it ran out. So they naturally had to get the vegan sauce for the vegans that they knew.
It is made by Brooklyn Brine, an artisinal pickling company based in Brooklyn (oh you didn't already guess that?) The company also has a Pickle Shack, which appears to be all vegan as well.
This special sauce is a briney mayo. It really is great. It is paired perfectly with a very mild flavored sandwich/burger. Why mild? So you can taste the sauce of course! I only point that out since so many fake meats and burgers tend to power up flavors, which can over power the sauce. If I visit my sister anytime soon, I might try and take a trip out to the Pickle Shack, and buy another jar.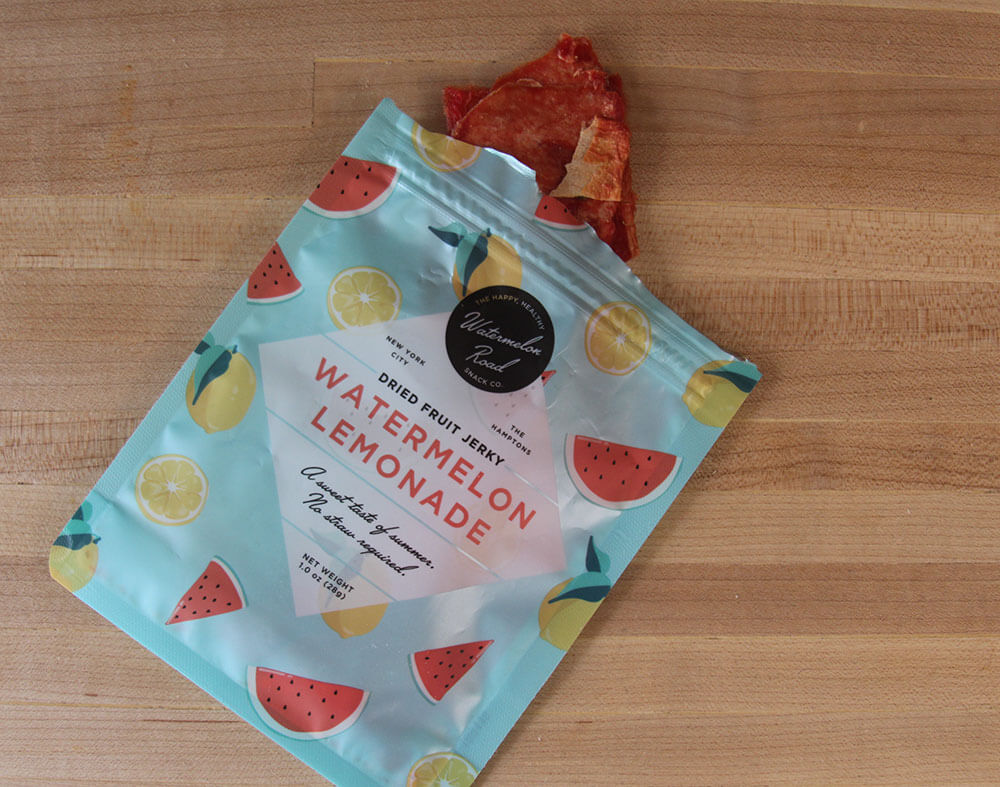 I think "Santa" put this in Jon's stocking. I am also pretty sure "santa" is the same sister who got the special sauce. This is a pretty straight forward product, thinly sliced watermelon, dehydrated into jerky. The company has super cute packing and different flavors.
Once we opened the package, all the slices were stuck to each other. We had to chip them off or each other, eating them in small crumbles. This kind-of ruined the jerky effect sadly. My husband and I both agreed, there was something weird about watermelon jerky. I guess our favorite thing is the juiciness of watermelon?
Overall it WAS really yummy. I might consider getting this again if it wasn't for the clumping. In the end though little Wolfie got his little hands on a piece and pretty much ate all of it. I feel like that is the story of my meals anymore.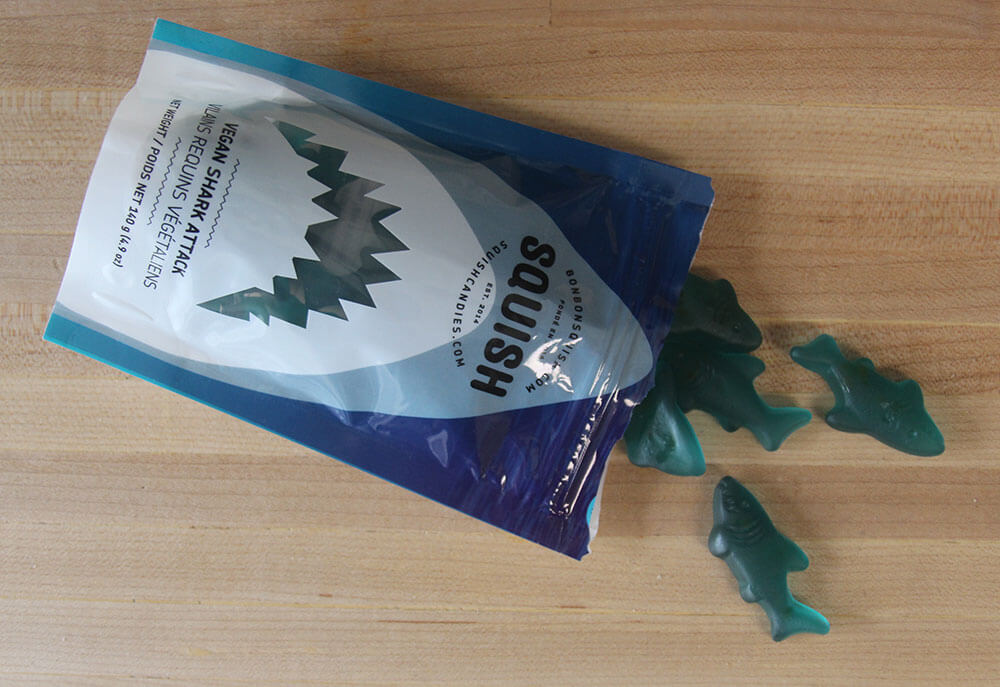 Squish is an artisan gummy candy chain. They have a whole line of vegan candy, and there are so many flavors I would love to try, maple syrup, matcha, prosecco, cold brew, and a magical unicorn mix?! Too many options! I am sure my sister was overwhelmed in the store trying to pick out a flavor for me, but she went with the shark berries (blueberries, raspberry, and black currant.)
I forgot how much I love gummy snacks. These had just enough tooth and was bursting with flavors. Each gummy is fairly big, so you can savor the flavor for longer. Naturally it is pretty darn sweet, and this berry flavor balance it out with it's tartness. Kind-of a good thing that the company is based in Canada, because otherwise I would go broke buying them.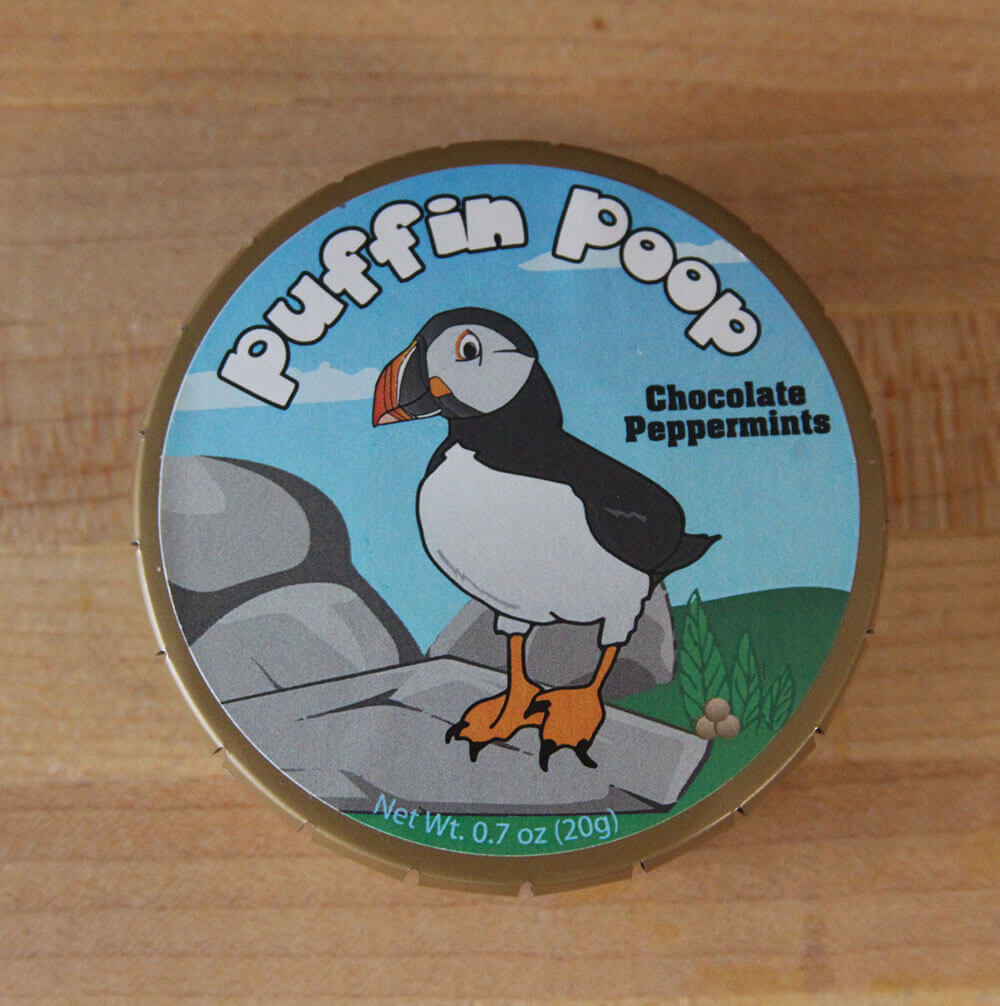 Puffin Poop
This was from what I assume was my Mother, as a little gift from their trip to Maine. I cannot for the life of me find an online vendor for these mints, but they are produced by a company that makes novelty mints. They have a whole line of "poop mints." These were tasty, and the tin was pretty clever. You press the middle and it pops open, though closing kind of sucked. It was just too cute not to share.
If you do find the package, I would say buy them! The flavor of the mint is chocolate mint which was a nice little twist. Like most mints it uses an artificial sweetener, so take what you want about it's labeling of being vegan if you would get these.
Any fun new snacks you'd like to share?