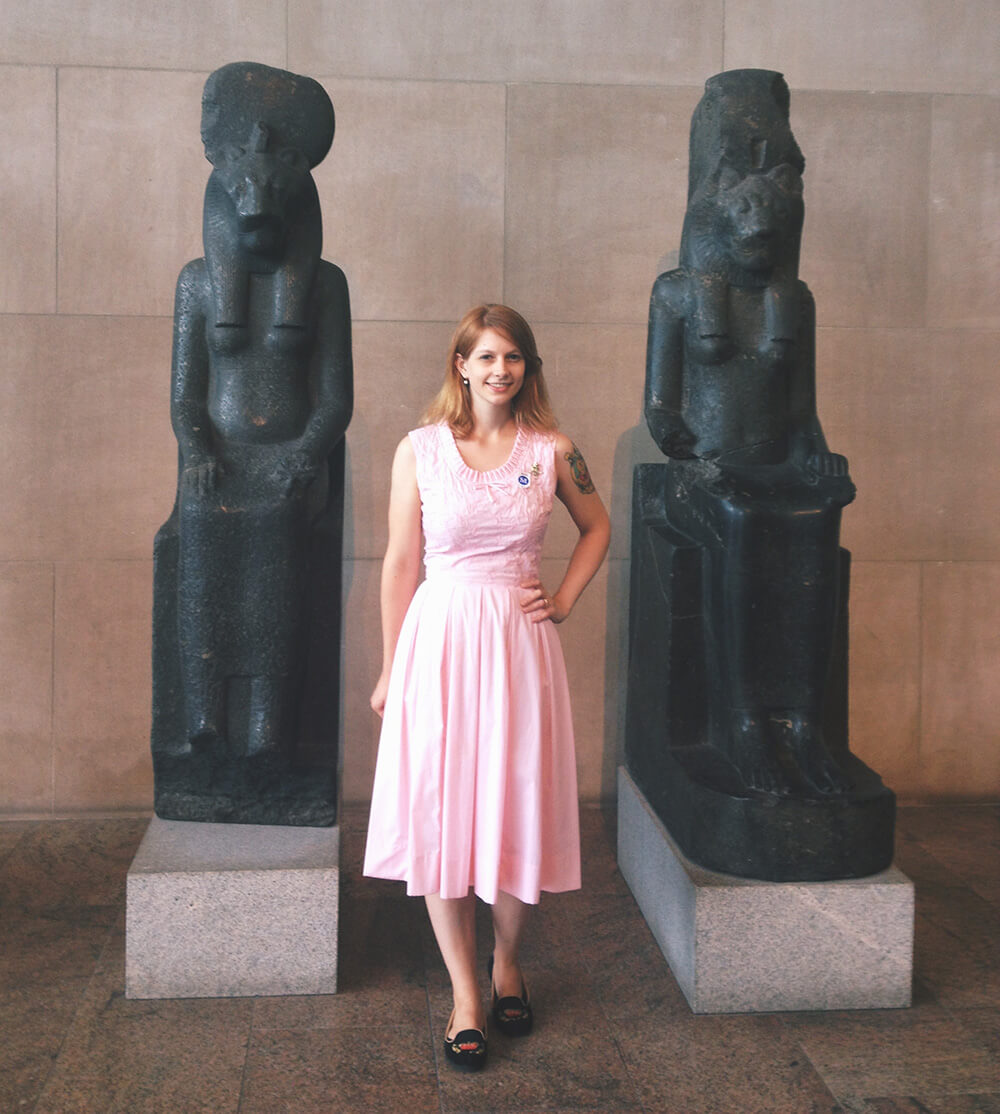 Dress: Amanda's Closet | Earrings: Gifted | Pin: Vintage | Sticker: MetMuseum | Shoes: Modcloth
This weekend I went into New York City with my Mom to go see the Charles James exhibit. I have to say this is one of the few specialty exhibits that really blew me away. Although I like clothing and fashion, I don't actually know much history. So I didn't know anything about Charles James. I only really wanted to go because of a video segment on Gertie's Blog for Better Sewing. I'm glad I went because there was so many cool things about the exhibit.
I thought the trip would be a great excuse to wear my new dress that I got from Amanda's instagram shop from Junebugs and Georgia Peaches. (My dress is in the bottom right corner of this photo) I didn't go too crazy since I knew I would be walking around a lot and the temperatures change often in museums.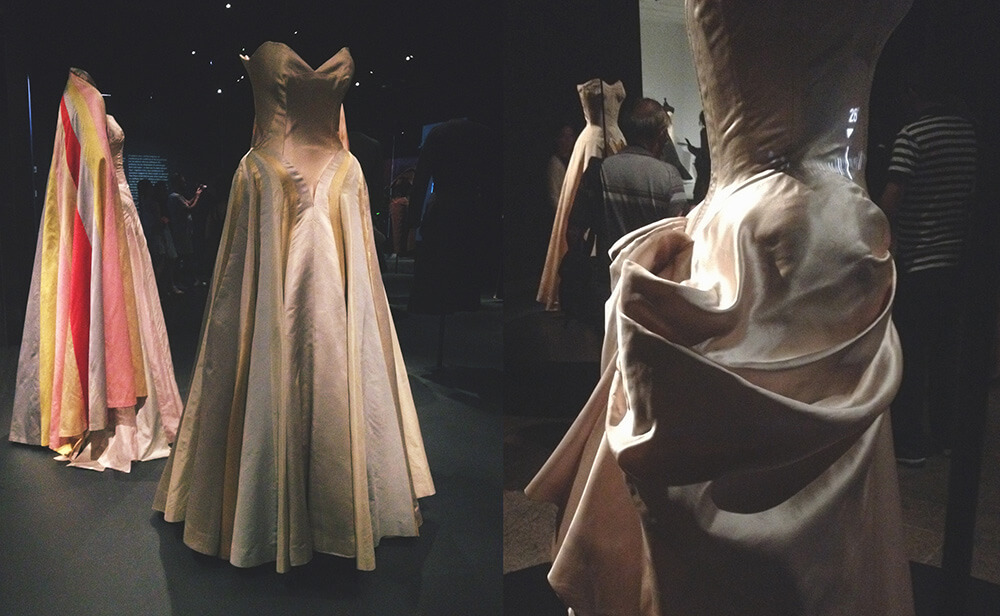 Well, it seems a little sad writing about this exhibit since it is only open for a few more days. But the exhibit was so awesome I would recommend to try and rush out this weekend to get the last glimpse of it. What really impressed me about James' clothing was the pattern making. Having clothing on display would be very hard to show the complexity of the patterns.
So there were several videos that showed animated videos of how the patterns were pieced. There were also video projectors on the ball gowns shining a light pinpointing certain areas being shown in the video (seen on the dress to the right). The videos went into detail about how the skirts were structured to keep them up, including circular boning, and double zippers.
Because of these videos, I think a lot of guys would of enjoyed the exhibit. Anyone who likes building things would of found it interesting how the outfits were constructed. Especially the ball gowns as there were some interesting details about how they kept their shape. It really gives you more respect for the red carpet. Well, at least the poofy dresses being worn.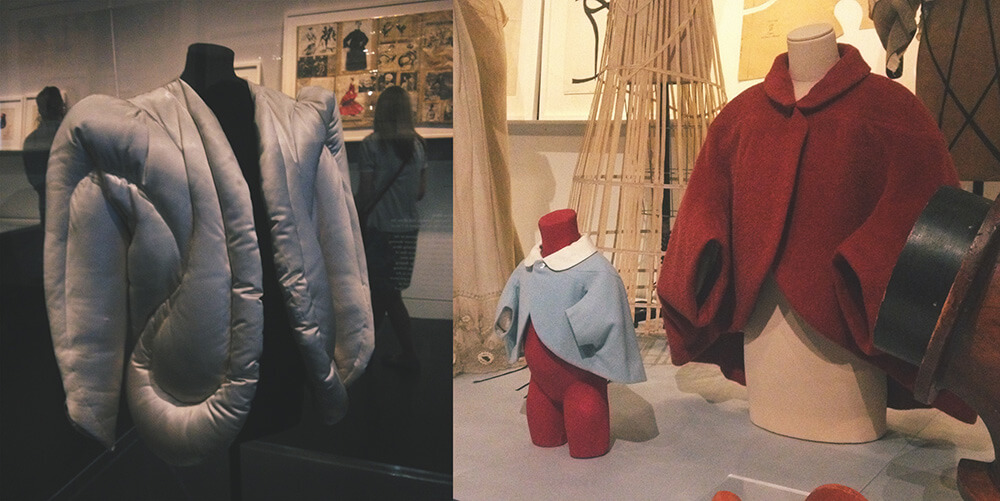 Even if you have never cut a pattern out before, it is obvious that nothing is cut normally. For example, that cute little blue children's coat have a very odd structure. Normally there would be a piece in the back, two for the front, and two pieces for the arms. But when viewed up close, you will see that the front and back panels are in the same pieces as the sleeves.
The jacket on the left was a piece designed as reaction to the large fur coats that were in fashion. This big puffy coat is credited for jump starting the movement for sculptural fashion and down jackets. Which is a shame because I love sculptural fashion but hate puffy coats.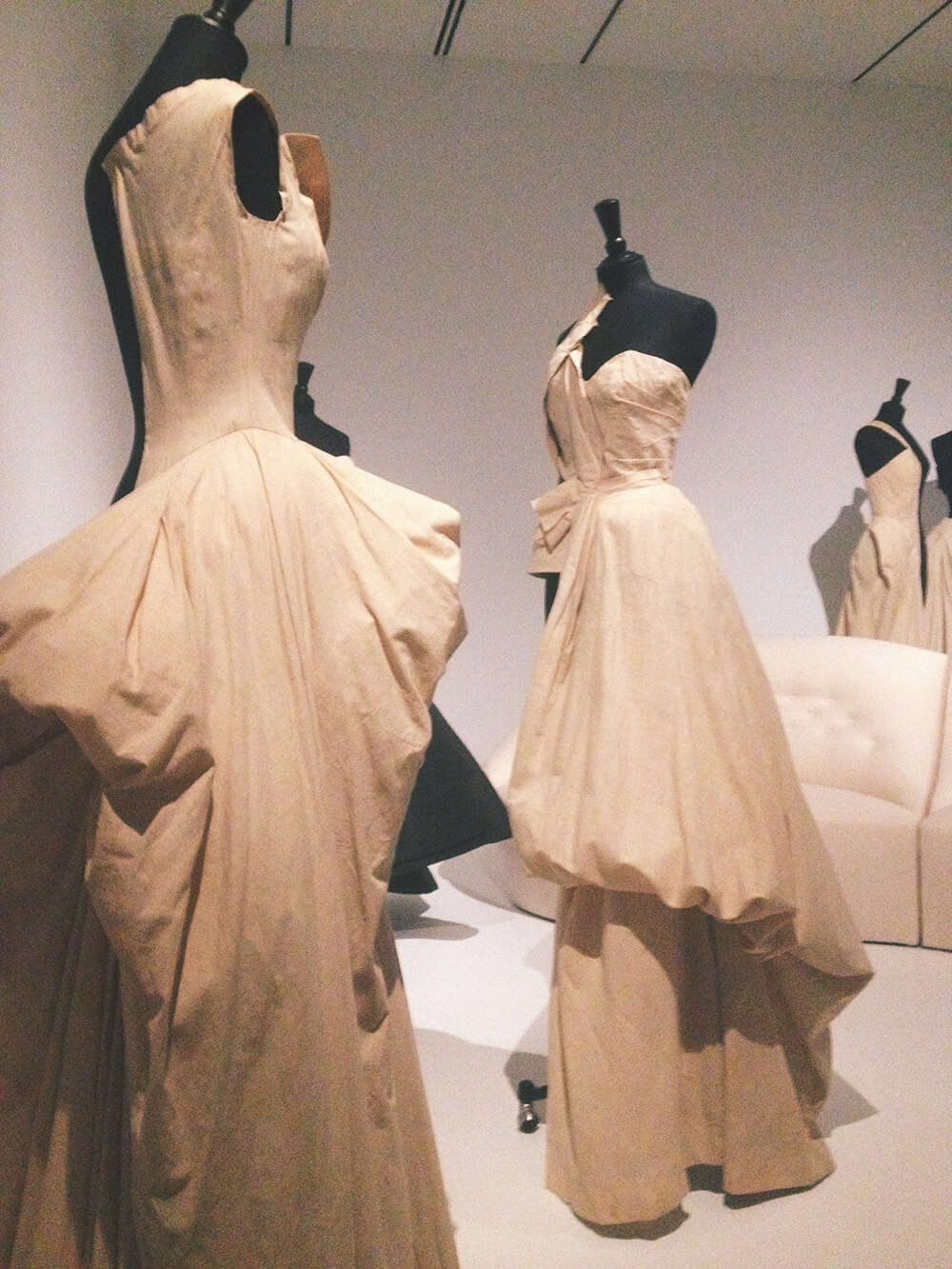 Another way to show the complexity of the patterns was to show the muslin mock ups. These are dresses that are made to test out a pattern to see how it will fit a person, without cutting into good fabric. Even more interesting was that James would times use both black and white muslin in the mockups to see how certain color concepts would work.
Unfortunately my only complaint would be the lighting, especially in the ball gown room. The lighting was very dark and moody, making it hard to see what some of the colors of the dresses. Some colors lit up okay, such as bright red, blacks, and green. Other colors looked beige and ivory when they were really peaches, pinks, and yellows. And because of the lighting my photos sucked. But, luckily many dresses were featured on the website.
So my favorites? Well this Emerald Green Ball Gown was amazing. Basically that little flippy skirt on the bottom is just an oddly shaped circle. Since the shape of circle doesn't match up with the shape of the skirt, it creates it own shape. If anyone does sewing it is just a giant flounce ruffle. And for those who don't sew, it is the same technique used to give peplums their shape.
He also had an amazing silk dressing gown made completely out of silk ribbons. James treated each ribbon as if it was a pattern piece, so the dress looks like striped fabric, but they are all individual pieces! You can tell since the lines get small around the waist, and larger for the skirt. And I also got to see the Clover Leaf Dress, which is probably his most famous dress. There was also an altered version with black lace, which was really complicated.
If you can't make it to the exhibit, I highly recommend checking out the online catalogue on the Metropolitan Museum of Art's website. I left a link to all his scanned and photographed pieces, including drawings, patterns, and dresses.