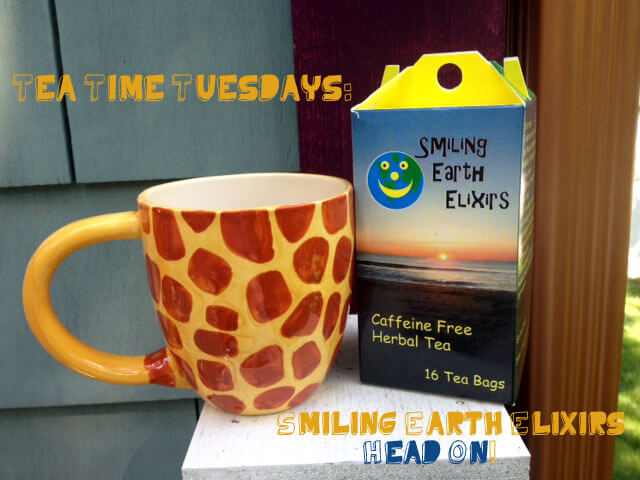 I visited Asbury Fresh again recently, and while I was there I got to take more time walking around the tents and noticed a lovely place named "Smiling Earth Elixirs" and the owner of the company, Stefanie was manning the table.
Stefanie had a bunch of home brews lining the table in little cardboard packaging, everything looked so nice that I couldn't help but inquire! She had a bunch of different teas to try, and of course I chose the blueberry one. Blueberry has been very 'in' in many ways for the last few years and it hadn't really hit me until I was of drinking age (but when was that? The mystery of my age continues…) when I had a blueberry beer in the Summer time.
I had the little trial of the "Head On!" and immediately fell in love. Stefanie had it iced because of the heat during the day and I wasn't sure I would have wanted to have it any other way until I made it for myself at home! Now I only say that because it's been so warm out, it being Summer and all, but I am positive that this tea tastes just as nice when warm. The thing that I found so interesting about this tea was that it specifically says to let it steep for 10-15 minutes, which is way longer than I am used to! I think the longest time I have ever spent letting the tea bag sit in the mug was about 5 minutes. This timing definitely lets all of the flavor.
It's extremely light and refreshing with an almost buttery texture in your mouth. I have had a lot of bitter teas recently, so for this one to have a completely different feel was almost enlightening. It's also caffeine free which is great for when you want something to drink that won't make you jittery. Sometimes I am not content with water and have almost cut out juices and sodas completely – so this is a wonderful substitute! I've had it sweetened and un-sweetened now, and I like it both ways. It was sweetened with German rock sugar, which doesn't over power the flavor with sweetness, but brings out the initial hidden sweetness in the tea itself. It was still delicious, but not necessary to enjoy the tea.
I think the part I liked most (aside from the tea itself…obviously!) was being able to drink it out of my NEW cute giraffe mug!! It was gifted to me by my friend Cristina a week or so ago. Giraffes are one of my favorite animals, and when she saw this mug on her vacation to North Carolina she picked it up for me! Seriously one of the sweetest surprises I've ever received. Just look at that little cutie in there. Thanks, Cristina!
You can check out Stefanie's website here , visit her blog or stop by her booth at several Farmer's Markets (also featured on her website)!