March 2, 2016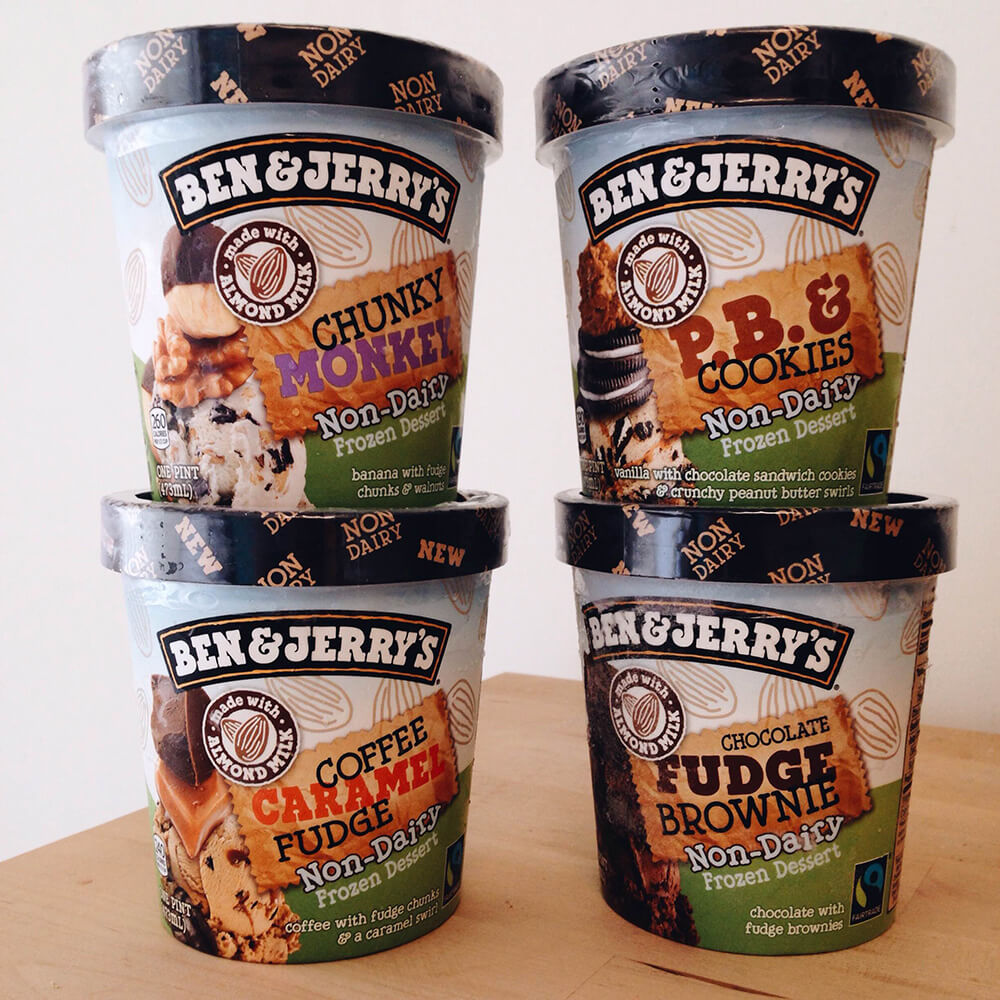 I don't need to do much introducing for these snacks. Most vegans are excited about the new additions to the Ben & Jerry ice cream line. I remember when first going vegan I made exceptions for Ben & Jerry ice cream, eventually phasing them out. Although I am pretty happy with vegan ice cream, my favorite being almond dream gelato, nothing filled the void of Ben & Jerry's. They're always packed with nuts, chocolate chunks, and various swirls. Yes, there are some vegan ice cream flavors that have these components, but they are always so sparse. So when Ben & Jerry's made the announcement that they would be making a dairy-free ice cream I was so excited, even more so when they said they released them in February!
But I tried not to get too excited. A lot of vegan treats debut on the west coast in the United States. The company also released a statement saying they are working on distribution, and that people might not see them in their grocery stores until spring. Well, I was a little shocked when I saw these bad boys sitting in the freezer section of my local Wegman's. I without hesitation, bought all four flavors and tried them out. The price is expensive- $5 a pint. I guess that is only a dollar or 50 cents more than most vegan ice cream flavors, but I would love to get a cheaper version that has more than one flavor (I'm looking at your Trader Joe's! I want more than just cherry chocolate chip please!) But the good news is that everyone is excited. The cashier said she was excited about the new Ben & Jerry's dairy free ice cream, which put me in a good mood. Then I brought my friend Justine over to grab a few for herself, and a new cashier was saying how pumped she was for the new almond ice cream. I really hope that maybe this will let other ice cream companies figure out there is a market for soy, almond, and coconut based ice cream.
So what is the verdict? Well, my husband said that he could still tell it wasn't real ice cream. But I think it is still fairly comparable to most ice cream bought in an supermarket. Although he said that, he definitely thinks this is his favorite vegan ice cream yet. I love that they are adding more calories to almond milk ice creams since most vegan ice cream brands tend to be diet friendly. Although I like those types of ice creams sometimes I want something properly decadent.
I am a little confused why Chunky Monkey is the popular favorite ice cream. The banana flavor is really good, and it has great nut and chocolate chunks. But I am a little clueless, can't I just make nice cream and toss in nuts and chocolate chips? Okay I know that isn't the same, but it is a whole lot cheaper. It was good but it was never my favorite Ben & Jerry's flavor to begin with.
Chocolate Fudge Brownie was good, but I think my least favorite from the bunch. If this was the only vegan ice cream available I wouldn't be complaining. The flavors are all there, but the texture isn't the same as the other flavors. You need to let the ice cream sit for a while to thaw and soften up. If Ben & Jerry's fix this problem, I would say it is my third favorite flavor.
So which was my husband's favorite? Hands down the P.B. & Cookies. The ice cream is vanilla ice cream with oreo like cookie crumble and peanut butter swirl. The peanut butter flavor is really strong, which is good for any PB fans. At first I thought it was a weird mix, but then again I remember hearing so many people say that they like to put peanut butter on their oreos, so why not?
My personal favorite is the Coffee Caramel Fudge. I love the combination of coffee and caramel, but isn't something I can do much now that I am vegan. Most caramel syrups in coffee shops aren't vegan, so this ice cream really gives me my fix. The chocolate chunks make me think that they are chocolate covered coffee beans, but I know they aren't.
I was planning on posting this review earlier but I had a bad pint of Chocolate Fudge Brownie. The pint was filled fully, so I wrote to the company. And guess what? I got a letter back that wasn't a stock answer. They explained what happened, and gave me a coupon for another ice cream. I am pretty excited about the great customer service. So clearly our favorites are Coffee Caramel Fudge and P.B. & Cookies. I know I will be using my free ice cream pint on the Coffee Caramel Fudge for myself.