September 8, 2017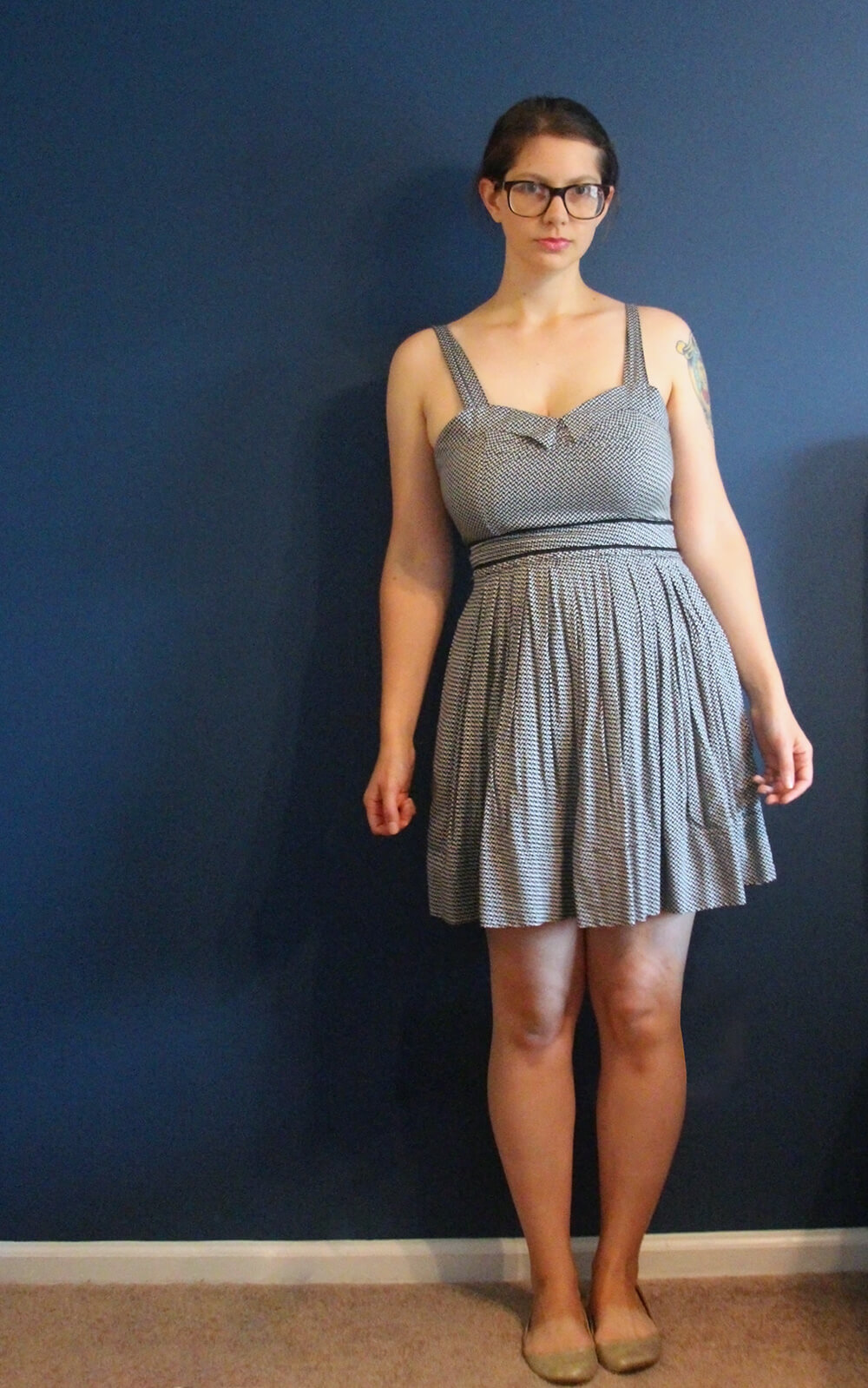 BB Cream: tarte | Lips: Baby Bat Beauty | Dress: Ezra via Modcloth | Shoes: Target
TRIGGER WARNING: body image talk
I am finally understanding why Mom's have a bad rep for their fashion choices. I have a closet full of clothing and most are unwearable. Lots are too small, some have too many lacy holes and buttons for Wolfie to grab at, and some are too fancy. Some I've just haven't even tried on yet.
One Bad Mother released an episode about self care. They talked about as you and your children grow, what constitutes self care changes. I know when Wolfie was born showering, eating, and sleeping were on the top of the self care list. But now that things are becoming more manageable, taking care of my self image is surfacing. I want to make an appointment to get contacts again, I want to dye my hair a fun color, and I want to wear clothing that are nice.
But my body isn't the same. It is slightly different from when I was pregnant- I knew I would be totally different each day getting a little bigger and bigger, and suddenly go through the most extreme weight loss. Wanna loose 10 pounds in ONE DAY?! EASY! Just have a baby!** But now I don't know what will happen with this body. I am MOSTLY "normal" but I do have a little more fat on my tummy. My boobs are very much so bigger, but what will they look like after I stop breastfeeding? When will I stop?! So how the heck am I suppose to buy new clothing if I have no idea what size to get?
**Disclaimer may take 9 months to create baby
If I go shopping I like to go alone, and I found out quickly, it is hard to shop with a little nugget. I can't just pick clothing off the rack and know they will fit. My body has changed so much. My boobs are bigger, my hips are wider, I mean I've been living in t-shirts and leggings this summer. And I literally have no shorts or pants that fit (that aren't for working out that is.) So I've been thinking about doing a subscription clothing service. While searching around I saw that Dia & Co has a Try-Day Friday fashion challenge- try to go outside your comfort zone.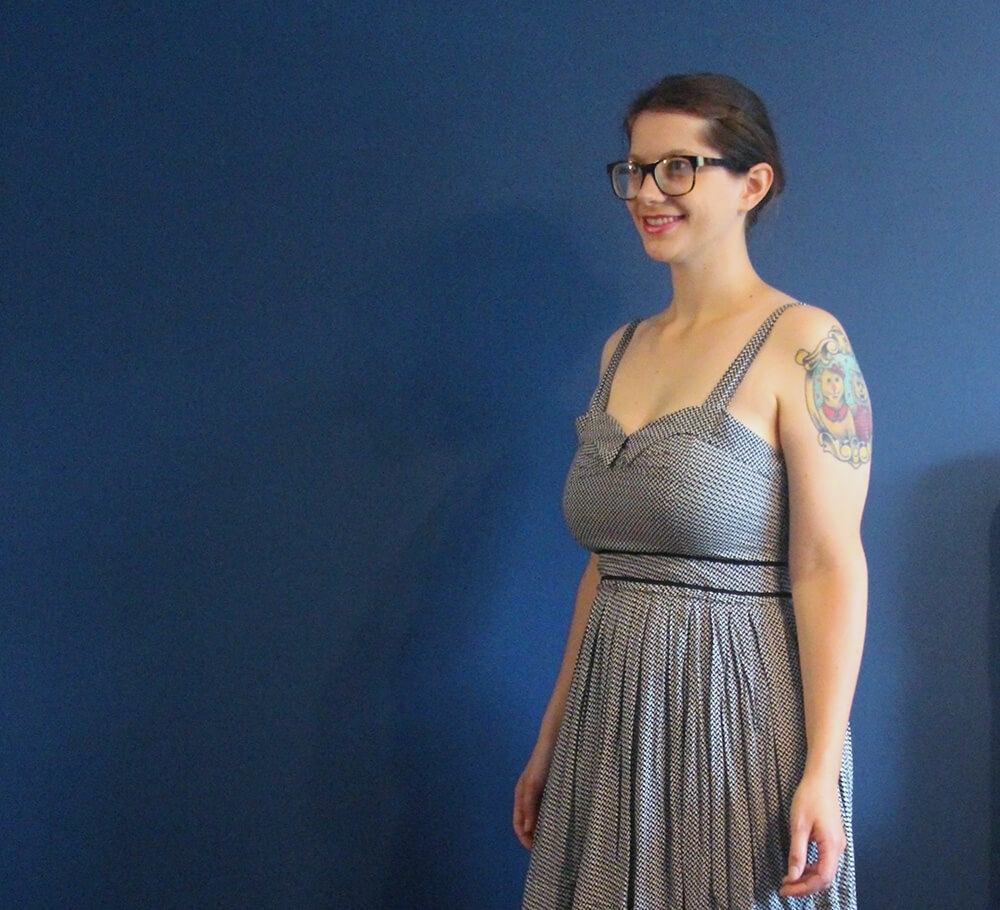 The simple act of going into my closet and picking out a new outfit is very intimidating. I was so excited when Jon and I would go out for dinner, but 90% of my dresses didn't zip up. It was incredibly frustrating especially since it use to be my waist that would be too big, not it is my chest. This alone has had me stick to the same tried and true shirts, skirts, and leggings for my wardrobe.
And having my clothing not fit properly around my chest only fans the flames of my personal discomfort around them. I've never liked my boobs. They are big, floppy, and pain to find both clothing and bras. The problem is only getting worse, I went from sometimes a D to E, and I can only assume they will look like deflated water balloons after nursing. Ugh. So I thought I would dig into my closet and find a dress or shirt that I would have to wear a strapless bra! Yikes!
I found a dress that I bought on sale from Modcloth. It doesn't look racey or anything, but bra straps always show. So I never wore it. I went the whole 9 yards, lipstick, bb cream, hair pulled back, and some cute shoes. Once I had everything on, I really wasn't sure why I put off wearing a strapless bra with this dress. It was all very comfortable.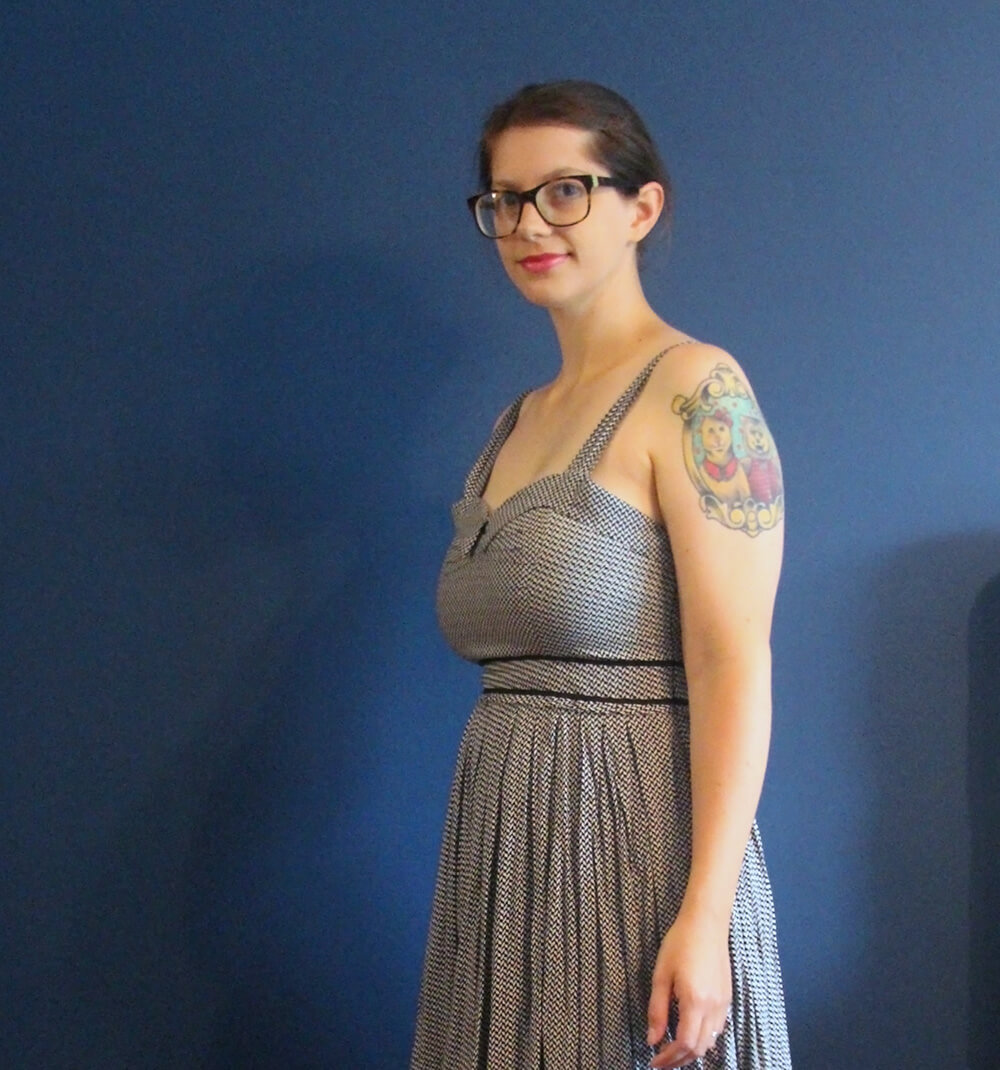 Now, don't think this is all sunshine and rainbows. Shortly afterwards I found out that strapless bras and babies are a horrible combo. I had to change before making my errands otherwise I would of been flashing everyone I walked past. But it will probably get worn out next time I am with little Wolfie or when he gets older and doesn't need me to carry him everywhere.
Then when I looked at the photos on my computer I was not loving how my chest looks. But loving how I look in person is a place to start right? I know part of my dislike of the photos is the lighting. And you can't see how sparkly the lipstick is, but it was nice to not be wearing an oversized t-shirt with leggings for once. It has definetly inspired me to clear out my closet. Try things on again, try and give my clothing a second chance.