May 6, 2015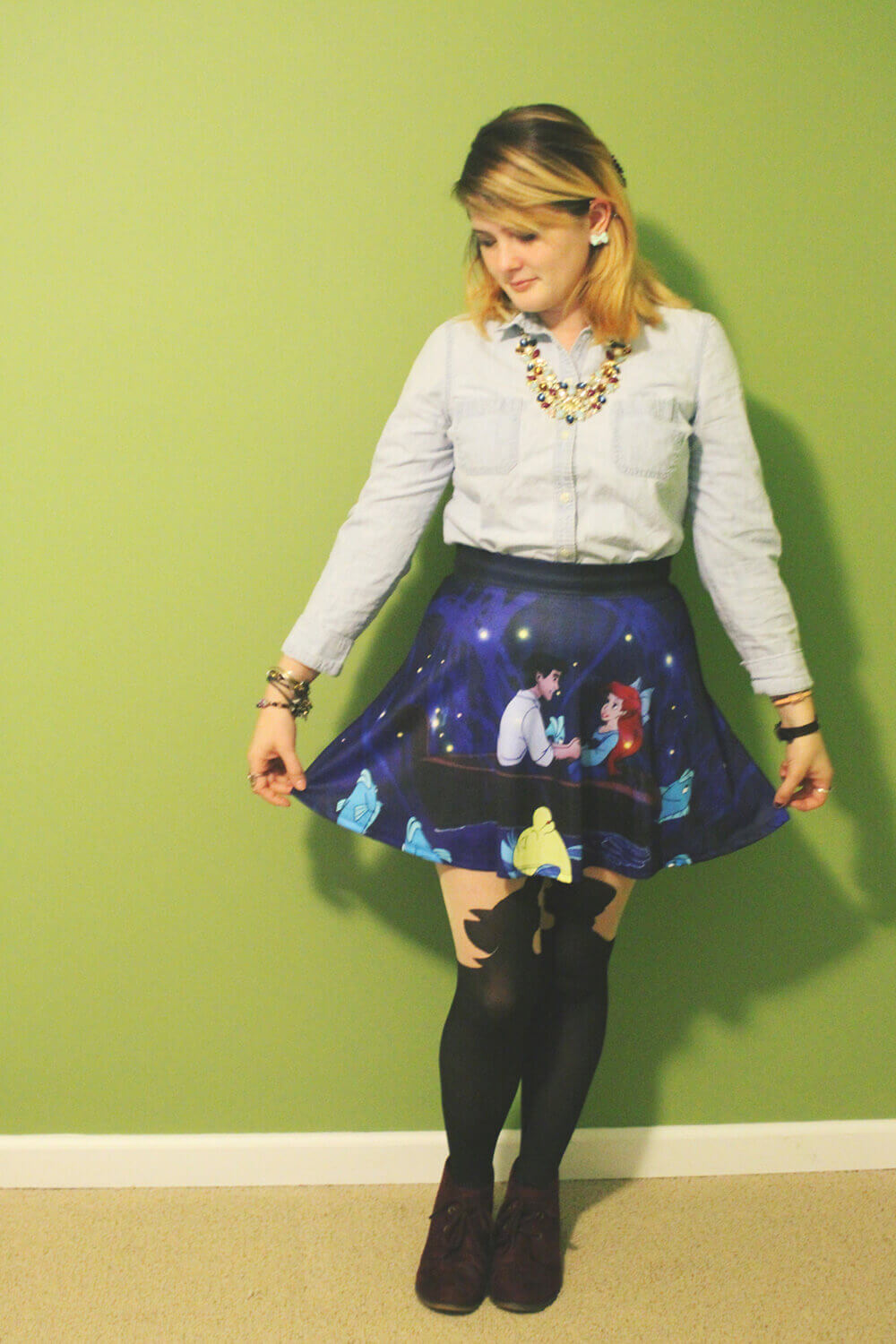 Shirt: Old Navy | Skirt: Hot Topic | Tights: Hot Topic | Necklace: Target | Shoes: Modcloth
I've realized that I haven't posted in quite a bit, but I had also completely forgotten about the cute outfits that Jen had been and angel to capture for me! So the good news is…here's an outfit post!
The Little Mermaid is one of my favorite Disney films. I just love the character designs, music, and animation. I would also argue that Prince Eric is one of, if not the best, Disney Prince. When Hot Topic began releasing all of their adorable Disney themed items (ranging from a clothing line to Disney inspired jewelry) I got pretty excited. It unfortunately falls under the unfortunate circumstance of having a 50% chance of being really cute or really tacky, but for the most part I think they've done a pretty decent job.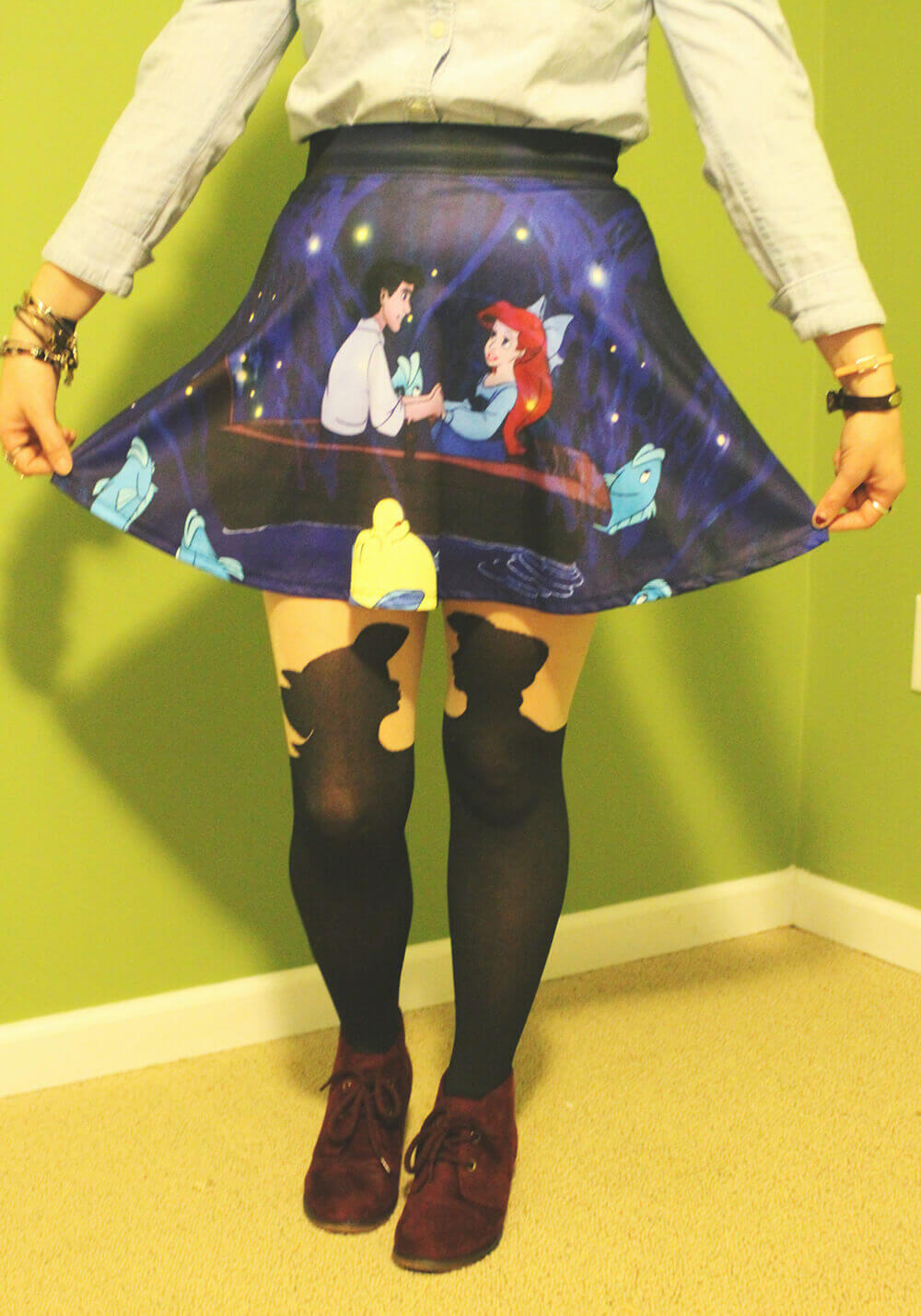 I had purchased the skirt on my own after pining for it for weeks. I love skater skirts because they can be paired with pretty much anything and are a simple and easy choice. The only thing I would tweak is that these ones in particular seem to run a bit small and quite short. The shortness doesn't bother me all that much because I'm short myself…but I definitely can't wear this to work if we're expecting to get shipments in. This one was a size medium, but I almost feel as though I should have gotten it in a large because it's still a smidge tight – not so tight that it's unflattering, but I immediately want to change after I've eaten anything and that's no fun!
The rest of my outfit came to me as gifts in one way or another (for the most part). The tights were given to me by my friend Bridget for Christmas and I was SO excited to pair these two pieces together. I don't care if it's cheesy, look at how cute they are! I love the trend of "silhouette" tights that is going on right now because there is just so much you can do with them.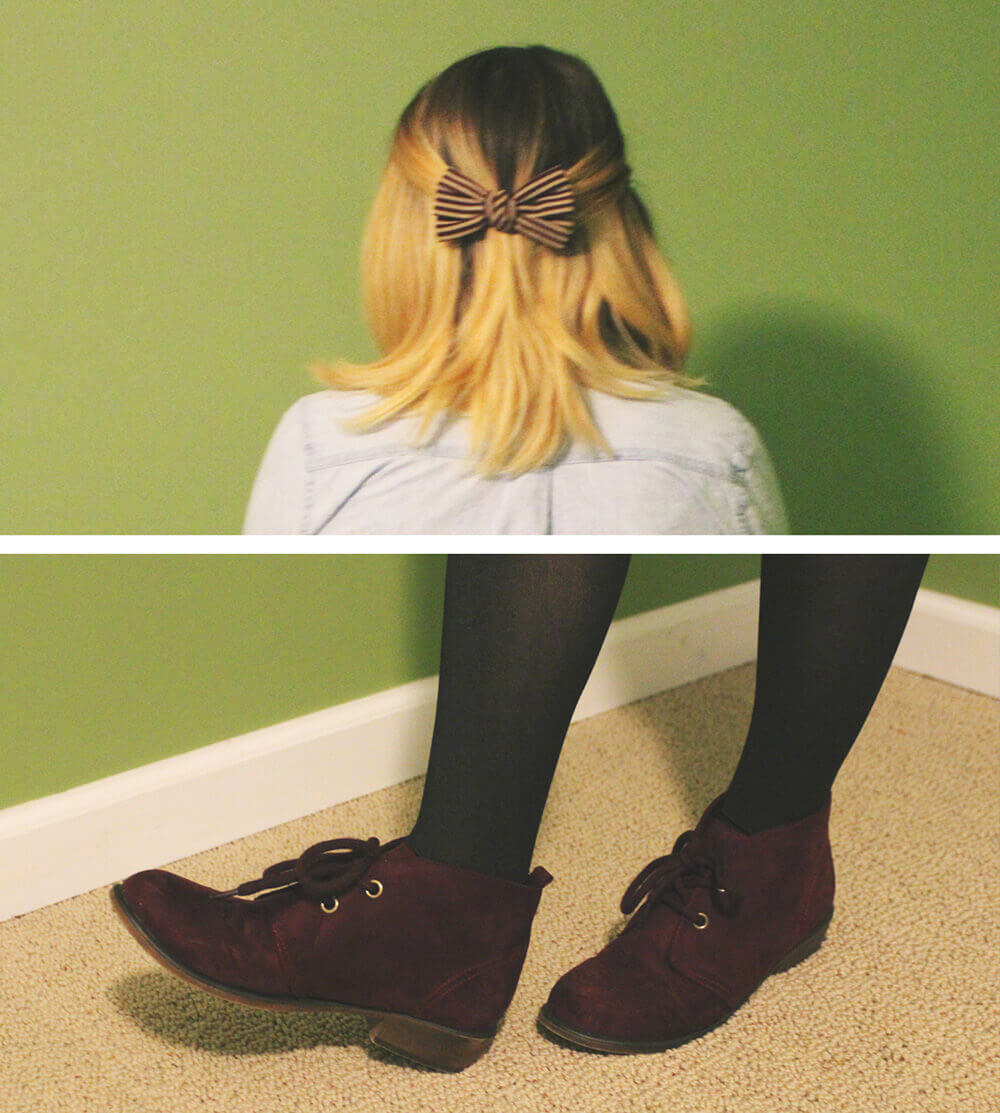 I really liked the idea of putting my hair back in a bow like Ariel has it in most of the film, and I was lucky enough to have a cute little bow that matched my shoes! I got these for Christmas as well, but I do know that they're from modcloth. I love the deep red color of them and they keep my feet nice and warm. I also love the fact that they have a bit of heel to them, but not too much, so I can even wear them to work.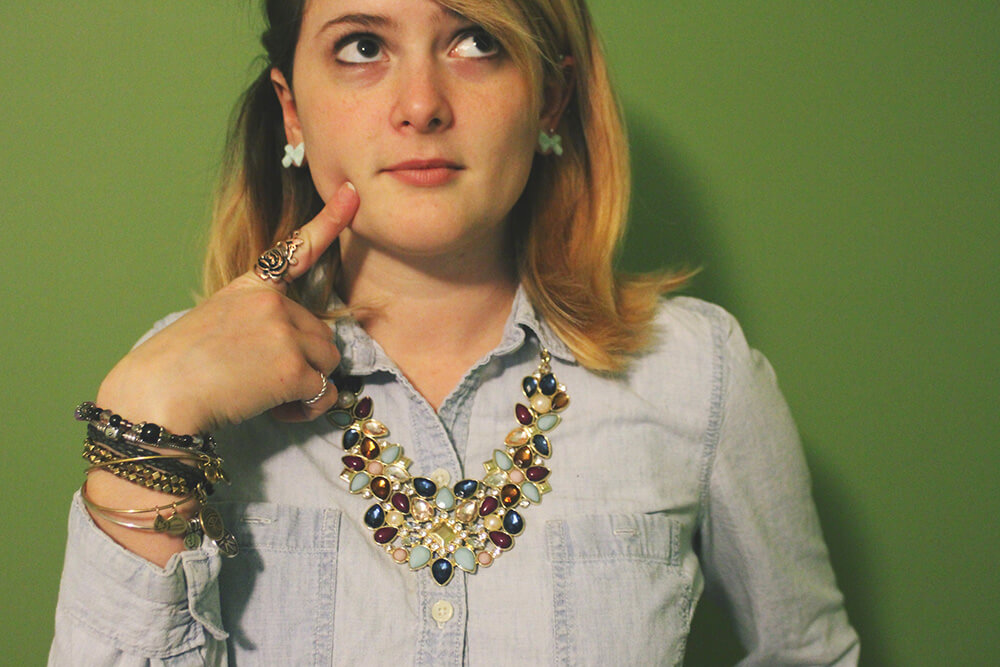 I even put cute little bows on my ears too! I got the mint bow earrings from modcloth quite some time ago and I find that they go with almost everything I own…I wear a lot of mint. I acquired the necklace from Target around Christmas time when I had been shopping for family and it caught my eye. I'm not usually into the big jeweled "statement" necklaces but after watching a ton of Grace Helbig videos over the winter I finally started to understand them. In a way it reminded me of her and I just adored the color palette and design. I would even go as far to say that this outfit (the upper half anyway) is just me trying to channel Miss Helbig, so thanks for the inspiration gurl.