January 21, 2017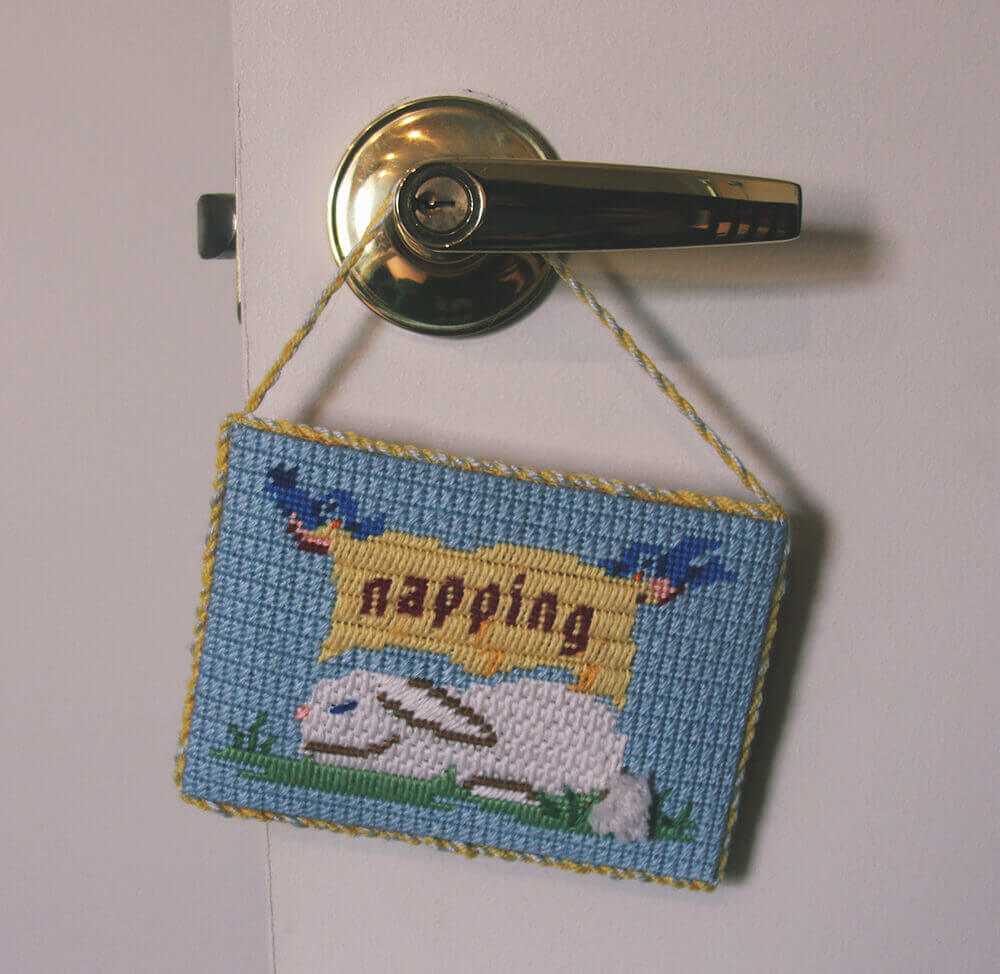 Gosh, I am finally getting around to taking these photos. I actually had to "tidy" up the nursery a little. It is definitely more messy that what the photos show at any given point. Which I was a little surprised, I mean it is a baby, right? He can't even lift his head up let alone leave things on the floor?! Well, turns out that I always have some food and water left out, and extra clothes laying around, or things fall down and I don't pick them up since I have a baby in my hands.
But now I have photos, and I am happy to talk about some of the fun projects we did for the room. Let me start with basics. We painted the walls recently, and it took forever. We live in a row home in a housing development, which kind-of means the construction was a little half assed. The house isn't falling apart, but when it comes to small details, the workers were more focused on speed not precision. So Jon had to a lot of work of the walls before we could actually paint it. Then we had to paint the ceiling all over again because the previous owners did a patch up and never painted it. *sigh*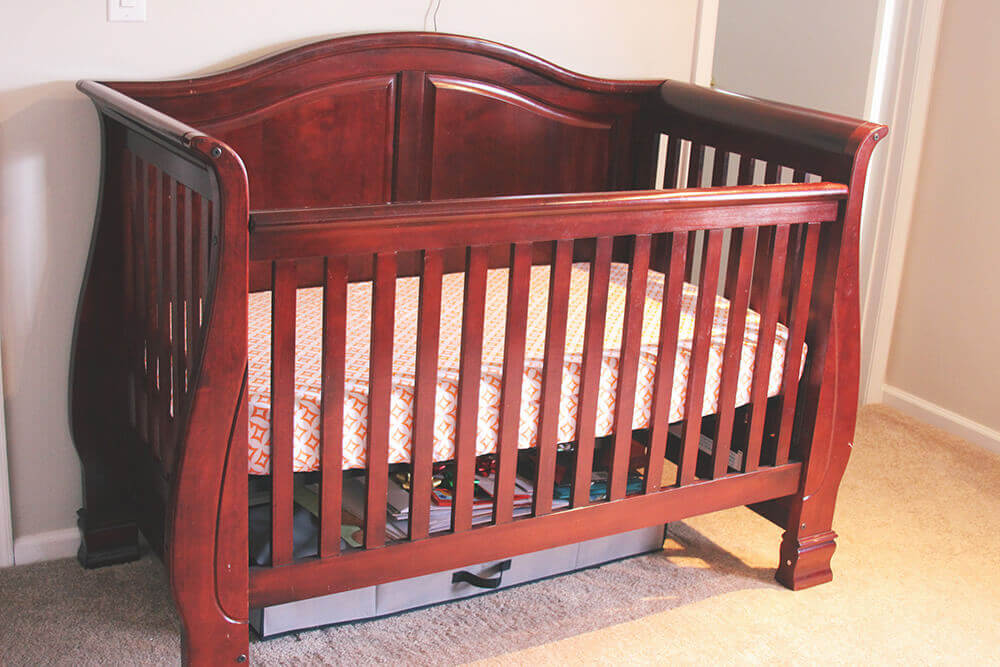 We were pretty lucky that my sister never throws anything out. I am pretty much the opposite. If I am done using something I give it away. Rarely do I hold on to something until someone I know needs it (anyone in South Jersey need a window air conditioning unit? I got one!) But my sister kept her crib, changing table, rocking chair, and matching toy box. Even better- I looked it up and the crib wasn't discontinued, though the company looks like they went out of business. We also got a lot of other goodies from her like toys, and books. So it has been very helpful, especially since I don't like the idea of buying things for the baby when they will grow out of it.
Once the painting was done, and Jon and I started to set up the nursery we quickly realized we needed something put our lamp on. There was a lot of fights over this. I wanted to use an old bookshelf that I had from my parents house. My husband wanted nothing to do with it. But after checking the ReStore we kept striking out on a second hand side table, and buying a new one was too expensive. So we sanded and painted the bookshelf I originally wanted.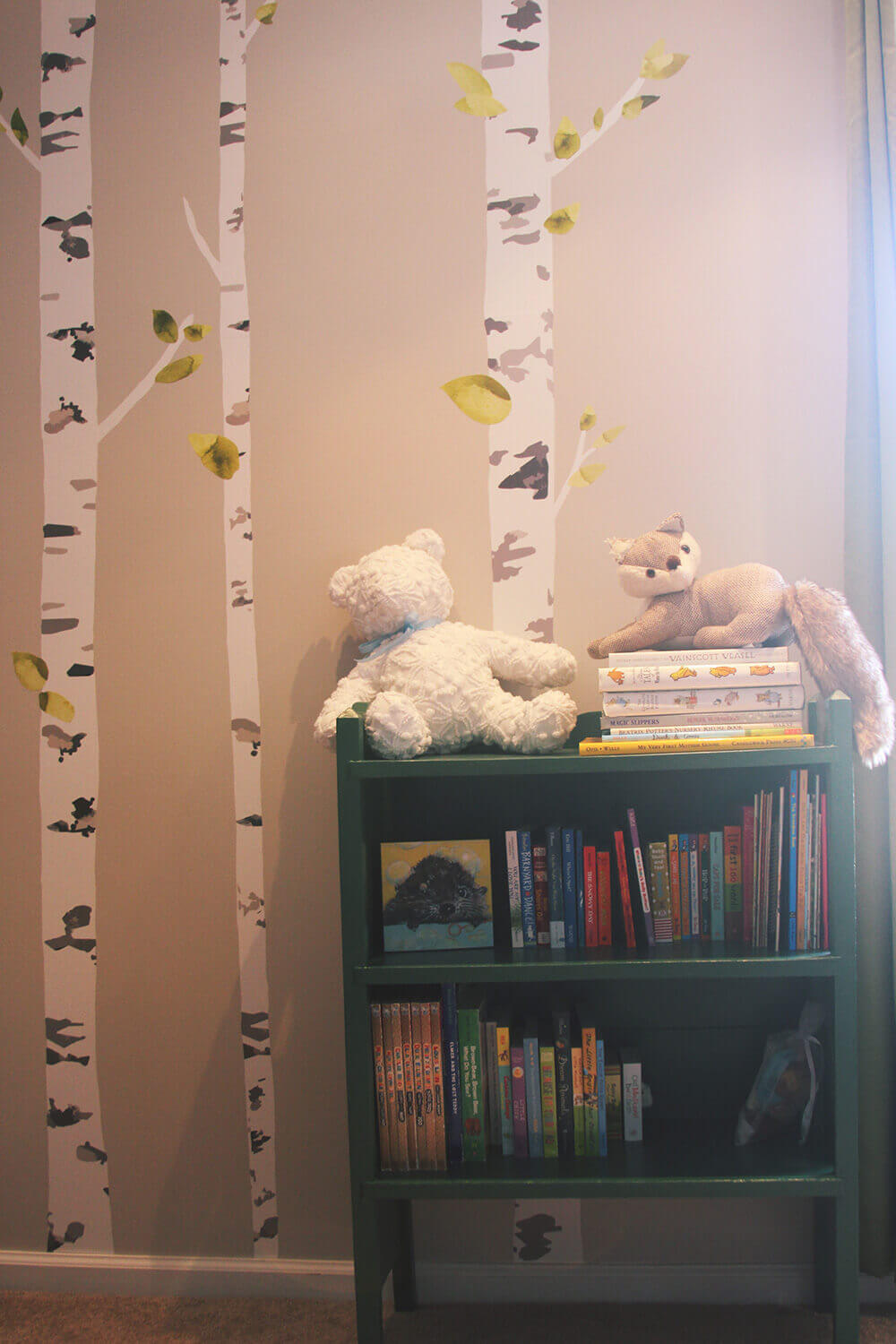 I really like it, and I think it grew on Jon once we finished the project. Oddly we aren't using it for the lamp/side table for the rocking chair. I am actually using the toy chest, since Wolfie is too young for toys- at least for the toys we are keeping in the chest. That is fine since we seem to keep getting books from people and needed more space on the shelf. Which is nice, but I don't want to get too many. If I remember with my nieces, kids really like hearing the same stories over and over again.
Since Jon wasn't thrilled about the original bookshelf, he told his parents about our conundrum. We needed storage, but couldn't afford anything that lives up to our personal quality standards. They suggested a certain shelf from The Container Store. They were going to surprise us with the shelf for Christmas, but when they saw the shelving units in person, Jon's Father wasn't thrilled about the quality. So he just built us a totally new one.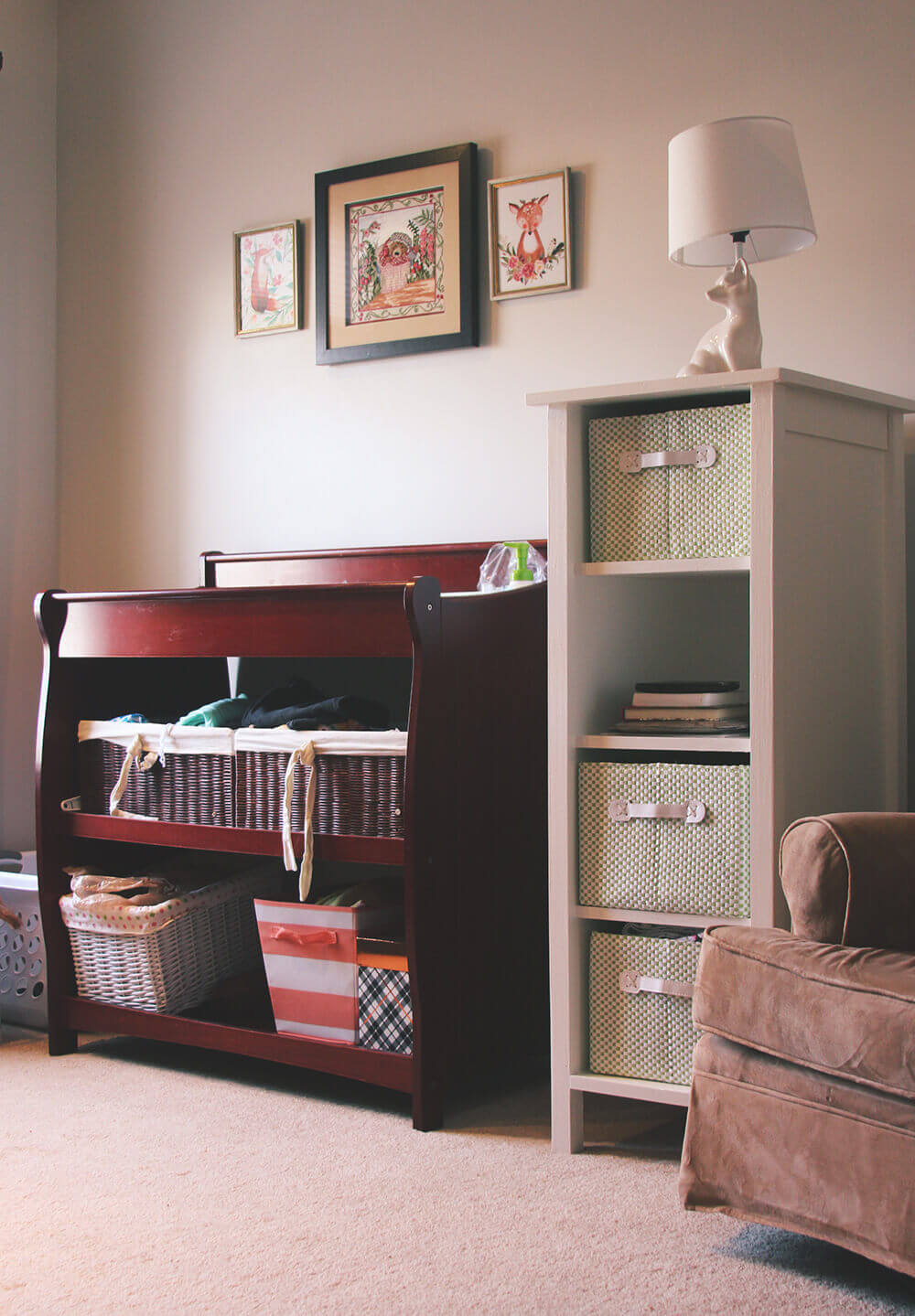 It has been really helpful, storing various goods in the drawers, and it also is home for the books that I read while breastfeeding or trying to rock the Nugget to sleep.
Speaking of rocking a nugget to sleep- let me talk about the rocking chair.
If you follow me on Instagram you might of seen this photo of Toulouse sleeping on the rocking chair. There is a cute fox pillow sitting next to her. It ain't so cute anymore. It is now covered in lots of breastmilk and has been crushed into a rectangle. I tried looking to see if you could wash the pillow but it looks like it is only spot wash only. It will probably find it's way into the wash anyways out of desperation. My kid is a messy eater, and it isn't fun since 90% of the mess lands on my boobs, arms, and clothing.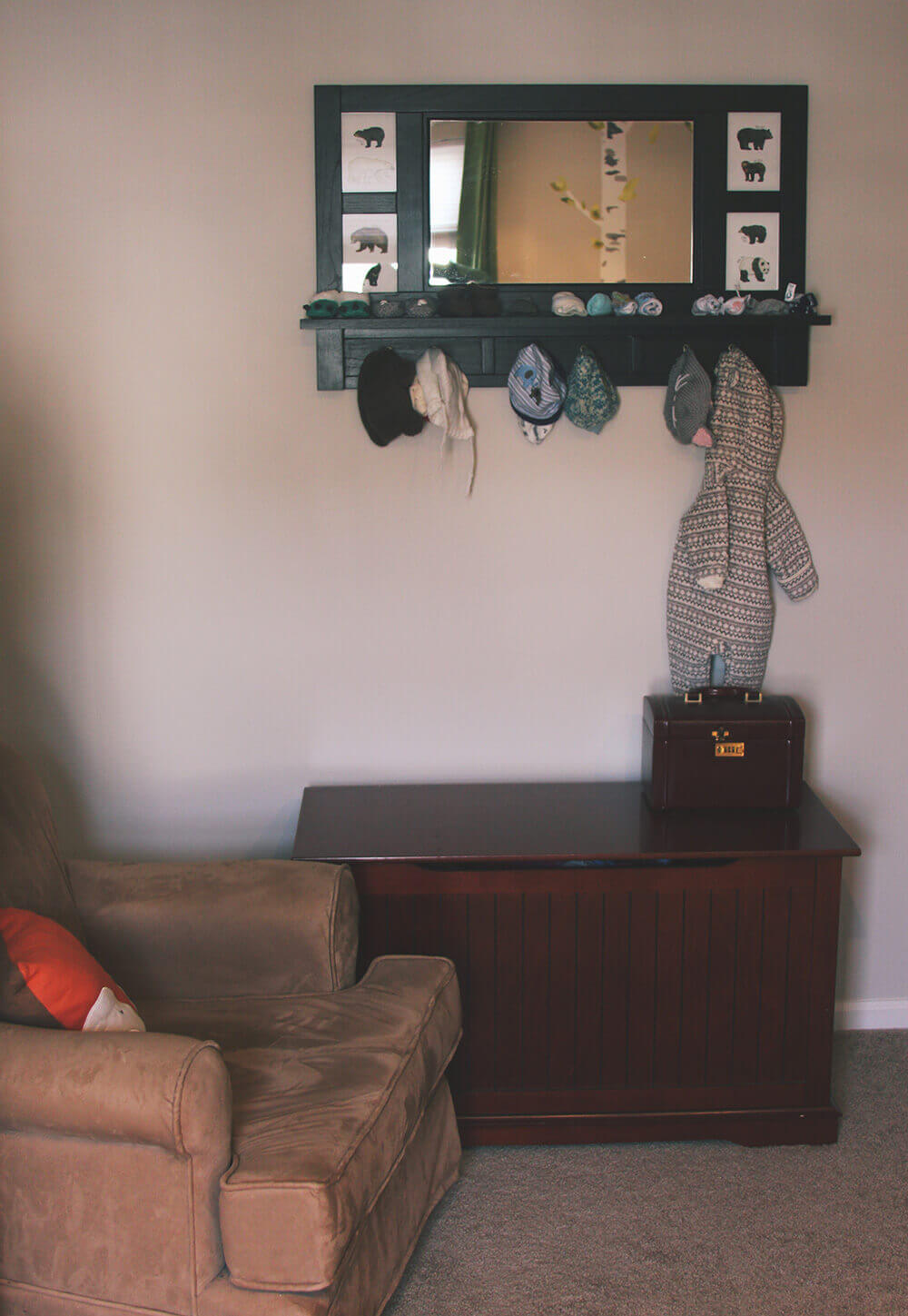 See that mirror? Yup another hand me down from my sister. I kind-of took it thinking it could go in the hallway and it was just way too big. Then I thought I could use hooks in the nursery. Thank god I thought of that because it has been insanely helpful. It holds all of many hats, booties, and his coat. There are so many little things that babies need that don't quite store well.
There were spots for photos in the shelf and I felt weird putting photos in there. Who would get those spots? Us? Grandparents? Photos of our kid? Finally I printed out watercolors of bears in the spots. If we come up with a better plan then they will get switched up. I also love the mirror because I can see myself when I stand around swaying the baby to sleep. It helps me to remember to take a shower from time to time. XD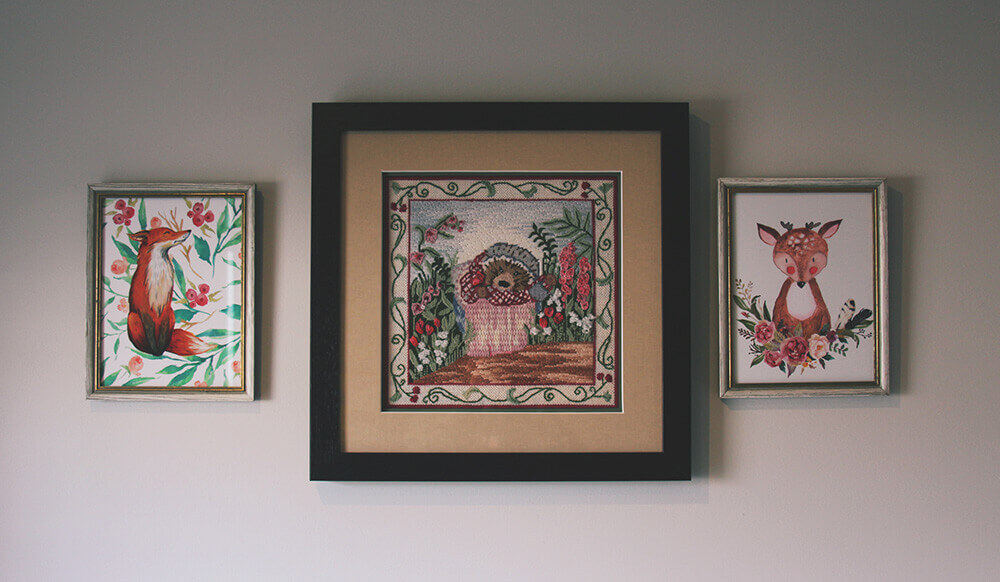 There is something about babies and everyone making things. My Mom, her friends, Jon's mother, and relatives are all busy knitting, sewing, and stitching. So we have a bunch of homemade gifts from family. My Mom pulled out old needlework canvases of Beatrix Potter characters since she wrote some of my favorite stories as a child. She had only finished the one of Mrs. Tiggiewinkle, which was my favorite character. Wolfie LOVES that picture. Well.. less of the embroider and more about the frame. Whenever I change him he just stares at the bottom of the frame. He even SMILED at the frame. My Mom also stitched the "napping" sign for our door that is on the top of the post.
Jon's Aunt surprised us with some hand knitted toys. She gave us two little booties, which have been helpful as they are warm and stay on pretty well. She also made two cute hats (one that looks like a bear and another that looks like a cat) and he will be able to wear them pretty soon. They are smidge too large. She even made some cute little toys. I know Alexa plans on painting something for Wolfie's room… so get on that gurl!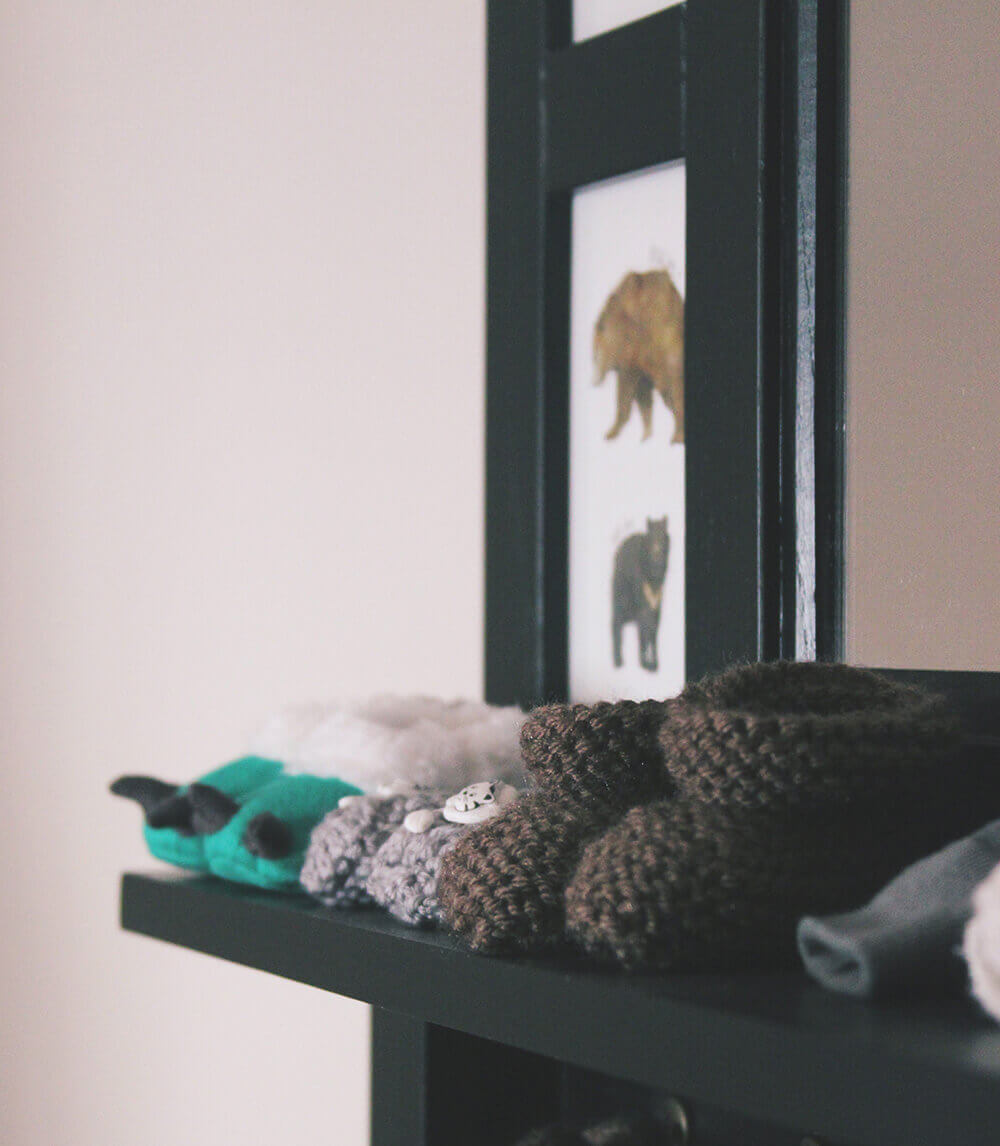 Finally we have these cute stuffed animals. We have gotten a bunch- but these are the cutest. My Mom found this posh fox toy at the Winterthur gift shop. He is nice a sturdy and will probably last forever and ever. That other posh toy? Well, it is from family friends from Canada er… Mississippi. Okay they are snow birds who go to Mississippi instead of Florida. They bought this cute white bear, with a note that he can be machine washed when Wolfie drags him in the mud. Again, I am so impressed with the quality. I hope he really likes this bear.
Tip: If you have a friend who is having a baby- DO NOT BUY THEM A STUFFED ANIMAL! I love stuffed animals but geez do we have a ton of them. If you want to buy something cute and squishy, trying getting stuff combo toys. Kids LOVE the stuffed animals that are part blanket.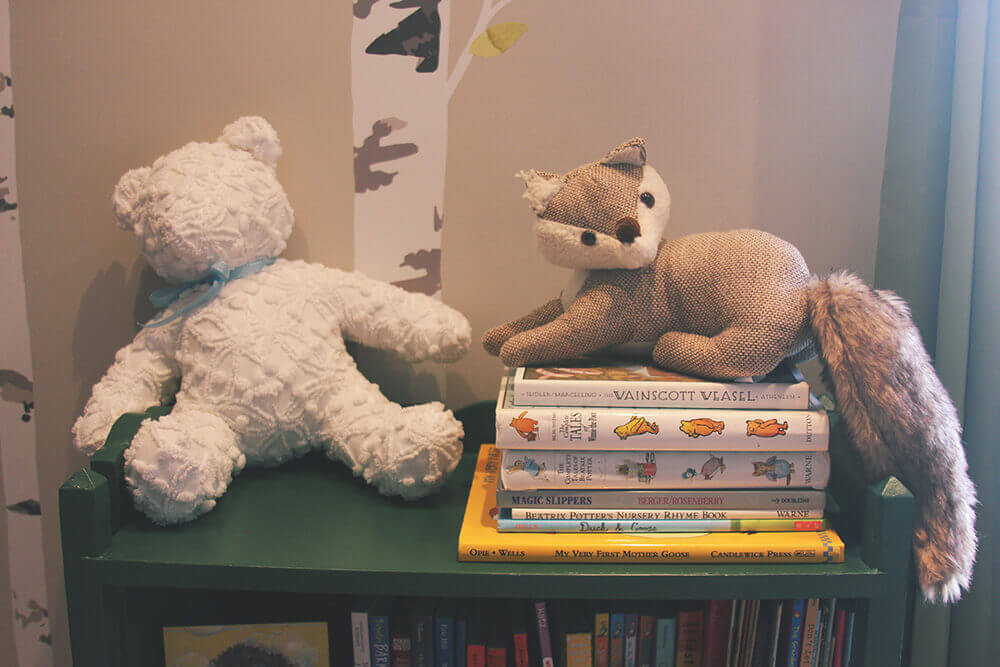 Well that's the nursery. Eventually you will see a tour of our office and bedroom. Once we finish up putting up the shelves in the rooms… which might be forever XD