I love clothing. I also love a deal, it is probably the most American thing about me. How much do I love a good deal? I had a dream that I was shopping for new maternity clothes and I found a great deal on a pack of 5 different colored tights for $7… AND it included a pair of gold tights. I was so sad when I woke up. Naturally the problem is that I know fast fashion is bad. It is bad for the environment, it is bad for human rights, and the clothes are usually crummy anyways.
Maternity clothing is particularly tricky. As with normal fashion, price doesn't always mean better ethics, and besides that, can start to get insanely expensive. And according to many reviews, all clothing is made to be cheap and last only a few months, because well, women only wear them for a few months. Many people who avoid fast fashion but don't have much cash tend to suggest shopping at thrift, second hand, and consignment shops. The problem is that maternity clothes rarely make it there, or last very long on the shelves. Luckily I found some online shops that specialize in second hand maternity clothing- Swap.com and Thred Up.
Selection
I know all readers aren't pregnant. And heck, even if you are a mommy, pregnancy is such a short time period. So it is worth noting that both sites have more than just maternity clothing. Swap.com offer womens, mens, kids, baby, maternity, toys and games, baby gear, and DVDs and books on their website. Thred Up offers clothing mostly for women. Their main categories are women, designer, maternity, shoes, handbags, girls, boys, and basement (sort of the for sale/sold as is section.)
Listing
Hands down, overall Thred Up is most polished of both sites. Thred Up has a more polished look, listing, forms, the works. What they really have going for them is consistent photography. All of their pictures have the same pregnancy bumb torso, tilted more or less the same angle. They have special forms for skirts and jeans that do a great job showing how they look, which can be hard when laying out or on a rack because of the stretchy band.
Swap.com has a serious issue with photography. Some clothes are easy to figure out how they look, like men's jeans. But other items could really use a body to drape over, particularly maternity clothing. There were many shirts that I couldn't figure out what they looked like. Was it tight? Is a blouse? Some aren't too bad, but others are just awful. Is it really that much more work to photograph everything on a mannequin? I feel like so many more items would sell if they were photographed properly.
Both websites DO have searches to narrow the selection, including sizes, brands, clothing types, etc. This makes life much easier when weeding out clothing you don't want. Sadly, Swap.com falls a little short in this aspect too. There are lots of dupes, like they have H&M AND H&M Mama listed under brands. They have (no joke) the following tops- button down, button up, blouse, bodysuit, camisole, halter top, rugby shirt, shirt, sleeveless top, t-shirt, tank top, tankini, tube top, and tunic. It make browsing a little frustrating. I wish they had a tops section, that you could further narrow down. Some smaller brands weren't too hard to find photos of to get an idea of what the overall piece will look like, so that was kind-of nice.
Quality
Mixed feelings. I think overall I liked the quality of the pieces that I got from Thred Up, but I also had a better knowledge of the brands I was getting. Gap, Motherhood Maternity, and Liz Lange/Target. Even with the nice photos, the end results were a little bit of a surprise, mostly just the long sleeved shirt I got. If I was trying it on in store I probably would of sized up.
I didn't really LOVE what I got from Swap.com. Part of the problem WERE the photos. I felt a little ripped off that there wasn't anything special about the pencils skirts I bought. One was longer than anticipated, but was also velvety, which was totally unexpected. This issue is equally hard to tell on Thred.com though. The dress I got was the biggest steal. I googled the designer to get a better look at the dress, loved it and though why not? It retails for $150, and I even found it on Zulily on sale for $65, so paying $27 was a STEAL. The fabric quality was great, the overall pattern design was lacking (mostly the boob darts that aren't in the right place or cup size.)
It isn't the fault of Swap.com, just something to be aware of. If I got it from Modcloth I could of read reviews, returned it easily, but these second hand shop have some stricter, not so friendly returns options. That being said, BY FAR Swap.com has the best returns options. I don't plan on returning anything because I want to give these clothes another chance. They should still get the job done, and even though I already have a stretchy pencil skirt, I rather not stretch it out with my massive tummy.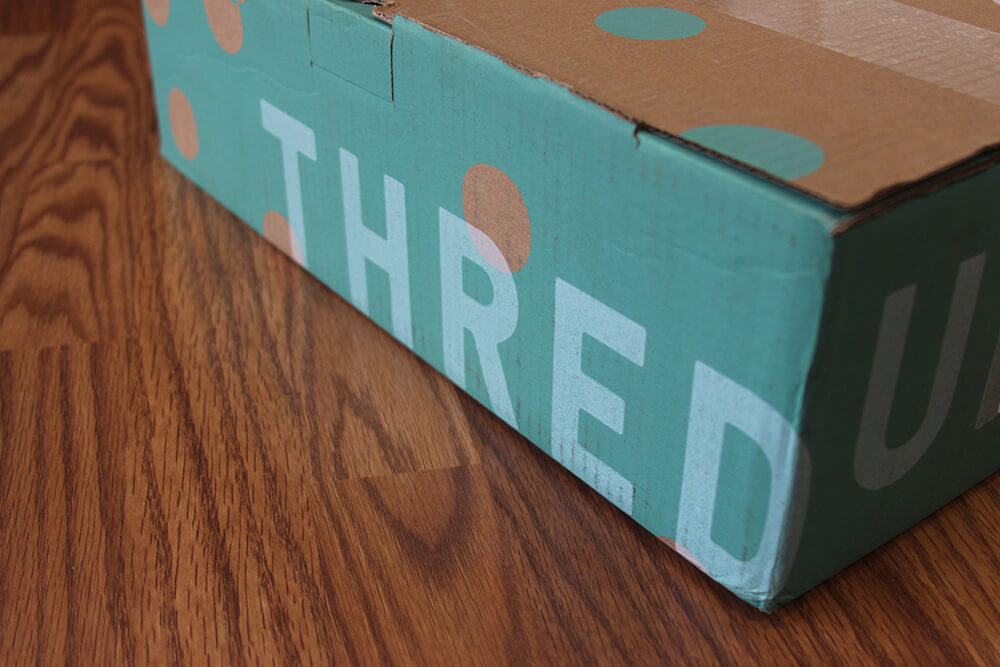 Shipping
I placed an order on Swap.com, then the next day placed an order on Thred Up. Both orders sent "shipped" emails on the same day. I got the Thred Up order first, the Swap.com the next day. One of my biggest pet peeves about online ordering is when companies send an email saying the package has been shipped, but they are sitting at the shop waiting for FedEx or UPS to pick up the boxes. I think this was the case with Swap.com. Overall though, Thred Up makes you feel like you getting a special boutique item as it comes in a pretty box, and it is all wrapped up nicely. Swap.com comes in a plastic bag, which isn't bad, just not as pretty. Total vanity point.
Best Deals
Hmm… hard to decide. Overall things are much cheaper on Swap.com. The best way to look at it is to do a search filter for A Pea In a Pod, one of the most expensive but mainstream brand of maternity clothing. There were a few bizarrely cheap options on Thred Up, like a pair of wool pants for 99 cents. But once you get past those handful of sales, you will find that you can get the cheaper options for that brand on Swap.com.
That being said, OVERALL Thred Up is going to have more expensive and trendy brands. They have some brands that I liked but didn't think I would be able to shell out cash for like Boob, Ingrid & Isabel, and Isabella Oliver. So if you are a fashion snob, you might like your pickings at Thred Up better. They have more formal wear and dresses I would consider wearing to a formal event like a wedding.
I spent $52 at Thred Up for a long sleeved shirt, a winter jacket, a light fall jacket, and a sweatshirt. I would say overall an awesome deal. I was even able to get VEGAN jackets, which can be hard. Both jackets were nice since I had no intention of buying a new one otherwise. Overall each item averaged at $13 per item. As for Swap, I paid $44 for two pencils skirts and a dress. If I didn't get the dress, it would of been only about $8.50 per skirt, which I can't really complain about. And as stated, the dress would of been originally $150, so I still got a great stinkin' deal.
Selling
I haven't tried to sell anything on either site, but it seems like Swap.com has a better deal. Thred Up says that they are likely to not use 40% of the items you send in. The items that they don't sell, they supposedly sell to third parties that will recycle the fabric. They don't mention, but I assume you don't earn anything for these items. If you want to try and figure out how much your clothing would get, they have an Payout Estimator which shows that you get very little back for each item, unless they are high priced items naturally.
Swap.com will charge around $9 for you ship out your clothing to have it photographed, listed, etc. But overall, it you are going to earn more than Thred Up. Some shirts and cardigans might only earn you 50 cents on Thred Up, but each item on Swap will earn you $1.50 + 25% commission. If your item isn't high enough standard, you have the option to pay for shipping to get them back, or you can donate the item. Clearly, if you want to clean out your closet Swap is the place to go.
Overall
Hard to choose. Thred Up is much more of a selective boutique. If you like high end clothing, you will end up finding more over there. That doesn't mean that Swap doesn't have some great deals (hey I saved $123 on a dress!) but I do think their clothing selection is a little…. uh… lame? They have some great clothing items, but they don't weed out clothing that simply not stylish like Thred Up does. If you hop on out of maternity on Swap.com their selection gets much nicer. I probably will make monthly checks on both sites. Swap will probably just be for some basics, like pencil skirts and tee-shirts. While I probably will be eyeing up dresses and nicer items at Thred Up.