October 6, 2016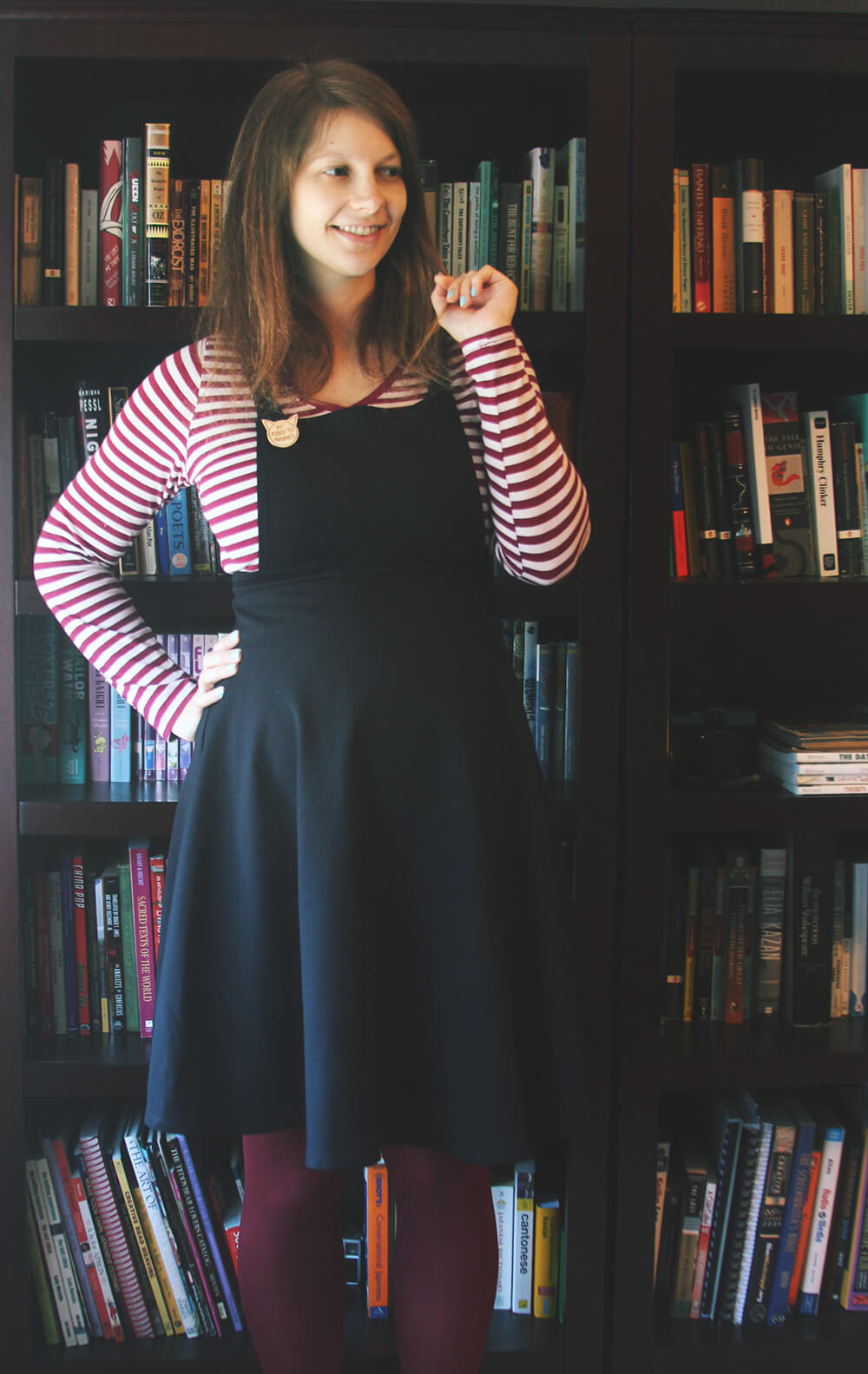 Pin: Kate Gabrielle (discontinued) | Shirt: A Pea in a Pod via Swap.com | Dress: Hello Miz via Zulily (available in black or teal) | Tights: Target (similar) | Nail Polish: Lime Crime
I randomly took a photo of this outfit I wore to work and posted it on Instagram. I don't always dress up, but I was feeling it that day. I thought it looked so cute, that I should probably take a proper photo for the blog. Why? I said I would post some fashion posts with the new baby bump, but uh… really haven't. I don't think there isn't enough "alternative" pregnancy fashion posts out there, so here you guys go.
If the shirt looks familiar it is because I took a photo of it during my Swap.com vs Thred Up review. And I was so tiny back them in comparison. But then again I guess that was over a month ago. The baby was more axolotl/weasel sized and now is bunny/platypus sized! And I have to admit probably my main reason for not posting these outfit posts has a lot to do with body image. You wouldn't think it would be so taxing on self image, but it really is.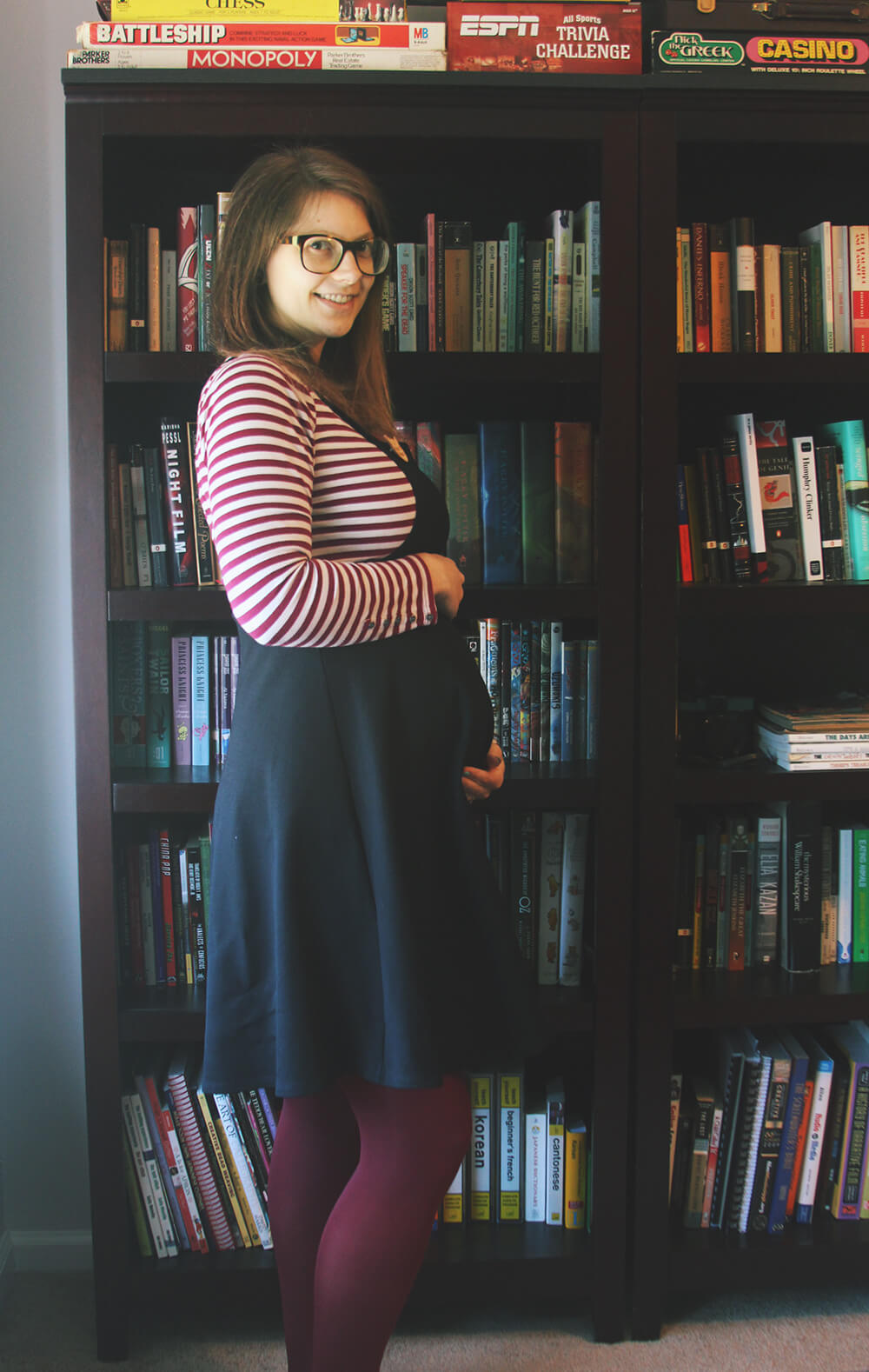 I joked with Jon that getting pregnant is like hitting puberty again, and in many ways it is. Everything shifts. Boobs get bigger, and not just bigger, but shape and density differs. I get adult acne more often than I use to. Your stomach is starting swell, and although I knew that I wouldn't have a big basketball of fat on my stomach, it is weird. Normally if your tummy gets bigger it is from a nice thick layer of fat, but a baby bump is hard lump. I am always trying to put my socks and shoes on while standing, forgetting that my baby doesn't fold over like fat. I am constantly walking around in narrow passages, forgetting that my tummy can't quite clear the table or that chair. Heck I even moved some boxes around at work because I kept bumping into them.
Sure there are pages in pregnancy books about coping with the physical changes, but almost all offer the solution of "Just think of the baby!" I can't help but imagine everyone saying it in the same tone as "Elaine you gotta have a baby!" And I think it just dismisses a lot of the complicated feelings women have with body image. Truthfully, I think if we lived in a perfect world where all shapes and sizes were embraced, people would still find the changes of pregnancy difficult. You only have a few months to deal with these changes and after giving birth your tummy won't shrink down magically.
Somedays I feel like I am in the wrong body. The normal curves you see every single day suddenly go away and become new ones. And it isn't everyday that I feel weird and out of place. Some days I can look in the mirror and smile at my big tummy. I mean I clearly thought I was cute enough to share an outfit I was wearing, right? And even on days when I feel completely uncomfortable with my body, I still enjoy feeling the baby kicks.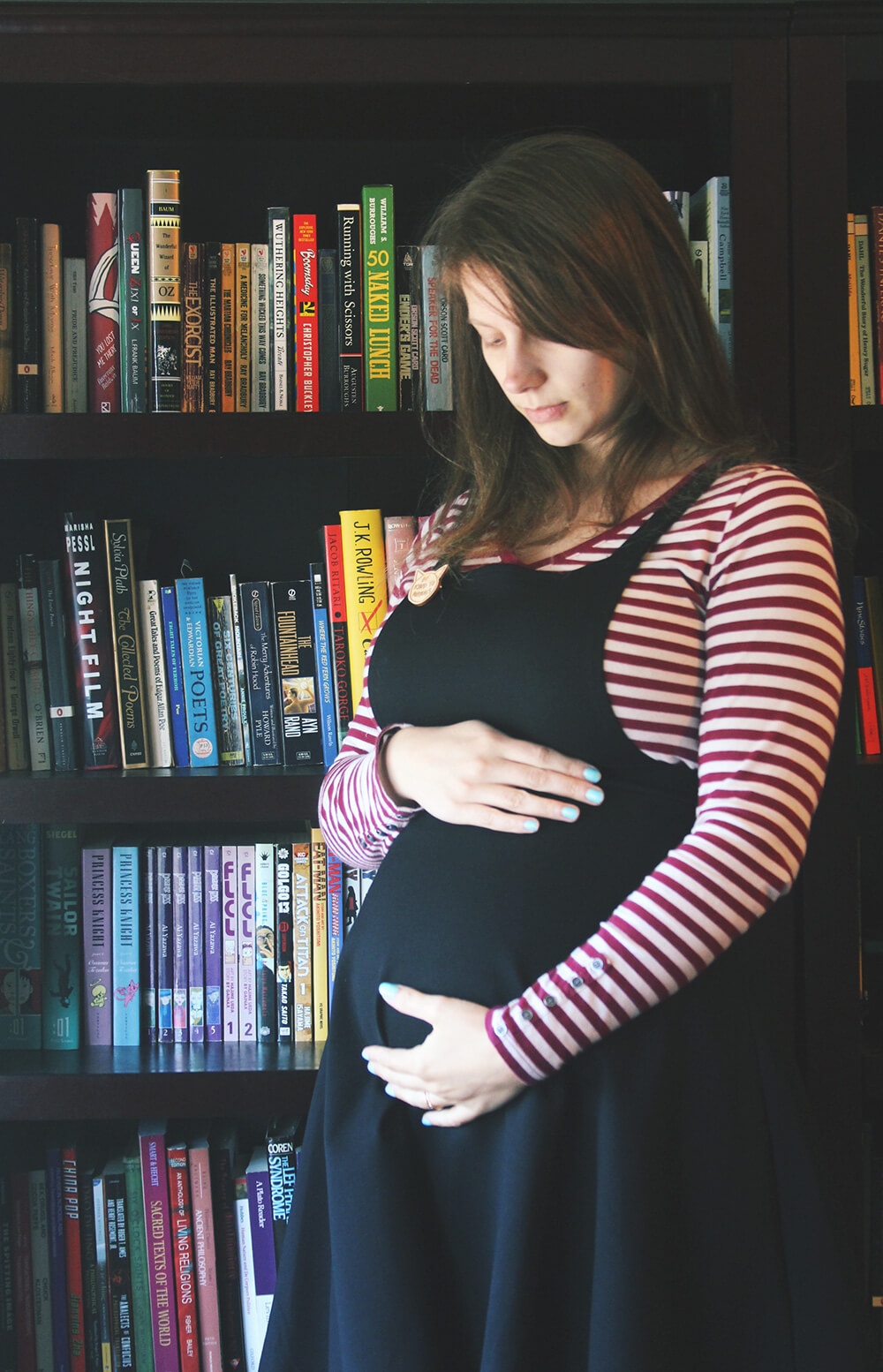 Maybe I focus so much on my body since I've been having a pretty easy pregnancy. I don't have stretch marks (yet…), no weird darkened skin, varicose veins, digestion issues, or other aches and pains most people associate with pregnancy. So I could be possibly have more attention being focused on what is most obviously changing.
But I can now see why so many books and pregnant women tend to dislike hearing any input about their appearance. I was told that I looked so "small" and healthy early on in the pregnancy. It bothered me since it just made me think too much about how society associates thinness with health. It also felt like I was trying hide my bump, but I was mostly just trying to wear what fit and was comfortable for the hot weather. But I would hear people joke, and not in a mean spirited way, about how I wasn't as trim as I use to be.
And there is learning how to dress all over again. We all know women's clothing is all over the place, but now I have to learn even more new sizes. I can safely say- don't size up. I was afraid of things being too small, and ended up with a few articles of clothing that I am swimming in. I am also getting a reminder that more money doesn't equal better quality. The A Pea in a Pod shirt I am wearing has nice fabric, but the sleeves I think were cut properly on the bias as they twist oddly. It wouldn't be such a big deal if they didn't have some cute buttons at the cuff that never stay in place.
Some items you can get away with wearing into pregnancy, but I totally recommend investing in some maternity tights. When I wore some black tights with my tent dress, it became clear that normal tights will cut into your tummy and be very uncomfortable. I was able to get these awesome tights on sale for $5 from Target, which it is hard to find maternity tights for less than $15. They can be much more if you are looking for the compression styled tights.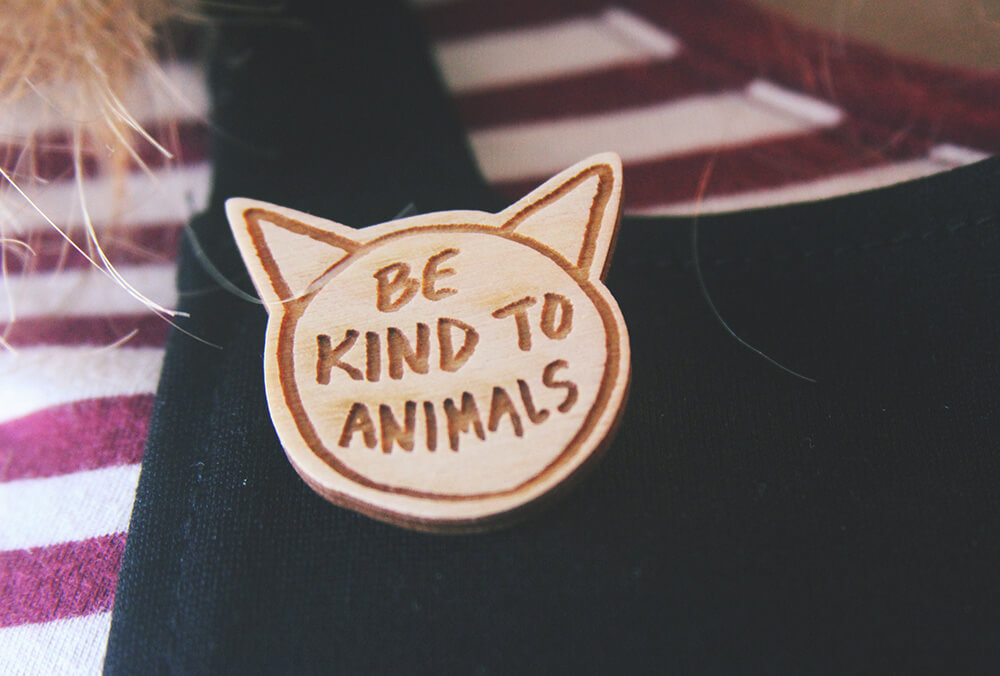 I also wanted to quickly talk about the pin I am wearing. I got it in a surprise pack from Kate Gabrielle. I've always loved her fashion blog since she has a cute style, but also she loves vintage movies. She has her own shop and had a this "Be Kind to Animals" pin, but has since discontinued it. So sad right? But she has other cute things, like a BFF heart necklace for you and your cat. And one of my favorites- a pin commemorating Oprah's (or your) love of bread.