January 7, 2018
I am not a breakfast person. I don't like sweet breakfast foods, and I have a smoothie every morning. If there isn't a smoothie, usually breakfast gets skipped and I have an early lunch. But I am warming up to brunch, mostly because of booze. But this list is probably just breakfast foods. *shrugs* Oh well. They are brunch to me. Almost all are sweet things, so don't get too mad is you are a savory fan.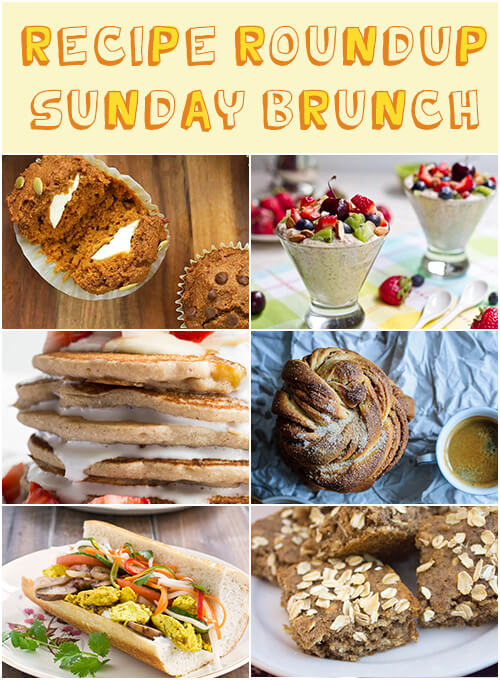 These were super fast to put together, and the result is a super soft and yummy muffin. I subbed spelt flour for all purpose flour since I had it on hand. But as promised, you used only one bowl, making it a quick muffin to make. This is a great dish to make for a super sweet muffin on the weekends.
She suggests adding cream cheese to the middle, and I used whatever I had left for the centers. I wasn't impressed with the centers as they were too tart in my opinion. She says the sugar is optional, but I think it is a must. I used Tofutti cream cheese, and it cooked up fairly stiff. If anyone else tries as different cream cheese with different results please share! Since I didn't have enough cream cheese only some of the muffins got the center. I found that they baked up fine without the cream cheese center.
Bottom Line: Super yummy, mix sugar in the cream cheese!
I've mostly been eating chia pudding for my pre-morning run. It is easy to make and pretty much something to make the night before. This buckwheat porridge ranks up there with easy accessibility. It is simple and easy, and very yummy. My only problem is that you need access to fresh fruit as a topping, which sometimes isn't as readily available during the winter.
I also found that sometimes buckwheat can be pricey, depending on where you go. And this recipe will use to up a good amount of buckwheat groats fast. But you CAN find buckwheat for cheaper prices, you just need to keep your eyes peeled.
Bottom Line: Good for weekday OR weekend
What a boring name for these? Banana Buckwheat Pancakes is more interesting. Gluten-free Banana-Strawberry Shortcake Pancakes is even better. But hey, whatever. Doesn't matter what they are called because these are delicious! I was shocked at how well it all worked together.
Sure they aren't 100% like normal pancakes, but they don't really seem "gluten-free" either. They have an earthy-nutty flavor that is welcomed. The bananas add a nice sweetness to the pancakes without it being overwhelming. The only downside is that the batter is thick so I had a hard time getting "pretty" cakes.
I didn't start with buckwheat groats, but instead had some leftover buckwheat flour from a local Asian food market. I can only imagine that this helped the texture in the end since the store bought flour would have a more consistent texture than home ground flour. I was lazy and didn't make the homemade whip cream, but these pancakes tasted great with some blueberry syrup.
Bottom Line: Yummy but not too heavy like more "gluten-free" pancakes
I am so excited to finally try a recipe from Seitan is my Motor. I love how much thought and planning goes into Constanze's recipes. I've learned quite a lot of European baked goods, and given me a much needed window outside of American sweets. This was the first year having my In Laws over for Christmas morning, so I wanted to include them on our growing tradition of brunch on Christmas.
My overall biggest complaint is that the recipe uses rapid action yeast. So you can't make it as quickly as regular cinnamon rolls on Christmas morning. I tried my best to wake up and start the dough right away, but I don't think they were fully finished until 12:30-ish. You need to proof the dough twice, once for 90 minutes and another for 60 minutes.
Aside from that, the recipe worked wonderfully. I liked how the rolls weren't too sweet and used healthier flour than just all purpose. Having the spelt and whole wheat makes them more filling, though I am sure a little more tough compared to if I made them with just all purpose flour. I may have also overbaked them slightly working against a fluffy texture.
Bottom Line: Yummy, but wished there was an overnight option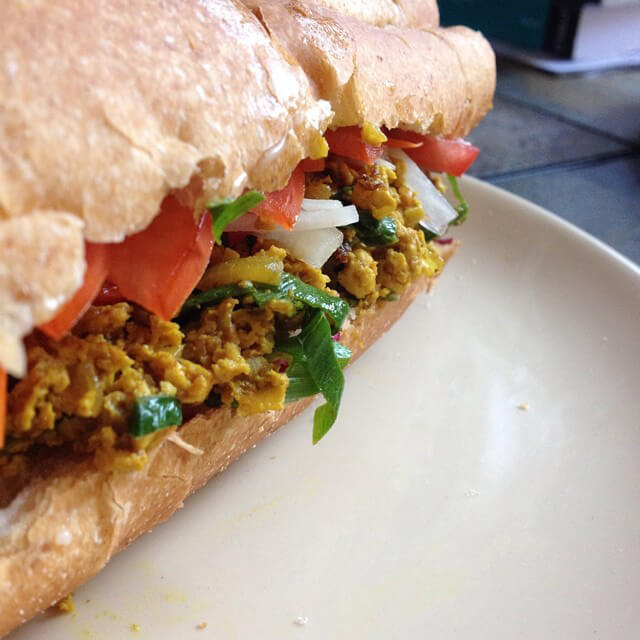 I feel like the dish is the definition of brunch- breakfast and lunch combined into one. Taking a lunch sandwich (Bahn Mi) and mixing it with the classic scrambled tofu for breakfast. This is something I love since I am more of a lunch person than and breakfast person.
I have a confession. I've never actually ate Bahn Mi before. I've heard about it, but never took the dive before giving up meat. Steak was never my favorite. So I can't judge it on how authentic it is. I can judge on how tasty it was. The tofu is wonderfully spiced, and does look a lot like eggs. The Star Anise Daikon Pickles were a great add on. They were crisp and probably gave it that Bahn Mi feel. The downside? There was a little bit of leftovers. No big deal. It will just make a Bahn Mi wrap for lunch. This is definitely a something that will grace our table over and over again.
Bottom Line: Great for people who prefer more of the Lunch of Brunch
I always hate when I find vegan recipes that use lots of expensive ingredients. One cookie recipe used teff flour, maple syrup, and almond butter in huge quantities. It made me wonder how much each cookie cost? I was too afraid to find out. This recipe does use some expensive items like maple syrup and almond butter, but uses them in small reasonable amounts. I like that. All the other ingredients are cheap and commonly found in a vegan pantry.
The recipe is easy and fast to make. I made a change with the maple syrup since I ran out of it. I used a little blackstrap molasses and agave to fill in the rest of the syrup needed. I think blackstrap molasses was too strong, and I wish I used the maple syrup since the flavors would of worked really well. I also swapped spelt flour for whole wheat since i had it on hand. The dough was thick, but the end result is very soft and fluffy.
I divided the bars up into 8 pieces not 10 or 12 as suggested to give a hearty breakfast, but dividing them up smaller makes a great side for breakfast. Maybe a tofu scramble? Or sauted veggies? These are drool inducing bars, but they are tasty and not too desserty like some baked breakfast foods.
Bottom Line: Really tasty!