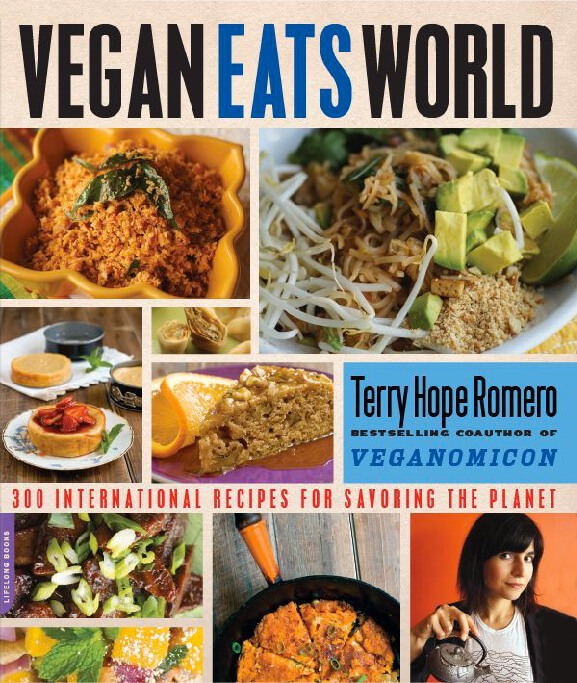 Shop on Amazon or Barnes and Noble
I start this review on a sad note- my book fell apart. No I didn't love the book to death, though I do really love it. What did the book in was the binding was crappy construction. This makes me sad since this has NEVER happened to me before. Sure once or twice I might of had a 10 year old cookbook fall apart on me. But never a new one. What makes it more frustrating is that the publishing company has always made solid cookbooks.
And when I say the book was falling apart, I mean the pages were falling out of the glue binding. This usually happens over years, when the glue dries up. So I bought a binder and put each page into protector sleeves. I never really liked the covers so in the end I have the plus of having a sparkly and teal new book.
Am I saying YOUR future copy will fall apart? No. Probably not. As I mentioned before, I have gotten many books from the same publishing company that are very sturdy. But I probably will recommend investing in the hard cover version of the book. In the end it will last you longer anyways. With that gripe out of the way, please read all the GREAT and WONDERFUL things I have to say about Terry Hope Romero's book.
Spoiler Alert: I think it is staple in a vegan bookshelf
Photos
I have to say I was spoiled by the Oh She Glows cookbook, and wished for more photos. Photos are dispersed throughout the book next to the recipe. At least the photos are near the recipe, as nothing drives me more nuts than when photos a clumped together in the middle. Having some photos is nice since she is featuring recipes for foods that are completely new to me.
There were a few instructional illustrations which is useful when showing how to cut food. Although someone can write on how to cut something, it is much easier to understand with illustrations. But I still wished for some more photos, especially for some of the more exotic foods. Some of the photos featured things I could guess what it would look like, while others I had no idea what the end result would look like.
Set-up
In information presented in the beginning is very overwhelming. Terry goes to overview of the book, and explains that not all recipes are "authentic." Then she goes into describing lesser known ingredients from all the different countries, covering where to get them and what you can replace them with. This was when I started to get a little overwhelmed. But I kept going on.
The first three chapters are pretty much recipes that will be used in other recipes, like spice blends, ways to prepare tofu, seitan, sauces, and chutneys. Then she starts stand alone recipes with hand-foods and salads. Things that can be used for lunches or apps. Then working her way to more traditional categories like soups, stews/curries, pasta, entrees, sides, and dessert. The further I dived into the categories, the more and more approachable the recipes became. And with each recipe she recommends what to pair the food off with, which is great for dinner planning.
In the back there sample menus for ideas of dinner planning. This helps tie all the various foods together as there isn't any identification on the specific nationality of the foods. This is probably since many food covers over several different regions. I do not like the index that comes up after the menu suggestions. It was hard looking up recipes by specific ingredients. This might not be what everyone does, but being part of a CSA, I don't always get to pick what I get. So it would of been nice to have a better listing of the ingredients.
That said each recipe is easy to understand. There are indicators for price, time, simplicity, and even if recipes are gluten or soy free. She even gives pretty accurate serving suggestions. Sometimes I find cookbooks give radically different amounts of food for each recipe.
Writing
Terry proves that can write pretty damn well. This was the first cookbook I've read that Terry has done without Isa Chandra and her voice is clear and distinct. But you can see how she influenced the other collaborated books. Everything is very clear, and grammatically correct. She makes all the recipes approachable, and doesn't assume that you know what the recipes are.
The best way of putting it is like this: You are going over to a friend's family dinner, and everyone is a different nationality than you. Terry is the grandma that tell you what every single dish is. If the cookbook was jewish food, Terry would be your bubbie telling you that kugel is a noodle casserole. But it isn't just about jewish food, it about world food. Terry writes like she is the world's bubbie.
Overview
This cookbooks is hard to classify. Terry covers SO many countries and SO many styles of food I couldn't say "these are great for weekend cooking" or "great weeknight" or even "holiday recipes." The theme is simply recipes from all over the world, which is a little overwhelming. I am blessed with living in New Jersey, which is the next best thing to living in Brooklyn. There is a large and diverse community of different nationalities in this state. I might have to drive a little, but I could find pretty much any ethnic super market covered in the cookbook. So this might be a little difficult to read if you are in the middle of normal USA, or other countries. Granted the internet provides easy access to order foods, some people don't like to be bothered.
But I find this cookbook beyond helpful. Terry stays tried and true to core of recipes. She recommends going the extra mile to reach the right taste. For example she doesn't cop out and say to use just normal soy sauce in the Pad See Ew. No, she tells you to buy three different soy sauces which makes a huge difference.
On top of that, the book has become a great reference guide for me. I picked a recipe online that used harissa. I wasn't paying attention and thought that harissa was masa harina. I couldn't find it in the store, so I picked up Vegan Eats World and see if it had any information. Not only did it tell me what it was, she gave a recipe for it. I was flabbergasted.
So what is this cookbook good for? I would recommend this book for expanding your culinary skills. It is perfect for weekend dinners, to plan fun themes. But that doesn't mean all the recipes are hard work. As you make more recipes, you will find ones that are cheap and easy. Therefore you will add some to your regular weeknight meals. You will also learn about new spices, sauces, and ingredients that will only enrich in your cooking.
The recipes might not always be relevant to you, but it is great place to start learning. I know there were a lot of new recipes for me, coming from a person who already has a diverse understand of world foods. Below is a list of specific recipes I tried out for the book review. Links were left if Terry posted it on her blog.
Recipes
Coconut Kale Summer Rolls with Peanut Sauce
Section: Salads, Spreads, & Sandwiches
This was a really creative twist on summer rolls. I thought the kale might be too tough or overpowering, but it wasn't at all. Messaging the kale in the oil help soften the greens. There was tons of Peanut Coconut Dipping Sauce leftover, which was used in other wraps during the week. This is also a great dish to make if you are part of a CSA and don't get a full "bunch" of kale.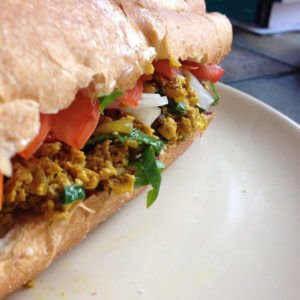 Scrambled Tofu Breakfast Bahn Mi
Section: Salads, Spreads & Sandwiches
Sub Recipe: Star Anise Daikon Pickles
I have a confession. I've never actually ate Bahn Mi before. I've heard about it, but never took the dive before giving up meat. Steak was never my favorite. So I can't judge it on how authentic it is. I can judge on how tasty it was. The tofu is wonderfully spiced, and does look a lot like eggs. The Star Anise Daikon Pickles were a great add on. They were crisp and probably gave it that Bahn Mi feel. The downside? There was a little bit of leftovers. No big deal. It will just make a Bahn Mi wrap for lunch. This is definitely a something that will grace our table over and over again.
Ginger Peanut Squash Soup
Section: Soups
This soup is on the fence. I thought it was so-so. The broth was yummy, but I felt that zucchini didn't pack enough punch with the peanut. My husband on the other hand went nuts for it. This might be up there in his favorite peanut soups. So I know I will be making this again. I personally liked it more when I ate with some brown rice. Or perhaps I would of preferred a little more of acidic tomatoes.
The Great Big Vegetable Couscous
Section: Curries, Hearty Stews, & Beans
Sub Recipe: Fluffy Spiced Cousous
I made this recipe since it used up most of the produce I had kicking around in my fridge. I made some of the suggested alterations a the end of the recipe, adding green beans and summer squash. The dish was yummy, but nothing original, as many vegan cookbooks have a similar dish. But the addition of chickpea flour added a creamy texture that was pleasant. This is a recipe that I will be visiting often since it is really open to alterations.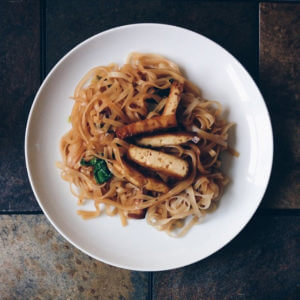 Pad See Ew (Sweet Soy Sauce Pan-Friend Noodles)
Section: Asian Noodles to Mediterranean Pasta
Sub Recipe: Savory Baked Tofu
I am obsessed with these noodles. When reading the opening I rolled my eyes at the soy sauce break down. Do I really need black, thin, or sweet soy sauce? Apparently I do. This dish proves it. It is salty, and slippery, and perfectly cooked. The best part? The Savory Baked Tofu. I've never cared much for tofu, but Terry sold me with press and bake method. So in the middle of the slippery noodles you get a little bit of tough and chewy.
Ella's Buck Wild Stuffed Cabbage with Sunflower Cream Tomato Sauce
Section: Hearty Entrees
This is one of those recipes that made me stop and think "What the heck did I do wrong?!" I ended up with WAY too much filling, and I couldn't fit all the cabbage in my HUGE casserole dish. I used the extra to make a shredded cabbage casserole, and had so many stuffed cabbage leftovers that they are still sitting in my freezer for a rainy day. I wish she provided some diagrams and drawings to show how to roll the cabbage. I felt lost and a little stupid when doing it. This is probably the only recipe I thought was a disaster from the book.
Cauliflower and Green Beans in a Berbere Sauce
Section: Robust Vegetable Entrees & Sides
Sub Recipes: Spiced Buttery Oil and Berbere Spice Blend
Can I first point out that my husband loves the Spiced Buttery Oil. Although he uses it for his non-vegan eggs, it makes me happy that he likes something over regular butter. I am also in love with the Berbere Spice Blend, and I am always adding it to recipes that don't have much spice. So I thank this recipe for making me aware of those. The recipe itself itself is pretty plain but handy. It makes me think of the couscous recipe, it is very easy to customize according to your available veggies. It takes some time to make, but it is a great way to empty out some veggies from the fridge. I've even made the recipe twice already, both times with green beans and potatoes.
**Note- if you try the recipe online, take note that there is a typo. You cook collard greens for 8 minutes, and you pre-cook potatoes for 10-14 minutes.