May 14, 2018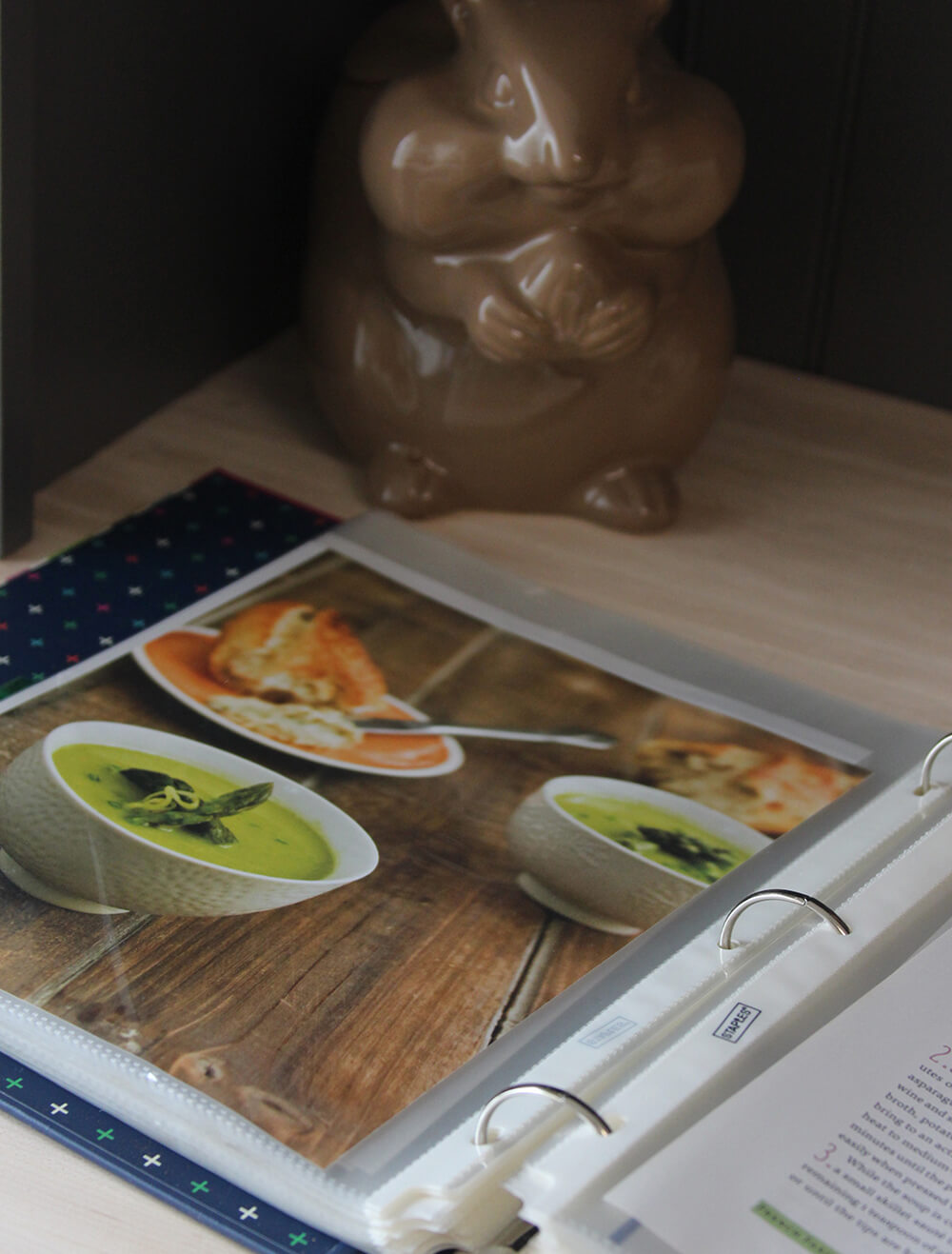 Well, Jenny Marie is doing another cookbook challenge with a cookbook I own- Vegan Eats World. I made a review awhile ago that you can check out, but I've cooked a few more things from the book. I mean I wrote that review 4 years ago! Wow. Also, I didn't cook NEARLY as many recipes from cookbooks as I do now.
As mentioned in the original review, my copy broke pretty early on. I was pretty pissed since this was a gift, but because of this I recommend trying to get a hard copy of the book. This is also why there aren't any photos of my book, and just photos of a big binder. Oh well.
As always, I am linking to other recipe reviews of the book, to share all the fun. If you have a review of the cookbook on your blog leave a comment. I will happily link it. And as always if I find a recipe online, I will link it.
A Dash of Compassion | Herbivores Heaven | Kittens Gone Lentil | The Unintentional Vegan | Vegan in Brighton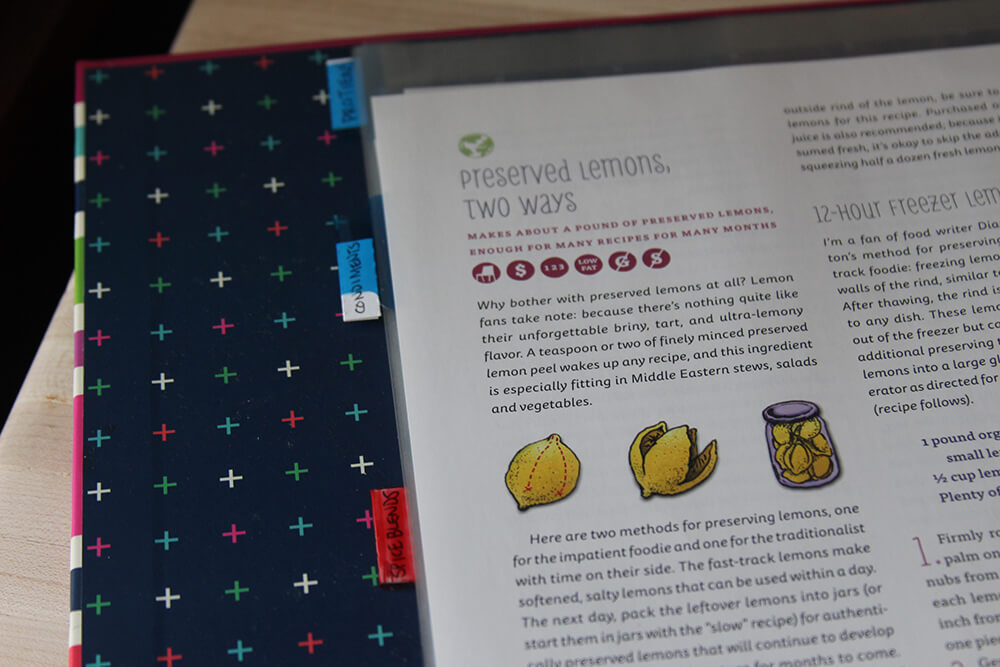 Berbere Spice Blend
Section: Spice Blends
I made this spice blend for a recipe in The Great Grains Cookbook. I couldn't find any berbere spice blends at any of my normal grocery stores. I think that is why I love this book. It does provide some useful tools for people who don't have access to global/international food stores. I enjoyed the blend, though I do wonder how authentic it is. I've never actually had it before. But still yummy.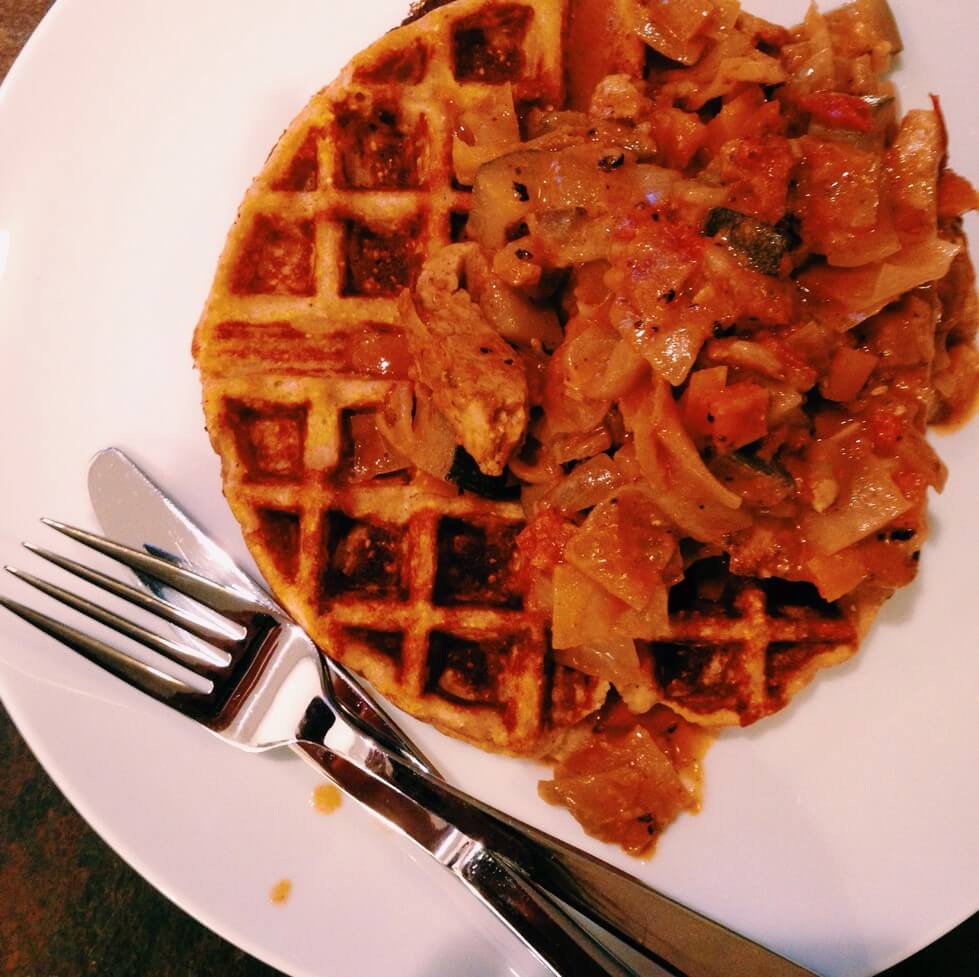 Deluxe Tofu Vegetable Mafe
Section: Curries, Heart Stews, & Beans
This is hands down one of my favorite dishes from this book. A nice peanut buttery stew. Yum. I think one of my favorite parts of this dish is that it is very flexible with the vegetables you can put into it. At the end of the recipe there are many different alterations, okra, winter squash, whatever really. This is really helpful to make over and over again as the produce changes over the season. If you are going to make one recipe from this book I would either recommend this one, or the other peanut based dish- Flying Massamn Curry. Oh, and I recently ate the leftovers of this dish on a corn waffle. It's a great way to eat it.
Flying Massaman Curry
Section: Curries, Heart Stews, & Beans
Recipe: The Veracious Vegan
More peanut butter please! I make this a lot during the summer months since our CSA makes really good cherry tomatoes and I can't keep eating them in a salad! I love how the cherry tomatoes go into the curry, and I believe this is yet another recipe with a million veggie options. I have a feeling that I usually do green beans… if my memory is serving me right. I love how easy this curry is to make, and like the mafe this one of my favorite and most frequently used recipe from the book.
Fusilli with Almost-Sicilian Arugula Pesto, Potatoes, and Peas
Section: Asian Noodles to Mediterranean Pasta
This was a hit. I am still not convinced that arugala should be a pesto, this is the second recipe that used it that I've tried. But everything is very good. Apparently putting potatoes in a pasta dish is a very Italian thing, though I've never heard of it before. It is pretty easy, just make the pesto, then boil potatoes adding the pasta at the end. Toss. I used the suggested green beans instead of peas since I was making this dish for my Mother in Law who doesn't like peas. Although this is good, I would only make it again if I used an all basil pesto instead of arugula.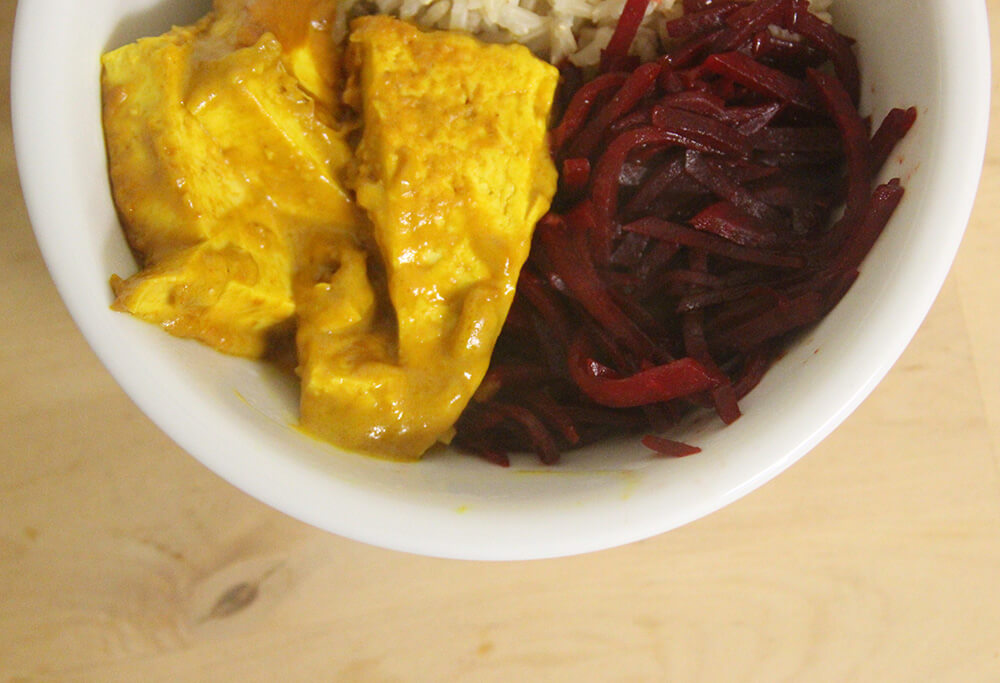 Golden Tandoori Tofu
Section: Hearty Entrees
Recipe: The Veggie Table
I never really thought much about this recipe until My Cat Loves Daiya made it. So I took the plunge and I am glad I did. The tofu is a beautiful golden color, which prompted me to eat it next to "purple" beets for a vegan mofo complimentary colors challenge. I like the sauce, it is creamy but full of flavor. I am not 100% sure if you need to use yogurt. I didn't taste any of the tangy notes in the dish, which I bring up since vegan yogurt can be a little pricey for people. This is a dish I will make several times again, for sure.
Mediterranean Seitan
Section: The Three Protein Amigos Touf, Seitan + Tempeh
This was my first time making seitan and it helped me get over my anxiety of making it. I hear lots of people say it is hard to mess up seitan, but then I'll read blog posts about how people hate when it gets spongey or whatever. I was happy with this recipe, and it inspired me to make these adzuki seitan sausages.
Ninja Carrot Ginger Dressing
Section: Salads, Spreads, and Sandwiches
Recipe: Vegan Latina
This was really easy to make, even easier for me since I had my crazy high speed blender. I didn't even need to grate the carrot, all I did was throw a bunch of carrot chunks with all the other ingredients and blend. I enjoyed the recipe, my husband wasn't a huge fan (though he didn't hate it.) We ate it with the tofu burgers, and the leftovers were tossed with some pasta and peas that Wolfie really enjoyed.
Okra Masala (Bindi Bhaji)
Section: Robust Vegetable Entrees & Sides
Recipe: The Blender Girl
I don't really like okra, but my CSA grows it. And if you have a CSA like I do, sometimes you get put in a corner where you either take something you don't like, or deal with less veggies or too many of the same veggies. So I made this recipe, and I can safely say this is my favorite way to eat okra. This dish is very easy to make, but is really something that needs other dishes to be served with it (like that sri lankan dhal) The instructions are detailed, and cook the okra in a way to help reduce all that slime. But I think the star of the recipe is the amchur powder. My sister gave me some awhile ago, but this was the first recipe to use it. It makes the dish tangy and amazing.
Roasted Chili Pepper Harissa Paste
Section: Spice Blends
I've made this many times, and it is only recently I've actually BOUGHT harissa from Trader Joe's. So going from that bit of information, does the recipe hold up? I'm going with yes- mostly. I think Trader Joe's version is more oily, which might be more traditional. But I do like making it at home because you can control the spice levels more, which is great for my husband. I also love using the hot peppers from my CSA. So I get very fancy ORGANIC and LOCAL harissa. Can't beat that?
Savory Tofu
Section: The Three Protein Amigos Touf, Seitan + Tempeh
I love this recipe. It gets made all time, though I've taken a step back. I make it constantly for stir-fries, but since having Wolfie, I've chilled out with it a little. I just don't have the time. I like how lazy I can be with it, but it is time consuming, and makes the house hot during the summer. You need to press the tofu, then bake for 40 minutes. The recipe is pretty simple, mostly getting flavor from soy sauce.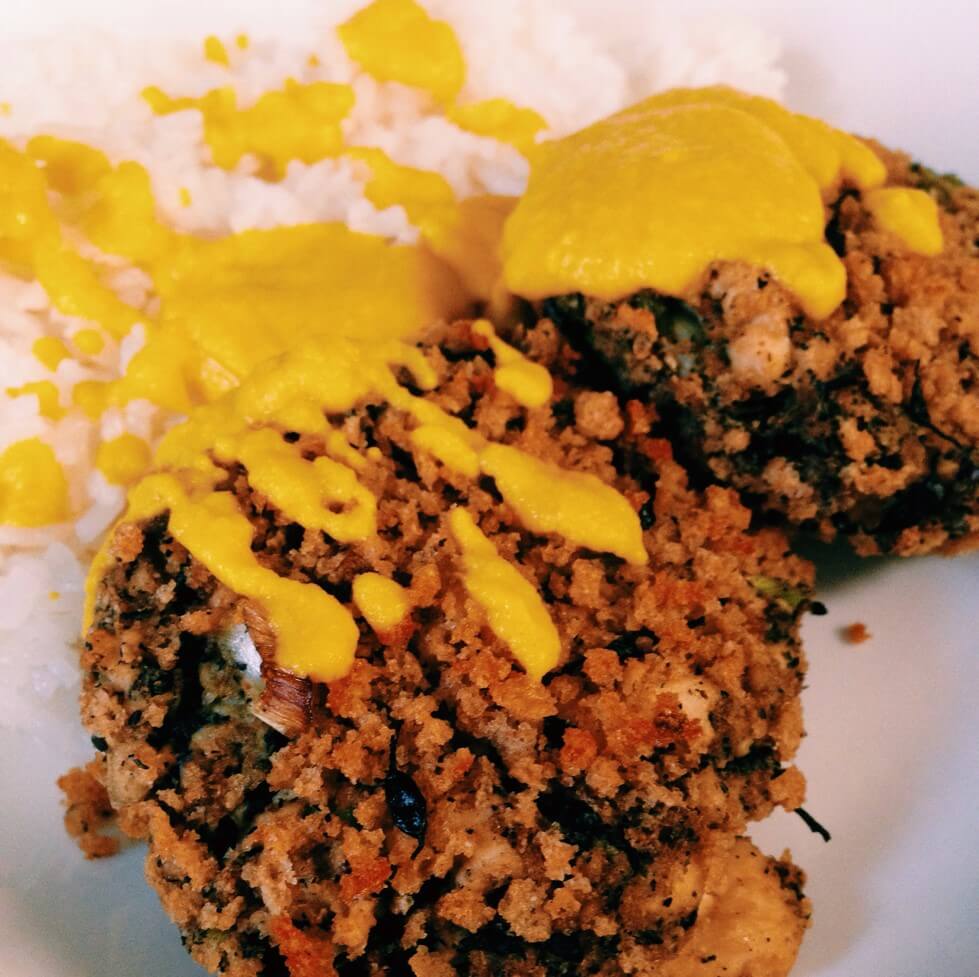 Sensei Tofu Hijiki Burgers
Section: Hearty Entrees
Oh mixed reviews on this recipe. I loved it, my husband was not a big fan. I am a little clueless as to why, but I guess you can't please everyone? This was super yummy as it was mostly drained tofu that had been crumbled and mixed with hijiki seaweed and panko breadcrumbs. Then coated with more bread crumbs and baked. The burgers were pretty small, so you can't fully make them into a burger with a bun. Well, you could, you would just need to make less than 8.
I served it with the ninja carrot dressing as suggested which was easy to make and tasty. I think these would be great to try and make those rice "burgers". This would also of been better if I made a side veggie while the burgers were baking in the oven.
Spicy Savory Soft Tofu (Ma-po Tofu)
Section: Curries, Heart Stews, & Beans
Recipe: Vegan Latina
This is a recipe that I've seen a few times in various vegan cookbooks. I didn't seem to care too much about making it. But I figured why not? I have some black bean paste in the fridge, so why not learn a new dish? Overall I wasn't a huge fan. I think I might try it eating out, but it seemed weird. I think I felt compelled to add some veggies to the dish. You also use soft tofu, making it hard to cook. I am not very gentle, so I struggled to keep the tofu cubes in one piece. Overall it tasted good, I just wasn't feeling the recipe.
Sri Lankan Red Lentil Curry
Section: Curries, Heart Stews, & Beans
I use to make this dish a lot. It's been awhile though. I altered the recipe to make it into a slow cooker curry, and it got so creamy and delicious that it was to die for. This recipe takes awhile to make, you need to soak the lentils in hot water, then cook them. You temper some veggies and spices on the side and add at the end. It involves little work from the chef, which is ideal for making other sides, proteins, or maybe a flatbread.