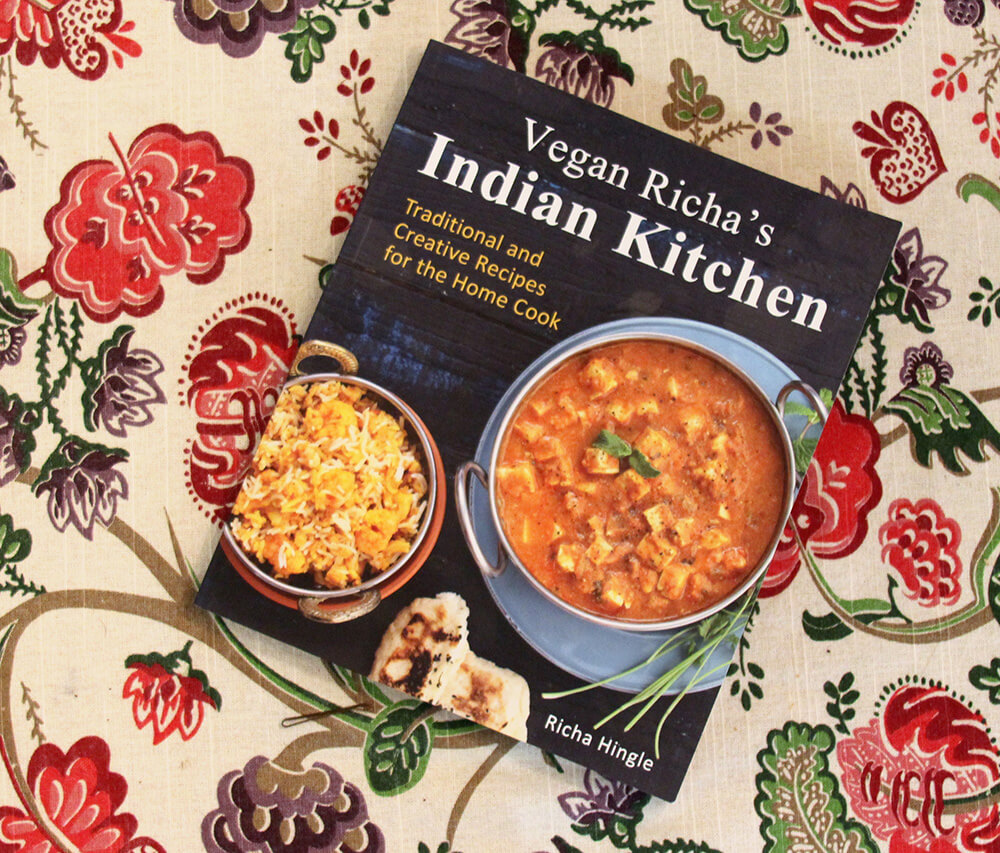 Shop on Amazon or Barnes and Noble
I have always been a big fan of Indian cuisine. I loved how it was very vegetable heavy and you had lots of different options for meals without meat. But as I went vegan I soon discovered how many of those vegetarian dishes were full of dairy. So I was happy when I found the food blog Vegan Richa. Not only did she have some authentic Indian dishes, all vegan, she also had some fun Western/fusion dishes. So when Richa Hingle said she was releasing a cookbook all about Indian food, I knew I had to get it.
Photos
I love the photos that are in this book. It is pretty important to me to have photos of food that are not traditionally made in your area *cough* Vegan Eats World *cough* The Asian Vegan Kitchen *cough* If you are buying this cookbook you probably know a little about Indian food, but not a lot. And Richa's photos does help paint a picture of what to expect with textures, serving, etc.
And I can't stress enough how much this book needs lots of photos. The names of the recipes aren't too appealing. Richa describes the dish for what it is, but let's face it, how many different lentils can she use to keep your attention in the dal section? The photos gives a visual that stimulates the reader to pick it and make it.
Set-up
Nothing too unique about how this book is set up. But here is something I really liked about it. Richa explains why she made the book in the very beginning. Many times I would find this a little pointless with a vegan cookbook as it comes off preachy after awhile. But I think it is important because her book is about a specific type of cooking- Indian food. Some people might pick this book up without seeing it is vegan, so the introduction can be inspiring to someone.
Otherwise it is the same ol' same ol' deal. There is a large section about all the different foods you will need, explaining all the Indian specific ingredients, then moving to vegan specific foods. She divides up the recipes in a way that makes it easy to plan a traditional Indian dinner. Then she has the index in the back, which is very easy to use if you are looking for specific ingredients (something I like a lot!)
Writing
Richa isn't the best writer out there. But as a trade off she is short and to the point. She writes directions that are easy to follow. She also describes various indian staples in a quick no fuss manor. My only disappointment is that since she is so quick to describe things she glosses over the ingredients descriptions in the beginning a little too fast for my taste. But she makes up for it in the recipes, and gives a lot of details of different ways to make a recipe, where they are from, and how it may vary from region to region.
As for grammar, I think I only spotted one or two spelling errors. Nothing huge, and hopefully was fixed in the next pressing. The grammatically errors were minor and didn't make the things confusing on what the ingredients or recipe needed. I think there was one case where a spice wasn't listed in the steps. But Richa is so organized with the ingredients, ALWAYS listing them in order of use and grouping them by steps, that it was easy to figure out when to use the missing ingredient, which I think is much more important.
Overview
I can not stress how much I love this book. I got my copy for Christmas, and accidentally had two people get it for me. My Mother took the extra one and found out that she loved the book too. I can only hope that she gives lentils another try because I am falling in love with the potentials of dals. They are so cheap and are very versatile.
What I also love about this book is that there is a lot of ingredient overlap. Many cookbooks that focus on a specific cuisine or cooking style can sometimes fall into the trap of requiring ingredients that are only used in one or two different ingredients. I have many of these ingredients in my cupboard, granted I have a well stocked pantry. And if I don't have it, I have found a few other recipes that use that lentil that I had to buy, or whatever spice I had to buy.
I love this book and I think it is one of my new favorites. I will probably use it as much as Isa Does It since it uses a wide variety of foods and they are simple to make. None of the dishes are particularly hard, and usually don't take long to make. Some take a little longer to make, but usually has a lot of down time. I recommend this to anyone for weeknight dinners, and anyone who loves Indian food and wants to make some at home.
Recipes
This cookbook I tried my best to pick at least one recipe from each section of the book to show all the variety that is available. If there was a recipe available online legally, I left a link for people to try it out before buying the book.
Bell Peppers and Peas with Chickpea Flour
Shimla Mirch Mutter Zunka
Section: Sides and Dry Vegetable Curries
This dish was really tasty and super easy to make. Overall it takes a fair amount of time to cook but it is easy to make while working on something else. We ate this as a side dish with other curry dishes and naan. We had some leftovers and it made a really great topping for leftover naan pizzas. In fact I might just make this recipe again just to put on a curry style pizza.
Butternut Coconut Red Lentil Curry
Masoor Aur Kaddu Ki Dal
Section: Dals: Lentils and Beans
This dish is really amazing. Richa does a perfect job of blending flavors together to create something totally new. I recommended it to my mother even though she has never been a big lentils fan, and my father doesn't like squashes. It makes just enough for two people with rice if you don't make anything else. So I can imagine myself making this again in the future and doubling the recipe. The dal is super thick and delicious. It is also one of the simplest of dals in the book with a very short ingredients list.
Cabbage Kofta in Creamy Tomato Sauce
Patta-Gobi Ke Kofte
Section: Main Dishes
Recipe: Vegan Richa
File this under "WHY DIDN'T THIS WORK?!" Flavors were perfect. The sauce was amazing, and there was some leftovers that I used for leftover naan pizzas. But the kofta balls just were not staying together. The cabbage fell apart in the sauce, and I think they just needed something more to bind them together. Maybe even deep fry them? I would gladly make the creamy tomato sauce again for curry styled pizzas though.
Cabbage with Mustard Seeds and Coconut
Cabbage Thoran
Section: Sides and Dry Vegetable Curries
Recipe: Google Books
This is another side dish that is super easy to make but takes some time to cook (but mostly hands off.) I have made curry cabbage dishes in the past, and I think this one has the most amount of flavor. I used red cabbage since I already had it in the fridge, so the overall color was a little odd seeing the red cabbage covered in a yellow sauce. The dish is not substantial on it's own, so it is something you will definitely want to make as a side dish.
Cauliflower, Carrots, and Peas in a Coconut Poppy Seed Curry
Gobi Gajar Mutter Kurma
Section: Sides and Dry Vegetable Curries
This was a dish I left for my husband to make on his own. Sadly he did mess it up, but he is truly a beginners cook. But he overall said that he understood the instructions though, he probably skipped the step of grinding the poppy seeds with a mortar and pestle. The end result was a really yummy curry that could be enough as a main dish for two people.
Fudgy Coconut Balls
Nariyal Ladoo
Section: Desserts
Recipe: Vegan Richa
Again I forced myself to tryout a dessert for the review. I usually neglect this section mostly due to laziness and knowing it is probably something I shouldn't eat. I loved these balls. They are a nice little candy treat and I could imagine them being even more amazing dipped in melted chocolate making a truffle or a little coconut candy bar. Would that be traditional? Uh no. Would it be amazing? Yes.
Makhani vegetable Pot Pie
Section: One-Pot Meals and Casseroles
This section is not really filled with traditional dishes- at least not this one. This is a dish created from Richa's imagination, and the flavors are great, but the cooking technique is so-so. She took the simple bake in the oven method rather than the more well thought out sauté then bake method of casserole making. The end result is that some of the veggies cooked all the way, and some didn't. I ended up just eating the biscuits on top (which soaked up the broth) and saved the middle to make more into a soup to further cook the veggies. I also found the filling too liquidy. Overall I just think it needed some cooking on the stove before cooking in the oven, which would be easy if you have a dutch oven.
Puffy Restaurant-Style Naan
Section: Flatbreads
Recipe: Vegan Richa
I am very glad this cookbook has all these flatbread and naan recipes, sadly I rarely have the energy to try and make these. I figured I pretty much HAD to at some point if I was going to review the book. Good thing I did because the naan is amazing. She recommends cooking them on a pizza stone which ends up being a fast thing to do. They need such little time to actually cook that it is easy to double or triple the recipe. She gives store suggestions but I wonder if it will freeze well. Something to keep in mind.
Red Lentil Tomato Pulao
Section: One-Pot Meals and Casseroles
Recipe: Google Books
This was a really yummy dish. I doubled the recipe since none of them make a very large serving. The end result is a flavorful dish that combines a grain with a protein. I could imagine a lot of working mothers making this dish with some extra veggie sides. My husband and I ate it by itself, but had leftovers of it for the next few days as a side. This really combines everything you need in one meal.
Savory Split Pea and Rice Zucchini Cakes
Gujarati Handvo
Section: Small Plates and Snacks
These turned out pretty yummy, and they were fairly easy to make. The downside that they take a very long time to actually make. The recipe calls for soaking some lentils and rice in water for a few hours them blending them up and mixing in some yogurt. Then they ferment for a few more hours. Overall the active time is low and it is nice to divide up the dishes through out the day. Right now I am eating them pre-workout and am finding them really great. I would like to play around with the recipe because I think I can improve it a little, as the cakes are a little hard to get out of the ramekins.
Street-Style Tempeh Wraps
Tikka Kathi Rolls
Section: Small Plates and Snacks
Recipe: Google Books
This was a recipe from the snacks section that I made for dinner. One recipe should be enough for two people, but I doubled it so I could use the tempeh for lunches. I also cheated and didn't use rotis for the wraps and used some sprouted tortillas that I already had. They came together really easily and tasted amazing. They are great for someone who doesn't like spicy foods as much. The recipe calls for a recipe of mint cilantro chili chutney which was a little annoying because I had some cilantro chutney in the fridge, and didn't know how much to use. But I will happily make this as a weeknight dinner again.
Split Peas with Coconut, Sesame, and Tamarind
Maharashtrian Amti
Section: Dals: Lentils and Beans
This is a recipe that might take awhile to make. Before cooking you need to soak the pigeon peas for an hour, making it faster to actually cook. The end result is a very tangy dal that is very different from what most people think of Indian food. The reason is mostly the tamarind. I accidentally forgot to add the sugar, which I strongly recommend not skipping. I also wanted it to be a smidgen saltier and added some soy sauce to the dish.
Tempeh and Cauliflower in Spicy Paprika Yogurt Sauce
Kashmiri Rogan Josh
Section: Main Dishes
My husband and I were a little bummed out from this dish. It reminded me of a curry from The Asian Vegan Kitchen, the mushroom and green pea curry. Both are very creamy and not too spicy. I have so that that hands down this curry was better, but not our style. I am glad we gave it a try because it might be something I would make for kids to ease them into a spicier palette. I just think creamy curries are not my thing.
Vegan Paneer with Spinach in Tomato Sauce
Kadhai Vegan Paneer Palak
Section: Main Dishes
This was the first dish I made from this cookbook. I didn't make the homemade paneer, as I was being lazy. I just use some cubed firm tofu. The verdict was that it needed more gravy, which might of been because I used more tofu than what the paneer recipe would of made. Aside from that problem, I would make it again in a heartbeat. It was really tasty, and a great way to eat some spinach.