July 8, 2016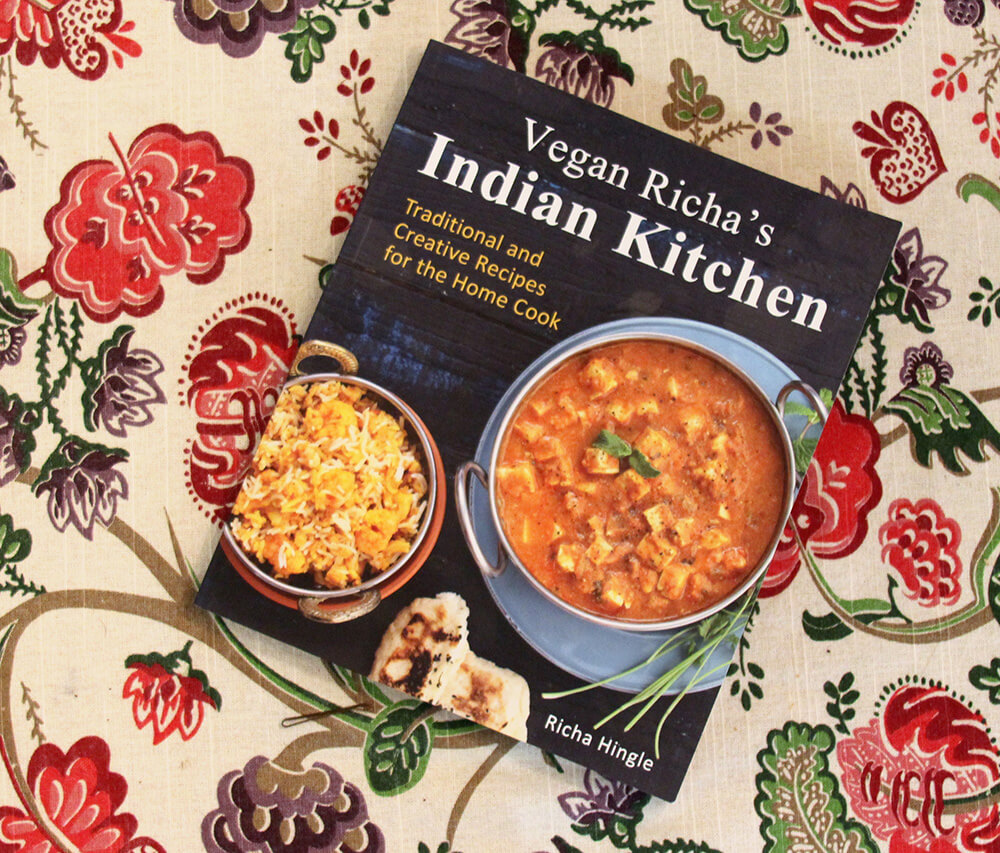 Shop on Amazon or Barnes and Noble
I have always been a big fan of Indian cuisine. I loved how it was very vegetable heavy and you had lots of different options for meals without meat. But as I went vegan I soon discovered how many of those vegetarian dishes were full of dairy. So I was happy when I found the food blog Vegan Richa. Not only did she have some authentic Indian dishes, all vegan, she also had some fun Western/fusion dishes. So when Richa Hingle said she was releasing a cookbook all about Indian food, I knew I had to get it.
Photos
I love the photos that are in this book. It is pretty important to me to have photos of food that are not traditionally made in your area *cough* Vegan Eats World *cough* The Asian Vegan Kitchen *cough* If you are buying this cookbook you probably know a little about Indian food, but not a lot. And Richa's photos does help paint a picture of what to expect with textures, serving, etc.
And I can't stress enough how much this book needs lots of photos. The names of the recipes aren't too appealing. Richa describes the dish for what it is, but let's face it, how many different lentils can she use to keep your attention in the dal section? The photos gives a visual that stimulates the reader to pick it and make it.
Set-up
Nothing too unique about how this book is set up. But here is something I really liked about it. Richa explains why she made the book in the very beginning. Many times I would find this a little pointless with a vegan cookbook as it comes off preachy after awhile. But I think it is important because her book is about a specific type of cooking- Indian food. Some people might pick this book up without seeing it is vegan, so the introduction can be inspiring to someone.
Otherwise it is the same ol' same ol' deal. There is a large section about all the different foods you will need, explaining all the Indian specific ingredients, then moving to vegan specific foods. She divides up the recipes in a way that makes it easy to plan a traditional Indian dinner. Then she has the index in the back, which is very easy to use if you are looking for specific ingredients (something I like a lot!)
Writing
Richa isn't the best writer out there. But as a trade off she is short and to the point. She writes directions that are easy to follow. She also describes various indian staples in a quick no fuss manor. My only disappointment is that since she is so quick to describe things she glosses over the ingredients descriptions in the beginning a little too fast for my taste. But she makes up for it in the recipes, and gives a lot of details of different ways to make a recipe, where they are from, and how it may vary from region to region.
As for grammar, I think I only spotted one or two spelling errors. Nothing huge, and hopefully was fixed in the next pressing. The grammatically errors were minor and didn't make the things confusing on what the ingredients or recipe needed. I think there was one case where a spice wasn't listed in the steps. But Richa is so organized with the ingredients, ALWAYS listing them in order of use and grouping them by steps, that it was easy to figure out when to use the missing ingredient, which I think is much more important.
Overview
I can not stress how much I love this book. I got my copy for Christmas, and accidentally had two people get it for me. My Mother took the extra one and found out that she loved the book too. I can only hope that she gives lentils another try because I am falling in love with the potentials of dals. They are so cheap and are very versatile.
What I also love about this book is that there is a lot of ingredient overlap. Many cookbooks that focus on a specific cuisine or cooking style can sometimes fall into the trap of requiring ingredients that are only used in one or two different ingredients. I have many of these ingredients in my cupboard, granted I have a well stocked pantry. And if I don't have it, I have found a few other recipes that use that lentil that I had to buy, or whatever spice I had to buy.
I love this book and I think it is one of my new favorites. I will probably use it as much as Isa Does It since it uses a wide variety of foods and they are simple to make. None of the dishes are particularly hard, and usually don't take long to make. Some take a little longer to make, but usually has a lot of down time. I recommend this to anyone for weeknight dinners, and anyone who loves Indian food and wants to make some at home.
Recipes
This cookbook I tried my best to pick at least one recipe from each section of the book to show all the variety that is available. If there was a recipe available online legally, I left a link for people to try it out before buying the book.