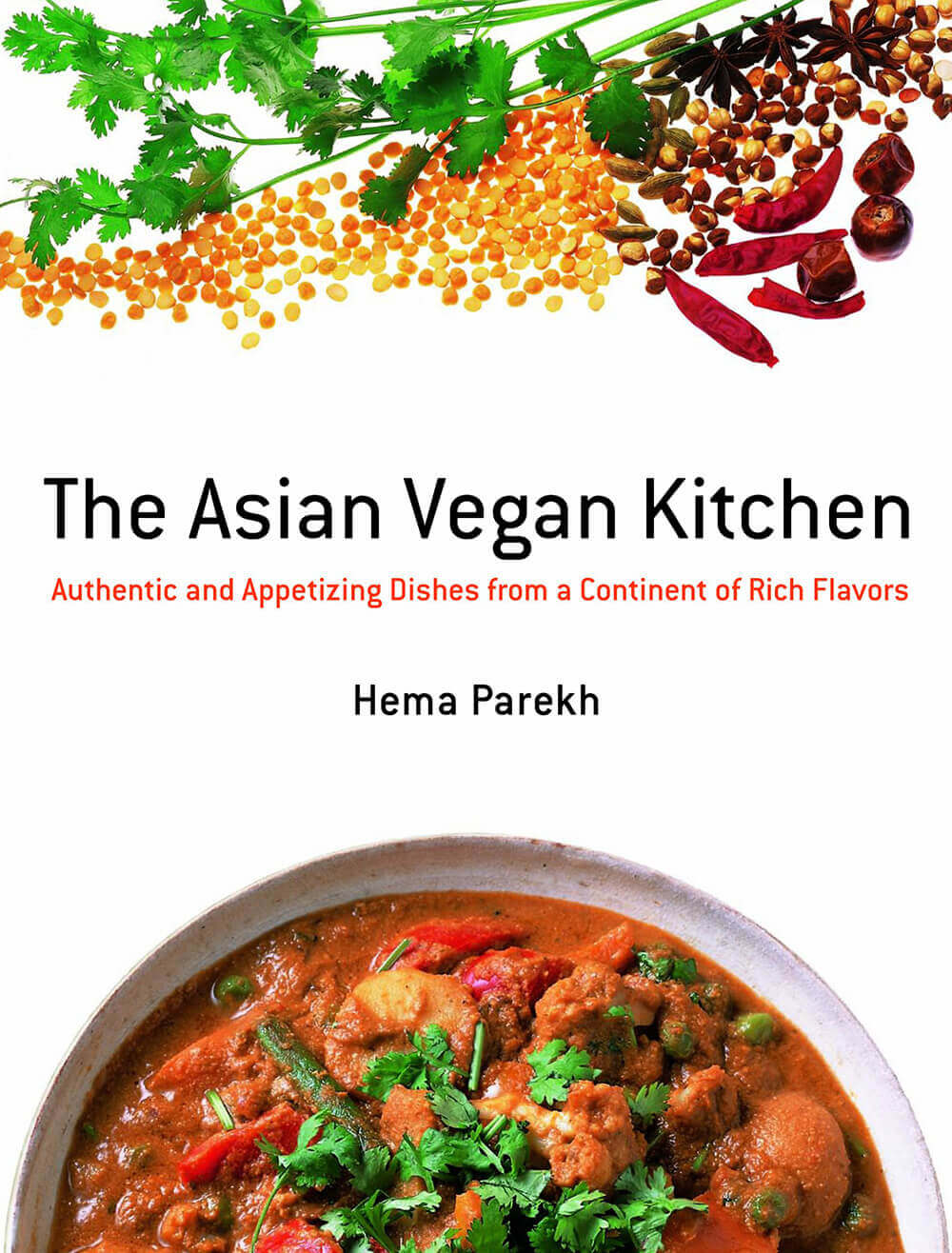 Shop on Amazon or Barnes and Noble
I received this book as a Christmas gift. It seemed like a well thought out gift since I love Asian cuisine and I am a vegan. I was pretty excited about the book since it featured recipes outside of popular regions. Hema Parekh reaches out further than India, Japan, and China and puts recipes from Burma, Malaysia, Vietnam, and South Korea. Parekh writes about how she got married and moved out of India to Japan, where she learned to cook. The book is a mixed bag of emotions for me, as I feel like there could of been so much potential for it.
Photos
All the photos are clustered in the middle of the book. I hate this sort of set up, especially since the book is divided by country instead of food "types." The style of photography is very outdated, all the dishes have clay-red hue. I don't think there was a photo that I saw and thought- that's what I want to try and make.
I wish there were more photos as most cookbooks featuring specific regions of cooking have recipes for dishes I've never heard of. So having a photo would help me visualize what the end result should look like. This particularly important for dishes where presentation is very important like dumplings and Japanese cuisine.
Set-up
I can't help but compare this book to Vegan Eats World by Terry Hope Romero. Terry features cuisine from a larger range of countries, and organizes all the recipes by styles, soups, salads, curries/stews, etc, etc. Parekh on the other hand groups all the recipes by nations, then divides them up by style. So there would be a chapter from India, then listed in that chapter would be soups, desserts, curries, rice, etc. In some ways it is an easier for planning dinners, in other ways it is hard to search around. Especially since many dishes overlap each other. Dumplings are eaten outside of China, so if I was planning a meal I could include them as a side for most dinners.
The book has an introduction but only as a way for the author to say hello. She jumps into the recipes, which would be find if the purpose of the book was not to teach a new cuisine. It would of been nice to have an overview of the ingredients, subtle differences between noodles, and rice types over the countries. There is an ingredients reference at the end of the book, but I didn't find it till I got towards the end. If anything she could of put page numbers next to ingredients to help guide readers.
The visual representations of the recipes is okay. Since the photos aren't set up next to the recipes it can be a little frustrating and demanding of the imagination of the reader. The text for the ingredients are small, making it harder to try and piece together the end result.
Writing
There is a lot of confusion in the book, much of it is cultural. Parekh is writing as an Indian living in Japan, which makes the translated names of the dishes confusing. She lists the dish as an English translation, then puts the original name in small text next to it. For example samosas are listed as Crispy Pumpkin Turnovers (the recipe mentions how they normally made with potatoes, not pumpkin) This translation problem continues with ingredients and dishes as she mentions the japanese translation over the English. The most obvious example is that she gives a recipe for Chinese dumplings, but lists them as "gyoza." This isn't a problem if you know some Japanese cuisine, but most American's would recognize dumpling over gyoza.
Aside from the cultural issues, I've spotted several spelling/typing errors. There are even issues with recipes, as she leaves out when to add ingredients to recipes. These are not issues that only happened once, but several times. Clearly this was a rushed publication.
Overview
Parekh's life story seems to shape the outcome of the book. There is a large bias for Indian and Japanese food. Those two chapters make up at least half of the recipes, pushing the other nations into weak collections. This bias extends to the ingredients, listing them under their Japanese names. For example many of the noodle listed for China are of Japanese styled noodles. Yes, there is style overlapping, and some differences. But the point is that if you are making a Chinese sesame noodle, it probably doesn't call for udon noodles.
This naturally creates confusion for the book. This is a book written by a woman in Japan, for people who probably don't live in Asia. Some ingredients are going to be easy to find, some will not be. Because of this reason it would be extremely helpful to have a very detailed ingredients guide. Going into detail about common ingredients, and what would be good replacements. Some recipes already do this, some don't. It also worth mentioning that I live in a culturally diverse area, I live near a Korean, South East Asian, and Indian market. I am sure there are more ethnic markets, I just never found them yet. Some ingredients are hard to find, or are very seasonal.
My other problem with the book is that is wavers back and forth from super authentic to completely not. I have no problem from straying away from tradition and giving a fun twist to a recipe. But in some ways it seems that Parekh doesn't change things in ways that could honestly make them better. There isn't ANY innovations to try and add more flavors. Many of us know that Asian cooking use fish and meat by products (think oyster sauce). Parekh seems to take a recipe, remove the offending ingredients, like maybe fish sauce, and calls it quits. This leaves many bland recipes. Nor does Parekh seem fully educated about vegan products, listing one recipes with worcestershire sauce, which contains anchovies. Yes there are vegan versions, but they aren't common.
I have to say I am sorely disappointed with this cookbook. It was rushed, and I am unsure of who the audience is. Is it for people who live in Asia with easy access to the ingredients? Or is it for anyone, anywhere in the world? I can say there I found some inspiration in the recipes, but mostly because I wanted to make them taste better. All dishes seemed pretty bland and relied heavily on fats, which I am not particularly fond of.
Recipes
This cookbook I tried my best to pick at least on recipe from each country spotlighted in the book. Since there were a lot of recipes featured from Japan and India, there is naturally more recipes tested from those countries.
Grilled Tofu with Mushroom Sauce
Yakidofu
Country: Japan
Section: Side Dishes
Yakidofu is pretty much grilled tofu to make it firmer and easier to add to other dishes. Parekh add her own flair to the dish by lightly breading the tofu and adding a mushroom sauce over it. The tofu was incredibly bland as it was just pressed and covered in a very basic batter. The mushroom sauce was good but very chunky and therefore didn't mix well with the tofu. But the two tasted great together when I made my Japanese-leftover burritos for lunch.
Mushroom and Green Pea Curry
Khumbi Matar
Country: India
Section: Curries and Main Dishes
This was an indian dish I've never seen before in a restaurant. I figured it would be a great recipe to try since I had nothing to compare it to. The dish features mushrooms and peas covered in a thick almond and coconut curry. I made the mistake of tossing mustard seeds into the curry over poppy seeds, which gave a weird undertone but didn't distract me from the recipe's short comings. The mushrooms and peas cooked oddly, or Parekh could of been a little more innovative about how to put together the steps for the vegetables to cook better. I would of sauted the onion, then the mushrooms, added the peas and some water and steamed. Then add the gravy cooking and heating through for a few minutes.
That being said, the recipe was very fragrant, very perfume like. I would happily try and give it another go, altering it the way I choose, maybe even picking different ingredients to feature in the recipe. It did help that I used a vitamix blender, giving the curry the smoothest result. I could picture most people getting a very chunky sauce in the end.
Noodles in Sesame Sauce
Dan dan mian
Country: China
Section: Rice and Noodles
I was pretty excited about this dish, I remember liking various other sesame noodle dishes. But somehow this recipe gets messed up as well. I went out of my way to buy sesame paste over tahini, and followed all the steps. The dish was too bitter and needed something else to round out the the sesame. The author also adds sesame oil to the sesame paste and I just don't see the point. It is just added fat that doesn't add much flavor.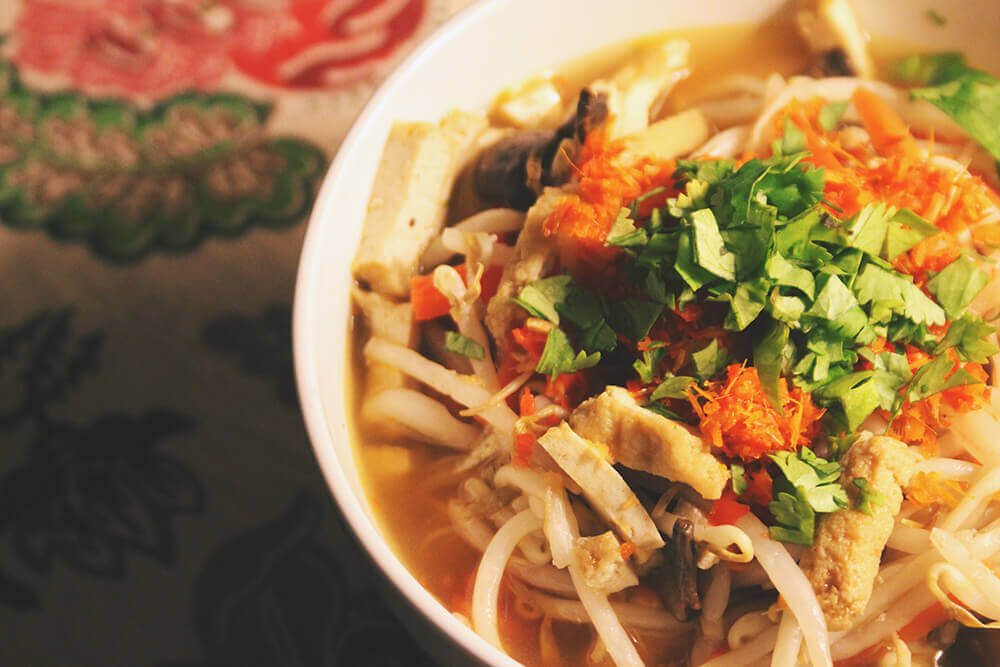 Rice Noodle Soup
Banh canh chay
Country: Vietnam
Section: Main Dishes and Rice
This is one of the few dishes I think would of been better if I followed all the steps. I cheated and used a Thai styled broth that I bought from Wegman's. If I made the recommended Vietmanese broth at home, I would of resulted in a more flavorful soup, which gives me some hope for this soup. It was filling and had a serving size that held true. It has a nice recommended pepper-lemongrass-garlic garnish which made it customizable in family that have different spice preferences.
Red Curry with Vegetables
Kang phet pak
Country: Thailand
Section: Main Dishes
This dish is another example of too much fat. The recipe called for two cans of coconut milk and made the dish too rich. I literally got sick to my stomach when I had leftovers. But the recipe redeemed itself with the homemade curry paste. It was actually quite yummy, and froze the leftovers and have already used it in other dishes.
Simmered Pumpkin
Kabocha no nimono
Country: Japan
Section: Side Dishes
The description suggests using other root vegetables instead of pumpkin/winter squash in the recipe. It is a little deceiving since the recipe is named simmered pumpkin when she really means Japanese or Asian pumpkin, also known as kabocha. The flavor difference isn't as much of a big deal as the skin. Kabocha has edible skin, pumpkin does not. But I used the recommendation and used sweet potato. I found lots of extra broth but it still tasted great. I usually don't like sweet potato alone but I found it was well balanced with all the umami flavors from the sake and mirin. I would definitely make this again, or use it for a sushi roll.
Spiced Rice with Mung Beans and Vegetables
Masala kichidi
Country: India
Section: Rice Dishes
Parekh describes this dish as an Indian risotto, which got me pretty excited. The ingredients were pretty short, and cheap, so I figured it could be a great weeknight dinner. I followed the recipes and hit a bunch of bumps. It started out that the rice cooked too fast, and started to burn. The mung beans never cooked fully, which makes me believe that it would cook at a more even rate if I used brown rice instead of white. The dish was fairly bland, and I found myself trying to add other condiments while eating. The sad thing is that I did use vegetable stock instead of water in an attempt to give more flavor from the beginning. This could be a yummy dish with some alterations.
Stir-fried Eggplant and Green Peppers
Natsu no nabe-shigi
Country: Japan
Section: Side Dishes
This dish made a lot of vegetables. I might of made too much since the recipe calls for 3 eggplants and 3 peppers, and doesn't specify measurements or weight. Because of this the eggplant and peppers didn't cook evenly, and created a huge amount of leftovers. The dish was nice, and fairly easy to make for a vegetable side dish.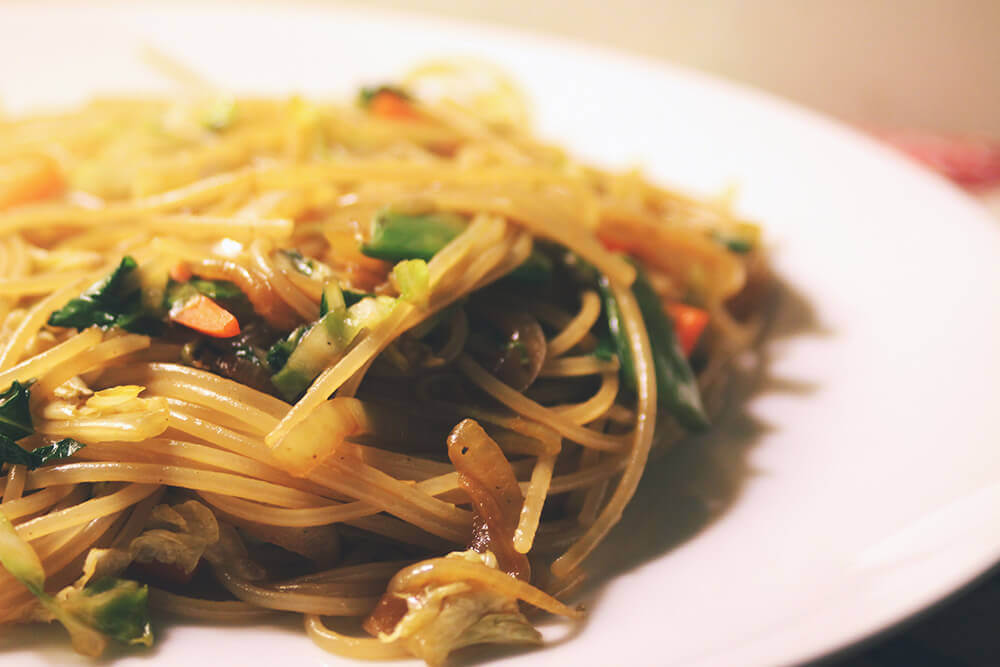 Stir-fried Noodles
Kyarzan Kyaw
Country: Burma
Section: Rice and Noodles
I think we've all made this recipe before. Stir-fries for beginners should be the name of this dish. She does a very simple style, stir fry onions, add greens, snow peas, and carrots, then add noodles and soy sauces. Easy peasy right? Well, sort of. Sadly the author falls short and the noodles never softened up enough. I wish she specified to make sure to use THIN vermicelli noodles. The first time making this dish the noodles were too stiff. So when making it the second time, I used boiling water to soak the noodles in, and that got the right results.
Stir-fried Tempeh in Coconut Milk
Tumis tempeh santan
Country: Indonesia
Section: Main Dishes
This is very rich from the coconut milk, even with me diluting the milk with vegetable stock. The amounts called in the recipe causes packaging problems, calling for 2 cups coconut milk (basically one and a third can of milk) and 12 ounces of tempeh (one and half packages of tempeh). But disregarding that, the dish was pretty easy and fast to put together. Most of my time was spend chopping, but once that was done the cooking went fast. The dish was a little bland, but it could easily be fixed in future alterations.
Note About the Book: This book was given to me as a gift, with no relation to the publisher. All points of view are my own.