One of the first few blogs I started to visit frequently as an adult was Oh She Glows, written by Angela Liddon. It seemed I kept finding my way back to her blog whenever I googled recipes. I found her recipes reliable and delicious at a time when most blogs had me questioning whether or not the authors even attempt to make the recipes about which they write. When I scrolled upon a post by Angela in which she mentioned she had a book in the works, I became both excited and skeptical. Many bloggers have been published but yield disappointing cookbooks. But of course, I knew I had to get her book. I've read The Oh She Glows Cookbook front to back and tried some recipes. I'm ready to share the results!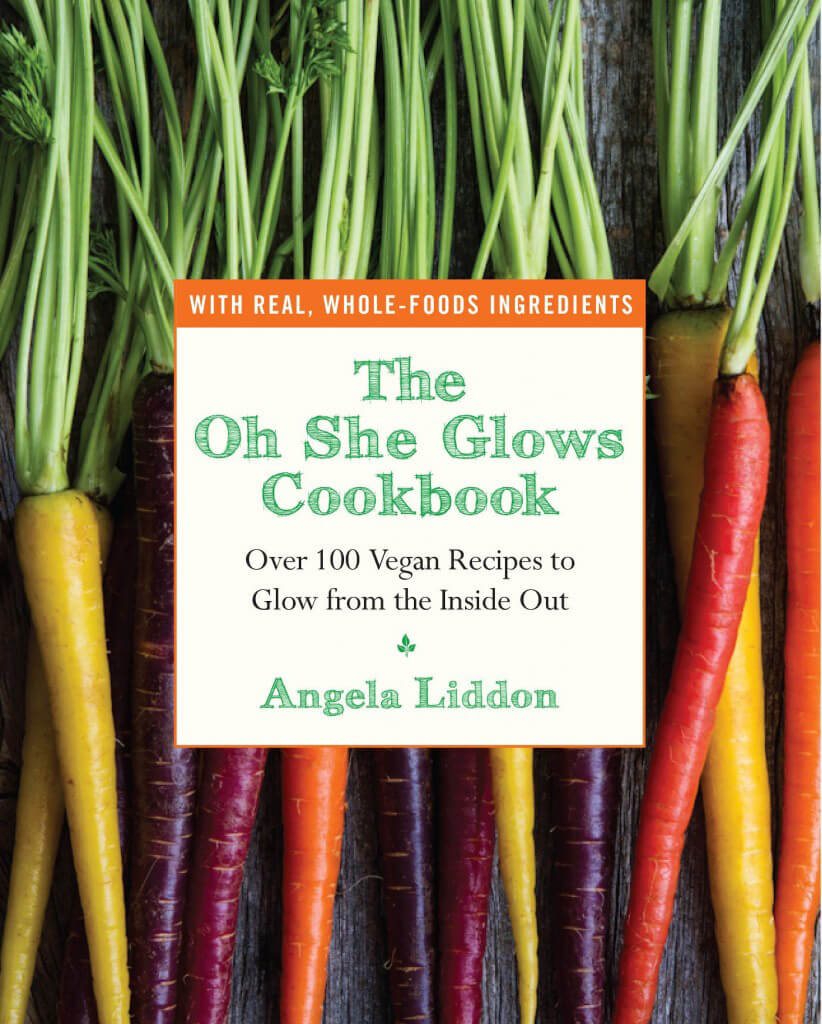 Shop on Amazon
Note: All photos are from the cookbook or the Oh She Glows website.
Photos
The bonus of some blog cookbooks is that they are filled with lots of beautiful photos. Each main recipe is accompanied by a photograph. There really aren't any photos for "how-to" instructions for things like beans, banana ice cream, flours, etc. And that is fine. I don't think we need a photo of a food processor filled with almonds.
I also liked how her pictures were realistic. Unlike the wax and clay food photography you often find in the professional world, Angela's food photography looked like I could have made it myself. Granted, my freezer pizza didn't look nearly as nice as the photo, but that is partially because I didn't care enough to drizzle the chocolate. Nor did Angela try and bore us with individual photos of each smoothie. She grouped some together and found interesting ways to shoot the teas.
Set-up
The format of the book is well-structured, especially for heath-food newbies. Angela begins with a detailed description of commonly used ingredients in the book that aren't so commonly found in the average person's cabinet. She gives brief outlines about the obscure ingredients and discusses the recipes that use them, ways to store them, and sometimes the unique nutritional benefits. This section is well-written and would be a shame for people to skim it or flip past it altogether. Even a seasoned cook can learn a thing or two from her notes.
The book then introduces the various types of recipes: breakfast, drinks, appetizers, salads, soup, entrees, sides, power snacks, and desserts. I do have to say I was a little disappointed from the limited amount of dinner choices. I usually use my cookbooks specifically for dinners, but it is good to have a wide variety of meal types. I know friends and family have a hard time thinking of vegan appetizers as they don't seem to get much attention in cookbooks. Her power snacks is an interesting section that give snacking options that aren't overly sweet.
Angela concludes the book with cooking basics. She writes about how to perform several simple basic kitchen functions. In older cookbooks, authors would tend to sprinkle this type of information throughout different sections of the book. For example, if author highlights a section on beans, he or she may insert a small page on how to cook dry beans. I never really liked this approach. If you need that reference, it just takes longer, so having all the small things in the back adds efficiency.
Writing
Angela writes beautifully. She is simple, easy to read, and to the point. Nothing was difficult or a pain to figure out. Most cookbooks are rushed to print and may lack enough instruction or can cause confusion. The only head scratcher for me was in the "Beat the Heat Frozen Dessert Pizza," where she calls for 2 tbsp and 1 1/2 tsp of brown syrup. Granted this was grammatically correct, I got confused and wish she worded it as 7 1/2 tsp or 2 1/2 tbsp.
And since I did read front to back, (seriously I did!) I noticed that Angela was a little repetitive in the sides category. Almost all the recipe introductions started with "I never really liked (insert food here) but now I do!" Of course most people wouldn't notice this in a normal cookbook setting since you would read the two different recipes listed next to each other on different days.
Recipes
Angela took great care in writing new recipes as well as including favorites found on her blog. Although some reviews complained that she included blog recipes, I found this a good thing. I now have a hard copy that is easier to reference. It is also great for new readers. For example, my boss from Animo happened to pick up the book from a store. She was raving to me about the Green Monster drink. But even as a big fan of the site, I didn't feel ripped off since Angela offers two versions, Mojito Green Monster and Tropical Beauty Green Monster.
The book comes off as a starter guide to healthy eating, and this might not be a bad thing for a first book. She touches on everything a person would need to cook breakfast, lunches, dinners, desserts and for entertainment. I did kind of hope for a little bit more from the entrees and to have a little bit more jazzed up recipes in the sides section. Her focus is on easy to prepare recipes, which is a great way to ease people into daily cooking. Regardless, I am happy with my purchase, and I will be cooking many more recipes from the book.
Below are brief reviews of recipes that I tried. I listed them in the order they are found in the book, including the section and if there recipe is available online, with link provided if possible.
Ultimate Nutty Granola Clusters
Section: Breakfast
Book Exclusive
I tried this recipe for my husband's oatmeal. Yes, putting oats in oats seems a little redundant, but Angela's recipe is a little more complicated than sugary oats. She packs in lots of nuts, seeds, and fruit giving it dimension. My husband found the granola amazing, and incredibly filling. I am also very thankful Angela gives storing methods because the recipes makes a lot. The way she lists the recipe, it gives a lot of space for variations.
Raw Buckwheat Breakfast Porridge
Section: Breakfast
Recipe on Website
I've mostly been eating chia pudding for my pre-morning run. It is easy to make and pretty much something to make the night before. This buckwheat porridge ranks up there with easy accessibility. It is simple and easy, and very yummy. The only thing stopping me from making this more often is price.
Gym Rat Smoothie
Section: Smoothies, Juice, & Tea
Book Exclusive
Most homemade smoothie recipes tend to lack body. This one did not. The shake was thick and homogenous (don't you hate when you shake starts thin then turns lumpy on the bottom?) The shake COULD have been sweeter, but that might have been because I used unsweetened almond milk and had to use figs instead of dates. It also helped remove the grit that I usually find in hemp protein!
Crowd Pleasing Tex-Mex Casserole
Section: Entrees
Book Exclusive
I am sure Angela's isn't claim to fame isn't the "tex-mex casserole." I've tried many recipes from many different vegan cookbooks. I've got my favorites, and this isn't one of them. I don't think hers is terrible, it is quite good. I felt that adding cheese was kind-of pointless, and it was generally not as "clean" when compared to other recipes I used.
Broccoli Cashew Cheese-Quinoa Burritos
Section: Entrees
Book Exclusive
Since I work at a burrito shop I was a little skeptical about this recipe. But I love trying out something completely new, so I gave it a whirl. I love it so much I went for seconds, then felt so full that I couldn't move for the rest of the night. Yup, these bad boys are INCREDIBLY filling. I will make these again, and often. They are truly amazing, and I think the whole cookbook was worth it just for this one recipe.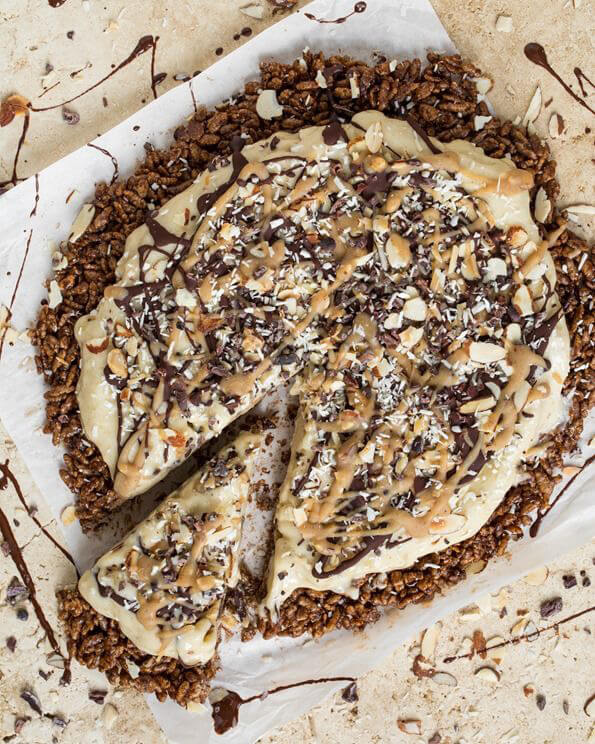 Beat the Heat Frozen Dessert Pizza
Section: Desserts
Book Exclusive
I wanted to try out a recipe that was different from the rest. This was probably the most original recipe in the book. And just by reading the steps, it seemed like one of the easiest desserts to make. It sort of was. My rice cereal looked longer than the ones used in the photo, and therefore I had a hard time forming the "crust." I also had a hard time spreading the banana ice cream. But who cares. That's mostly for aesthetics and doesn't actually affect the taste. I probably will make this again during the summer, and add some alterations to help form the crust.
Easy Almond Pulp Granola
Section: Homemade Staples
Book Exclusive
I think the only regrettable recipe from this book is the Easy Almond Pulp Granola. This followed the instructions on how to make almond milk, using the fiber remains from the milk. I usually dehydrate them and sub them in for almond meal. I figured I would try out this recipe to skip a step. It was horrible. Terrible. Funny thing is that I used almond pulp in the first granola recipe.