November 17, 2015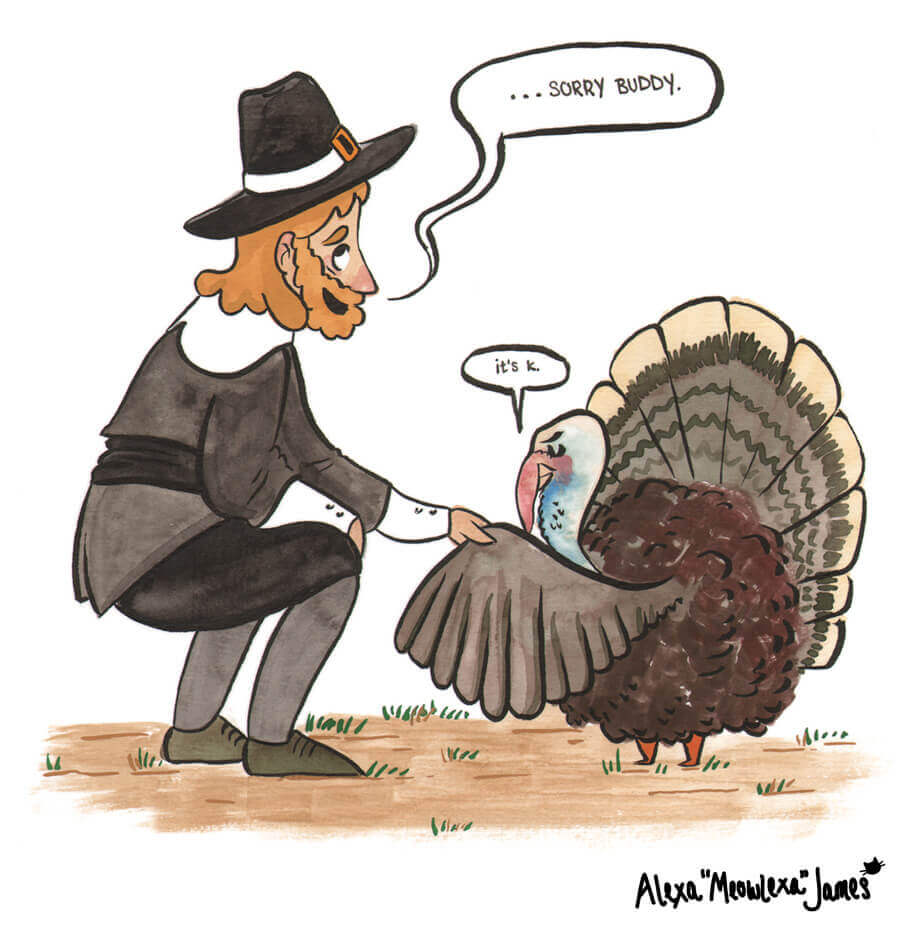 It is funny when people ask vegetarians what they eat during Thanksgiving. To me the answer is easy, everything except the turkey and ham (yes, my Grandma would cook both a ham and turkey for Thanksgiving). Vegan is a little bit more tricky, not because there is something particularly not vegan about Thanksgiving Day food, but because people love using butter and heavy cream. So a lot of a vegan's job is trying to ask a host to use vegan butters or oils in the food. An easy answer is to make you own food, I usually recommend making a very not vegan dish, like a green bean casserole. Good news is that crescent rolls and cranberry sauces are usually accidentally vegan. Read labels to double check. If you found this page because you want to figure out what to cook for a vegan, I already wrote a post about it last year!
Last year Alexa asked for recommendations for cooking her own Thanksgiving, so I kind-of made a fantasy cooking list, but I wasn't actually cooking all those things. I ate with my in-laws who amazingly made all the sides vegan (except for one dish where she left some cheese-less stuff onions for us). This year I am taking up Thanksgiving dinner. I am pretty excited but I am trying to not go too nuts, I mean it is going to be a small dinner, just my husband and his parents. We will have my family come over for desserts, which in someways nice to only have to make one pie in the end… but I'll probably make a cake too. XD
Picking things were pretty hard, because there has been a recent obesession with people trying to make a new vegetarian showstopper. People are trying to make vegduckens, with epicurious and food52 both giving a stab at it. Food52 does a blow by blow coverage of the process, which is just interesting to read if you are trying to roast 6 different squashes nested into each other. Epicurious had a much simpler summer squash nested in an eggplant, nested in a butternut squash. But my husband didn't seem interested in any of these ideas, so we ditched them. Maybe one year?
The Dinner Menu:
Sweet Potato Biscuits
Normally I just make the sweet potato drop biscuits from Appetite for Reduction, but these look so fluffy and flakey, I should give this recipe a try.
Garlicky Lacinato Kale
With so many different types of carbs out there, I figured having something green will help balance everything out a little.
Mashed Potatoes
Nothing special, just good old fashioned mashed potatoes with Earth Balance butter and soy milk. My husband badly wanted this, so I will make it.
Roasted Carrots with a Sweet Tahini Drizzle
My Father in Law always wants boiled carrots for dinner. I don't know about you guys but I hate straight carrots. They are either too earthy or too sweet! But the tahini looks like it will balance everything out nicely.
Sage Stuffing and Shiitake Shallot Gravy
I've never made stuffing before so this should be interesting. Something about stuffing seems so unnatural, baking already cooked bread? And you make it soggy then bake it out? So, so, weird.
Seitan Stuffed with Wanuts, Dried Cranberries, and Mushrooms
Since I wasn't doing a show stopping veggie, I figured I would make something meaty for Jon and I. This is a homemade seitan roast, and it looked impressive. So why not right?
Scarlet Barley
This recipe is from Appetite for Reduction, it is simple and easy and very striking. I figured it is a nice addition without much work since it is pretty much simmer on the stovetop.
Brussel sprouts, cranberry sauce, and turkey
Yeah, my in-laws are pitching in. They are still pretty attached to the turkey tradition, and I get that can be a hard thing to let go of, so if they want to roast a whole bird at home, then they can. But she is going to bring some brussel sprouts and cranberry sauce to add to the dinner. I think we will have plenty to eat.
The Dessert Menu:
Apple Pie
Jon and I have been kind-of working on our own apple pie recipe. I think we will pull all the stops to make the ultimate apple pie for dessert. And if it works out, we will post it on the blog.
Sweet Potato Cake
I am still not sure if I am going to make this cake, but it looks good. It probably isn't too hard to put together and I will have to roast some sweet potatoes for the biscuits.
Non-vegan pecan pie, pumpkin pie, and some cranberry something…
I swear people love making dessert? I figured someone in my family would make a dessert, Jon's father would make his pumpkin pie, and all would be good. No I find myself giving up my pecan pie. I thought about if I wanted to make another dessert, and I am still up in the air about that, but I figured why not give some booze options?
Apple Pie on the Rocks
This was found from Vegan Yack Attack. She made a note that fireball is not actually vegan, so I would have to pick up some other cinnamon vodka. I am not a huge flavored vodka cocktail fan, but I do like the look of that sugar rim.
Maple Bourbon Cocktail
I like bourbon, I like maple syrup, and I have tons of bitters to use up. I think this is the perfect cocktail to make for people want a little bit less of the sweetness from the apple pie on the rocks.
Sweet Potato Pie Cocktail
Why does everyone need to make liquid pie? This one depends if I can find the liquor in the store, Sweet Potato vodka by Art in the Age. I mostly like the visual of having the toasted marshmallows on the top.
Sweet Potato Latte
This is probably a quickie to make off to the side for the two little girls. If we have the sweet potato pie cocktail I will probably have marshmallows on top.
Plan of Action
I think planning is what makes Thanksgiving so hard, so I am trying to plan things out. My husband is taking off Wednesday from work, and so will I. We will use that day to prepare a few things. We will roast some sweet potatoes for the latte, cake, and biscuits. For the desserts, we will try and make the pie and cake ahead of time, and they should be find sitting out of the fridge for one day. We will probably also make the sweet potato lattes a head of time so we can just microwave them for the girls. The only thing for dinner I will prep would be to wash and clean the kale, and to make the mashed potatoes a head of time.
Day of I will probably start with the seitan roast, as it is the most labor intensive. Once that starts up I'll start cooking the barley since it is easy but takes over an hour to cook. Then I will move along to the stuffing, then carrots, and biscuits. Then I will finish up with the gravy and kale on the stovetop. I will probably have everything spread out and pre-measured before hand to make everything run smoothly and keep warm for dinner time.
Then when dessert comes around, I will make cocktails as they are being ordered, and the little kids get the job of taking orders. And I will probably go out and buy some trader joe's vegan vanilla ice cream with some coconut whip. I guess I will make another post after Thanksgiving reporting how well this actually went. XD
So what are you guys doing for Thanksgiving? Do you have a 100% vegan Thanksgiving? Or do you just bring your own casserole to dinner?