June 9, 2016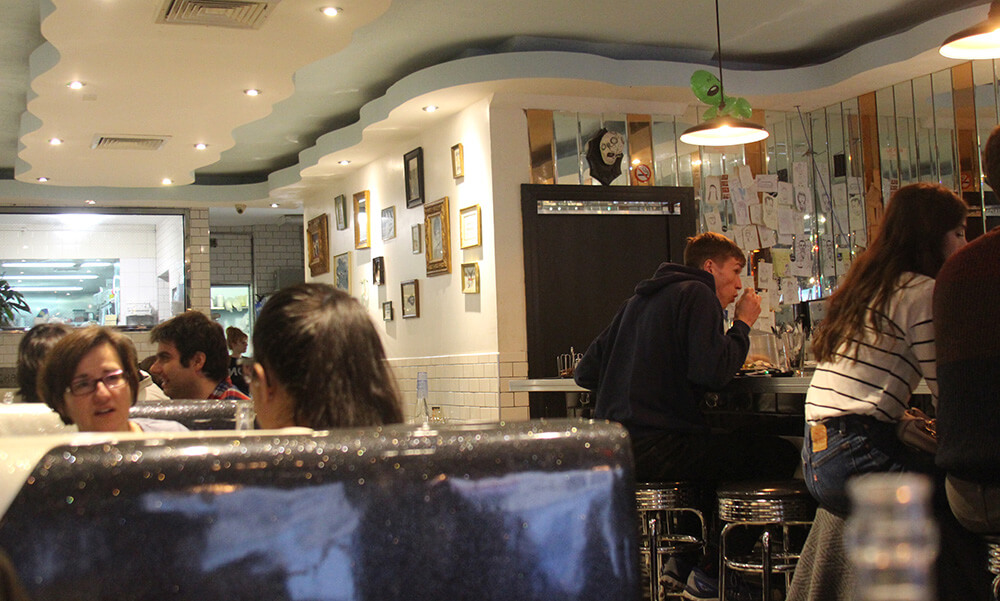 Champs Diner
197 Meserole Street, Brooklyn, NY 11206
website | facebook | instagram
These photos have been sitting on my computer for over a month? Oh gosh, maybe two months now. I have been crazily eyeing up Champs ever since I first heard of it. I went to Champs when visiting my sister in Brooklyn, and I got to meet her boyfriend, who actually comes to Champs often with his vegan and vegetarian friends. Although being vegan doesn't mean you only have to eat healthy foods, when eating out it seems that the vegan option is almost always a salad. Sure restaurants are starting to give other vegan options, which pretty much means you can choose between a salad and a veggie burger. Sometimes all a vegan wants is some good old fashion greasy diner food. Well, this is the place to go.
I didn't take any outdoor shots, the place isn't glamourous, and it shouldn't be. It's a diner. It keeps the interior with traditional diner decor, note the mirrors and sparkly seats. If you aren't familiar with diners here is a basic outline. If you are American, a diner means a specific style of restaurant that is mostly popular in the Pennsylvania, New Jersey, and New York area. Originally diners were similar to trailer homes, they were prebuilt models that could be purchased. They were long an narrow for transportation purposes, but it meant it was fairly cheap to build a completely new restaurant. Because they were prebuilt, there was a very specific style (think art deco, metallic, and kind-of looking like a trailer). As the diners became more popular they became bigger. Some places sold prebuilt models that could put together on premises in order to "expand" the restaurant. Now most surviving diners are massive monsters. If you want a comparison, here is an original styled diner compared to a later monster diner.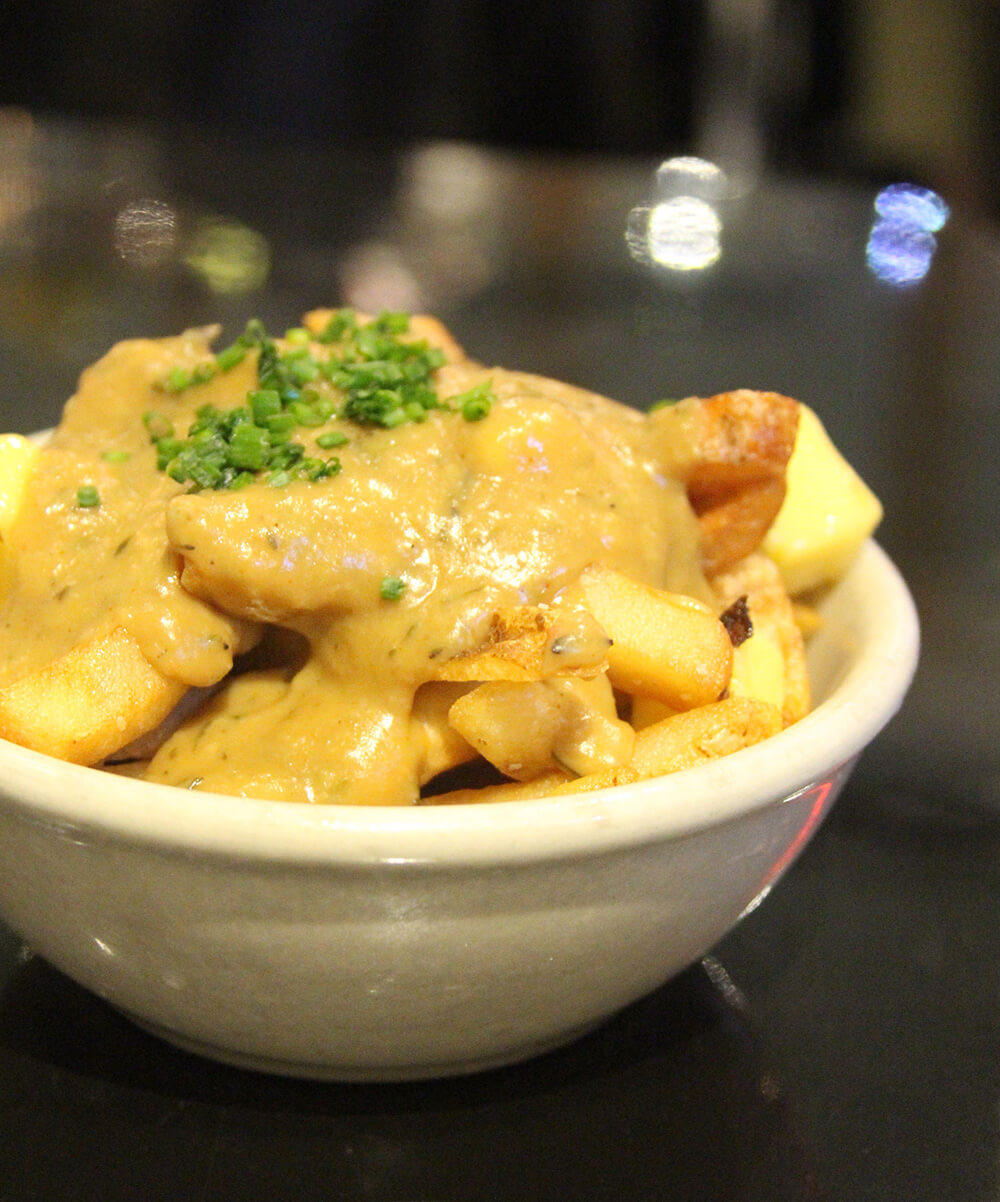 So as the size of a diner has changed, the decor and food is what seems to define a diner. Stereotypically diners have checkered floors, vinyl booths, a bar area, and neon signs. But overall the decor must be humble, if it is too polished it clearly isn't family owned. The food menus are traditionally huge, with portions to match. Depending on the location of the diner, you'll get a different menu. If you are in the south you'll probably get grits and biscuits, but in New Jersey you probably will find lots of Italian food. I know that is the appeal for most people is that you can go in a group and if one person wants Italian and the other wants a burger, you pretty much will please everyone… well except the vegan. Sadly most diners are not very vegan friendly unless you want french fries and a salad. Enter Champs.
Clearly Champs isn't using a traditional diner cart, but they try and replicate the interior. They have the classic paneled mirrors, checkered floors, and funky lighting. I wouldn't be surprised if some of the decor is originally from some other diner. They have some macabre touches here and there, like I remember there being a skeleton near the cashier. Probably due to the fun interior and the great food, there was a huge wait.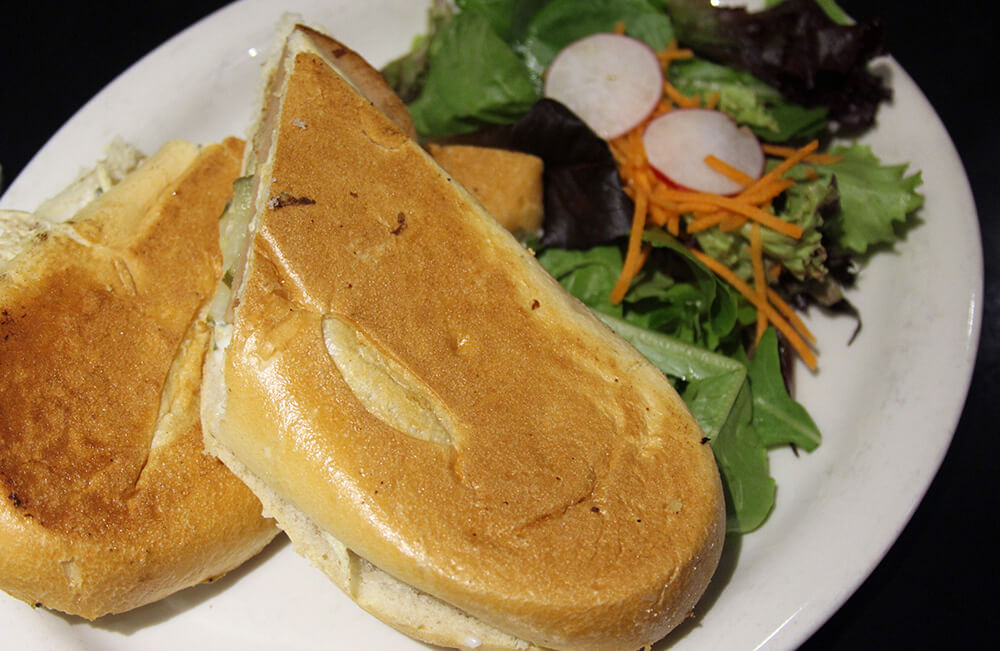 Whenever I go to an all vegan restaurant I have such a hard time choosing. I am so use to only one to five options and then deciding if I want something light or not (ie do I want a salad or a veggie burger?) Even the non-vegans had a hard time deciding what to get. I figured I would go for food items I had never seen vegan before- the poutine fries ($9) and the cubano sandwich ($11). For anyone who isn't familiar poutine are french fries that are covered in gravy and cheese curds. I never would of thought they would of been so addictive! I gave my sister a bite, and she deemed them authentic… or authentic enough (the cheese curds weren't quite right, but I think we all suspected that.) The cubano is a vegan version of the cuban sandwich, which is a hot pressed sandwich with pork, swiss cheese, pickles and mustard. This sandwich was yummy and the "ham" was bizarrely close to what I remembered of ham. Mostly it was the way the "meat" shredded. I was pretty full from the poutine so I took half of the sandwich home, which kind-of stunk up the train. Oops.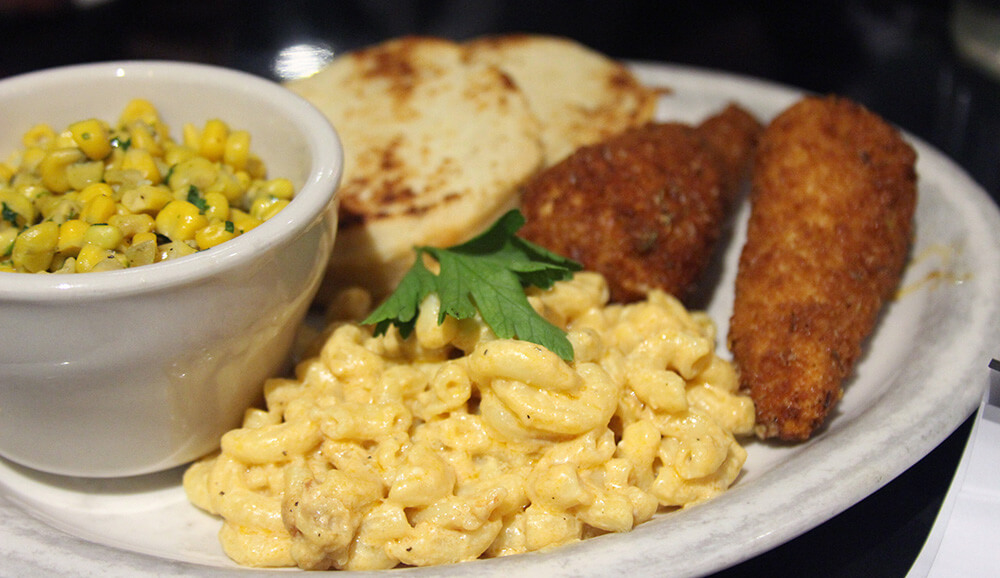 What did everyone else get? My sister, Lindsay, got the Buffalo Chik'n ($11), a faux chicken sandwich that has lots of hot sauce, ranch, and veggie toppings on a roll. I took a bite and thought it was pretty good, and was pretty close to an omni-style sandwich. I've eaten plenty of faux buffalo wing foods and vegan versions tend to only have hot sauce flavor, which I like, but not everyone's cup of tea. Her boyfriend ended up getting the Blue Plate Special, which was only available that day. It was a mix of mac and cheese, a fried chicken drumstick, corn, and biscuits (maybe cornbread?). Lindsay seemed to like the mac and cheese, which is saying something since she is a BIG cheese fan (note: if Lindsay is reading this, I am sure she would want me to point out it didn't taste JUST like cheese, but we all know that) The chicken drumstick was full of seitan goodness, and even had a wooden stick in it so you could eat it just like a normal drumstick.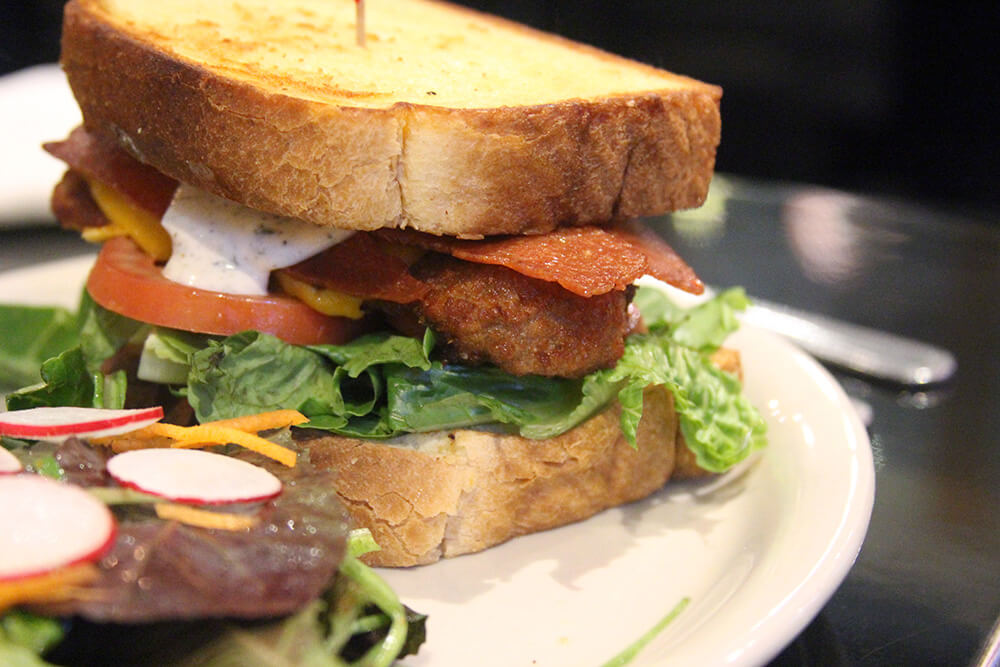 Jon and I were both eyeing up the same sandwich- the Country Fried Seitan ($13), but he "claimed" it before I did. The recipe features seitan made from Blackbird, breaded, fried, and served on texas toast with bacon, cheese, ranch dressing, tomato and greens. Funny thing is that I've never had texas toast before going vegan, and I am in love with it. More proof that going vegan only expands your options.
Great thing about Champs? It is fairly cheap. We got an appetizer and an entree for everyone and meal was cheaper than our lunch… and there was 4 people for dinner and 3 for lunch! Yikes! It probably helps that there isn't any booze being served at Champs, so that kept the bill small. Also the plates are pretty big, which makes it so you only need the main meal. Even still, these are great prices if you are dining out in New York City, so if you are visiting Manhattan island, it would probably be worth the trip out to Brooklyn.