Blackbird Pizzeria
507 s 6th St. Philadelphia, PA, 19147
website | facebook | instagram | twitter
Blackbird Pizzeria opened up my last year of college. I vaguely remember spending my last few months of my senior year hearing about an all vegan pizza place. As many vegans may know, people get things confused, maybe they meant all vegetarian or organic. I was in disbelief that there would be a vegan pizza place, especially considering that at the time vegan cheeses were pretty pathetic (and that wasn't that long ago!) We heard a bunch of people say things like "I THINK it is on 6th between South and Pine…." and I would walk right by the place.
So fast forward to the future, I get my shit together and go full vegan. I heard all my friends who live in New Jersey talk about all the great vegan places in Philly. Clearly I missed my opportunity to try lots of fun new restaurants. But one place that got mentioned often was Blackbird. Then it hit me- it was the pizza place that refused to believe in! In my defense, people were right in which store it was, I was just scared. When I went the first time it all seemed so familiar, walking down 6th street staring at the store front, was it even open? Apparently. And it still is.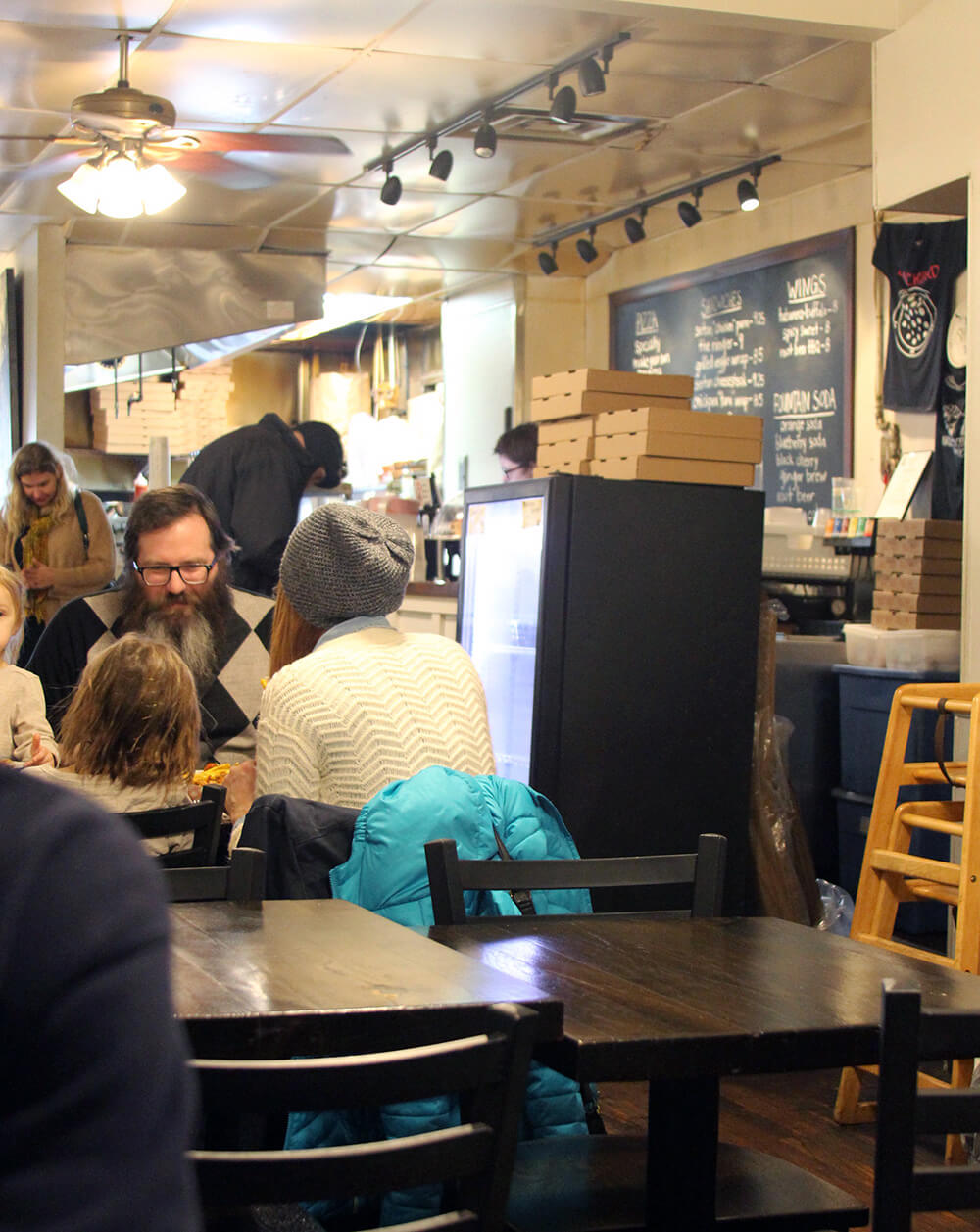 Today Blackbird Pizzeria is an important part of Philadelphia's vegan scene. The place is always busy, and has no frills. The place really punk, and my husband and I joked that it was filled with some stereotypical punks, vegans, and hipsters. But their customer base is really diverse with a large range of people coming in. Our most recent visit included a woman who came in with her 12 month (or less) baby, several single guys, a young couple, and large group of two families. The owner encouraged some of his workers to make vegan donuts, and started a business named Dottie's Donuts who started by distributing donuts throughout Philly. They are now going to open a shop in West Philly, which I will be sure to review when it opens up. But for now I wrote what I thought of the donuts in my review of Grindcore House.
So what should you expect when you come? Well there is take out and tables to sit at. There isn't anything glamorous about their set up. There is one bathroom, the sink is outside of it (which is brilliant!), you can even see how they set up their soda machine. The goal of the restaurant is just to provide awesome food, not create a specific atmosphere. It is an order and sit sort of place. They will bring your food out once you order, and usually as the food is ready so don't be surprised if you get your single pizza slices before your wings.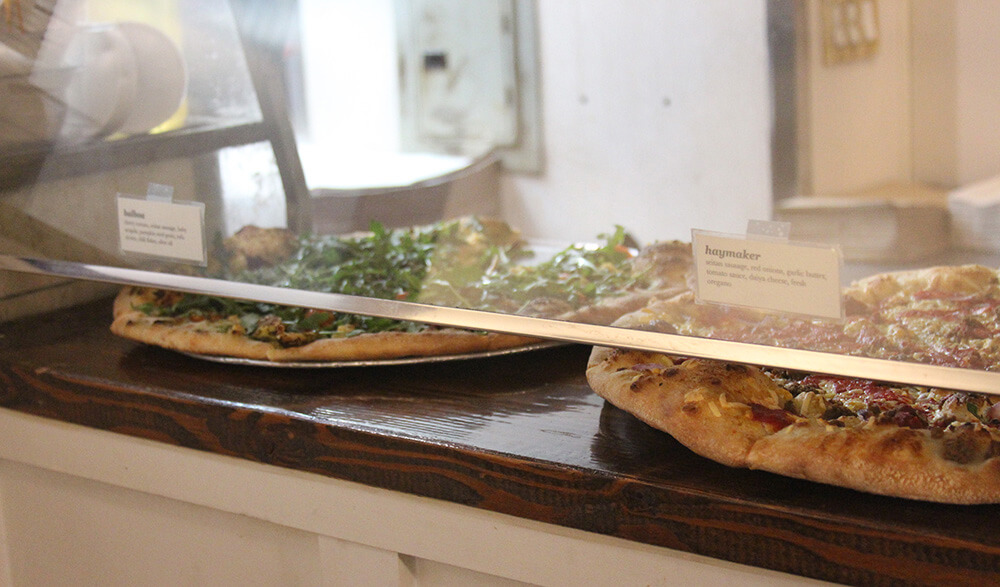 So what is available? They basically have pizzas, calzones, a few pan pizzas, hot sandwiches, a few cold wraps, salads, and seitan wings. They do have some sweet sold in the store and are kind-of done at random and on a first come, first served basis. You can pre-order desserts online. One of their popular desserts is the compost cup, where it looks like a plant is growing a cup full of dirt. I assume it is made with ground up oreos. I regrettably should of gotten on for the review. The soda selection is from Maine Root Sodas, they are all pure cane sugar based, fair trade, and made in the USA.
Before I talk about the specific foods, keep in mind restaurants change their menus all the time- at least good ones. "Really?" you might think, but it is true. It is a sign that owners are willing to improve recipes, and adapt to any changes in the public tastes. So if I post saying there is a certain type of pizza and it isn't there when you go a year from now, don't be too surprised. I know from reading old reviews of Blackbird there was a portobello mushroom melt, and it is nowhere to be found on their current menu.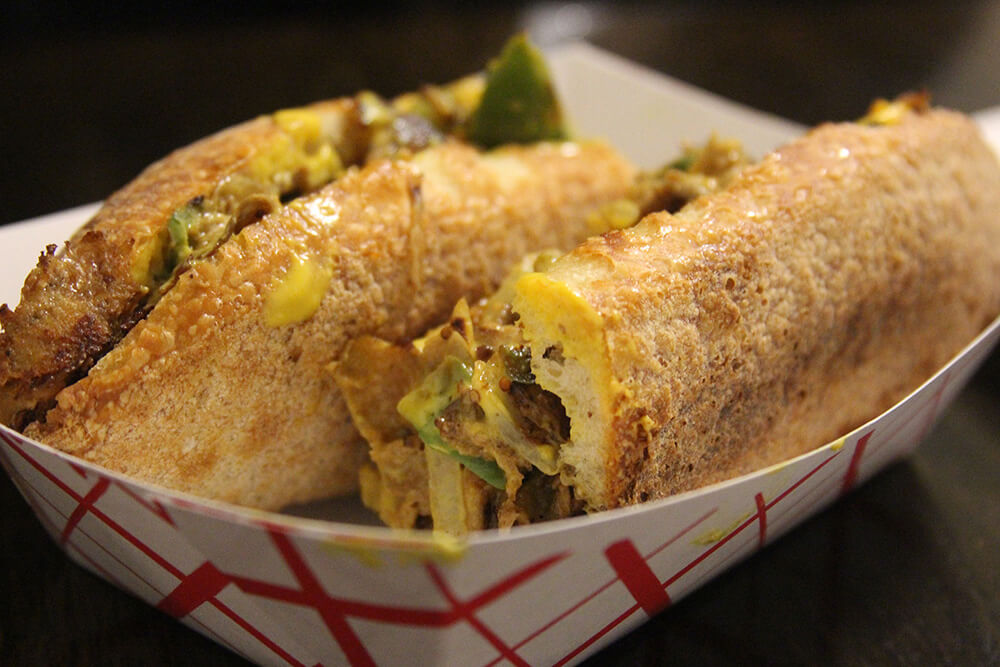 Since I knew I would be making a review of Blackbird I figured it was time to try something other than the pizza. I see that Blackbird always tries to win best veggie cheesesteak in Philly, in fact they won in 2014. Apparently they changed their recipe since that victory, but it still rocks. I never gotten a "real" cheesesteak before since I was never an all meat sandwich type of girl, but this is one you shouldn't miss. The sandwich features seitan that was made on location and thinly sliced just like a traditional cheesesteak. There is a yummy cheesey sauce with some grilled veggies in a crispy grilled roll. It is heaven. I think next time we go my husband might want to get this sandwich instead.
Other hot sandwiches? There is a chicken parm, a fried chicken sandwich, and a cubano made with tofu. They have two cold wraps if that is more your style, but truthfully you can a vegan wrap almost anywhere. Can you get a hot crunchy vegan sandwich anywhere else? Not as common.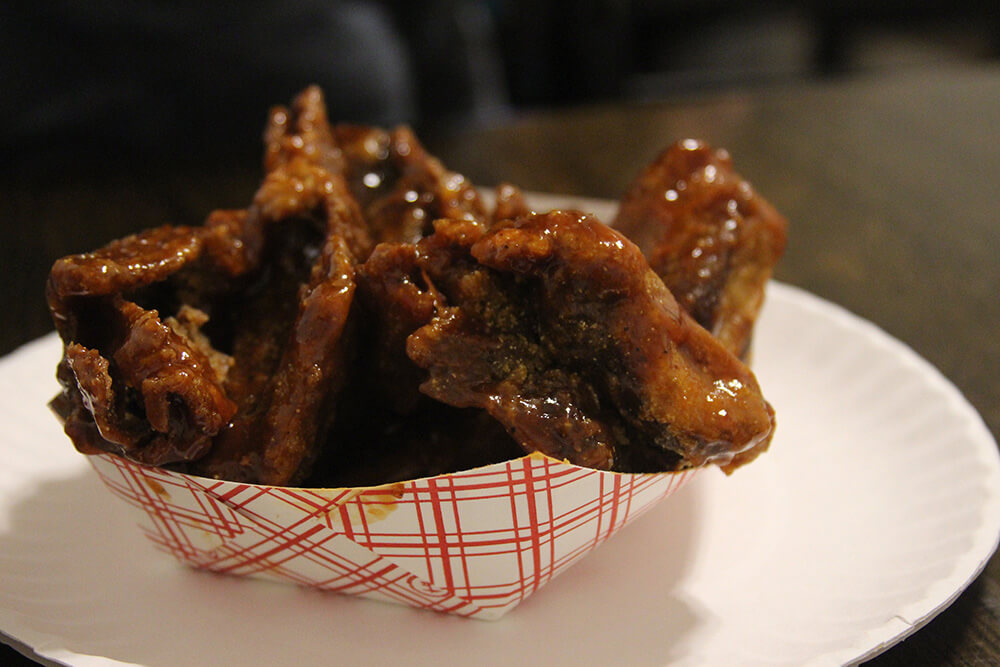 If you are the sides type of person you have a few options. You have some non-traditional healthier vegan ones like a side of sauted kale, side salad, and chickpea salad. But you if you want traditional pizza food you can get some french fries, cheese fries, or seitan wings. The wings are super noteworthy because they are just amazing. There three different sauces to choose from- smoked habanero, root beer BBQ, or spicy sweet. I assume the smoked habanero is closest to a buffalo styled wing, but I like how they have other options to pick for people who are a little more heat sensitive.
Now I've had vegan wings from Good Karma, and yes they were tasty, but nothing compared to these. If you don't believe me, they were ranked as top 10 wings in the United States by PETA. They were even trying wings from non-vegan restaurants. Blackbird takes their homemade seitan and makes them have enough surface area to get a nice crispy outside. When eating them you get the same crispy and meaty variety that you would get with real wings. We were feeling a little crazy and tried their root beer BBQ and it was fantastic. I've always wanted to try that southern sort of BBQ that uses soda to sweeten the sauce, and I wouldn't surprised if they got really close to that.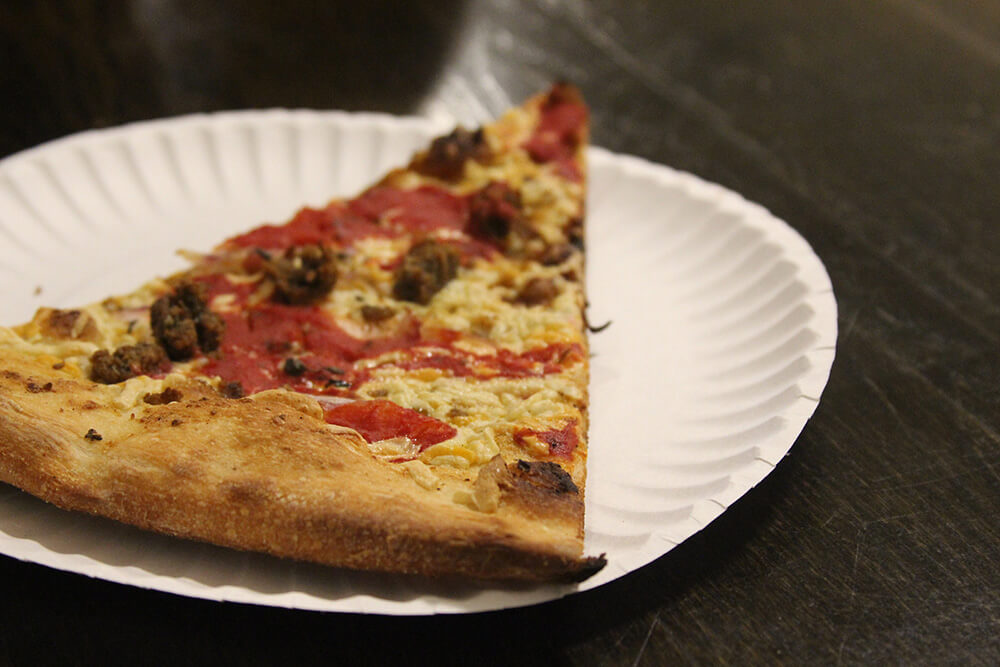 So now let's talk pizza! This is what Jon and I normally get after walking 5+ miles to the art museum and back. These are honestly my favorite pizzas in Philadelphia, vegan or otherwise. I remember really missing pizza during my college days and part of the problem was that I didn't order out often and I had high standards to live up to. The dough at Blackbird is crisp on the bottom and chewy in all the right ways. Not too much daiya (which I find most pizza places sprinkle WAY too much on) and excellent toppings. These are the various pizza's I've tried, and I have yet to be disappointed.
Balboa Pizza – Roasted cherry tomato, seitan sausage, baby arugula, pumpkin seed pesto, tofu ricotta, chili flakes, olive oil
This one is my personal favorite. It is more like an artisan pizza with the arugula, ricotta, and cherry tomatoes. It all works perfectly with each other.
Brunchbird Pizza – Tofu scramble, crispy coconut bacon, sauteed spinach, garlic butter, daiya cheese
This is the pizza that gave me the idea to put tofurky deli slices on pizza. This is a joy to eat, and you can order this any time of the week or day (I've heard some places make them weekend exclusive)
Haymaker Pizza – Seitan sausage, red onions, garlic butter, tomato sauce, daiya cheese, fresh oregano
This is the pizza pictured above. My husband loves the seitan sausages. This is a great pizza for anyone who use to love a typical meat lovers pizza.
Funghi Pizza – Assorted exotic mushrooms, fresh thyme, truffle oil, garlic butter, mozzarella style daiya cheese
I love mushrooms, so I really like this pizza. So creamy and the mushrooms were tender. I particularly like how they switch up the mushroom selection and don't use canned mushroom. Yuck.
Marinara Pan Pizza – Tomato sauce, roasted cherry tomato, fresh oregano, sliced garlic, olive oil
I still have a soft spot for a tomato pie. Apparently it is a New Jersey speciality, and I've grown to like it since I can't do the whole cheese thing. This definitely will fit that bill if you are craving some good old tomato sauce.
Nacho Pizza – Avocado, caramelized onions, Jalapeño peppers, tomato sauce, cheddar style daiya cheese
I am still unsure how I feel about hot avocados. This was really awesome but truthfully I think I would just ask for no avocado, or have it subbed with something else