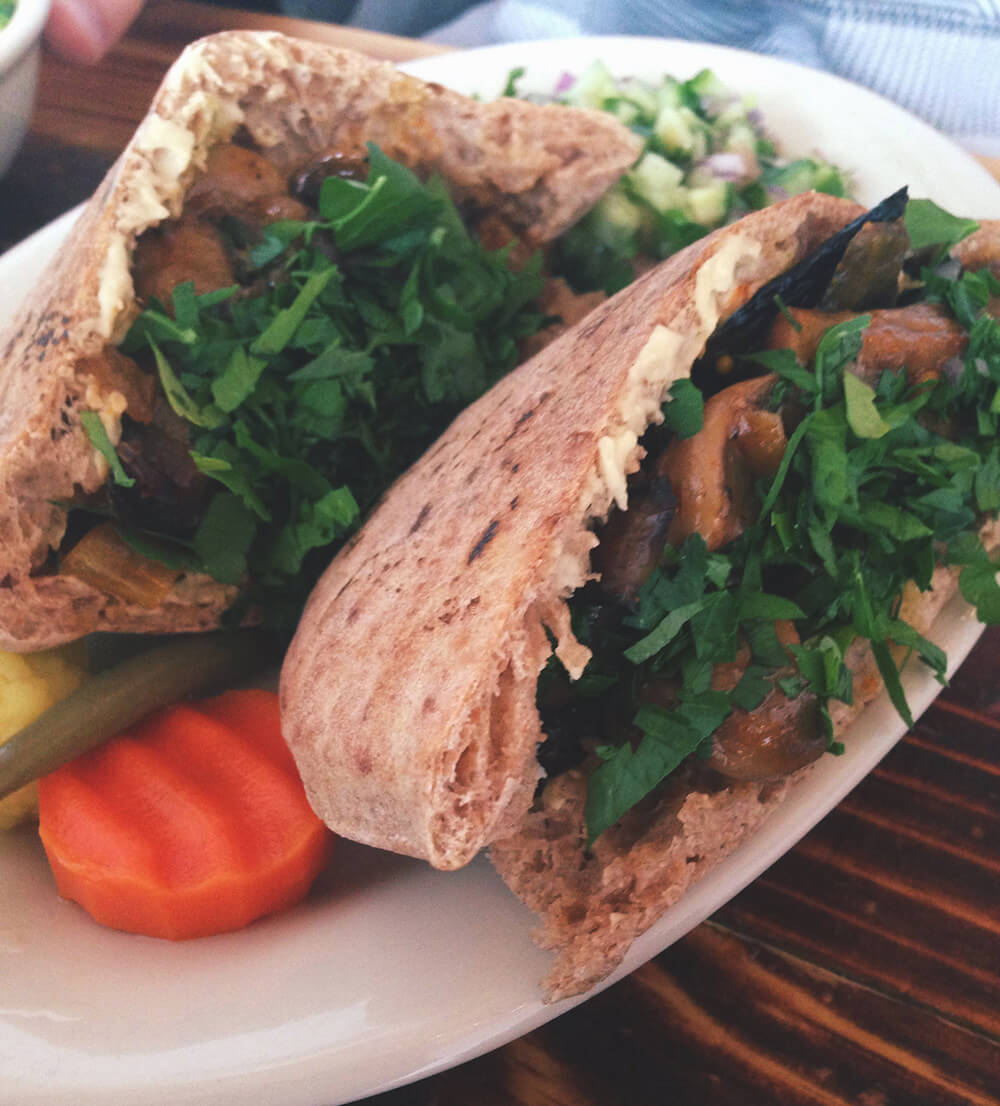 Hummus Market
361 Graham Ave, Brooklyn, NY 11211
website | facebook | instagram
I know what you are thinking- what a boring name for a restaurant. Hummus Market. You are probably picturing some falafel bar that is good for a quick sandwich for on the go- but you would be wrong. This restaurant is located in Williamsburg Brooklyn, and is one of my sister's favorite places to grab food. The place is vegetarian and very vegan friendly, with only a few non-vegan products (yogurt, cheese, and eggs). The place offer authentic middle eastern foods, and doesn't even have falafels on the menu. The food is oily (in the good way) and is very filling. It is most definitely not the type of hummus restaurants that you probably have in your area.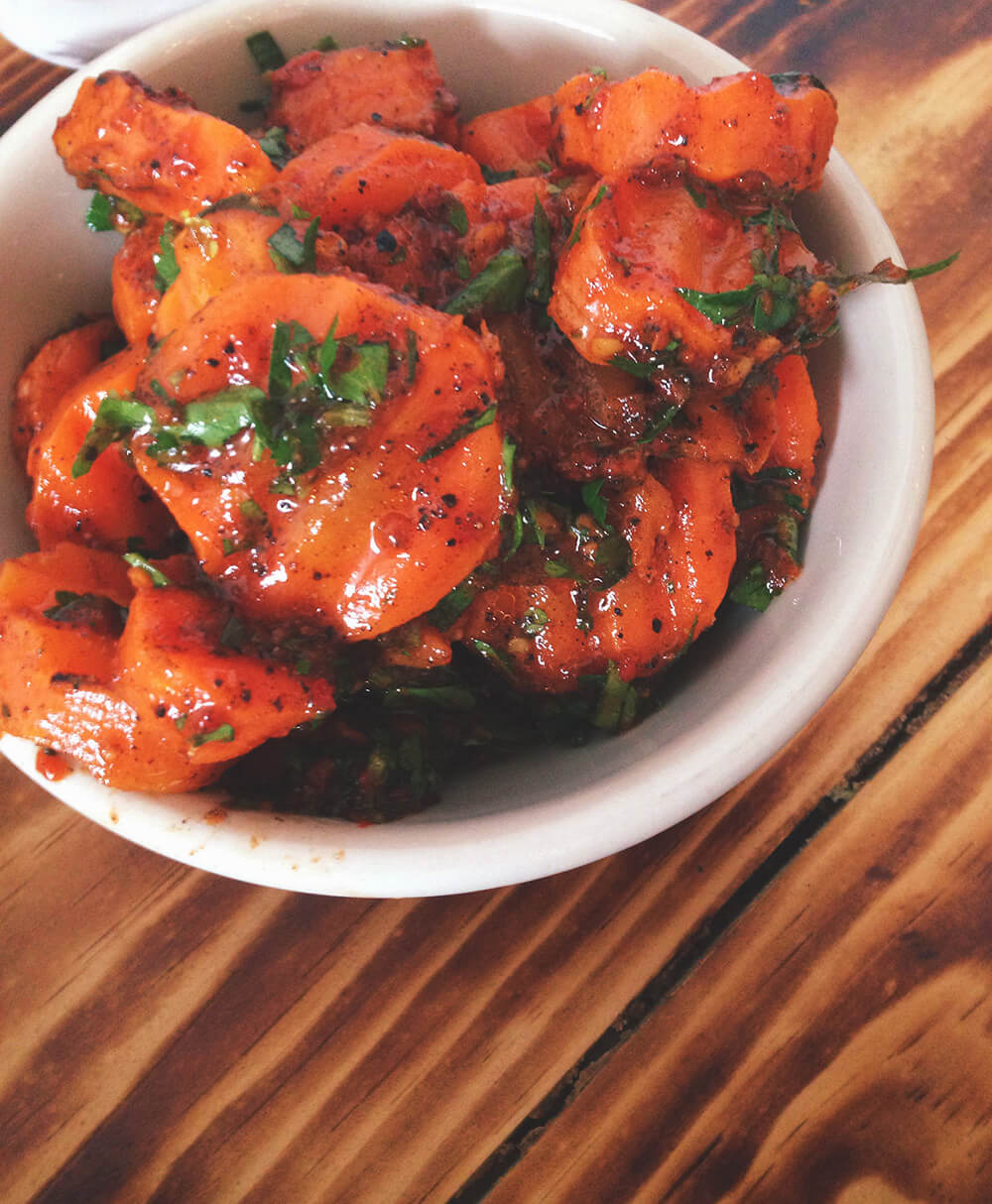 The menu makes it very easy to share with other people. There are several kinds of hummus that you can pick from, the shakshuka and sabich are topped with eggs, but you can ask for them to be left out to make them vegan. They come with two pitas and a spicy sauce. You can then pair it with the mix and match menu. There are several different vegetable sides that you can share and pair with your pitas and hummus. My sister got the moroccan carrots, beets, and the labneh (a strained yogurt which isn't vegan). Each side is $7 individually, but you save a little if you get 3 or 4 ($19/24 saving a total of $3 or $4)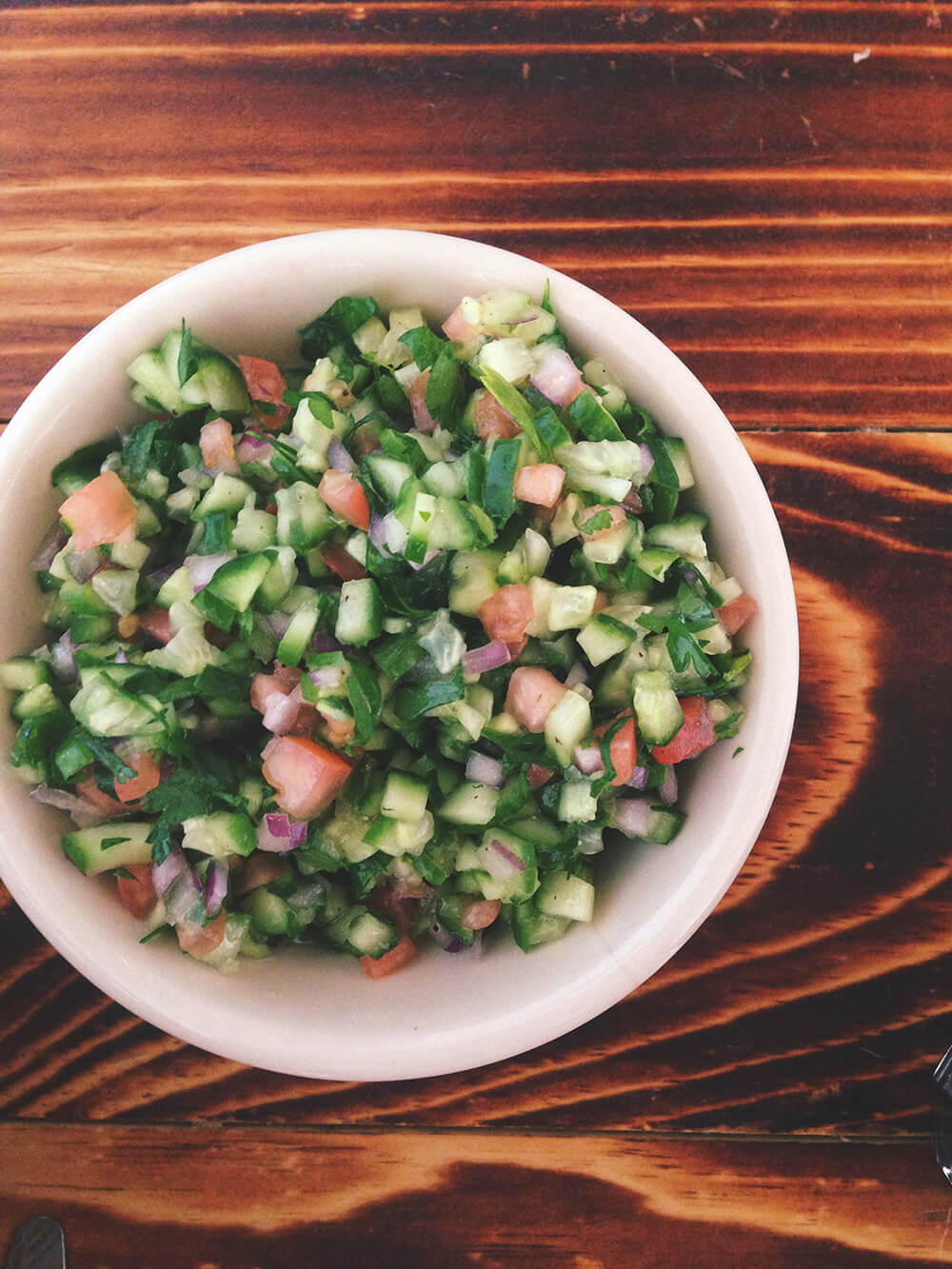 The carrots are served cold and are covered in a harissa, making them incredibly spicy, I personally really enjoyed the carrots, and would of tasted great in a pita with hummus. The beets are also served cold, and were flavored with some onion, parsley, coriander, and lemon. The spices and lemon helped brighten the earthiness of the beets. We also got served a side of Israeli Salad, which was very yummy. It was a crunchy salad of tomatoes, cucumbers, parsley, and onion.
If you are interested in the mix and match sort of a approach all foods are vegan except the lebnah, roasted peppers, and red tomatoes. The peppers and tomatoes have feta, but they might not be able to make them vegan as it could be pre-mixed. Ask to make sure. I also didn't ask but you may want to make sure the tahini sauce for the Eggplant tahini is vegan as well.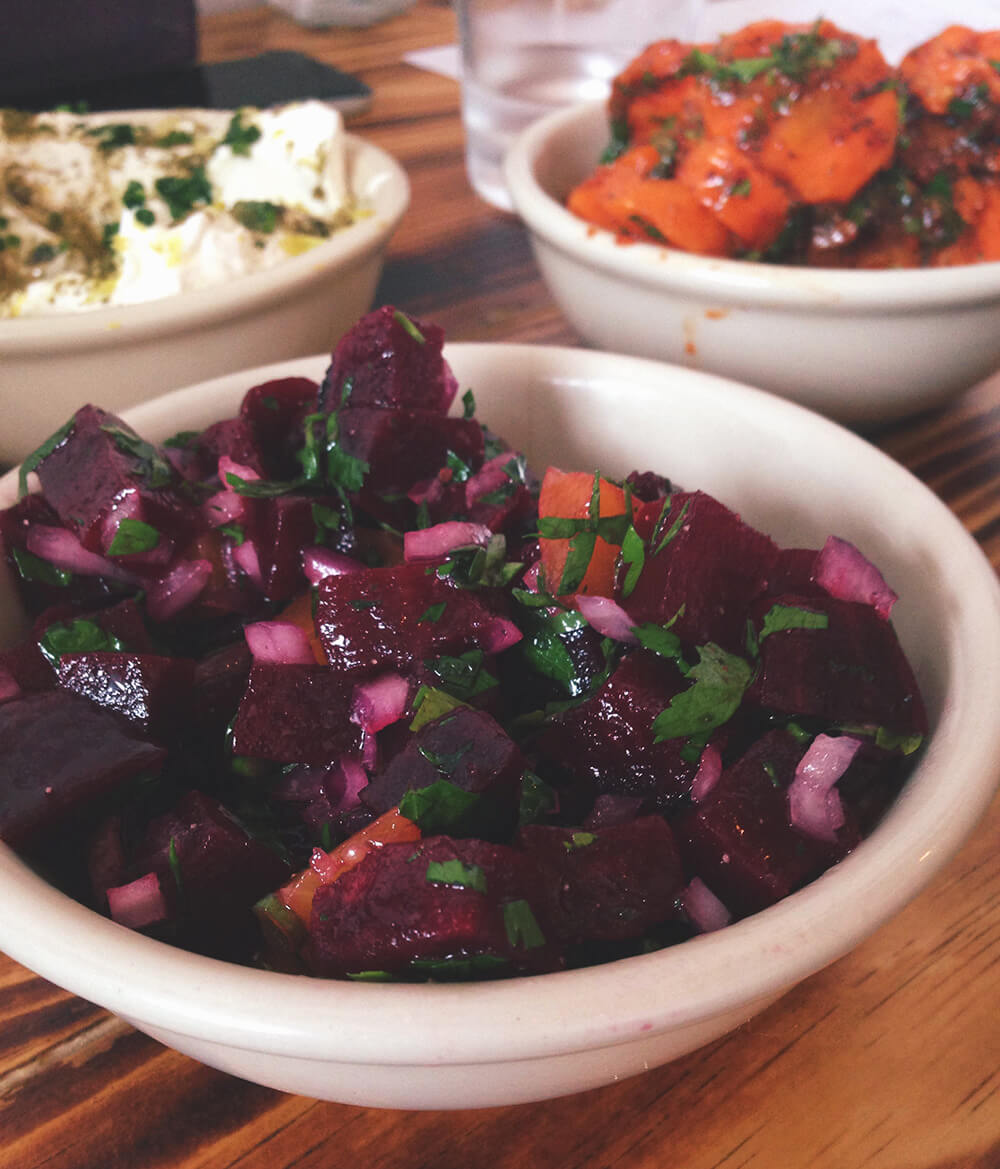 Jon got the mushroom stuffed pita. It has cooked mushrooms, harissa, hummus, pickled onion and parsley. The pita was super spicy but you could still taste all the different flavors. The bonus is that you get a little side of the Israeli Salad, so the cucumbers had a nice cooling effect. The only other vegan pita is the cauliflower pita, though some of the other pitas could be modified to be made vegan.
The salads on the menu aren't vegan, but could be easily made so. There is cheese in two of the salads, and the brussels sprout salad has a honey dijon mustard, which might be easily subbed for one their other vinaigrettes. The menu becomes less and less vegan friendly, but if you talk to the staff it might be made vegan. For example the farm veg cakes might be vegan if you ask for no tzatziki, but you might want to make sure there is no egg binding the veggies together. Same issue with the sweet potato latkes, which are served with a yogurt-chive sauce.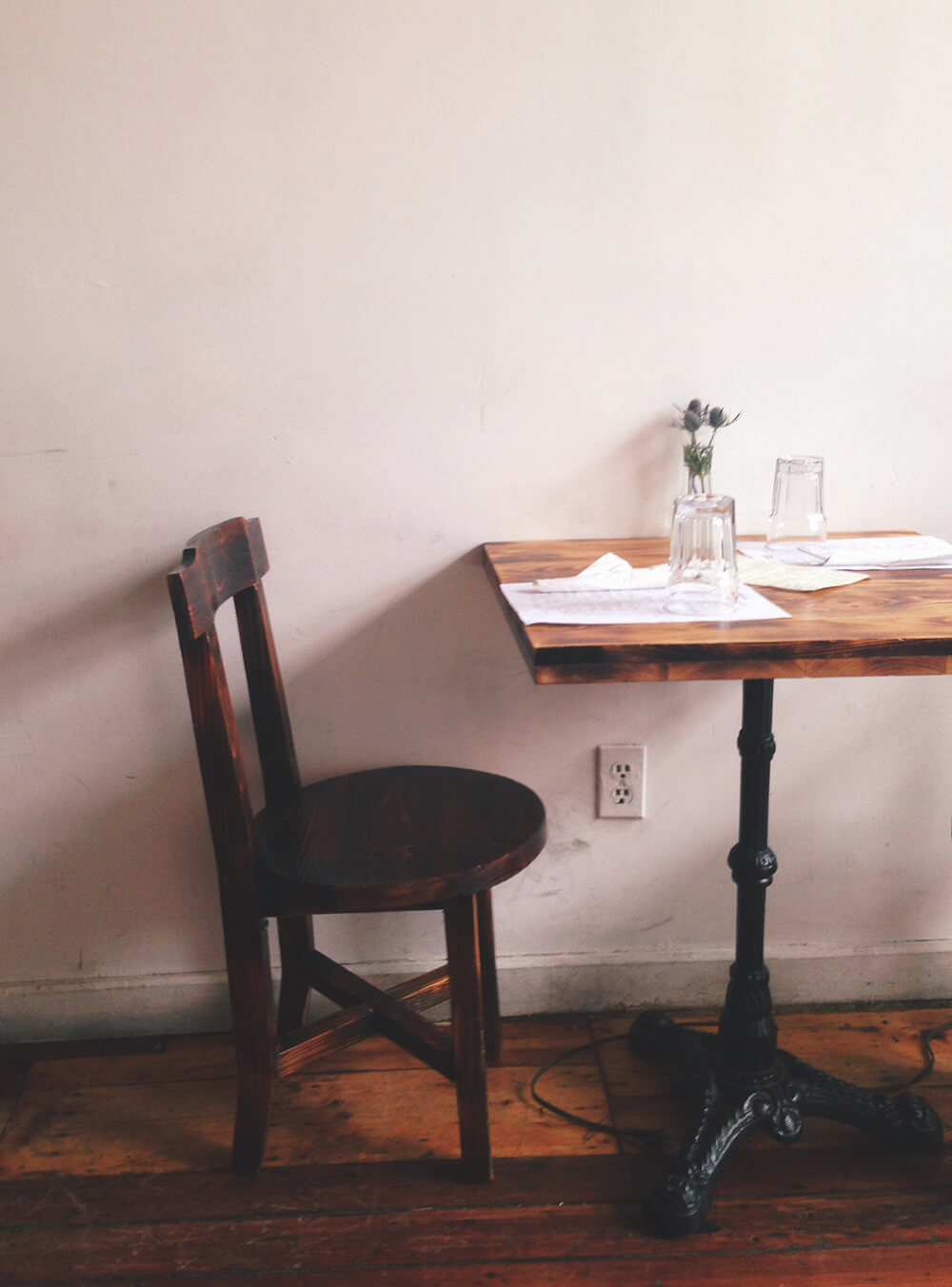 I personally wanted to try their stuffed onions since it isn't something that is common. I first tried stuff onions when my Mother-in-Law made them for Thanksgiving. So I was a little interested in some authentic ones. Pretty much the layer of onion is peeled and wrapped around a rice stir-fry filled with pine nuts, kale, spinach, and date honey. If you are yelling at your screen that honey isn't vegan, I know. Date honey is another name for date syrup. Overall I found the stuffed onions too sweet for my preference, but the onions were very delicate and easy to cut through. It is truly a dish you will want to try when you are here since I've never seen them on a menu anywhere else.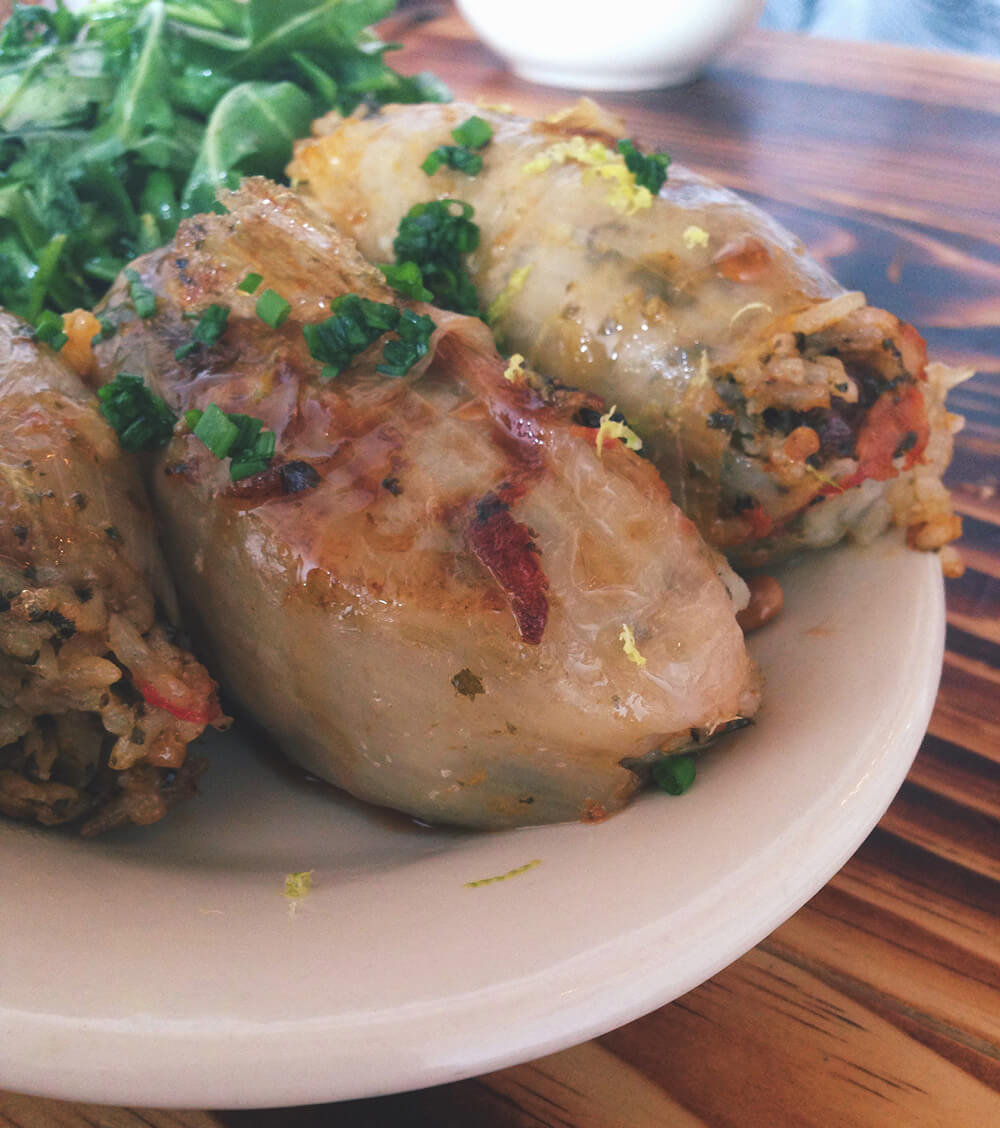 If you are concerned about drinks, there are few alcoholic and non-alcoholic drinks to choose from. There are some drinks specific to the middle east such as the Turkish coffee and mint lemonaid. There is a small selection of beers (all listed seem vegan) and wine (Bonterra Chardonnay & Run Riot Pinot Noir) to choose from, which was interesting since the setting is so laid back. The place is a sit down restaurant, and someone will take you order and bring your food out. But the setting is a perfect mix of upscale and casual. There is even seating in the back in a little garden, but it wasn't warm enough at the time.
I would recommend this place if you are up to trying out new cuisines. Authentic Middle Eastern restaurants aren't always available throughout the USA. And I thought there was plenty of different options and variety for any vegan. What I really like is that all the food is vegetarian, and it might not seem so intimidating if you come here with an omnivore. There is lots of whole veggies and easily recognized foods that won't be intimidating to anyone new to vegan foods.