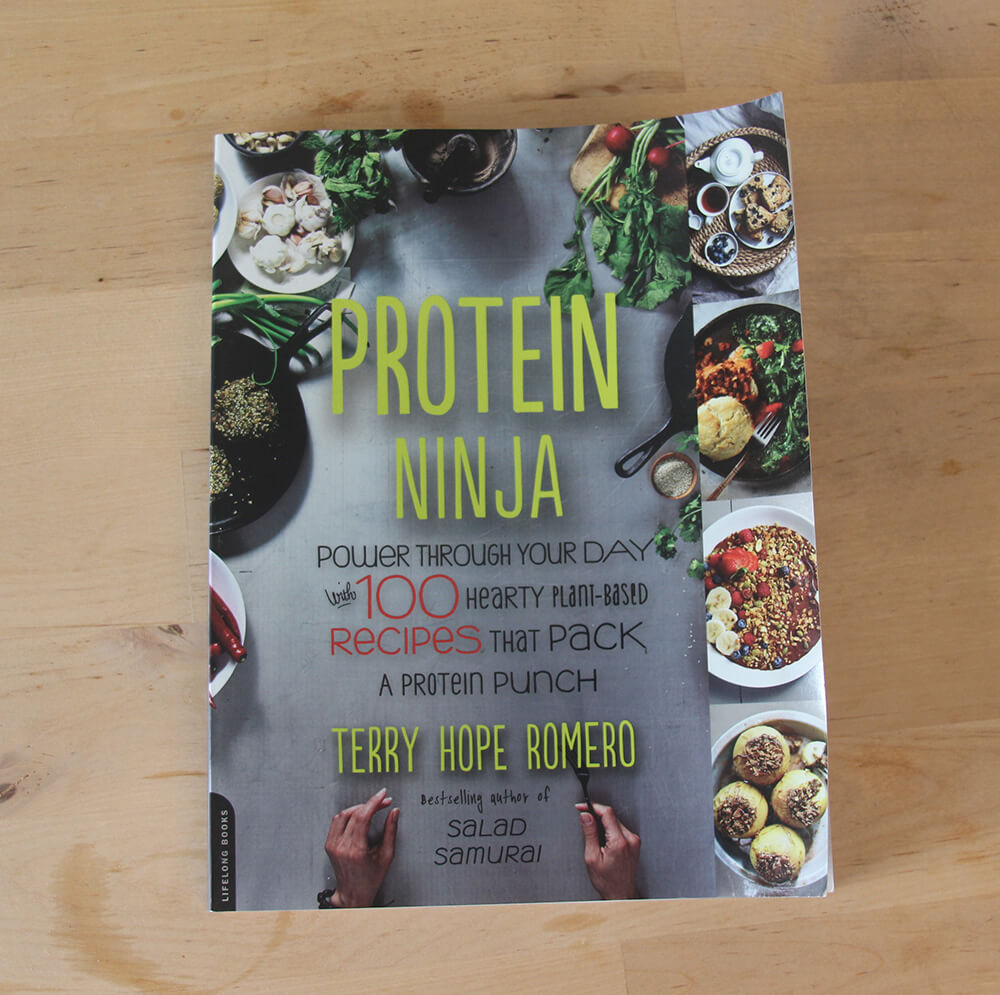 Shop on Amazon or Barnes and Noble
It is no secret I really like Terry Hope Romero and Isa Chandra Moskowitz. Sometimes I feel like the vegan world is crammed with feel good Californians, so having some snarky New Yorkers with killer food makes me happy. Since Terry and Isa both started to write their own cookbooks, it has always been interesting to see how each person cooks. Romero seems to write about specific topics- whether it is a specific world cuisine, salads, or in this case- protein.
Photos
There isn't a photo for every recipe, but then again, do we need that? Answer- probably not. I mean we don't need to see what a smoothie bowl looks like more than once. But the photos that are in the book are beautiful and fun. Instead of JUST featuring the recipe, the photographer arranges the recipe as if it is just being arranged in the kitchen.
The photographer worked with Terry Hope Romero for her sister book Salad Samurai and for Isa Chandra Moskowitz's book Isa Does It. As I praised with Isa Does It, the photos look as if you walked into a working kitchen, but somehow with the perfect lighting and the perfect amount of mess. Although the photos are clearly staged, it does give the recipes a sense of approachability that encourages people to make them everyday.
Set-up
Romero takes a quick approach, giving you an introduction and some protein basics. This is probably a good thing since she uses protein powders in so many of the recipes. She talks about the basic different powders and why she chooses to use one in a certain recipe and not another. I am a little disappointed that she doesn't include soy protein isolate, or at least explain why she doesn't like it. It use to be THE protein for vegans.
She then touches base for other common ingredients she uses and talks about some cooking basics. Most people can skip this section but if you never cooked brown rice before? Well Romero has you covered so you don't have to pause that podcast to google "how to cook brown rice." Heck I even used her coconut bacon recipe in that section.
Recipe categories? I liked how she divided them up: Unstoppable Smoothie Bowls and Granola; Stealthy Protein Pancakes, Waffles, and Much Much More; The Protein Bakery Basket; Super Toast: Savory and Sweet; Protein-Packed Patties and Burgers; Better Than Ever Burger Bowls; Grain and Noodles Bowls; and finally Sweet Treats.
Writing
As with all Terry Hope Romero's book, I am always impressed with her writing. It is always open and very relatable. She more or less mocks the pseudo-enlightened statements that are the so common ever since M.F.K. Fisher. She also has no visible typos or issues with the recipes- oh wait except for one. Her chickpea eggplant hemp veggieballs have no hemp in them. It bothers me endlessly. But truthfully, this is the least amount of issues I've seen in a cookbook where there is always one or two ingredients out of place or letters missing.
Overview
It seems there is a divide in the vegan world over this cookbook. A lot of vegans complain that it feeds into the "protein complex" that America has. Which is sad because Terry Hope Romero addresses this in the introduction. She, for the most part, wrote this book for weight lifting vegans. And I have to say, I think this is super helpful. I know Alexa would love this book since she is a big crossfitter, and is a flexitarian. She would like to avoid dairy and eggs, but when you are surrounded by a world that loves the paleo diet, it is hard to learn about vegan protein. This book would be perfect for her. Terry's recipes recommends cheap protein powder, aka not to use Vega (though some recipes need that, like the smoothie bowls)
What I also love about this book is that there are lots of tips to save your recipes. Many people don't live with their significant other, or eat the same thing as each other. So I hear lots of vegans say that they can't make a full recipe because it will go to waste. Romero gives lots of notes on which recipes you can double and freeze. This has been nice for me since I am expecting so I am stocking my freezer up for sleep deprived post baby me.
Right now, protein isn't on my list of things to pay attention to. I've been getting what I need, and probably should be eating more whole grains (as a pregnant lady that is) But once I deliver I probably going to dive into this cookbook. I find that this has lots of recipes that are very warming, and don't use as much fresh produce. So testing out these recipes while I have my CSA is a little bit of a struggle.
Otherwise I love this book. I will be using it a bunch in the future. If anyone is a vegan weight lifter, even with light weights, they will probably want to pick up this book. Terry Hope Romero uses protein powder, yes, but I think she varies the types making it friendly for lots of vegans. I am still a little sad she ignore soy protein, but hey, she likes to use tofu so that's okay.
Wanna Skip the Protein Powder?
As mentioned above, some of the biggest critizism has been how much the recipes use protein powders. I have to point out a few things if people want to save some cash. One tip would be to skip the hemp protein powder and only get the rice and pea protein powders. I got NOW protein, which isn't the best for smoothies, but works well with these recipes. You can get most of the rice and pea proteins for $6-10 per pound depending on the size you buy. I super recommend getting these for the baked goods and burgers as the protein powders help with binding (think of eggs and how their proteins work in traditional baked goods)
Wanna skip protein powders overall? Well, some of the recipes aren't going to be high in protein, but you can do almost everything in the first chapter with the smoothies bowls. But there is almost always a non-protein powder recipe in each chapter. Quick way to find them is to look at the savory recipes over sweet. So you want to check out the end of Stealthy Protein Pancakes, Waffles, and Much Much More, and almost all recipes are protein powder free in Super Toast: Savory and Sweet and Grain and Noodles Bowls.
Bakery-Style Blueberry Rice Protein Muffins
Section: The Protein Bakery Basket
I really like this recipe. I switched the blueberries for chocolate chips (I'm not a millionaire people!) and got great results. I've talked about my sugar exhaustion on the blog before, so I was happy to find these muffins weren't too sweet. I would love to try these out again with blackberries, and will most likely get great results. I am a little amazed at how nicely the sprouted brown rice protein worked in these muffins.
Black Bean Hemp Brownies
Section: Sweet Treats
Okay so I messed these up a little. I went a little crazy and melted all the chocolate chips as appose to melting half, and stirring the other half as whole chips. Oops. But the result was a still yummy brownie that might of been a little more delicate. I popped them in the fridge and they stiffen up enough to eat like a normal brownie. I also forgot I ran out of baking powder, so I just used plain baking soda. So I am not sure if that effected anything. Overall, I think the brownies are smidge too sugary, she does suggest cutting down the amount suggested. And there is a hint of grit from the hemp protein powder, but I am cool with that.
Chickpea Eggplant Hemp Veggieballs & Simple Spicy Tomato Sauce
Section: Protein-packed Patties and Burgers
Weird complaint- why is this in the burgers and patties section? This is very clearly a protein packed veggies and meatballs. Also, why is hemp in the name? Is this a typo? The recipe calls for pea protein powder, and no hemp seeds. But let's move past that fact and to the food! The recipe is very tasty. I made some modifications so I could use fresh tomatoes for the sauce. Overall it is good, but I would probably use a food processor to make the balls. It is 1) faster and 2) will rip apart all the eggplant skins that Romero recommends keeping on. These were so good I made them twice- as spaghetti and veggieballs, and again as little veggieball subs. Both were winners.
Chocolate Avocado Smoothie Bowl
Section: Unstoppable Smoothie Bowls and Granola
Recipe: Soul Cycle
This isn't breakfast- this is dessert! I tried making this bowl for breakfast and got too full and put it in the freezer. I made it again and shared one serving with my husband. Yes, it will be plenty! This was the first time I used an avocado in a smoothie bowl, and it does make it much more pudding like. My vega protein powder blended in perfectly, which was nice as well (and probably why it was so filling.) I ate some granola and some farm fresh strawberries on top, and it was pure heaven.
Chocolate Maca Pudding
Section: Unstoppable Smoothie Bowls and Granola
I tried this recipe because my blender cracked and I was waiting for a replacement. The directions made it seem like it would be no problem to not use a blender so I went forward with the recipe, especially since I thought my vega protein powder would be tender enough to blend in. Oh was I wrong. This stuff was thick, and never fully mixed in no matter how much shook, reshook, added more milk, reshook, etc. This was enough to keep me from trying any of the other chia pudding recipes. In all fairness, I might of had better results if I could blend the powders in the milk in a blender before mixing with everything else.
Creamy Tomato Tofu Curry with Cilantro Garbanzo Flatbread
Section: Grains and Noodle Bowls
Not all recipes in this book use protein powder- thank goodness. This one is a pretty basic stew/curry recipe. I picked it out since it used a lot of the produce I had from my CSA. My husband really liked the dish and asked if I could put it in rotation sometime soon. Ended up serving it with rice instead of the chickpea/garbanzo flatbread, cuz I was lazy.
Edamame & Pea Avocado Toast
Section: Super Toast: Savory and Sweet
Recipe: Google Books
I got a bunch of shelling peas from my CSA, and thought it was a good idea to make this recipe. Since I had two weeks worth of shelling peas I decided to go all out, double the recipe and use all the peas. I skipped the pumpkin seeds and onion since I didn't have any but holy moly was this good! I ate it on some Ezekiel Sprouted Bread with thin avocado slices. Perfect. The pumpkin seeds and onion would add even more amazing texture as well. I might have to freeze some of the spread to make it last, but I might be making some yummy sandwiches for lunch with this stuff. Aside from hand shelling, the recipe doesn't take long at all. I can say if you are using fresh peas, I would toss them with the edamame right away to cook all the way.
Peanut Butter Strawberry Bowl
Variation of: Vanilla Almond Smoothie Bowl
Section: Unstoppable Smoothie Bowls and Granola
I made this dish because I thought it would be a good way to use up some of the fresh strawberries that I got my CSA. And it was. I liked how she added just a little bit of berries in the smoothie bowl as well as chopped on the top to give it just enough of that strawberry flavor. Downside? You could totally taste the protein powder. I used plain pea protein powder, and you could feel it in the bowl. I think if you use some designer proteins like Vega, it would of been fine with the full scoop.
Pineapple Yogurt Bowl
Section: Unstoppable Smoothie Bowls and Granola
I had leftover soy yogurt from some recipe (probably something from Vegan Richa) so I figured why not? It was pretty tasty, and I think overall a little smaller than the other smoothie bowls. It was a nice switch up from the other smoothie bowls, though I am excited to try the variation on this one where Romero recommends using FROZEN WATERMELON instead! Super excited when we get some watermelon in from our CSA.
Pinto BBQ Seitan Burgers
Section: Protein-Packed Patties and Burgers
Man do I love these burgers- they are easy to make and super tasty. When first making them my husband and I decided to keep the house cool and fry them up as suggested. We also followed Romero's recommendation of keeping them 'Murican and make the jumbo sized. That was a bad decision on our part. The frying tasted AWESOME, but they were undercooked, and probably would of needed a lot of frying to get cooked all the way. But we loved the flavors so much that we made a double batch and popped them in the oven. This was a great idea because they were nice and crunchy and yummy. And when I went to my sister's for some BBQ, we grabbed some for ourselves, and they grilled up no problem.
Super Hemp Protein Beet Burgers
Section: Protein-Packed Patties and Burgers
I was honestly expecting this recipe to bomb. When mixing the patties up it didn't feel stiff enough. But I took a deep breath and gave a little faith in Terry. I was really hopeful they would work because I already doubled the recipe. Looking back, I think I ended up quadrupling the beets with 2lbs of shredded beets instead of of just 1lb (originally 1/2lb for 1 recipe.) But good news- IT STILL WORKED! I baked the patties and I really enjoyed the taste. There is a little bit of grit from the hemp protein powder, but they are full of veggies and still packed with protein, so I can't complain. And they freeze well, coming out often for various other burgers and recipes.
Trail Mix Protein Granola
Section: Unstoppable Smoothie Bowls and Granola
Out of all the granola recipes, this one seems like the easiest to make with what I already had. In fact I think the only things I bought for the recipe were some raisins (I was fresh out) and orange juice. I thought the orange juice would add a lot of flavor to the granola, and it didn't. I might of subbed one of the nut options for something else, probably the Tiger Nuts that I have no idea what to do with. Mixed feelings, I felt like the granola was blah and much preferred the granola from Oh She Glows. My husband on the other hand loved this stuff, and preferred it's mild flavor and loose nuts and grains. So overall I like how it make a buttload more than the Oh She Glows recipe, and it does work really well with smoothie bowls.