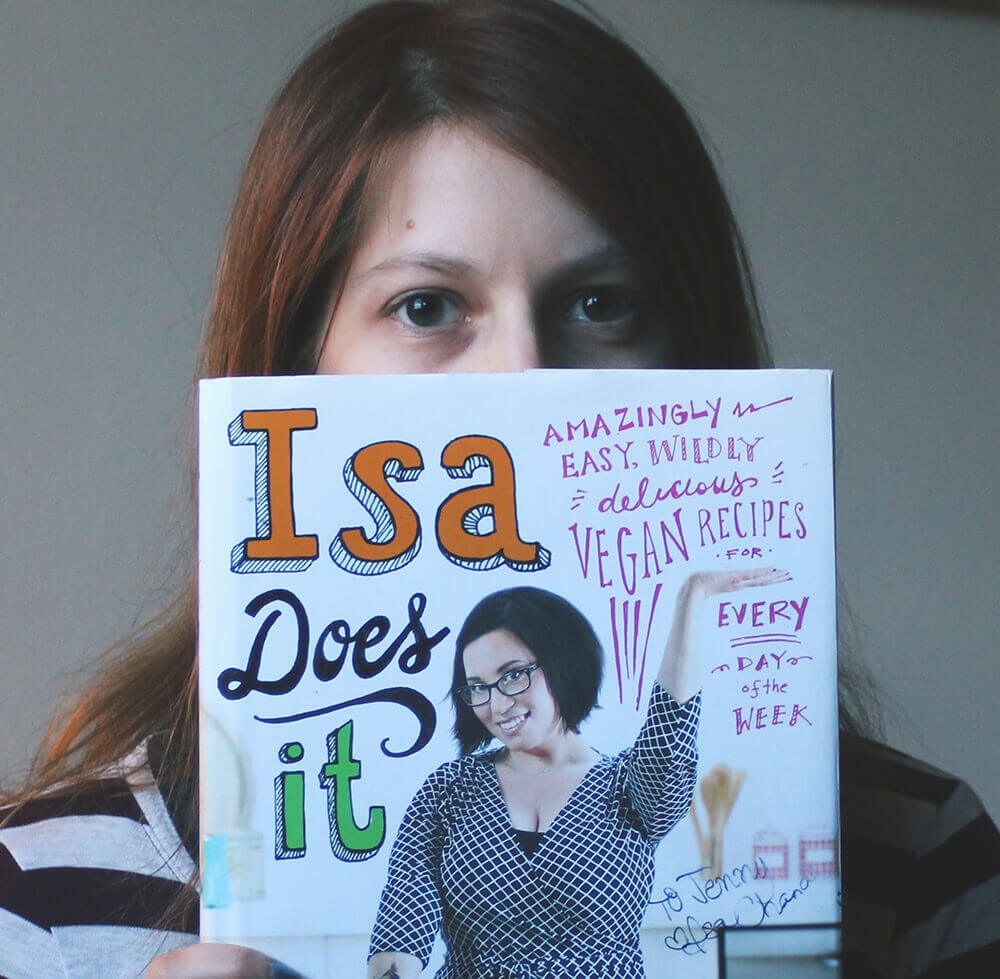 Shop on Amazon or Barnes and Noble
Isa Chandra Moskowitz is known for her decadent vegan recipes from Veganomicon and Vegan with a Vengeance. Here recipes, although delicious, sometimes would be very complicated. I would hesitate to cook anything from her books since the amount of dishes seemed intimidating. Most recipes were set up by veggies sides, a grain, and a protein. Sure the tofu would be manageable, but making the rice and the veggie side? It's all just seemed too much for two adults on a weeknight.
But then came Isa Does It. The book focuses on weeknight cooking for people who are cooking for themselves, or for two. It always felt like Veganomicon and Vegan with a Vengeance was cooking for a large family setting, or perhaps for a pot luck dinner. Isa Does It is quick and most importantly cheap. Yes, the focus on cheaper ingredients really helped me take a dive into the cookbook.
Photos
There are lots of photos in this book. I am so glad that the publishers ditched the grouped photos that appear in Veganomicon and Vegan with a Vengeance. I always find it hard to associate the recipe with the photo that way. Although there isn't a photo for each recipe, majority of the recipes are covered. It is always nice to see what Isa got compared to what I got. Nothing is more frustrating than when you find out your snickerdoodle looks totally different than your friends, even with the same recipe.
The photos are beautiful, each photo is more of a scene than just the cooked meal. Each photo has a story set up, making the reader feel like they are viewing a window into the kitchen. Ingredients line up against the wall, flour spreads out on the counter, and utensils are waiting to be picked up. Some plates are plopped in a bowl for your weeknight dinner, some are plated as if you are going to a four star restaurant.
There are even a few instructional photos of how to cut tofu and tempeh. Sure it is a pretty simple task, but it is always a good idea to try and have your food as close to the recipe as possible. You know, for consistent results. Plus, when you first start out on a vegan diet, tofu is REALLY intimidating. I mean scary.
Set-up
The book is set up to be read from beginning to end. She gives basics about how to cook, what to have, chopping your tofu, etc. It is pretty simple, not overwhelming for a newbie, but not too simplified to bore a seasoned chef. Then Isa moves to Soups, stating they are the best recipe to start when learning how to cook. They are hard to mess up, according to Isa. I would probably have to agree. Then she moves to salads, which are still pretty simple. Handheld foods are next, things like burgers and tacos, then moving to the other common dinner categories (stews, pastas, sautes, etc).
It wasn't until the last few chapters I felt a little weird. She put a chapter for Sunday Night Suppers, which to me defeat the purpose of the whole book. These recipes are more complicated, time consuming meals that are suggested for nights that you have more time to kill. Then she moves to Breakfast and Brunch which is a big carb-fest. Considering most of the book centers around dinner, it felt a little out of place, and the recipes didn't personally speak to me. Then she has a chapter for desserts, which isn't the worst. I just feel like there isn't many new recipes brought to the table since she has three different books devoted to dessert.
Writing
I was getting a little fed up, my husband kept complaining about dinner. He meant well, he would get a little bored with the dinners I picked out, and I get that. I was picking what I wanted, not what he wanted. I remember eating with his parents and getting tired of not choosing my dinners. So I handed him Isa Does It, and asked him to pick out some recipes. He read a little and came back saying how he could understand why I like Isa Chandra Moskowitz so much. He thought her writing was honest, fun, and non-judgmental.
Isa continues with her signature writing style with this book. She takes all the romanticism typically associated with food writing and pokes fun at it. My favorite example? Isa proclaimes that she created the perfect dish to eat outside on a porch, or maybe your fire escape, don't have either, just open a window and stick your head of it. Pop culture and jewish references are still overflowing out of the book.
As for errors? I think I might of read one recipe that might of skipped what to do with the salt, but nothing that would make or break a recipe.
Overview
I have to say when my husband said his one co-worker picked up this book to try and eat less meat and dairy, I couldn't think of anything better to start with. I think this out of all Isa's cookbooks give a great collection of easy to make recipes with realistic ingredients. Sure the seitan and tofu might be a little intimidating, but she provides recipes on how to make you own seitan which saves lots of cash. And even if you stay away from all seitan, tofu, and tempeh recipes you can easily find recipes to make throughout the book. Recipes that are filling, and don't need "vegan specific" foods like soy milk or faux butters.
I can safely say that this cookbook will be one I will be using over and over and over again. These recipes are perfect for everyday cooking since they are fast and use cheap ingredients. One average I don't think I would spend more than $10 overall per dish, which divides up as being fairly cheap per serving. Ingredients are flexible so it is easy to switch out ingredients (if you own a CSA) and Isa tells you how.
This is a cookbook for vegans, omnivores, beginners, or advanced chefs that are just trying to give weeknights more flavor. I would recommend people pick up this book over Veganomicon, as you will find more recipes to make in this.
Recipes
I always test some recipes from a book to give personal reviews on it. This book, I have a ton. I could blame my husband (who I told to pick things that he wanted to eat, they were almost always soup) or I could blame how relevant this book is to my life. Ingredients are cheap and recipes are fast, which made weeknight menus revolve around this book.
Babushka Borscht
Section: Soups
I wasn't impressed by this borscht but it could be simply a difference in taste. I personally found the soup bland, but I've always had borschts that were made from tomatoes and beets (rather than potatoes, beets, and cabbage). The husband thought it was pretty good, and was perplexed why I was so against it.
Bistro Beet Burgers
Section: Handheld
Recipe: On PPK + Breville Video
These burgers were easy to make, especially if you own a food processor. The directions were specific and gave plenty of tips to make these burger taste the way they should. Although it was easy and simple to make for a weeknight, you need to prep ahead with the brown rice. This can be as simple as using leftovers, or just cooking some up before heading off the work. Bonus- these froze really nicely, so making extras is a great idea.
Black Eyed Pea & Collard Tacos w/ apple-avocado salsa
Section: Handheld
This is a combination I would never of thought of on my own, but works wonderfully. Refried beans, cooked greens, creamy avocado, and crunchy apples. Everything balances out perfectly, and only works in a taco. I tried using leftovers for a burrito, but that didn't worked out. Things like that makes me wonder if Isa is a genius and knows the perfect way to serve food.
Butternut Bisque w/ a coconut swirl
Section: Soups
This is a great twist on a butternut soup. Most butternut recipes are heavily European centric, sage, apple, pepper, chickpea, potatoes, etc. This soup gives a little flavor with coconut, ginger, lime, and some red pepper flakes. It resembles the flavoring esthetics of southeast asia, balancing sweet, hot, and sour. My only problem with the soup is that is calls for one butternut squash, and I can't figure what is a normal size. It would of been ideal if she called for "one butternut squash (about x amount of cups)"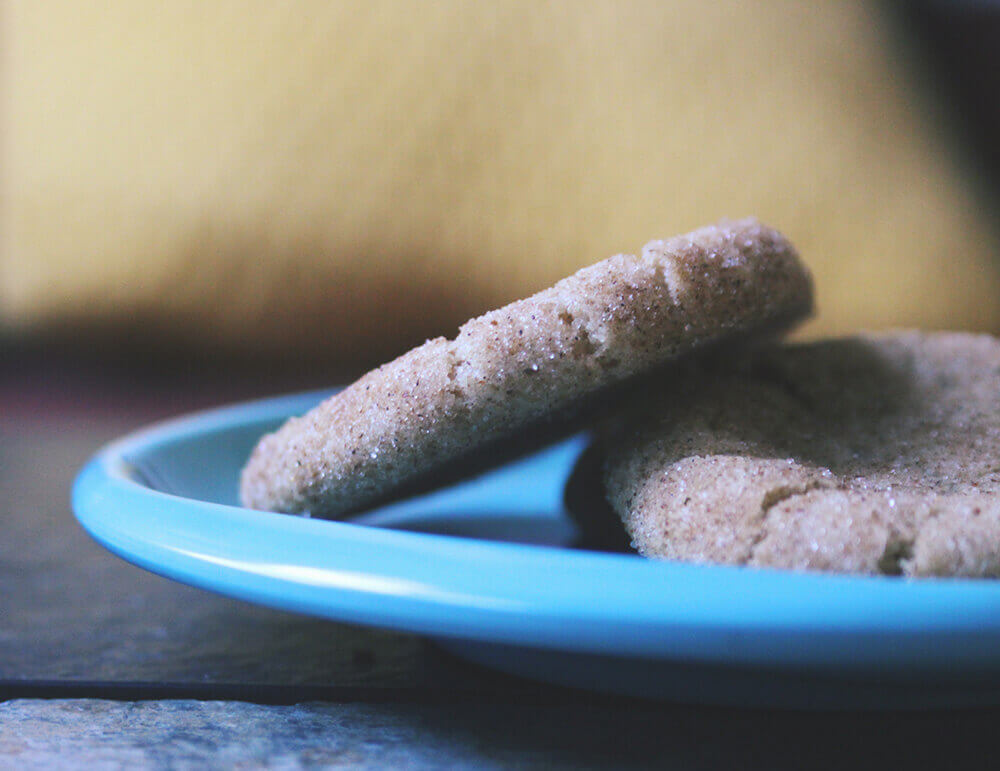 Chai Spice Snickerdoodles
Section: Desserts
Recipe: On PPK
I had to alter this recipe a little. I forgot I never replaced my cardamon and therefore used a mixed garam masala instead for the snickerdoodle sugar mix. They still turned out delicious. I can't image the cookies tasting that much different. They were fast to make, as the book suggests, and delicious. Did eat them fast enough and they went stale? They taste great dunked into some black tea.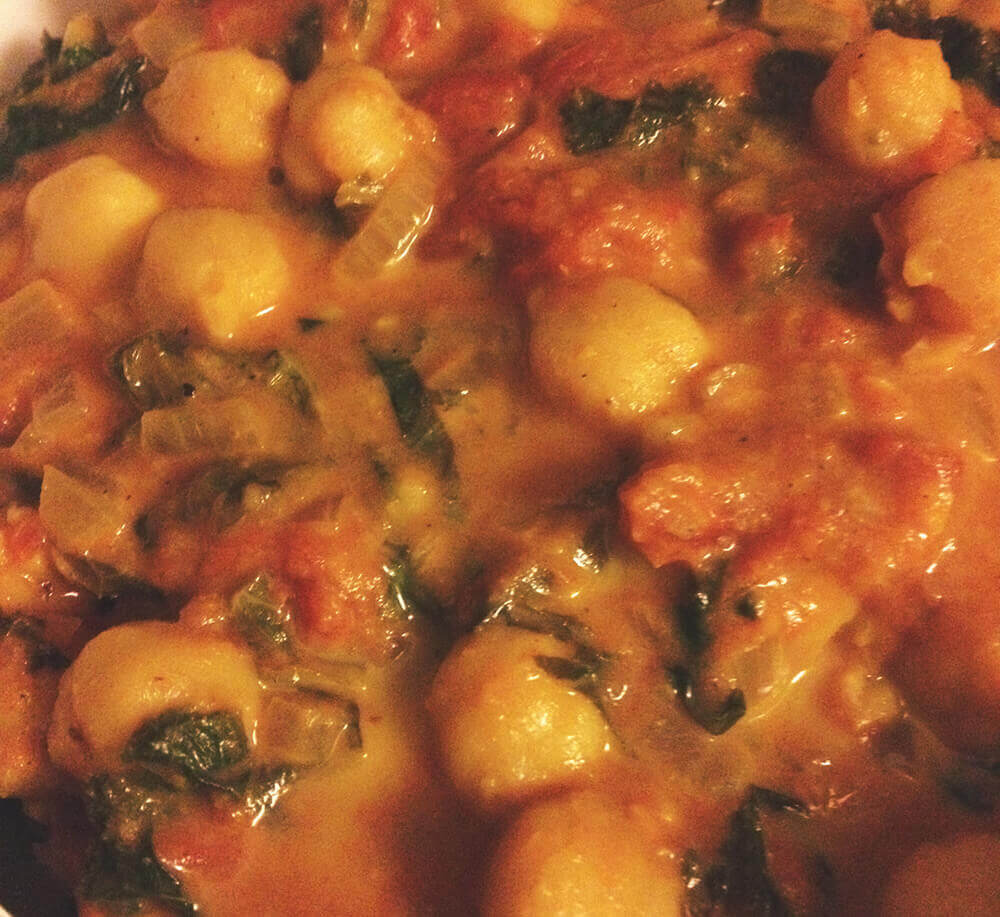 Coconut Chana Saag
Section: Stews, Chilis, & Curries
Recipe: On The Guardian
This dish was easy to make and made a lot of food. It works perfectly time wise, just prep your spices, garlic and ginger, and chop onions. Then everything falls into place, and the rice cooked pretty much perfectly with the curry when I started it while sauteing the onions (white rice that is). I liked the extra texture that the kale brought to the table, and gives me yet another platform to eat it.
Dragon Noodle Salad
Section: Salads
Recipe: On Food Republic + Breville Video
This is one of those "unconventional salads." Yeah, it follows all the rules, but it just seems a bit weird being put in the salad category. But it is yummy, fast, and perfect for hot summer days. It was so easy, that it will make it my "regulars" again next summer.
Harira with Eggplant and Chickpeas
Section: Soups
Recipe: On The Jewish Daily Forward
I think I picked this dish since I had an eggplant from my CSA. I wasn't expecting such a delicious result. Isa points out the oddness to toss a spaghetti in a soup, but it works perfectly. It fills you up, acts as a meal, and only uses one pot.
Kale Salad w/ butternut squash & lentils
Section: Salads
I was excited for this salad, I really was. The photo looked beautiful, and the description made me salvate with anticipation. But the salad failed to deliver. One reason is my fault, as I didn't get the butternut squash to caramelize as directed (due to a crappy oven and a hungry chef). But overall I felt that the dressing wasn't flavorful enough. For the future I might just alter the dressing, taking away oil and adding more vinegar.
New England Glam Chowder
Section: Soups
Recipe: On PPK with Video!
I gave my husband the task of picking out a recipe to try out. He picked this faux clam chowder as a "might as well give it a go" surrender to veganism. I had tried a vegan manhattan style "clam" chowder, but never a creamy new england style. We were pleasantly surprised. The dish was creamy, and chowder-y. My husband, with all his doubts, said it was a dish he would happily eat again.
Roasted Butternut Alfredo
Section: Pasta & Risotto
Recipe: On PPK
This recipe alone has made this book worth the money. This particular year I had a lot of winter squash, probably 6 or 7 butternut squash and two huge cushaw squash (an heirloom squash that is sort of a mix or pumpkin and butternut). This dish made great use of our squashes to make a creamy, slurpy, orange pasta (which translate to mac and cheese to all vegans).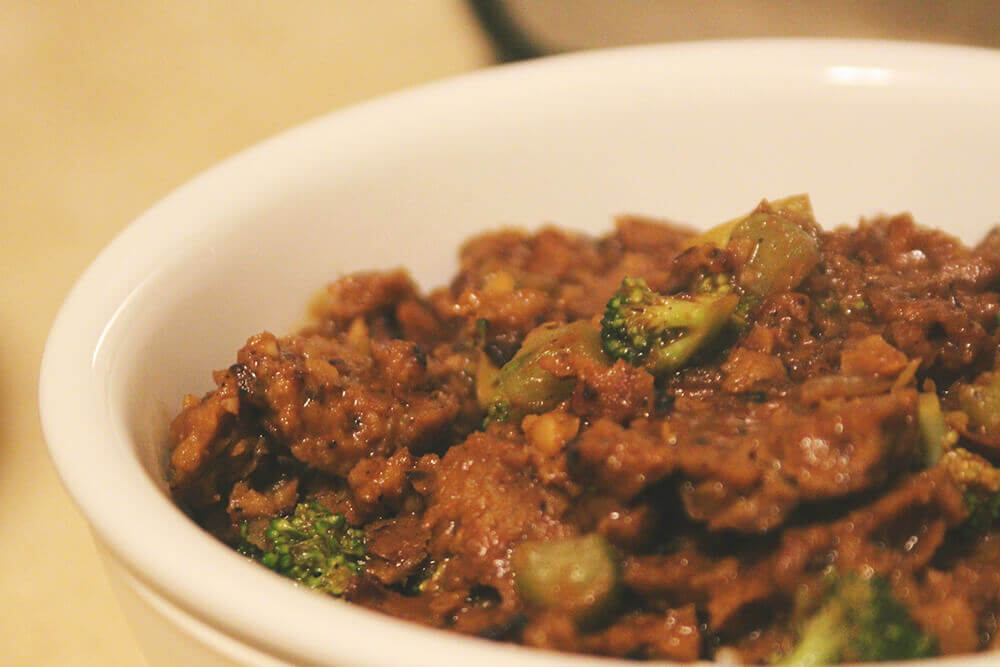 Seitan & Broccoli w/ pantry bbq sauce
Section: Stir-fries & Sautes
Recipe: On PPK
This dish made me think of ketchup. It didn't taste like ketchup but seemed similar in it's relationship with culture and flavor. Did you know ketchup was a british version of a Malaysian/Southeast Asian sauce? But it has been sweetened and twisted around to be very "western." This the same with this dish, it felt like if someone in the deep south tried to make Chinese takeout. It is really good, but very different. For this recipe I used the Steamed Chicky Seitan from the "A Few Basic Proteins" section of the book.
Sweet Potato & Red Curry Soup w/ rice and purple kale
Section: Soups
Recipe: On PPK
I love how Isa took two very western foods and added a south-east Asian twist to it. The recipe is very fast to put together and tastes amazing. Isa uses the phrase "grab bag of textures" to describe this dish, and she is right. The nutty rice, the chewy kale, the soft potato, and all sitting in some slurppable broth. Although this dish quickly turns into a stew since the rice sucks up all the broth.
A Note About the Review: I obtained this book as a gift from friend (who got the book signed by Isa when visiting her restaurant!) and all points of view are my own.