September 1, 2016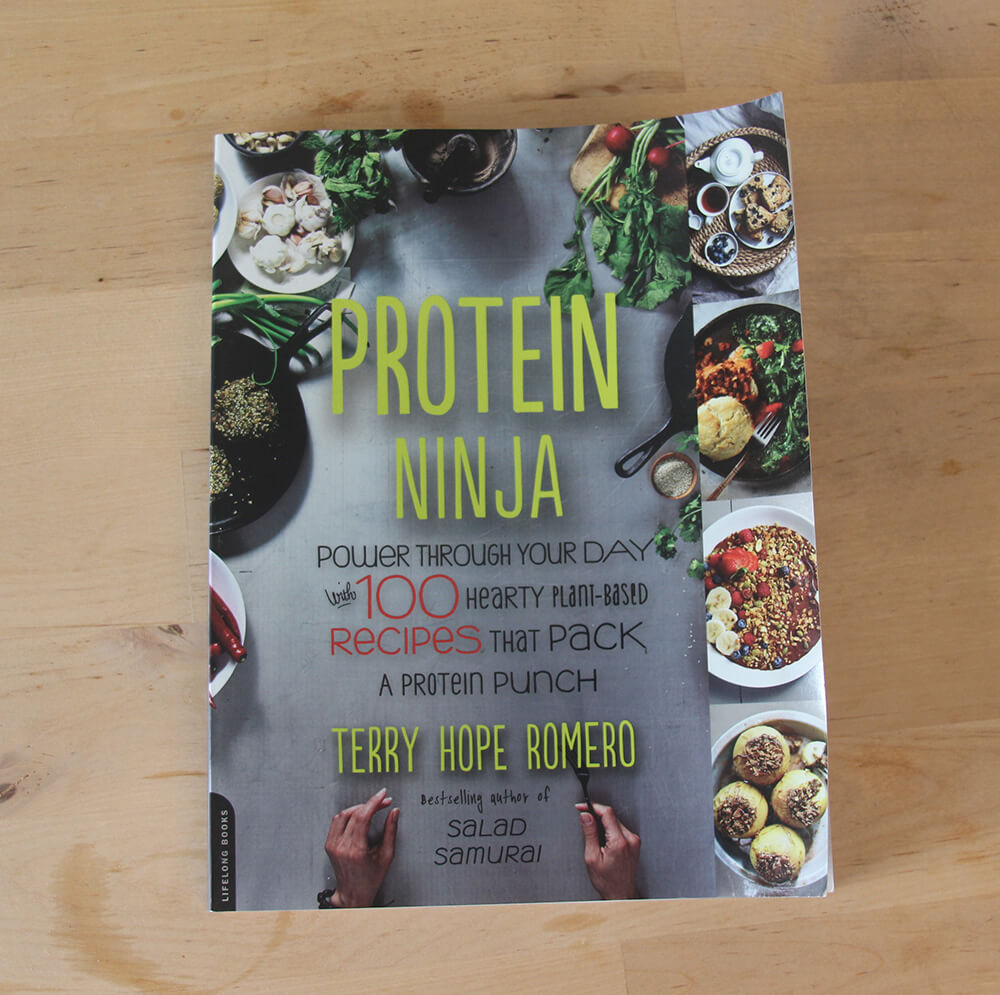 Shop on Amazon or Barnes and Noble
It is no secret I really like Terry Hope Romero and Isa Chandra Moskowitz. Sometimes I feel like the vegan world is crammed with feel good Californians, so having some snarky New Yorkers with killer food makes me happy. Since Terry and Isa both started to write their own cookbooks, it has always been interesting to see how each person cooks. Romero seems to write about specific topics- whether it is a specific world cuisine, salads, or in this case- protein.
Photos
There isn't a photo for every recipe, but then again, do we need that? Answer- probably not. I mean we don't need to see what a smoothie bowl looks like more than once. But the photos that are in the book are beautiful and fun. Instead of JUST featuring the recipe, the photographer arranges the recipe as if it is just being arranged in the kitchen.
The photographer worked with Terry Hope Romero for her sister book Salad Samurai and for Isa Chandra Moskowitz's book Isa Does It. As I praised with Isa Does It, the photos look as if you walked into a working kitchen, but somehow with the perfect lighting and the perfect amount of mess. Although the photos are clearly staged, it does give the recipes a sense of approachability that encourages people to make them everyday.
Set-up
Romero takes a quick approach, giving you an introduction and some protein basics. This is probably a good thing since she uses protein powders in so many of the recipes. She talks about the basic different powders and why she chooses to use one in a certain recipe and not another. I am a little disappointed that she doesn't include soy protein isolate, or at least explain why she doesn't like it. It use to be THE protein for vegans.
She then touches base for other common ingredients she uses and talks about some cooking basics. Most people can skip this section but if you never cooked brown rice before? Well Romero has you covered so you don't have to pause that podcast to google "how to cook brown rice." Heck I even used her coconut bacon recipe in that section.
Recipe categories? I liked how she divided them up: Unstoppable Smoothie Bowls and Granola; Stealthy Protein Pancakes, Waffles, and Much Much More; The Protein Bakery Basket; Super Toast: Savory and Sweet; Protein-Packed Patties and Burgers; Better Than Ever Burger Bowls; Grain and Noodles Bowls; and finally Sweet Treats.
Writing
As with all Terry Hope Romero's book, I am always impressed with her writing. It is always open and very relatable. She more or less mocks the pseudo-enlightened statements that are the so common ever since M.F.K. Fisher. She also has no visible typos or issues with the recipes- oh wait except for one. Her chickpea eggplant hemp veggieballs have no hemp in them. It bothers me endlessly. But truthfully, this is the least amount of issues I've seen in a cookbook where there is always one or two ingredients out of place or letters missing.
Overview
It seems there is a divide in the vegan world over this cookbook. A lot of vegans complain that it feeds into the "protein complex" that America has. Which is sad because Terry Hope Romero addresses this in the introduction. She, for the most part, wrote this book for weight lifting vegans. And I have to say, I think this is super helpful. I know Alexa would love this book since she is a big crossfitter, and is a flexitarian. She would like to avoid dairy and eggs, but when you are surrounded by a world that loves the paleo diet, it is hard to learn about vegan protein. This book would be perfect for her. Terry's recipes recommends cheap protein powder, aka not to use Vega (though some recipes need that, like the smoothie bowls)
What I also love about this book is that there are lots of tips to save your recipes. Many people don't live with their significant other, or eat the same thing as each other. So I hear lots of vegans say that they can't make a full recipe because it will go to waste. Romero gives lots of notes on which recipes you can double and freeze. This has been nice for me since I am expecting so I am stocking my freezer up for sleep deprived post baby me.
Right now, protein isn't on my list of things to pay attention to. I've been getting what I need, and probably should be eating more whole grains (as a pregnant lady that is) But once I deliver I probably going to dive into this cookbook. I find that this has lots of recipes that are very warming, and don't use as much fresh produce. So testing out these recipes while I have my CSA is a little bit of a struggle.
Otherwise I love this book. I will be using it a bunch in the future. If anyone is a vegan weight lifter, even with light weights, they will probably want to pick up this book. Terry Hope Romero uses protein powder, yes, but I think she varies the types making it friendly for lots of vegans. I am still a little sad she ignore soy protein, but hey, she likes to use tofu so that's okay.
Wanna Skip the Protein Powder?
As mentioned above, some of the biggest critizism has been how much the recipes use protein powders. I have to point out a few things if people want to save some cash. One tip would be to skip the hemp protein powder and only get the rice and pea protein powders. I got NOW protein, which isn't the best for smoothies, but works well with these recipes. You can get most of the rice and pea proteins for $6-10 per pound depending on the size you buy. I super recommend getting these for the baked goods and burgers as the protein powders help with binding (think of eggs and how their proteins work in traditional baked goods)
Wanna skip protein powders overall? Well, some of the recipes aren't going to be high in protein, but you can do almost everything in the first chapter with the smoothies bowls. But there is almost always a non-protein powder recipe in each chapter. Quick way to find them is to look at the savory recipes over sweet. So you want to check out the end of Stealthy Protein Pancakes, Waffles, and Much Much More, and almost all recipes are protein powder free in Super Toast: Savory and Sweet and Grain and Noodles Bowls.