This recipe round up is a little more interesting this time around. One reason is because Alexa reviewed a recipe! Whooo! She devoted a whole post to it, but we are putting it up again. Why? If you are searching for a good cauliflower recipe it is simple to find! Duh!
Since there are two recipes we talked about in the past, that means we have some bonus photos! I think it is a little fun to include them to compare photos. Funny thing is sometimes to non-model shots of food seem more yummy than the actual photo!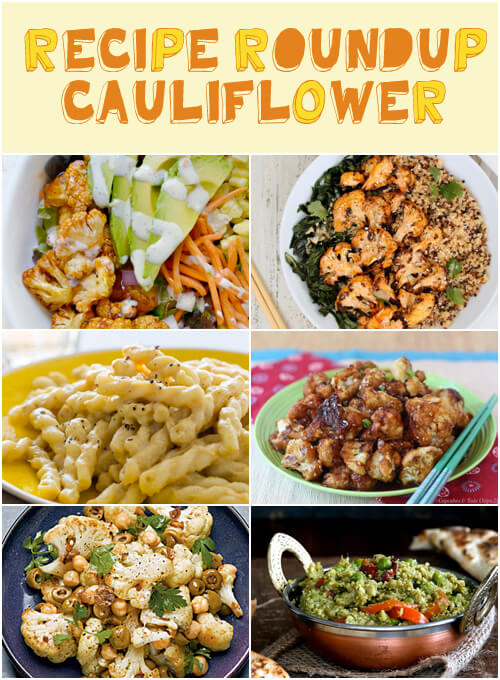 Oh and there is a bonus recipe on the bottom! It was featured in the Everything Free Recipe Roundup. I figured I would tack it on the page for any cauliflower fans. I think our grouping is really eclectic. Different food styles, Indian, Chinese-American take-out, pasta, salad, and a side dish. I know mind blowing! So start reading what you should make:
I am sure everyone has seen this recipe lurking on pinterest. Even Alexa pinned it, which gave me push to go ahead and make it for this recipe roundup. (Alexa claims responsibility for this recipe by the way) I personally like Fork and Beans, and I remember making her Cauliflower "Risotto" but wasn't thrilled by it.
As I started the recipe red flags went up. "Oh this won't work!" but I wanted to stick the recipe. Maybe something is going on that I am not noticing? When I pulled the cauliflower out of the oven I thought that the cauliflower was too hard. But I bit my tongue and finish up the salad and thought "just wait till you eat it."
It. Was. Amazing. I everything was in perfect sync. I didn't follow the recipe to a T since I didn't have corn, and couldn't make the ranch dressing since I didn't have a blender. But it still worked out amazingly. The ONLY thing I would change would be that I would put the BBQ on the cauliflower before tossing in the oven, then again after 5-7 minutes.
Otherwise this is a great recipe to prep for lunch the night before. Got the oven on? Toss in the cauliflower for a few minutes and assemble the night before. It is super yummy!
Bottom Line: Helllllo new lunch fav.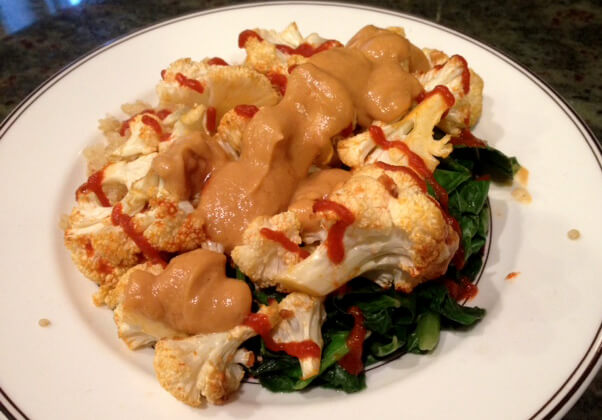 I loved loved LOVED this dish. I also mentioned in my own post on it that I would absolutely make it again. The dish might look intimidating to make, but it is really simple to put together.
I consider myself lucky to have a partner who is willing to try all sorts of foods – whether they are vegan or not. This dish isn't hard to like, but some people just aren't open to new things. That being said, Mr. Ian also loved this and would willingly eat it whenever I make it in the future. I am forever thankful that I stumbled upon Vegan Richa's blog and will continue to look up new recipes when getting ready to make something vegan and delicious.
Bottom Line: Very good "Baby's First Vegan Dish".
This is one of those recipes I read and think "this is NOT going to work." But I wanted to give it a try since it was pinned so many times. Let me tell you… it didn't work. I think my red flag was that it called for two heads of cauliflower but I was suppose to get a total of 2 cups of sauce at the end. I got 4 cups, with only one head of cauliflower.
I am not sure where these girls are getting their cauliflower, but since ratio was so far off, I had to double the milk to blend the sauce. I found the sauce too strong of garlic and shallots. I think they have something right going on. I can picture getting a much better result if the cauliflower was given a weight (or measurement of cups) I think a little silken tofu would of helped in the flavor department.
It should be noted my husband loved the dish, but I wasn't thrilled by it. So I could just have an angst towards too much garlic and shallots.
Bottom Line: Needs lots of modifications and more specific measurements
What I love about Pinterest is that you can find recipes that are posted on blogs that I would never normally check out. And for me that mostly means they are recipes posted on blogs that feature meats. Truthfully I like vegetarian recipes from meat eaters because vegans and vegetarians sometimes forget what things taste like. I've heard a few friends swear that coconut bacon tastes JUST LIKE THE REAL STUFF! It is yummy, but no, not really bacon guys. If a meat eater posts a vegan substitute, it is because it is just that good.
I've made something similar in the past, which was buffalo wing cauliflower. I flubbed that recipe up, but this one worked out perfectly. Brianne does a good job explaining all the steps, which includes laying the cauliflower in one layer (not piled up high). They taste similar to the sauce you would get on sesame chicken at a take out Chinese restaurant. It is definitely something I will make again.
Bottom Line: Yummy "junk" food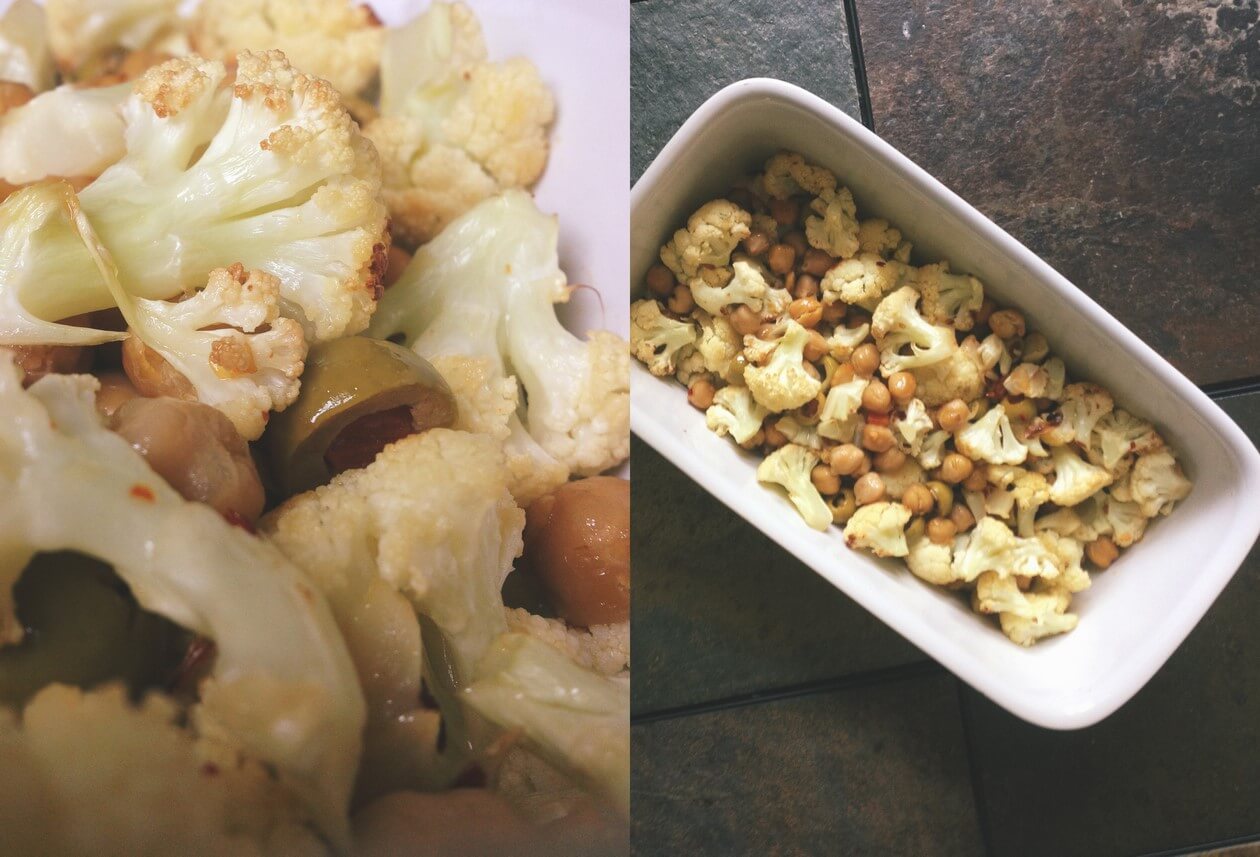 I made this Cooking Light recipe awhile ago. I remembered it being one of the few times I liked the taste of cauliflower without drenching it in curry. Something about roasting cauliflower brings out a whole new flavor profile. And the olives and red pepper flakes were a nice burst of flavor in the dish. I even found people who dislike olives enjoyed this dish.
The only downside to this dish is the pungent smell of the olives. This might scare off people, or leave a smell that works against your other dishes. The worst part was I made this dish and had to drive with it for 2 hours. It stunk, literally.
Bottom Line: Great- but not for long trips.
I was really excited to try out this recipe since it used cauliflower in a format I've never seen before. In hindi, gobi means cauliflower, while keema means minced meat. Essentially Richa uses the cauliflower in place of the texture of the minced meat. It was fabulous.
I have only two complaints about this dish. One was that the dish was REALLY spicy. That is a causality of using fresh peppers though. The other is how many appliances are used to make the dish, which results in lots of washing. I had to use a blender, food processor, and pot. I planned that night to use the blender several times to make the clean up a little more justifiable.
Bottom Line: Do it!
Angela from Oh She Glows tries to recreate a recipe from Whole Foods. I hadn't tried the Whole Foods version, but Angela's recipe looked pretty good.it seemed pretty good, so I figured I'd give it a whirl. Raw cauliflower and broccoli are great detoxifiers. But be prepared for a workout. I mean, it's raw cauliflower and broccoli. There's a lot of chewing involved, which can make you feel like a cow chewing cud. Solution? Chop those suckers down in size. You'll thank me later.
Overall, this made for a decent salad. Mine would have benefitted from a bit more lemon. If you own a food processor, this dish is a super easy to make. Toss in veggies and pulse. Pour in a bowl and toss with the rest. But the recipe is a little deceiving. She lists 2 heads of broccoli and 1 head of cauliflower. If you follow that (like I did), you may actually end up with a 3 to 1 ratio of cauliflower to broccoli. To make it equal, I would've either had to use 6 heads of broccoli or search for a smaller head of cauliflower at the grocery store. Cauliflower and broccoli heads vary in size, so take this into consideration when purchasing your produce. Ultimately, I believe this dish works best with a 1 to 1 ratio of cauliflower to broccoli.
Just don't go overboard. My biggest issue with this dish? It made way too much salad. I felt obligated to eat some on the side of every meal I had. Even having a little everyday between my husband and myself, it lasted for 9 days. By the end of it all, I never wanted to see it again.
Bottom Line: Alright. Great for detox/raw diet. But halve the recipe.