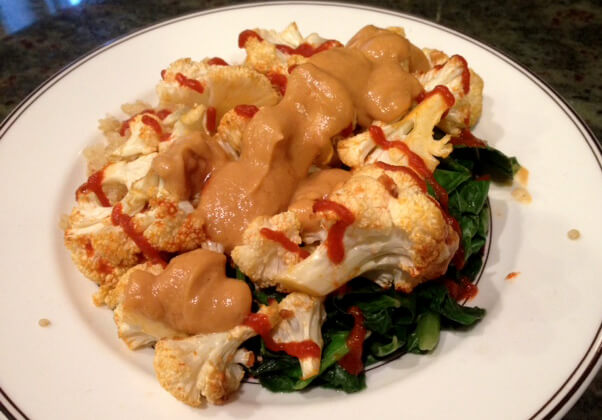 Hey everyone … I finally MOFO'd!!! (It was definitely in September I SWEAR.)
I won't lie to you, I have never actually made my own vegan meal before. That's crazy right?! I have always just thought they would take a lot of time to prepare and I normally don't have all of the ingredients that are necessary for them. When September rolled around Jenny told me about "Vegan Month of Food" and recommended that I try out a vegan recipe. I was definitely up for the challenge and then I found out that the recipe I made…wasn't challenging! I was actually really proud of myself by the time it was done, and I like to cook, so I was happy during the entire preparation process.
I stumbled upon this recipe from Vegan Richa via Jen. She's been following her (beautiful) blog for quite some time and now I am going to make it one of my favorite blogs too!
For some reason I never seem to remember how much I love cauliflower until it happens to be in a dish that I make. I know that it's really good for you, but I think I always find it to be daunting when I see it in the grocery store and figure I'll never finish the whole head. After preparing the cauliflower for this recipe I have continued to make it that way up until it was all gone. Hurray! This vegetable is just so versatile that I actually found myself saying "wait…save that because you could use it for this dish instead".
I also love collard greens, but I find that I have a harder time figuring out how to prepare them as well. I have only ever had them once before this, and it was when my Step-Mother prepared them (oh, they were delicious) for us when my parents were living in South Carolina. I like the bitterness of the leaf as well as feeling like I am eating something good for me. Lettuce can be tricky sometimes! Anyway, this was also very easily prepared – just throw your greens into a pan with a smidge of sesame oil, pinch of garlic salt and a pinch of salt and you just wait until they are a bit wilted. Done! Delicious!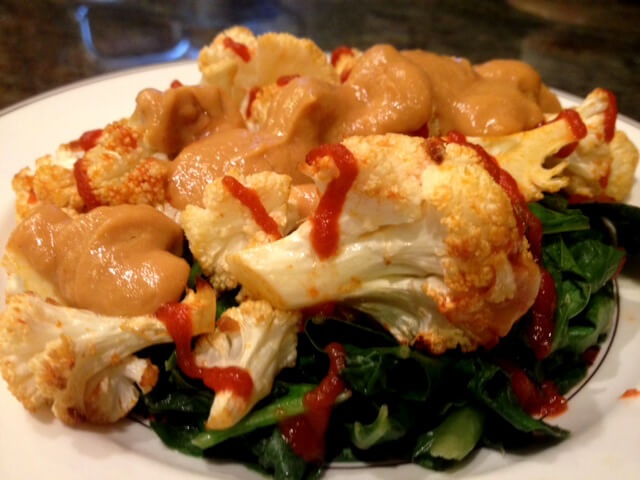 I'd made quinoa before, and while this was an easy preparation it never occurred to me to add things in while it was cooking. I don't know why though, I guess it's only because I never add anything to rice while it's cooking and I make them the same way? The world may never know.
The only thing that was REALLY intimidating me throughout this experiment was the Peanut sauce. On Richa's site the recipe originally called for almond butter, which I neglected to purchase. Luckily Richa mentioned that the almond butter could be substituted for with peanut butter! I love peanut butter!
I would definitely make this recipe again. It was a hit with everyone who tried it out and it was extraordinarily easy to make. I also think it has enough flavor but isn't too intrusive so everyone can give it a taste without fear of disliking it. Thanks Richa! I will certainly be browsing her blog for more delicious recipes sometime soon.
*Note: I actually had extra food after making this meal, which was great! I saved some for Mr. Ian to bring to work for lunch, and the rest I saved for myself for lunch! The only thing I didn't have leftover after giving Ian his portion was the collared greens, and this recipe is so simple that all I had to do was throw it in the pan with some garlic powder and oil and it was done in just a few minutes. I was so so pleased with the overall outcome of this dish.