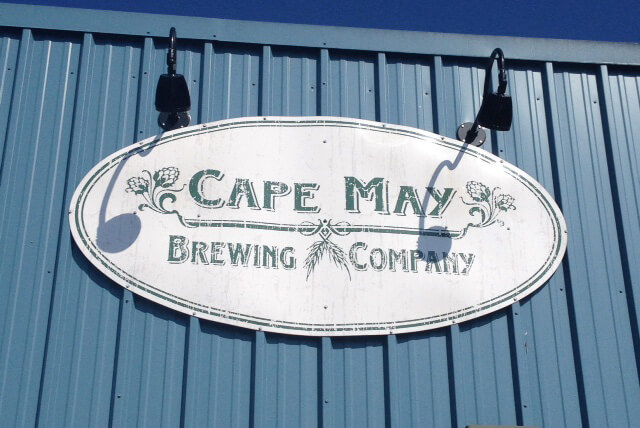 Labor Day has come and gone, which means that Summer is making a swift exit. With the last "real" summer weekend going by, we all decided to go on a day trip down to Cape May to see the beach and the Brewery.
The night before we left my friends Jon, his brother Matt, Keith, Mr. Ian and I all went down to the Stone Pony in Asbury Park to see The Gay Blades play! I haven't seen them in quite some time and they really put on a great show. I was first introduced to this band by my boyfriend and long-time-companda Mr. Ian. They are a local rock/alternative group (but on their facebook page they describe themselves as "Genre Trash pop"…I'll take it) that reside in Brooklyn, NY. Their first two albums are excellent if you're into that genre of music, and their concerts are like one giant party so I'd also recommend seeing them live if you ever get a chance!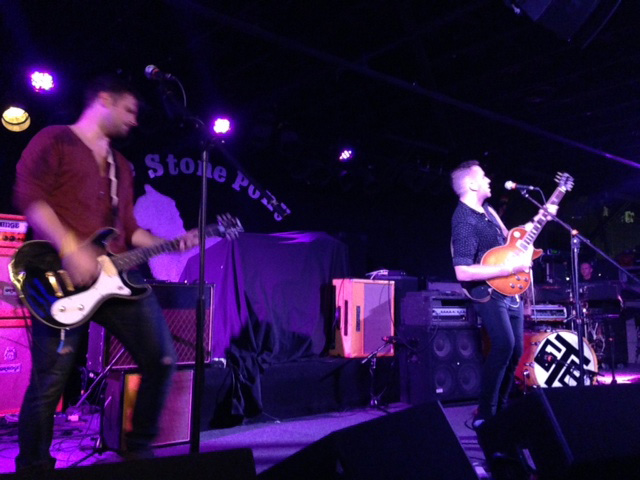 Here's one of their most recent music videos off of their second album.

The next morning Keith, his wife Jenine, Mr. Ian and I got up nice and early to drive down to Cape May. I had been to Cape May a bunch of times when I was younger, my family would go with all the kids and make it into a fun day trip or a nice long weekend. It is a really pretty beach town with a lot to offer, and since it had been a while since any of us had gone it was all very new and fresh. We also decided that it would be a really nice wrap up to summer to hit the beach and be kind-of "shore tourists" for a day. Our first stop was a little restaurant called George's Place. We stopped there on a whim and came to realize that they had an AMAZING breakfast menu (not too sure if it was very vegan friendly, but I remember it being veggie friendly). Whenever I get the chance to go out to eat for breakfast I always tend to lean toward the sweeter side of the menu — which lead to one of the most delicious waffles I think I have ever had.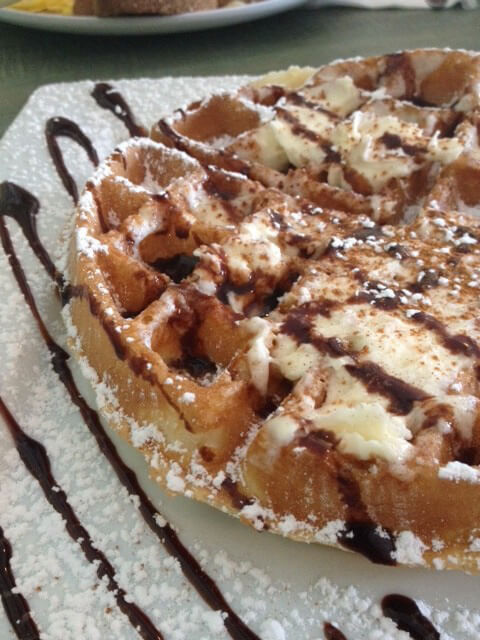 After breakfast we walked down to the beach. The weather was perfect for it, as Jenny mentioned in a previous post, we've had a very mild summer this year. The sun was bright and it was just hot enough to want to go into the ocean…which I was brave enough to actually venture into. Surprise! I am terrified of large bodies of open water with waves in varying sizes!!
For lunch we all decided to stop at Hot Dog Tommy's. Our friend Jon has been there a week or so before and was raving about it, so it seemed to be the best decision that we could make. NOTE: I have been making a move towards keeping to a vegetarian diet and I don't know if I have talked specifics about it on the blog. I am currently in the "flexitarian" status only because of my current living situation and depending on if I am with a group. If I were to go over to someone's house and they were serving a chicken dish with vegetables I would probably end up taking less chicken and more veggies only as not to be rude. If it were my own house I would omit the chicken entirely. If I am at someone's house and they are serving a red meat dish I will speak up and mention that it isn't in my diet but that is usually as far as I will go. When on my own I do my very best, which really isn't too difficult, to stay vegetarian. Back to Hot Dog Tommy's…I was probably the only person in the group who had some sort of "vegetarian" concern as to what was on the menu and figured that it wouldn't be too hard for me to just choose differently/wisely depending on what they had. LOW AND BEHOLD! There were several vegetarian options – which is another reason I thought I would mention the establishment. Now…I was definitely planning on taking a glamour shot of my food but I scarfed it all down in hunger and extreme deliciousness. Instead of a hot dog they offered a cooked carrot, which sounds strange at first but when you really think about it carrots are really full of flavor on their own. I just picked a "dog" off the menu and substituted it with the "carrot dog" and I was happy as a clam!
The main event of the day was definitely the Cape May Brewing Company – which I had never been to before then! Our friend Jon (who recommended Tommy's to us) and his girlfriend Katie had been there a week or so before us and mentioned how much fun it was, and our "grown-up" trips seem to have become touring different breweries so it just made sense!
When you first walk into the small building you are offered the "Tour & Tasting Package" in which you get 4 – 4 ounce beer samplers and the option of purchasing a souvenir pint glass…which we absolutely did. The pint glasses they offered were really nice and Mr. Ian and I are always looking to expand our collection of glassware. Keith, Jenine, Mr. Ian and I were all lucky enough (and smart enough) to realize that we had enough people to get samplers of everything they had on tap before going into the tour! We all agreed that everything was really great, all varying flavors and some really different tastes. I think the only beer I wasn't too fond of was their "Pale Ale"…but I'm not very big into IPA's so this came as no surprise to me.
The tour itself was short and sweet. It was a thorough explanation of the brewing process as well as the story of how the brewery started. The man who gave us our tour (Bob) is the father of the co-owner of the brewery! His son and a friend have a love of beer and came up with the idea of opening a micro-brewery in the Cape May airport. It's a great spot for it and they attend many if not all of the festivals that happen in the Cape May area. Bob made it extraordinarily clear though, they don't intend on selling their beer across the country, but keeping it local to the state of New Jersey. They do have beer on tap in bars in the surrounding area and they will bottle some of them for a limited time, but that's about it. I loved that! It keeps everything local and makes for a great destination trip to try something and make it special. Overall it was a really fun experience with really good friends. The tour was informative and the staff were friendly and seemed to love their work. Ian and I ended up leaving with two glasses and a growler of their Ebb Tide, which is their American Wheat beer. It was the beer that stood out most to me in texture and flavor and I wanted to bring some home to be able to remember just how awesome it was!
The Cape May Brewing Company website is very user-friendly and extremely helpful if you have any questions about visiting or about what they might have on tap, which I mention only because it describes everything just as it was written on the board when we went to visit and taste everything. Thanks again Cape May Brew Co!!
*Disclaimer: This post is extraordinarily late! It was almost finished and needed some tweaking but then the month turned into September MOFO – so I thought I would save it until after. Hope everyone still enjoyed it! It is no longer beach weather here, so it would have surprised me if I lasted an entire day playing on the beach this month!