November 5, 2014
This recipe round up is a little more interesting this time around. One reason is because Alexa reviewed a recipe! Whooo! She devoted a whole post to it, but we are putting it up again. Why? If you are searching for a good cauliflower recipe it is simple to find! Duh!
Since there are two recipes we talked about in the past, that means we have some bonus photos! I think it is a little fun to include them to compare photos. Funny thing is sometimes to non-model shots of food seem more yummy than the actual photo!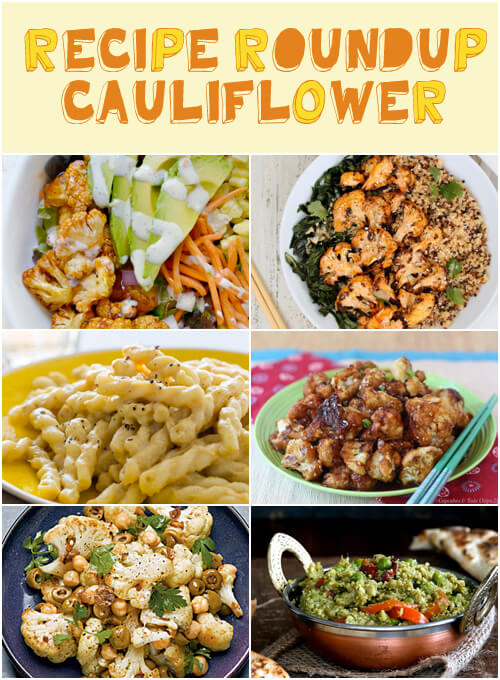 Oh and there is a bonus recipe on the bottom! It was featured in the Everything Free Recipe Roundup. I figured I would tack it on the page for any cauliflower fans. I think our grouping is really eclectic. Different food styles, Indian, Chinese-American take-out, pasta, salad, and a side dish. I know mind blowing! So start reading what you should make:
I am sure everyone has seen this recipe lurking on pinterest. Even Alexa pinned it, which gave me push to go ahead and make it for this recipe roundup. (Alexa claims responsibility for this recipe by the way) I personally like Fork and Beans, and I remember making her Cauliflower "Risotto" but wasn't thrilled by it.
As I started the recipe red flags went up. "Oh this won't work!" but I wanted to stick the recipe. Maybe something is going on that I am not noticing? When I pulled the cauliflower out of the oven I thought that the cauliflower was too hard. But I bit my tongue and finish up the salad and thought "just wait till you eat it."
It. Was. Amazing. I everything was in perfect sync. I didn't follow the recipe to a T since I didn't have corn, and couldn't make the ranch dressing since I didn't have a blender. But it still worked out amazingly. The ONLY thing I would change would be that I would put the BBQ on the cauliflower before tossing in the oven, then again after 5-7 minutes.
Otherwise this is a great recipe to prep for lunch the night before. Got the oven on? Toss in the cauliflower for a few minutes and assemble the night before. It is super yummy!
Bottom Line: Helllllo new lunch fav.