Oh man! I am so excited to be back! Our host had too many sites on their server, which is why our page was taking so long to load. So for one week the site was locked, and we couldn't make any changes, but it was still viewable. Then we had to spend another week with the site being 100% down. It was awful and I was itching all week to work on the site.
But now the site is back up, and everyone can see our new link buttons on the side, and our big ass blog directory! But first let me share this super easy recipe.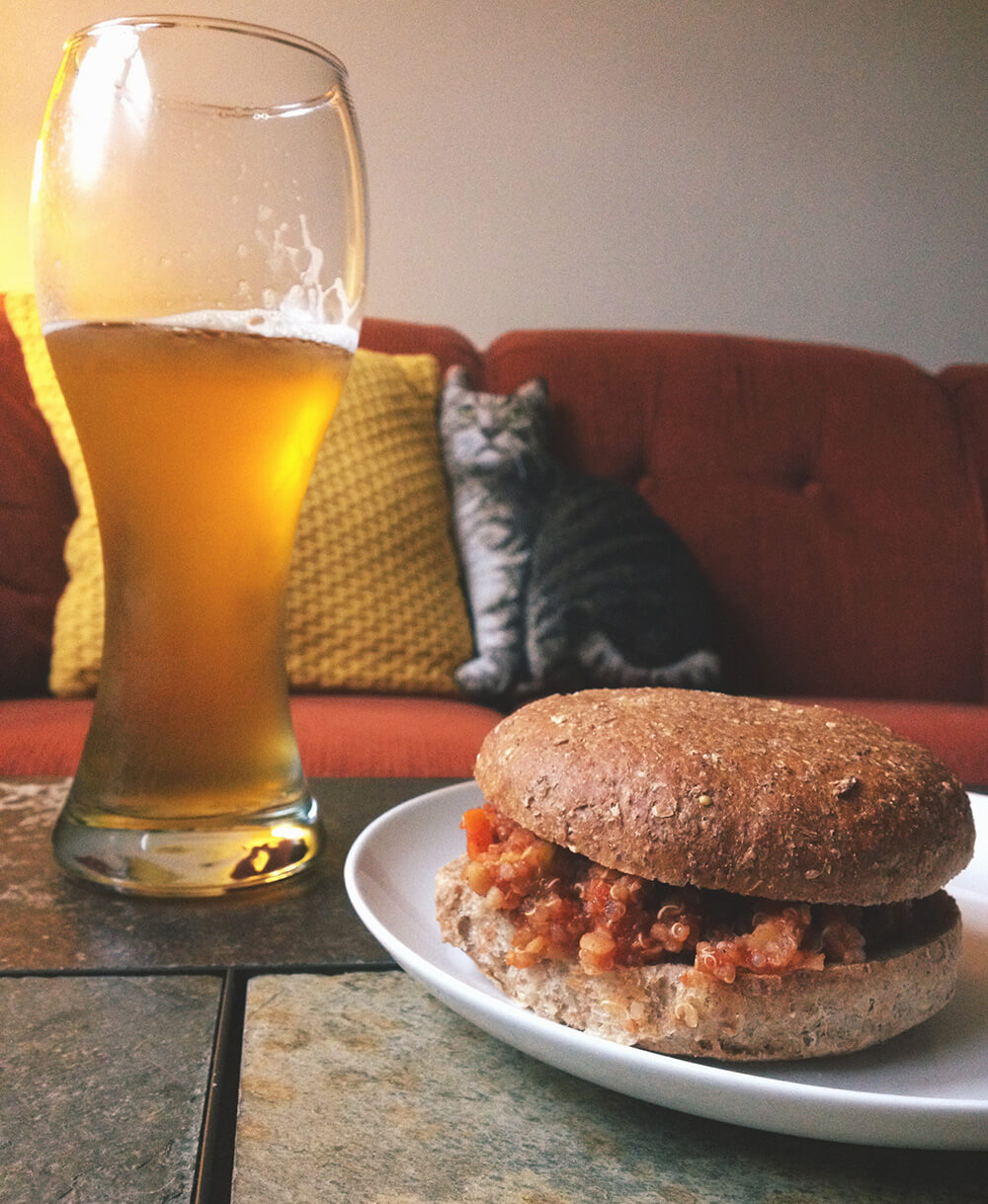 This recipe I've been holding on to for awhile now. It just seemed a little boring. I mean sloppy joes? With lentils? I mean don't all vegans know about this? Surely?! Well, I gave some leftovers to my husband for work and everyone at his work commented on how clever it was. Sometimes when you are drenched in a subculture, you forget what is or isn't common.
So even though this dish isn't something uncommon with vegan blogs, I think it can still reach others to give inspiration. The recipe is also really non-vegan friendly- meaning if you are a non-vegan and you making something for your vegan guests, this is a great option. Quinoa and lentils are pretty frequently used in recipes, and the only "hard" work is reading the buns ingredients to make sure there aren't any eggs or milk in them (which milk is often added to pre-made breads!) I used sprouted buns, but they taste best with the cheap fluffy white buns.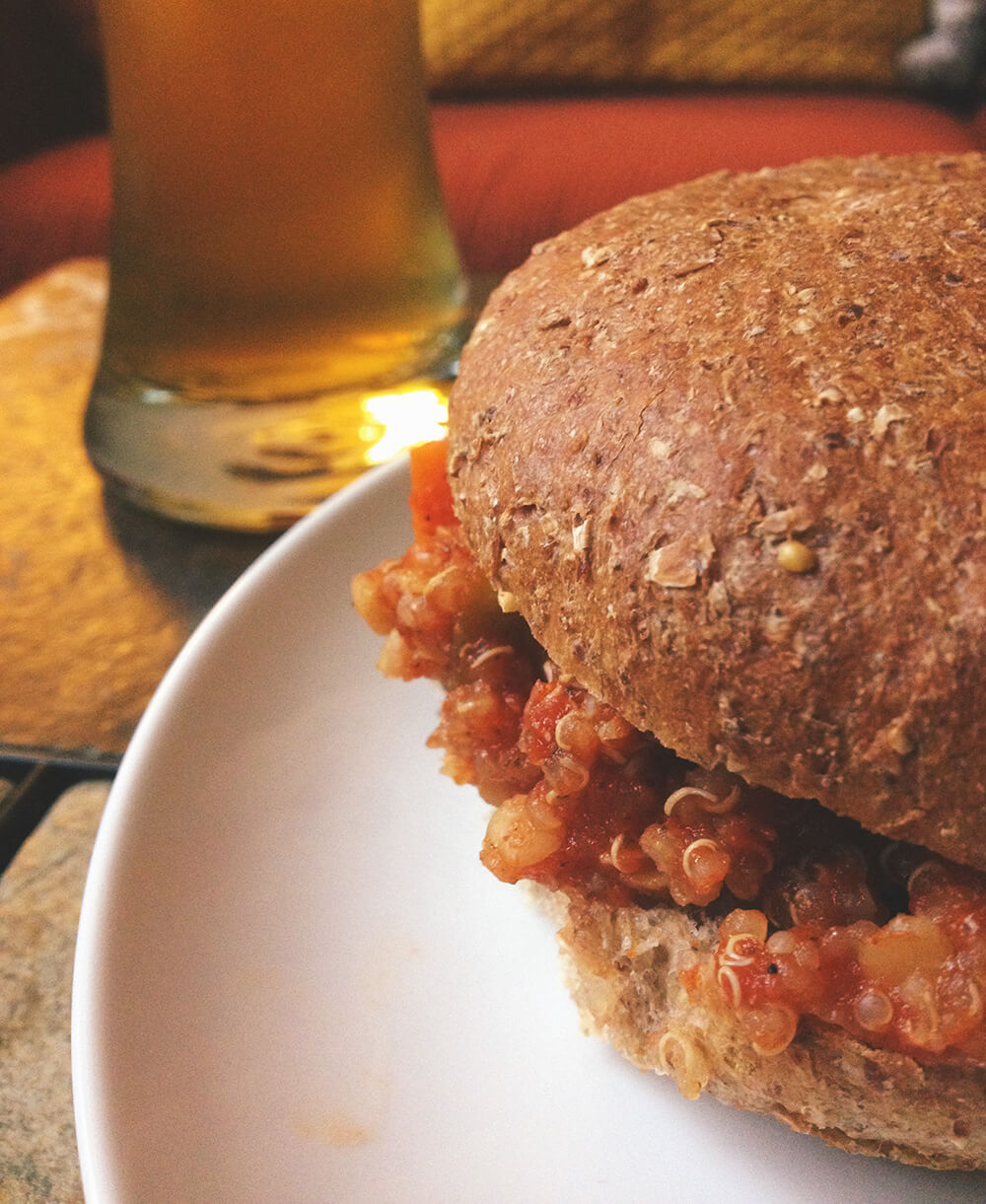 Steam up some veggies on the side and pour an awesome vegan beer. Which reminds me, did you know that not all beers are vegan? Not everyone knows that. It is the filtering process that makes beers non-vegan. Occasionally you will find brews with honey, milk or even oysters (which I tried back in the day, and it is really yummy).
But since the US government goes to great length to make alcohol look far from food (which was probably good back in the day) ingredients are not required to be listed. In a day and age where allergies are rampant, they really should list them. But for now, you can search Barnivore for vegan drinks.
Quinoa and Lentil Sloppy Joes
2014-05-23 15:27:32
Delicious vegan sloppy joes!
Ingredients
1 cup quinoa
3 cups vegetable broth or water (divided into 1 1/2 cups)
2 tbsp olive oil
6 oz tomato paste
4 medium tomatos (about 1 3/4 lb)
1 tsp salt
1 tsp basil
1 tsp oregano
1/2 tsp paprika
2 tsp chili powder (mild)
1 md onion - chopped
1 md green bell peper - chopped
1 lg carrot - chopped
1/2 cup red lentils
buns and rolls of your choice
Instructions
1 You want to cook 1 cup of dry quinoa (yielding 3 cups total). In a pot boil 1 1/2 cups of broth or water in a 2 to 3 quart pot. Once the water is boiling, add the cup of quinoa and top with lid. Turn the heat low, to a simmer, and cook for 15 minutes. Once the 15 minutes are up, turn off the heat and leave the lid on until ready.
2 While the quinoa is cooking prep the sauce. In a blender add the remaining 1 1/2 cups of broth or water, olive oil, tomato paste, tomatoes, salt, basil, oregano, paprika, and chili powder. Blend until smooth. Set aside.
3 Chop veggies, keeping the onions separate from the pepper and carrots. Measure out the red lentils and keep to the side. Once the sauce is started, you want the lentils ready to go.
4 Heat a large pot (4 quarts) with a drizzle of olive oil. Add the onion and saute until translucent, about 5 minutes. Add the pepper and carrot and saute for 3 minutes.
5 Pour the sauce you made in the blender into the pot and saute for 3 extra minutes. Don't leave the pot, constantly stirring to make sure the sauce doesn't splatter.
6 Stir in the lentils and quinoa and cover. Once the dish is boiling, turn the heat low and simmer for 30 minutes. Once the 30 minutes is up, fill your favorite roll up and enjoy.
One Raw Bite https://one-sonic-bite.com/