September 2, 2015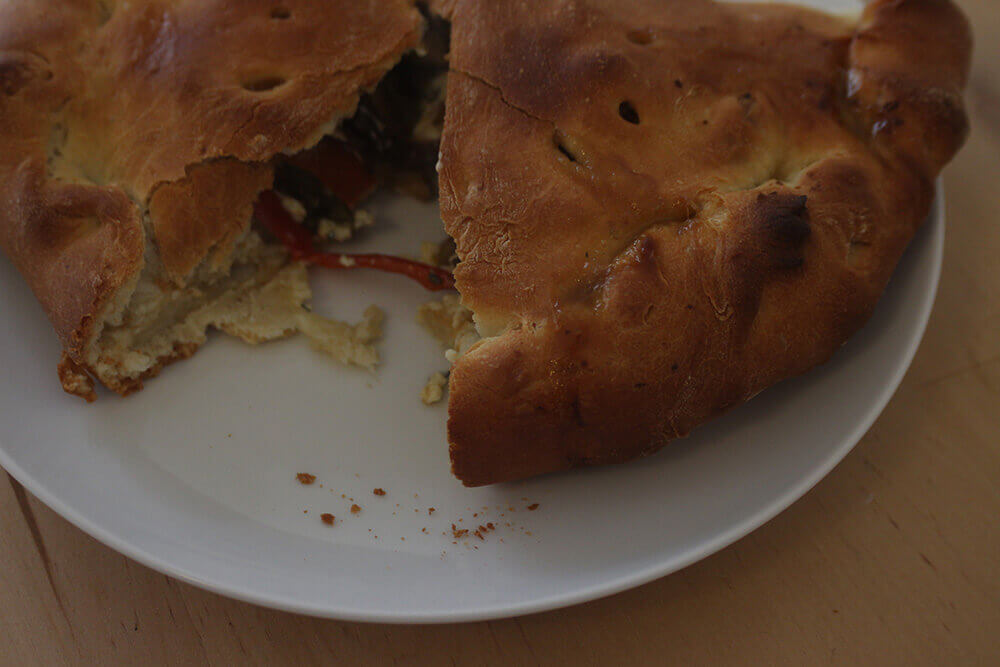 I didn't grow up with the "normal" childhood foods. My mother is very open to new types of foods and loved to cook. I remember when we would make a list of food for the week, and being asked what I wanted. I blurt something out like lasagna, then be shut down "We already have a pasta dish" or "We are already having Italian on Tuesday." Variety was a huge priority. I guess it still is. When I ask my husband if there is something he wants to eat, his response is usually "We have so many things, I don't remember all the dishes."
I remember couscous, falafels, pancake dinners (which I hated), tuna casseroles, rice and beans, and seafood quiches. Not the normal kid foods like mac and cheese, hotdogs, and hamburger helper. Actually funny story, I tried making the tempeh helper in Appetite for Reduction and wondering what the hell to do with the cheese sauce. I am still not sure what to do with it- I just mix it all in with everything else.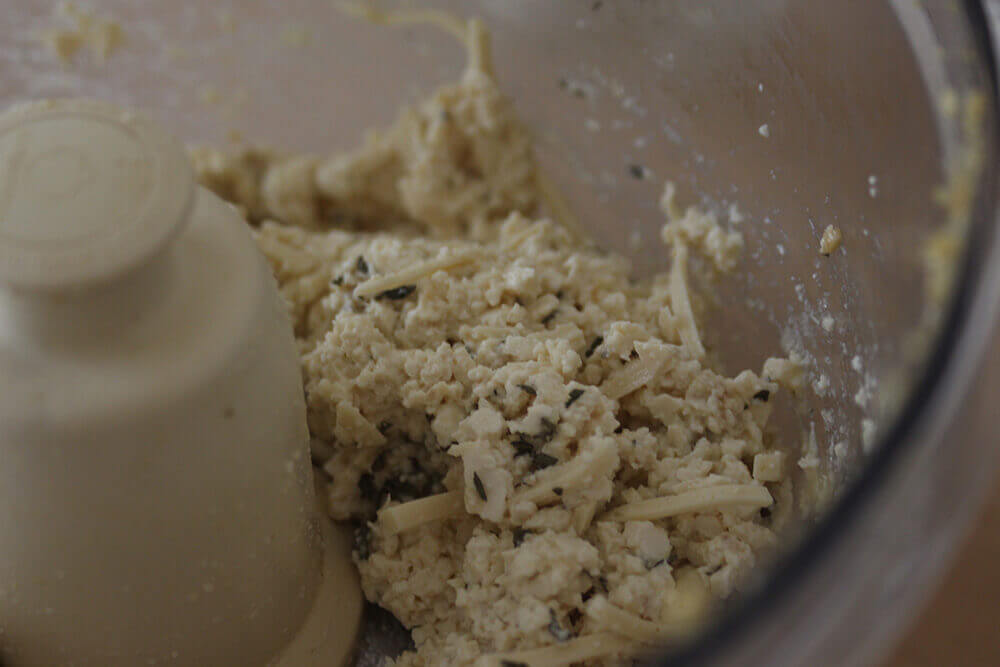 We did get excited for pizza night. It is possibly the only thing I liked that my father would make. He rolled out huge square thin crust pizzas. The gold mine were the middle pieces since they had no crusts. Then we would get even more excited about calzone night when my older sister was feeling up for it. My perception of calzones is shaped by the ones we made at home. In fact whenever I would go out, I felt so disappointed by the restaurant versions. Too much cheese, not enough ricotta.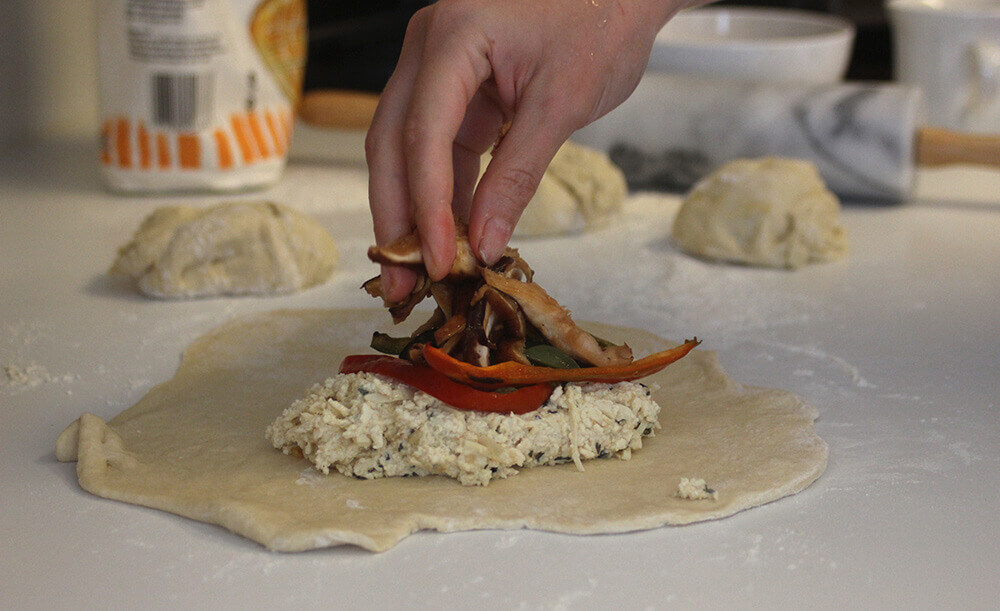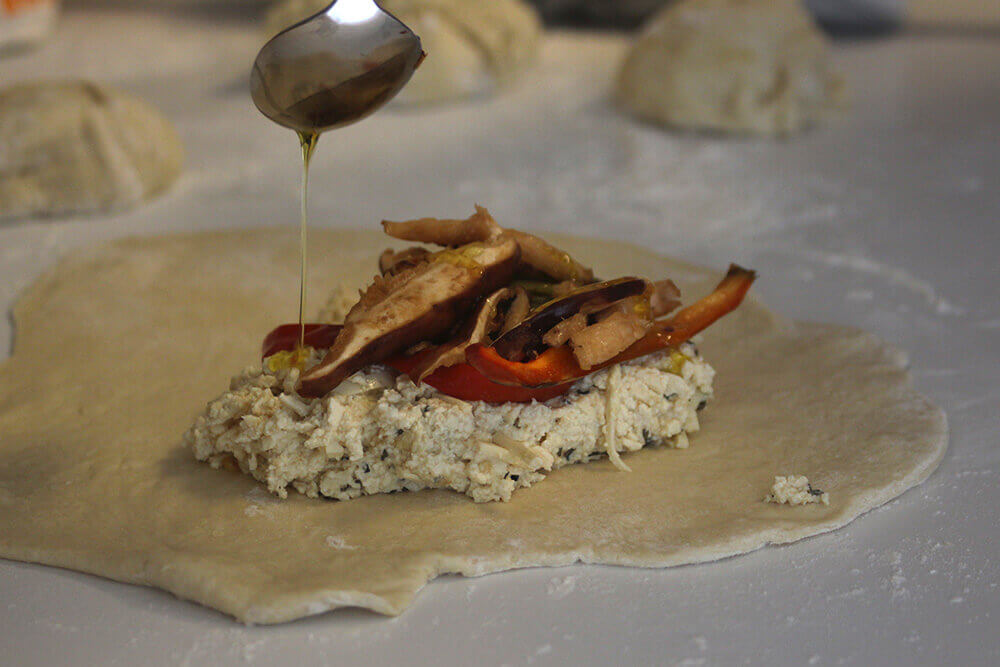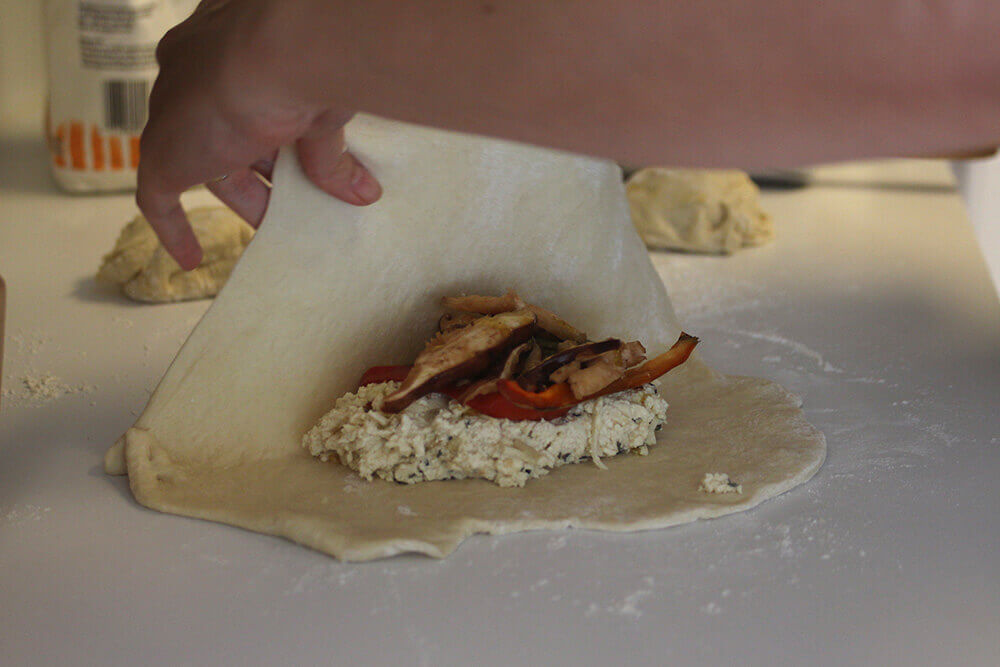 Even today I am still not sure how other people perceive calzones. My husband asked if I was going to put our recently made homemade tomato sauce (he picked 22 pounds of tomatoes last weekend) in the calzone and I flipped out on him. Tomato sauce is strictly for dipping! Sure you could add FRESH tomatoes to the inside, but never the sauce. Pretty much I like my calzones to be big giant white pizzas that are rolled up.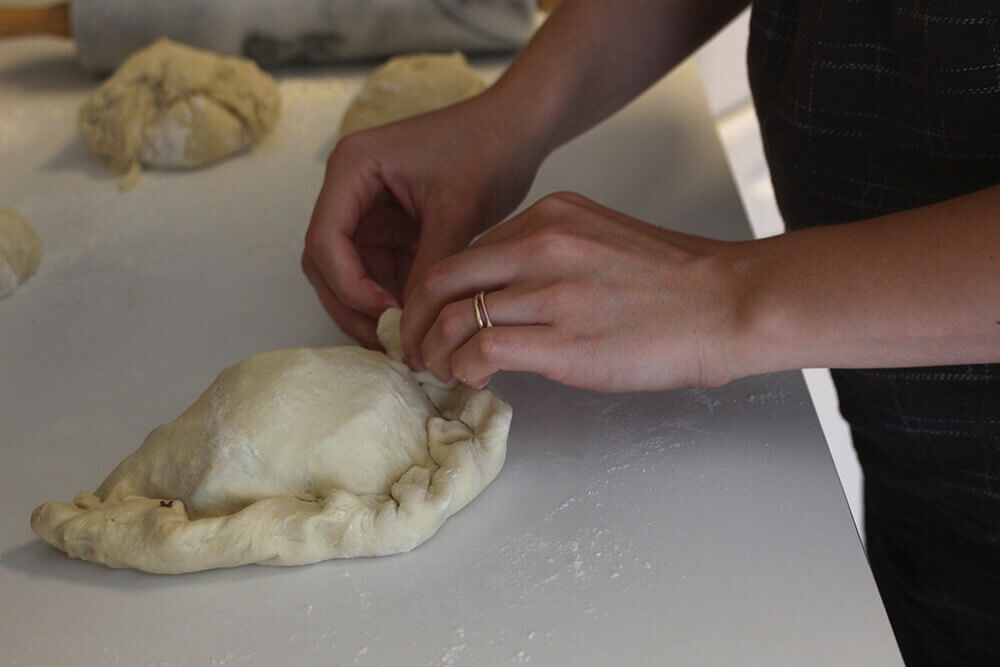 Pretty much anything can go in a calzone. Sky's the limit. Leftover tofu, seitan, and facon-bacon are great meat replacement options. I usually keep it simple, red pepper oil, and sautéed veggies. I used sautéed red italia pepper and green bell pepper, then sliced raw shiitake mushrooms and marinated them in soy sauce and a little oil. But sun dried and fresh tomatoes, olives, canned mushrooms, broccoli, roasted garlic, and spinach (or any other green really) all make great fillings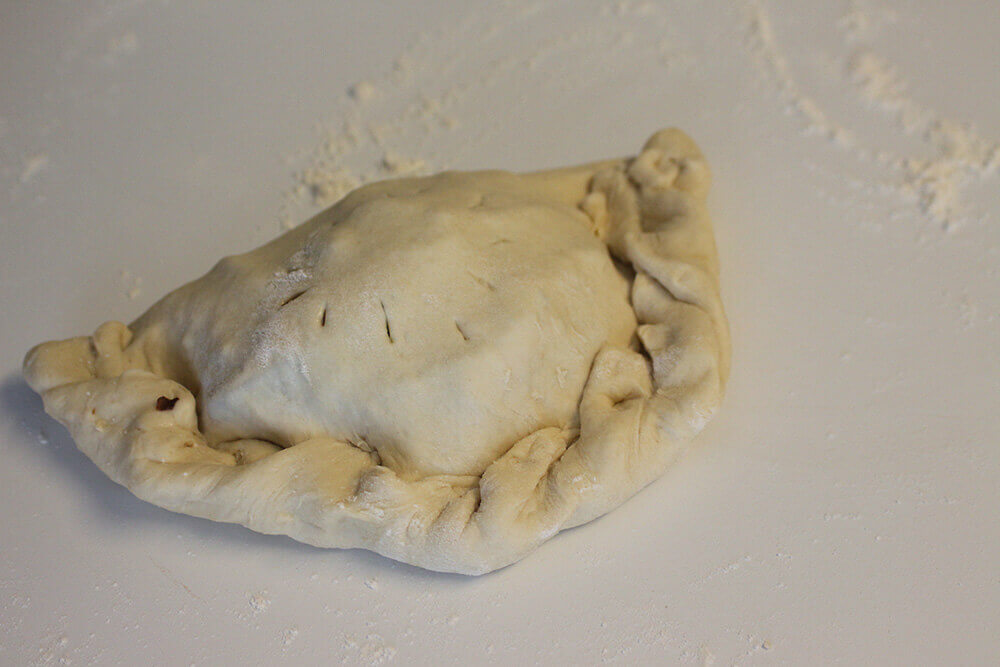 So if you haven't herd of red pepper oil yet, you are missing out. It is our secret weapon in the recipe. You can use Giada's fancy recipe, or do what I do- mix oil and red pepper flakes and let sit for several hours. The longer it sits, the most intense the flavor. So if you are making calzones for dinner on Sunday, the hot pepper oil should be the first thing you make in the morning. There isn't any official ratio to follow, but tend to do one tablespoon oil to one teaspoon red pepper flakes.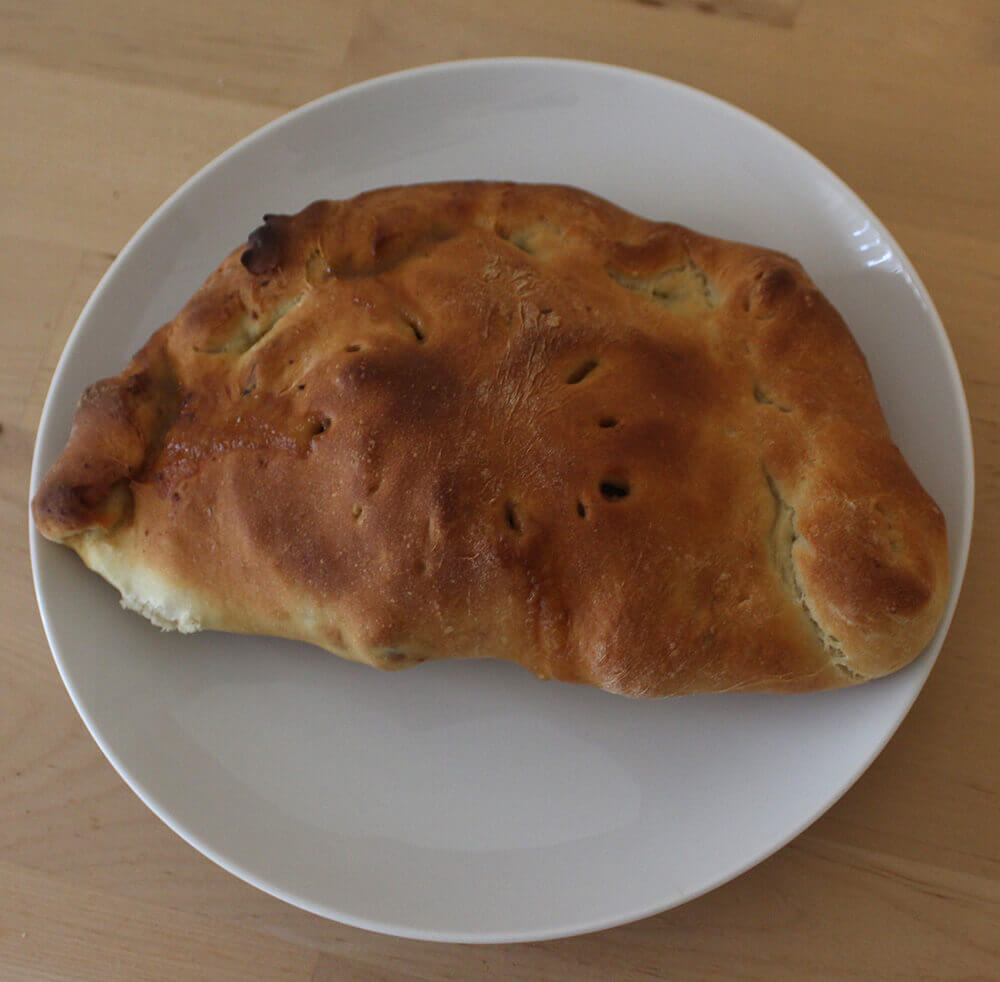 A lot of my "recreating" with this recipe was mostly just getting ratios right. I've made vegan versions in the past, but pretty much just making a tofu-ricotta filling for myself, and the original recipe for everyone else. I think I tried making a vegan version when I was in Philadelphia, but our oven was broken and we were left with raw dough covered in black smoke. I curse and was pissed by the wasted money. I probably would of thrown them out of the window if my husband wasn't there. We weren't married yet at the time, so I couldn't let him see how freakin crazy I am.
So make sure your oven works so you aren't tempted to throw these delicious calzones out the window.
The recipe takes awhile… really. Probably 2 hours overall including cleaning up and such. But it is well worth the time since I've never eaten a calzone that is similar in restaurants. The recipe makes 4 reasonable sized calzones, or 2 massive calzones. I made the smaller ones, but realistically, when I make them, we eat the massively sized calzones.