Welcome to Vegan MOFO 2015! The first prompt is talk about what you ate for breakfast. Most people get confused about what to serve a vegan for breakfast. Who can blame them? Pancakes, bacon, sausage, yogurt, milk, eggs, french toast, what is left to eat? Orange juice and toast? So we thought it would be a good idea to show a sample of what a typical breakfast is for us, including my husband.
Jennifer
Like a true (hippie-dippie) vegan, I start my breakfast off with a glass of homemade kombucha. I like adding the gut friendly bacteria to my diet each morning, and they are supposedly most helpful when consumed on an empty stomach. So I always pour myself a glass right away in the morning and drink it while I get some chores done, like putting away the clean dishes, washing any remaining pots and pans from the night before, or prepping a lunch for my husband and myself.
If I plan on working out, I try and have a very light "breakfast." In the winter it is usually a small muffin, chia pudding, or a simple oat, water, and banana shake. But since I am swimming in produce, I ate a quarter of a giant yellow watermelon. This gives my tummy something to burn while I do my reps or go for a short run.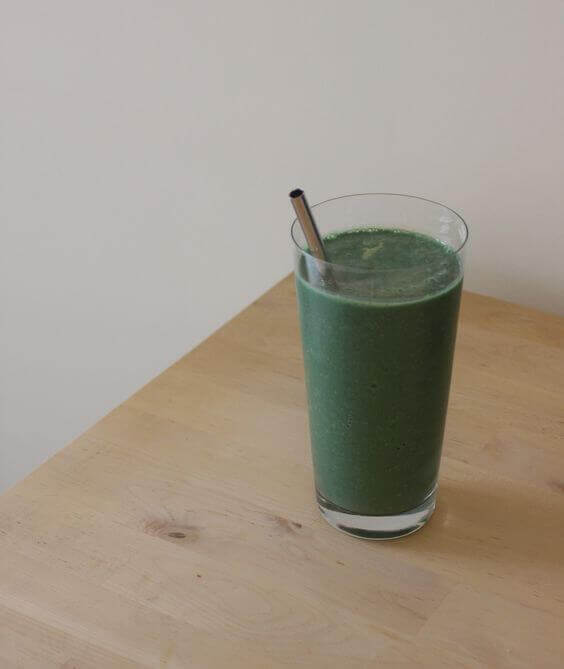 This morning I went for a run, so I had a shake when I got back. I always try to eat some spirulina in the morning to help with allergies and because it has so many good vitamins and minerals in it. There are pretty much two ways I eat spirulina– a chocolate shake or a matcha shake. This morning I ate a matcha shake. It is very simple and easy to put together since by the end of my workout I am always craving a cool drink with lots of calories.
Alexa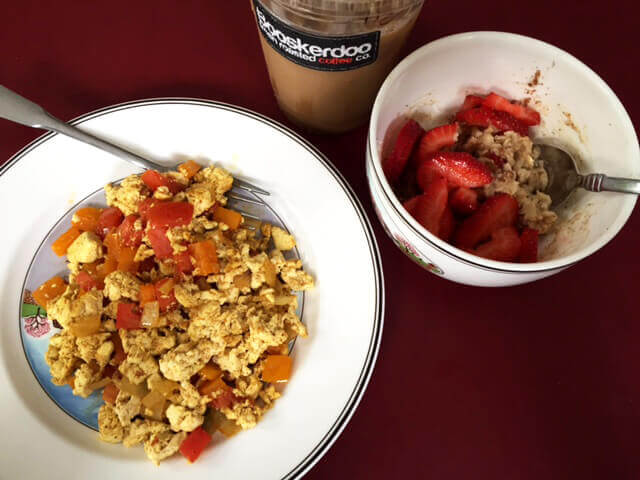 This was a really fun and easy experiment for me. I've been seeing one of my coaches at the gym to help me with my nutrition and eating to help aid my work-outs. I told her I was mostly vegetarian in diet (still livin' that flexetarian lifestyle) so she helped me set up a meal plan based around that. Normally for breakfast I'll eat 2 egg whites or 1 egg and 1 egg white along with 1/4 cup oatmeal (with 1 teaspoon of coconut oil mixed in) and a 1/2 cup of berries. Jen suggested that I try to make a tofu scramble for Vegan MoFo, which I had always wanted to do because I LOVE a good scramble, but had always been hesitant because I thought mine would never live up to what I've had in the past.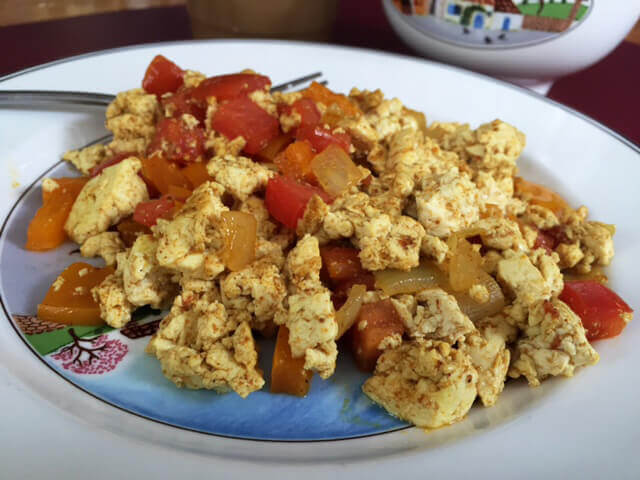 Well, it was incredibly easy to make this. And it turned out pretty well too! I've heard several people say they add nutritional yeast, turmeric or cumin to give the tofu some flavor and that yellow color of an egg scramble. I only had cumin in the house, but I also added a bit of curry powder and chili powder to it (and later I added sriracha…because I live for that sauce). I sautéed some onions, orange bell peppers and tomatoes in with the tofu and spices as well. Normally the eggs are supposed to help with getting some protein into my body post workout, as I'll normally take a morning class. When Jen pointed out that that tofu has about as much protein as eggs does I felt a little bit better about maybe adding this into my routine a bit more often, but in smaller portions.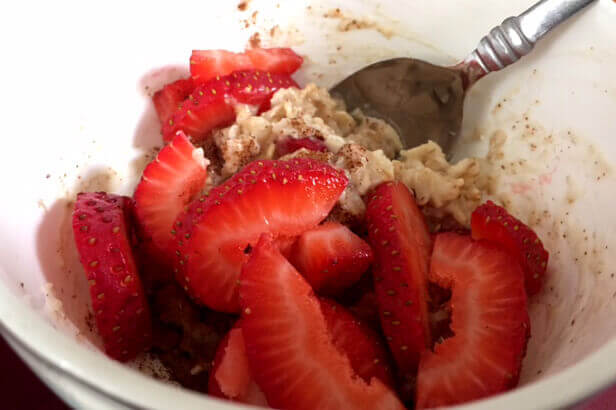 Oatmeal used to be a very "meh" ideal breakfast item for me. When Karen said I should put coconut oil into it and mix it with berries and a sprinkle of cinnamon I first thought "hmm, that's interesting…" . Now I'm hooked. The consistency is perfect and I love the flavor of the coconut oil with berries. On occasion, such as today, I'll substitute the oil for almond butter instead. Both options are great and this breakfast really keeps me full until lunch time, which ranges from about 12:30-1:30 depending on when I ate.
Jonathan
My husband is a creature of habit. My morning starts with kombucha sure, but each batch is different and I switch between types of tea to create the brew. Then my shakes and "pre-workout" food changes. Not my husband. When we first started dating he use to eat a bagel and cream cheese every single day. Then he found out that his tummy got upset by it, so he switched to oatmeal.
Boring plain oatmeal.
He was so proud of himself, he crunched numbers and found out that he would save so much by using the big container of quick cooking oatmeal. I asked if he wanted some sugar, cinnamon, anything else. Nope. Gross. I thought it might of been a family thing, perhaps his Mother and Father had plain oatmeal? When I asked about it apparently his mother doesn't like oatmeal and his father was all "WHAT THE HECK THAT SOUNDS GROSS?!" So there is clearly something wrong with my husband.
BUT I did convince him to start adding granola to give a little boost since he was getting hungry too fast (duh, you are just eating oats!) And depending on the season, he will add some berries from our CSA or chopped apples that I prep for him. I didn't take a picture of his oats because they are disgusting and I figured readers wouldn't want to see naked mushy oats.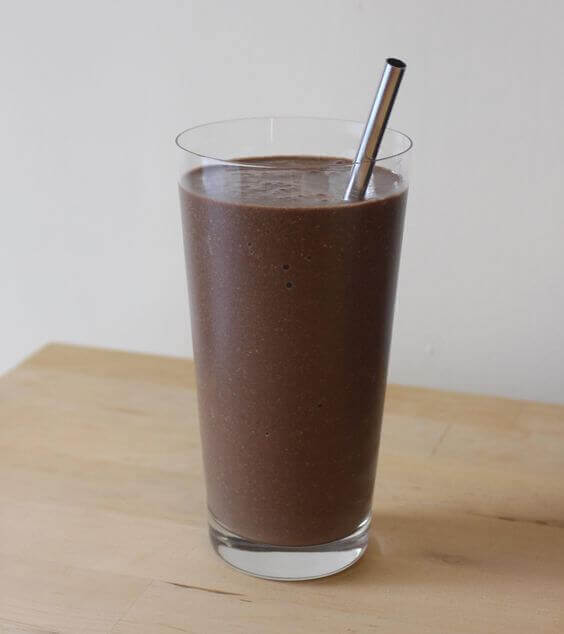 Then comes his second breakfast. Sure I have three different stages to my breakfast, but that is really just a "workout" thing. If I don't run or lift, I just have one shake. But my husband is a calorie burning machine and needs to have a shake to drink when he gets to work. He is pretty boring, just chocolate or chocolate peanut butter, or just peanut butter. Lately I've been making him peach peanut butter shakes. But today was just chocolate.
The Coffee
We are all coffee people. Jon likes to have his coffee everyday and normally just gets the Wegman's brand to save money. Jen finds this coffee too fruity for her tastes. But on special occassions Jen will buy him a special roast, like the Royal Mile Nicaragua Mama Mina that she got him for his birthday.
Jennifer on the other hand doesn't drink coffee first thing in the morning. She drinks her cup around 10 am, probably because she finds coffee too harsh on an empty tummy. Sometimes she makes herself an iced latte before heading out to work using Black Cat Classic Espresso by Intelligentsia.
Alexa gets her coffee from Booskerdoo or Rook. She liked to get the big jar of coffee concentrate from Rook when she can, but finds that it actually disappears way faster than she would like, and is trying to limit herself to 1 coffee per day, it used to be up to 4 COFFEES on a bad (good?) day. She also loves everyone who works in her local coffee shops and wants to give them patronage because they are just the sweetest and really know their coffee.
So that's it guys. Three vegan breakfasts. There are two shake recipes below if you want to be like us. Anyone else out there is a little freak and eats plain oatmeal? I think my husband needs team oats allies.
Spirulina Matcha Shake
2015-08-31 07:37:29
A quick matcha and spirulina shake
Ingredients
1 banana
10 oz water or milk
1 cup greens*
1/4 cup rolled oats
1-3 tbsp pea protein powder*
1 tsp spirulina
1 tsp matcha
10 drops of liquid stevia**
10 ice cubes
Instructions
1 Add all ingredients into blender and blend until smooth.
Notes
* Optional
** Feel free to use any sweetener of choice
One Raw Bite https://one-sonic-bite.com/
Big Chocolate Shake
2015-08-31 07:56:53
Ingredients
1 1/2 cups unsweetened soymilk
1 ripe banana
1 heaping tbsp dark cocoa powder
1 heaping tbsp regular cocoa powder
1 tbsp chia seeds
1/4 cup rolled oats
1-3 tbsp protein powder of choice
1-2 tsp agave syrup
2 tbsp peanut butter*
6-10 ice cubes**
Instructions
1 Add everything to the blender and blend until smooth
Notes
* optional
** Clearly the more ice you add will result in a colder drink. I usually don't add ice when I am giving my husband his shake on the go as it makes it too big for his to go cup. He tends to prefer 6 cubes, I prefer 10 cubes.
One Raw Bite https://one-sonic-bite.com/