November 7, 2016
*A QUICK NOTE FOR US CITIZENS* Go out an vote tomorrow! Even if you don't like Hilary or Trump, there are lots of local elections that you should pay attention to. And if you aren't sure about who you will vote for, I STRONGLY recommend checking out the videos made by John Greene comparing Trump and Hilary's policies to each other. In America sometimes we vote with who we "like" not who is better qualified, will do a good job, or have good policies. There is a very good video on Tax Policies, Health Care, and about the unlikeness that election will be rigged. That being said I hope that everyone votes tomorrow.
Coming up with a local food was a little hard. New Jersey's culture is a little hard to pin point. We are a very diverse state, but we are also very segregated. We have lots of strong communities of immigrants. I've seen a wide range of ethnic supermarkets ranging from Korean, South East Asian, Chinese, Indian, Polish, Caribbean, African, Mexican, Italian, or some sort of mix (weirdest is the Chinese-African market, which might still be open). And looking past the international food contenders, New Jersey is heavily divided by their food influences between North (aka New York City) and South (aka Philadelphia).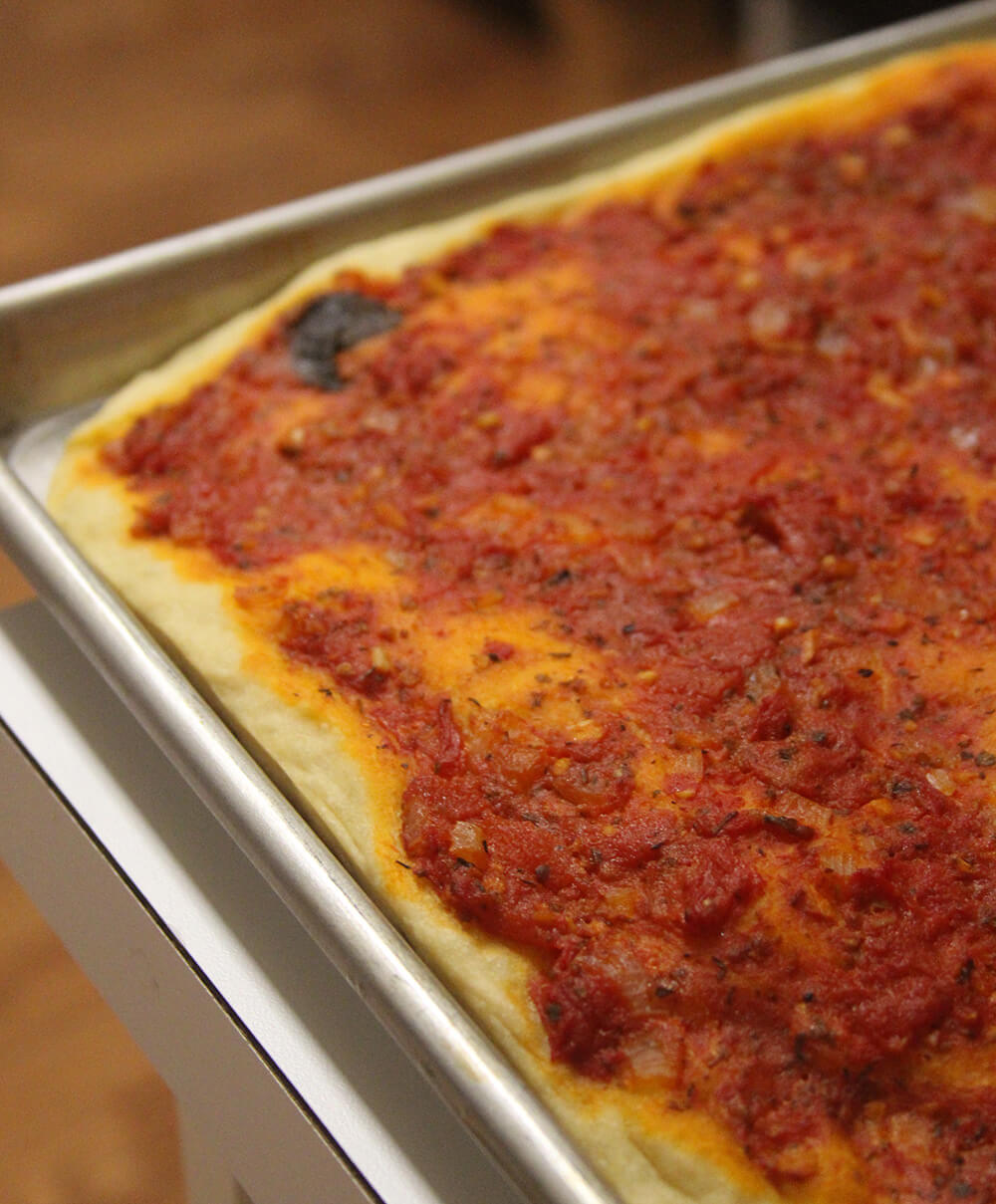 I grew up where Alexa is, and you might notice our reviews for restaurants in Fair Haven, Red Bank, and Asbury Park. These places are super dependent on NYC, even though it takes over an hour to get there. Fun fact, we actually fairly close to New York City- if we took a boat into the city. But otherwise cars, trains, and buses need to go west, then north, the east again. But I am now living in South Jersey, which means I am finding out weird traditions. Like apparently there is a Philly Style Bagel (it's boiled in beer), irish potatoes, water ice (known as Italian Ice to everyone else), cheesesteaks, and soft pretzels. Heck, you will probably hear about other various Pennsylvanian Dutch cuisines such as scrapple and apple dumplings being "Philly foods."
But it wasn't until I moved out of Philly I heard of a tomato pie. I was complaining of the crummy pizza selection in Philly and South Jersey when my co-worker suggested I grab a tomato pie from Brunos. He was vegan, and I was eating mostly vegan at the time. I figured tomato pie was a term for a cheeseless pizza. But it isn't. It is a term for a SPECIFIC kind of cheeseless pizza. There wasn't really any tomato pies in North Jersey, but we did have the same style of pizza- we called them Sicilian styled pizza. My friends LOVED that pizza, but I wasn't a big fan. Apparently it was just too greasy, because once you remove the cheese it is perfect.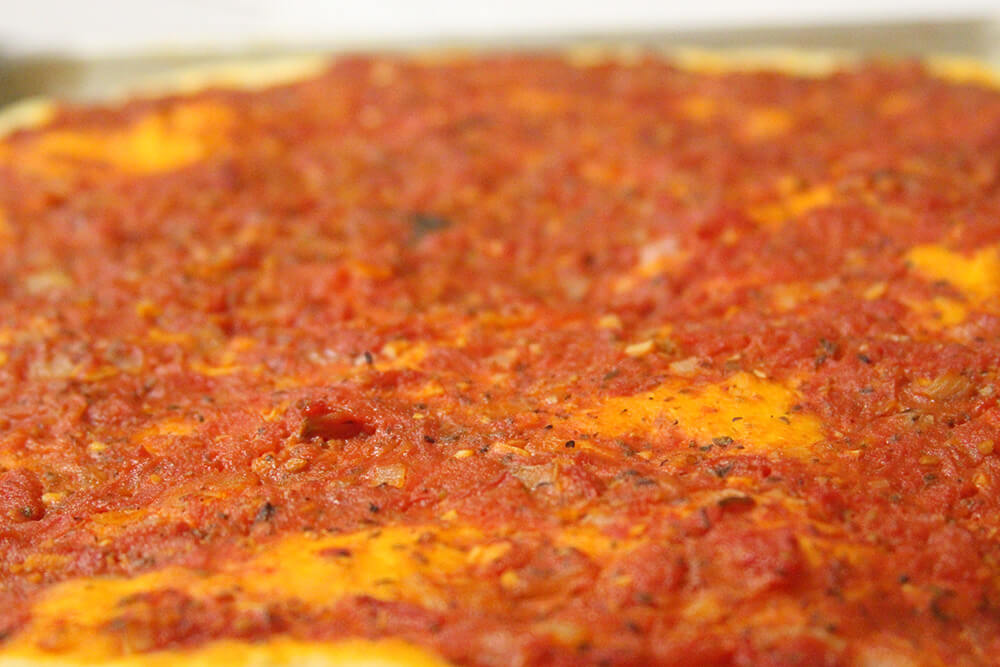 I've already featured a tomato pie on this site before. It was in the Southern method where you use a pie crust (side note there is a sweet pie using green tomatoes?! I should try that next year!) Well, mine was more like a cobbler with a corn bread crust on the top. So don't expect a pizza when you order a tomato pie in the South.
I didn't post a recipe, as this was my first time making it. I think I can tweak it to make it more like my favorite tomato pie. But it is a pretty easy recipe to make, I used the one from Serious Eats. I suggest making it on the weekend. It isn't labor intensive but there is a lot of wait time. I made the dough in the morning, and about 2 hours before you eat, make the sauce and start proofing the dough.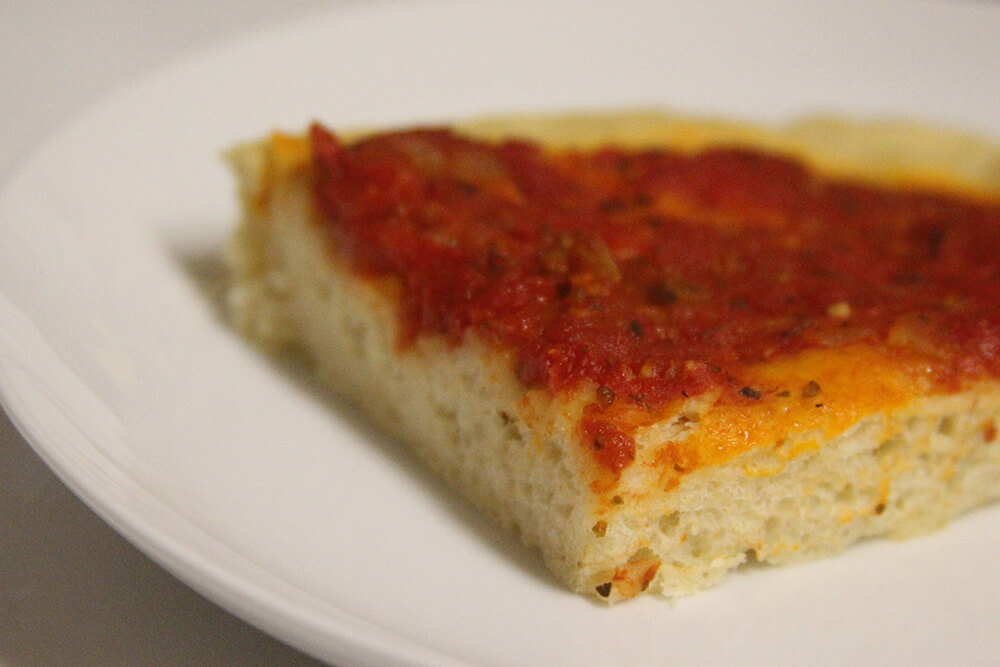 Nervous about how to serve the pizza? Technically the pizza is served at room temperature, and you cut it in big square pieces (the dough is rolled out in a rectangular pan.) Traditionally the dish is pretty much vegan. Sometimes people use butter to sauté the sauce, and some people sprinkle parmesan cheese on top. Some pizza shops like to sprinkle cheese on the dough, then place the sauce on top. So ALWAYS ask if the tomato pie is vegan.
Anyone have a local cuisine that has a misleading name as well?