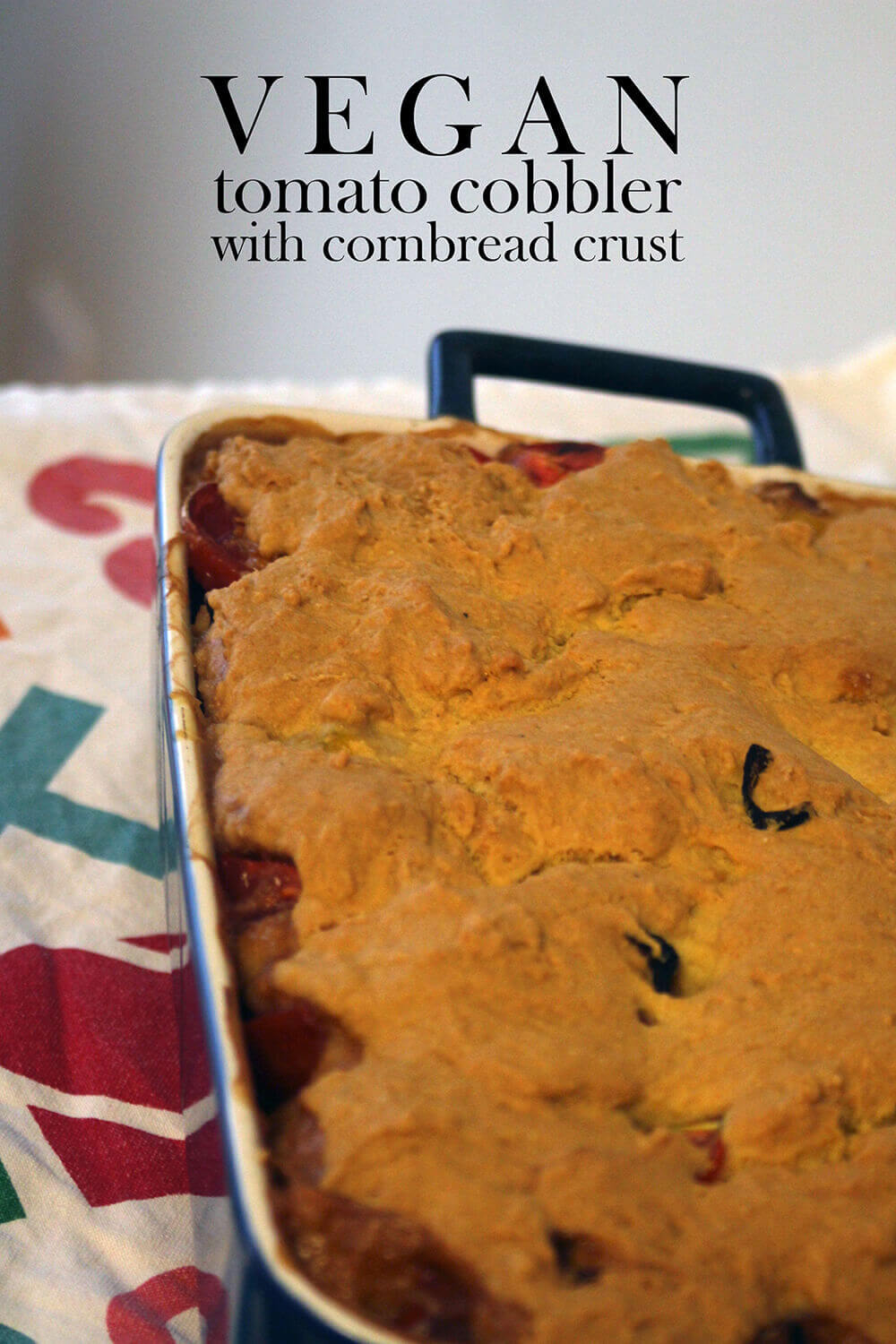 My mother recently had some hip surgery done, so I stopped by to visit her and brought some food so she wouldn't have to be in the kitchen. She already prepped some meals, but it better to have too much food, than too little. I made her a fresh dish of Pad See Ew from Vegan Eats World. But I also gave her some leftover tomato cobbler that I made earlier that week. I figured it would be a good dish to have to switch things up a little in her diet.
The name is a little deceiving. When I tell people about it, they get confused and think it will be sweet. It is probably more accurate to call it a tomato casserole, but there seem to be a lot of similar recipes that call this dish a cobbler. Oh so confusing! I am not sure what region this made in or the history, but it is pretty stinkin easy to make and it great when you have a cherry tomato plant that is making more than what you can eat on your salads.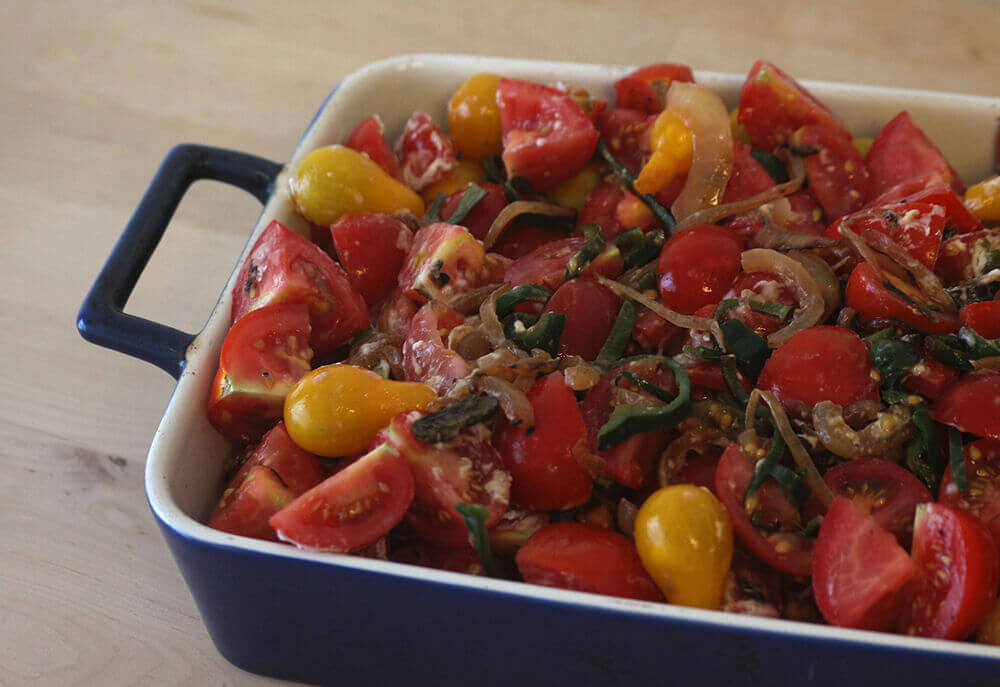 The beauty of this recipe is that you can just toss the tomatoes in a bowl and cover them in the flour. No chopping. I might of chopped some of the cherry tomatoes in this dish since they were huge at my CSA. I also included yellow pear tomatoes, which were very awesome. Mix and matching the small tomatoes make the dish really yummy. So use cherry, grape, sungolds, or whatever heirloom tomatoes. It will be worth it.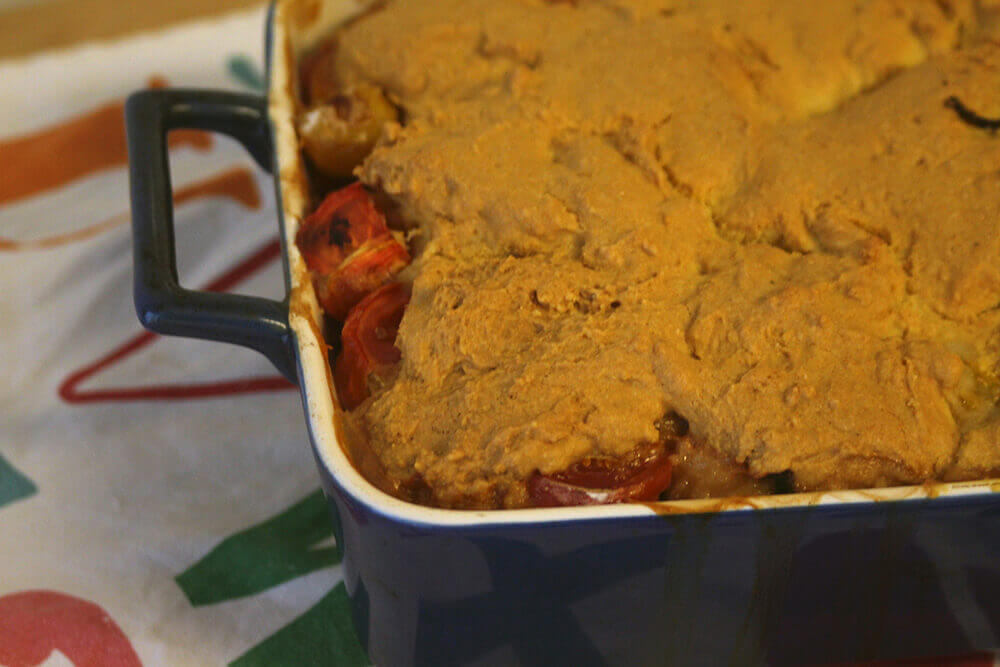 I originally based my recipe on a dish that had caramelized onions in the filling. But I figured I should step up on the flavor and included some poblano peppers. This really makes the dish, giving a little bit of a tex-mex flavor. Seed the peppers, but if you want some heat, try to leave in the white fleshy membranes that the seeds are attached to. And if you want to kick the dish up even more, feel free to pulse in some daiya cheese into the biscuits!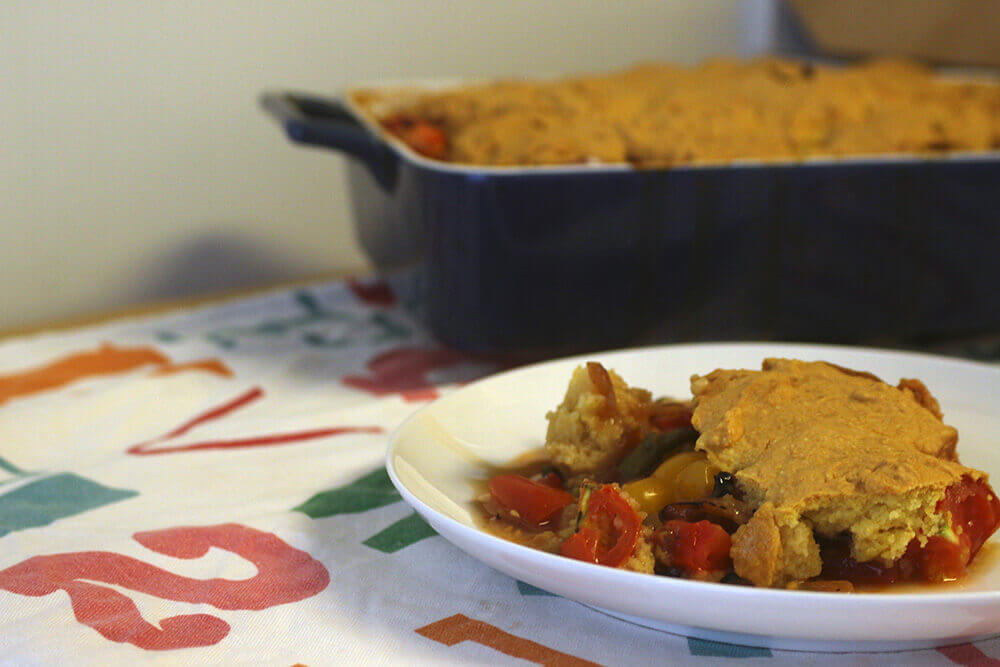 I will leave on this note- a few days after bringing my mother the dish she texted me saying she loved it…. but she put cheese on it. Hey, I get it, you eat cheese and that is your decision, but it is a little insulting to put cheese on the vegan dish I am trying to share with you. Seems a little crazy, but I am also sharing my points of view and ethics when I share my vegan dishes. So omni-eaters, if you are eating a vegan dish that was made for you, don't add cheese to it, and if you do, lie and say didn't. XD
Vegan Tomato Cobbler
2015-09-13 11:51:10
Serves 6
a veganized tomato cobbler with a cornbread crust and poblano peppers in the filling.
Ingredients
Filling
3 1/5-4 lbs small tomatoes*
2 tbsp olive oil
1 large yellow onion thinly sliced
4-5 poblano peppers deseeded and thinly sliced
3 tbsp white balsamic vinegar**
1/4 cup all purpose flour
Cornbread Topping
1 cup all purpose flour
3/4 cup cornmeal
1/3 cup nutritional yeast
1 tablespoon baking powder
1/2 teaspoon baking soda
1/2 teaspoon salt
6 tablespoons Earth balance butter
1 cup cheddar daiya cheese (opt)
3/4 cup soy milk
Instructions
1 Preheat oven to 375°F
2 Clean the tomatoes and take off any stem, leaves, or dirt. If you are using tomatoes that have a diameter wider than 2 or 3 inches, slice them in half or in quarters. Place in a large bowl.
3 In a small pan, heat up some oil. Saute the onions until translucent, about 5 minutes. Then add the poblano peppers, and cook until soft, about another 4 minutes.
4 Add the cooked onions, peppers, and remaing filling ingredients to the tomatoes. Carefully toss so that the flour is coating everything. Pour into a 9x13 ceramic casserole dish. Set aside.
5 In a food processor add the all-purpose flour, cornmeal, nutritional yeast, baking powder, baking soda, and salt for the topping. Pulse the S blade until blended.
6 Put the earth balance butter in, and pulse the food processor until the butter is broken in small pieces, looking like sand. If using daiya cheese, add to the mix and pulse a few times to mix in.
7 Turn the food processor on and slowly add the soy milk in a stream. Once all the milk is added turn off the food processor.
8 Scoop the topping ontop of the tomato mixture. Try to evenly place the topping dough, covering all the tomatoes.
9 Place in the oven for 55-60 minutes. Remove from the oven and let sit for 10 minutes before eating.
Notes
* I've used a mix of tomatoes. Some that worked well were cherry, grape, sungold, yellow pear, and other heirloom tomatoes.
** Feel free to sub with any wine vinegars
One Raw Bite https://one-sonic-bite.com/