May 23, 2019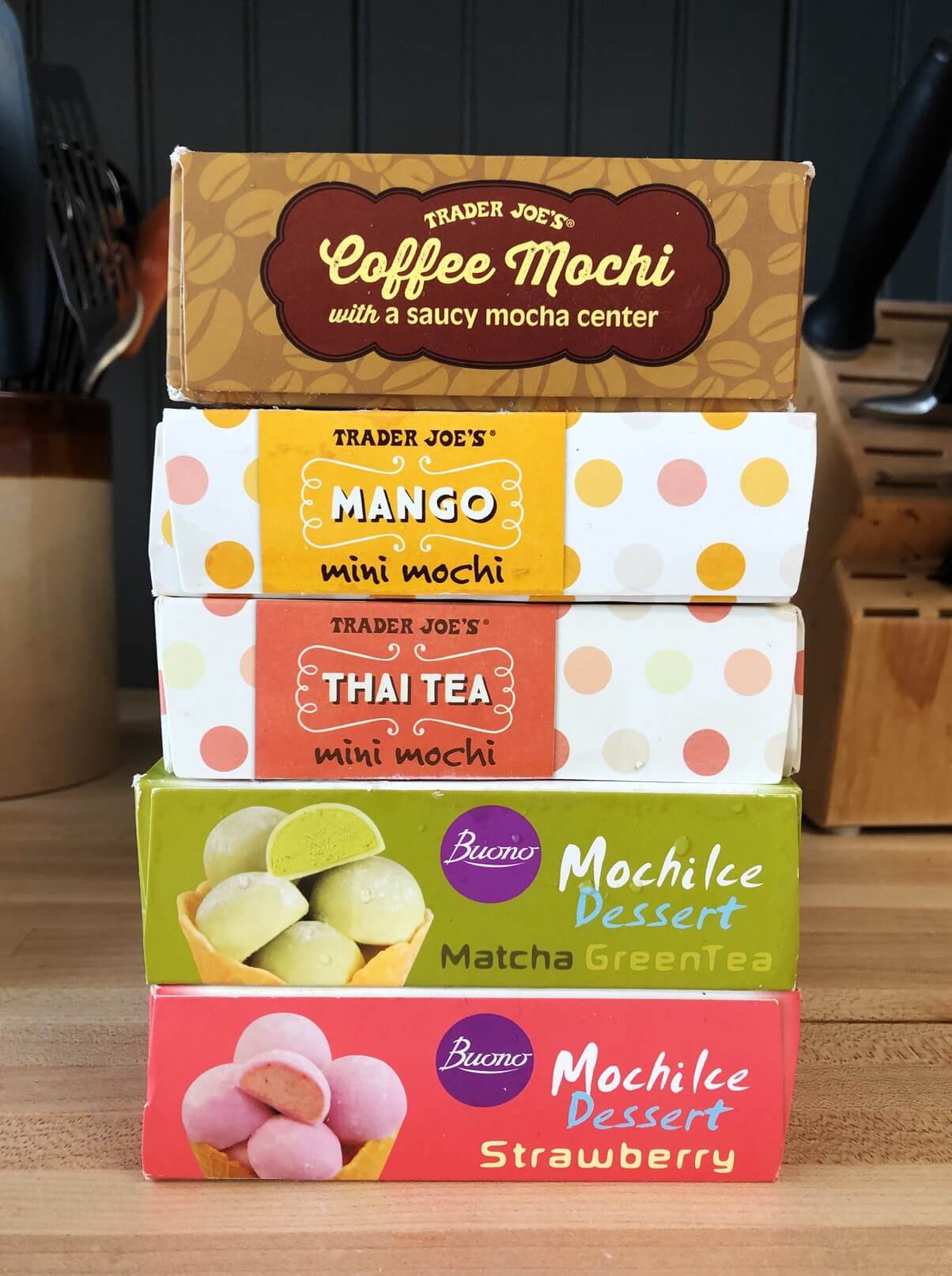 Mochi ice cream is really becoming popular these days, but I remember in my college years buying them only in Asian food markets. But when I went whole hog vegan my options pretty much vanished. Now they are on trend and Trader Joe's REALLY stepped up their game. They have been making some mochi over the years, but now they have a whooping 5 different vegan mochi to choose from when I was last there. I think this is the largest selection I've seen to date. I felt that everyone needed to know which was the best, so I reviewed these mochi from worst to best (but like they were all really good)
And a quick note about eating! Everyone says to not let the mochi thaw, it is good to go right out of the freezer. I beg to differ. Just take them out and let them sit for at least 2-5 minutes. Not much time is needed. But shoving it right into your face right away is a bad idea. It is too cold to really taste the flavors.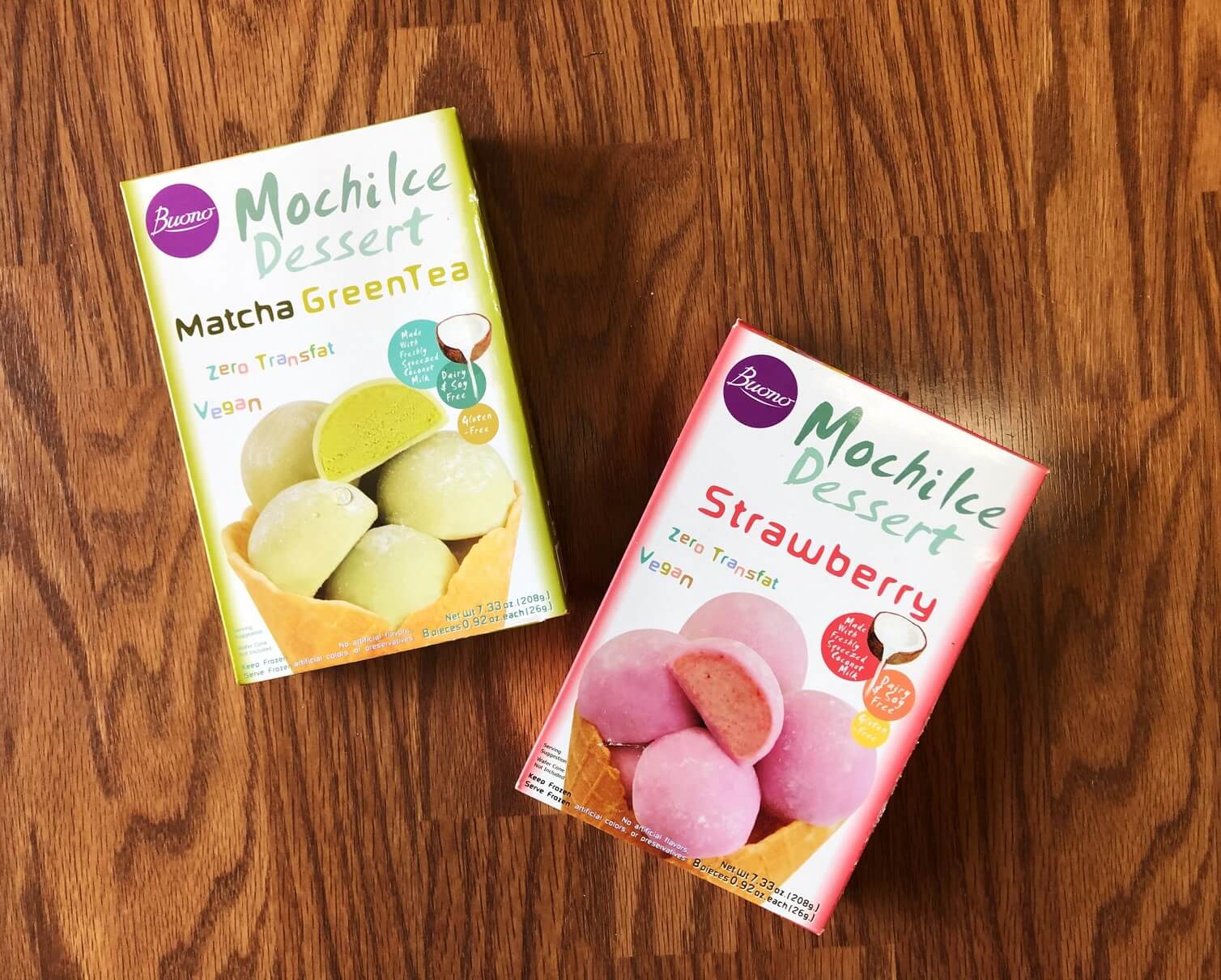 Buono Green Tea Mochi Ice Dessert
This isn't a Trader Joe brand of mochi ice cream, though I wouldn't be surprised if this is the company producing the Trader Joe mochi. Although I LOVE green tea, so I was a little surprised when I decided to bump this down to my least favorite flavor. I think the green tea is a little too grassy, and overall unimpressive. Texture was alright, but the overall green tea flavor way bleh. I mean, if this was the only mochi ice cream I would still buy it again, but when I bought the second box for this review it felt boring.
Mango Mini Mochi
Awhile ago Trader Joe's had a mango mochi product, but it was big and had a sugary mango core. This one I was pretty excited to eat because of previous one. These little soft jewels are awesome, but clearly are mango sorbet, not mango ice cream. It was a little ice-y as a result, but I am happily eating them. Plus I really like the small bite size that I can grab and eat when I feel like a need a tiny snack.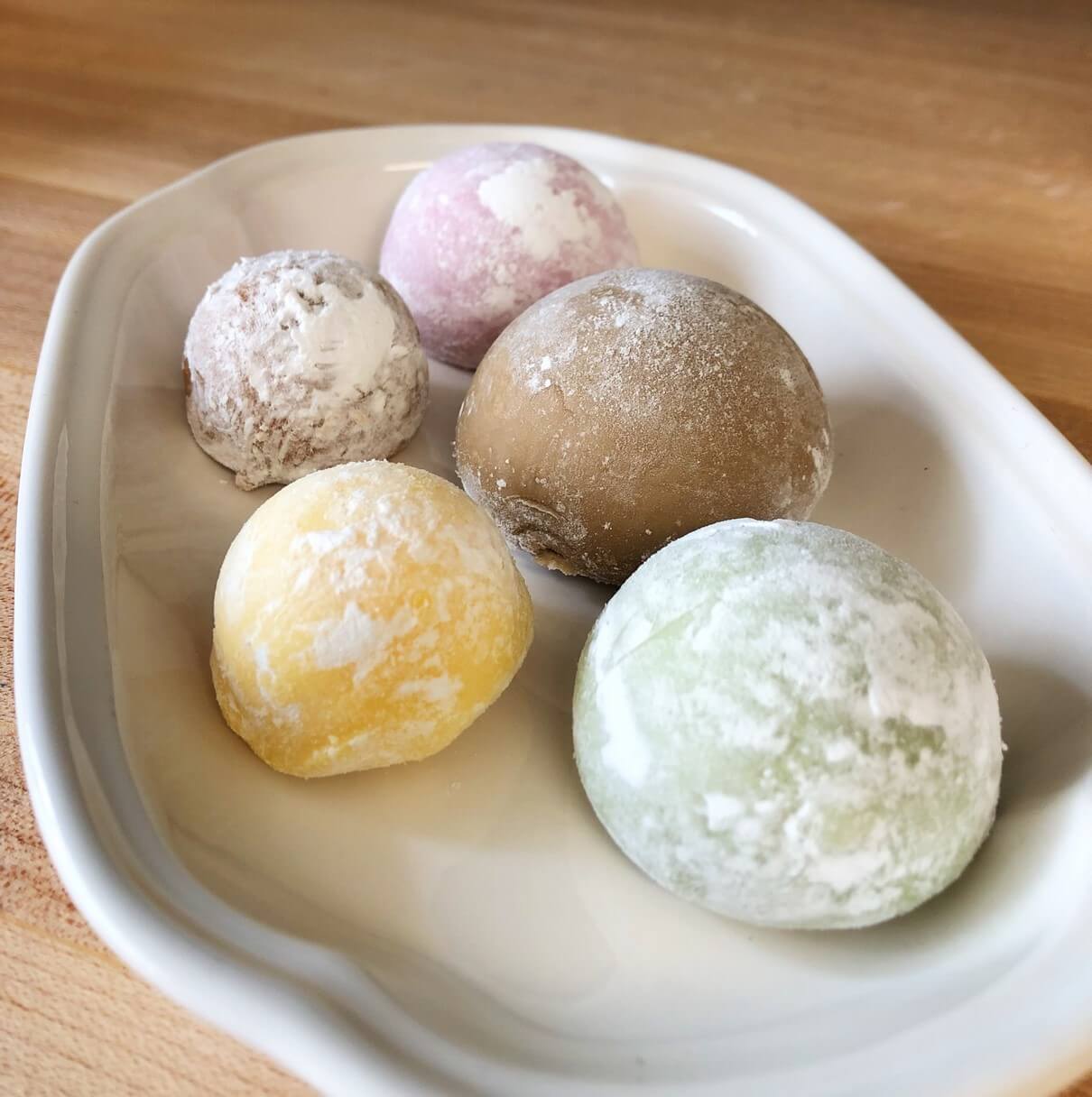 Buono Strawberry Mochi Ice Dessert
Honestly speaking, I really like this strawberry mochi. I think they even added a little dye to the mochi wrapper to make it a little pink. So cute. But the strawberry is a little artificial tasting, and I can imagine totally putting some people off. The texture is just right and it makes me wish they carried the other flavors by this brand (mostly the black sesame)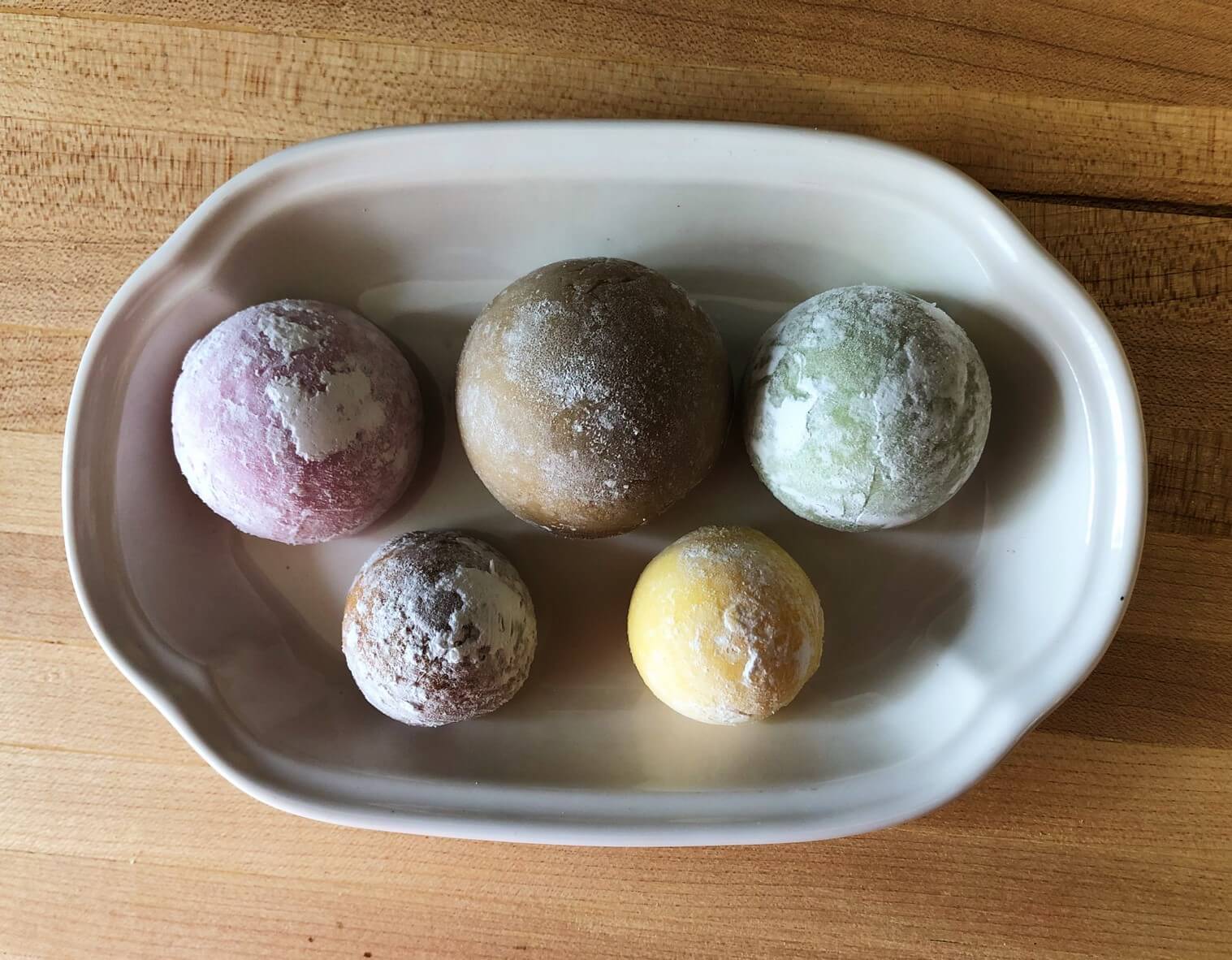 Thai Tea Mini Mochi
I bought these Thai Tea Mini Mochi over the mango ones initially. I mostly was excited to get a flavor that wasn't as common in vegan desserts. As with the mango ones, I love the ratio of wrapper to ice cream, and how they are quick little bits. The ice cream is yummy and creamy. At first I wasn't a big fan, but they grew on me. Now I like them better than the green tea (which wasn't the case at first)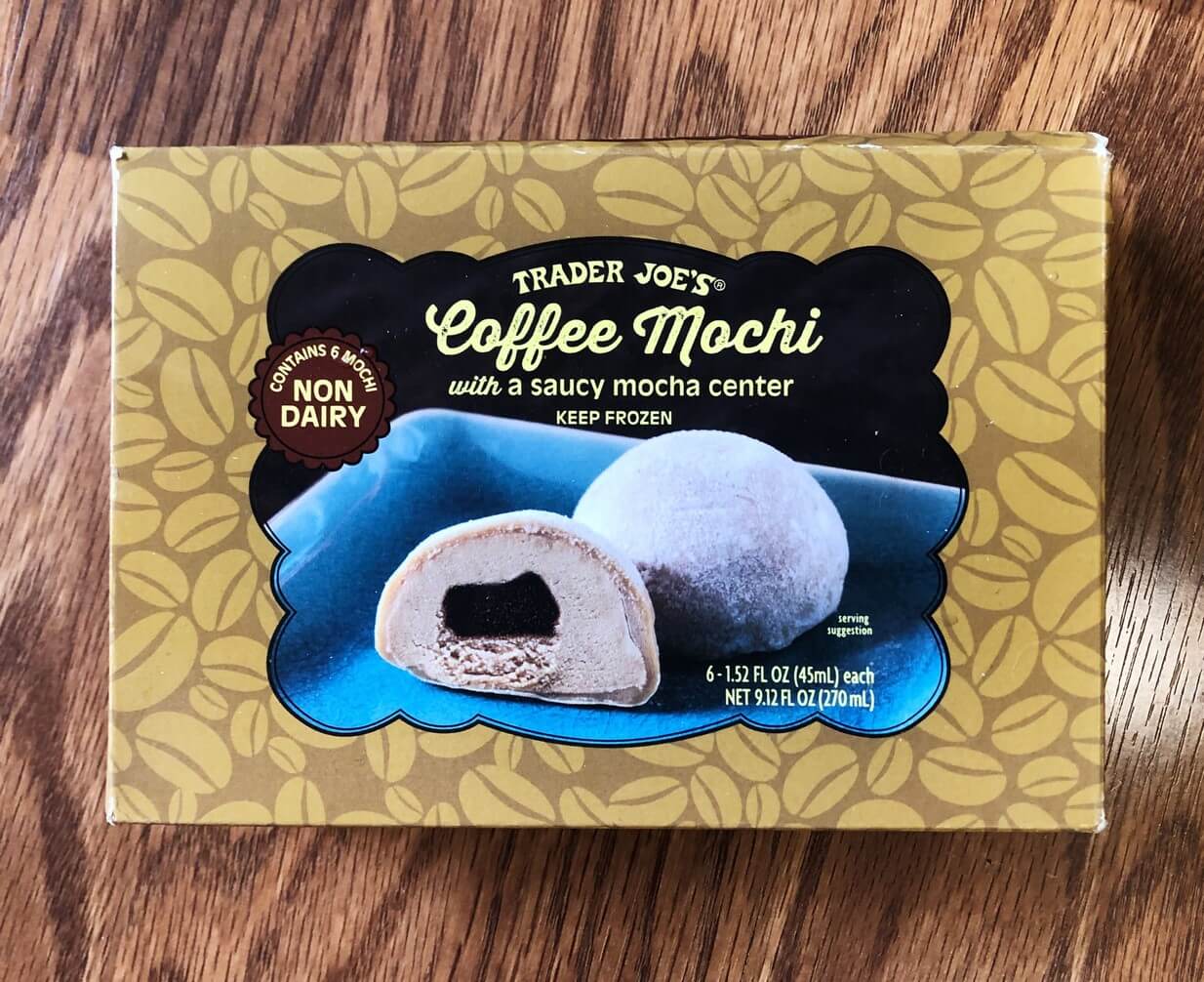 Coffee Mochi
As you can tell from the group mochi shots, these are the biggest of the batch. They are also my favorite. This deluxe mochi has been on the market since 2017, and feature a coffee ice cream with a chocolate-y coffee liquid core. Mochi ice cream purists will probably hate it. Even I first didn't like it, but this year it has become my absolute favorite. I gobbled this box first after making this review. But since they are biggest than the other kinds, you get only 6 pieces (rather than 8 for strawberry/green tea, 15 for the minis) So if you are short on cash, you might want to splurge on the others first.
So what about you? Any vegan mochi ice cream that you love? Which Trader Joe flavor is your favorite?