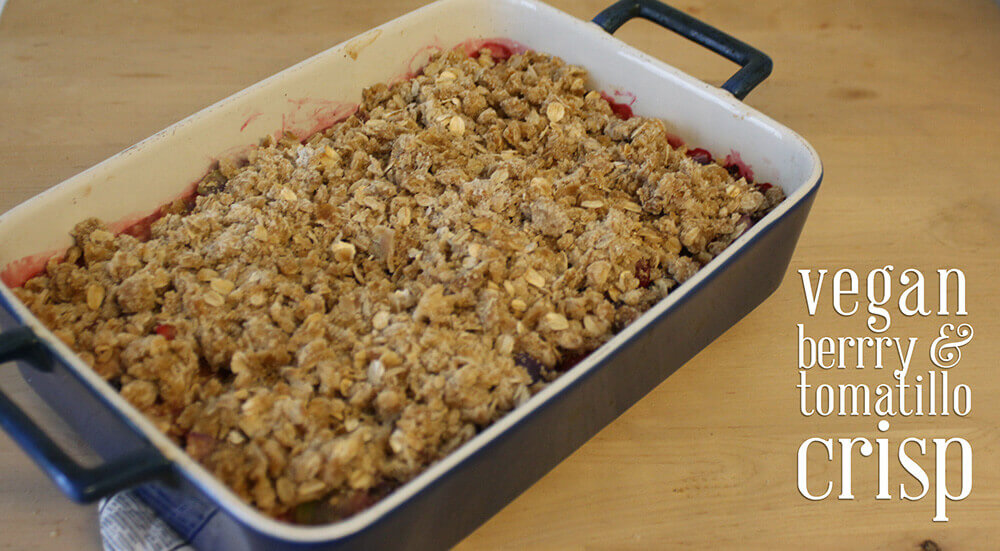 Anyone know where to get purple tomatillos? My CSA has them, and they are probably my favorite thing. But truthfully, outside of my CSA, I've never seen them for sale. I guess maybe at some diverse farmer markets? This recipe can be made with normal green tomatillos, but it won't be as sweet, and a little more tart. You also won't get such a lush purple color. But don't worry, you can even see with my crisp that some mostly green tomatillos snuck in.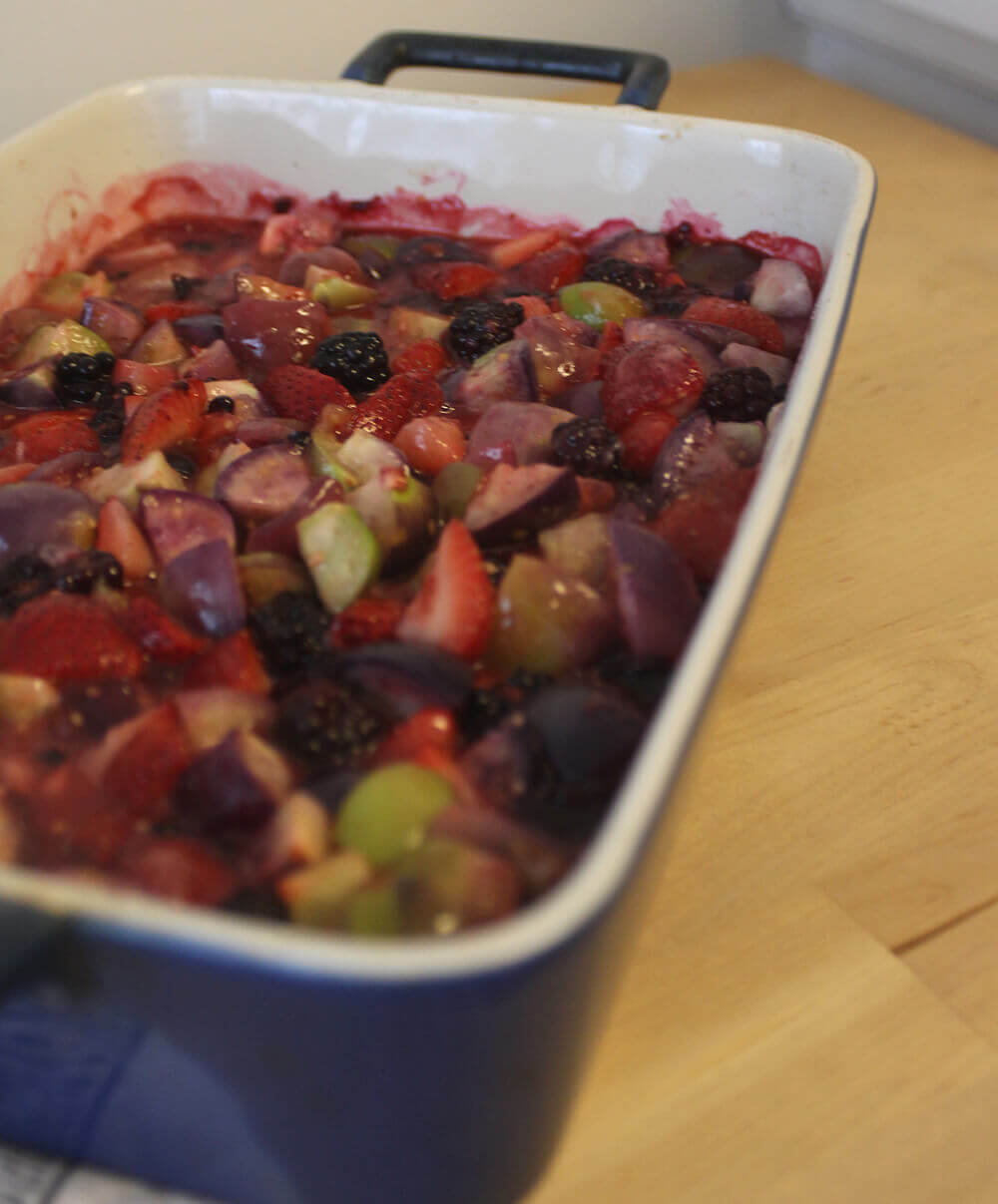 Is this really a weird flavor combination? I am not sure. I actually got the idea from my CSA, as they have a big book of recipes according to the vegetable at hand. It happened to be opened to tomatillos one day and I saw the suggestion- strawberry-tomatillo crisp. I thought adding other berries to the mix would be perfect! A quick google search shows a few other recipes for tomatillo crisp, but it really isn't as common as strawberry rhubarb pie.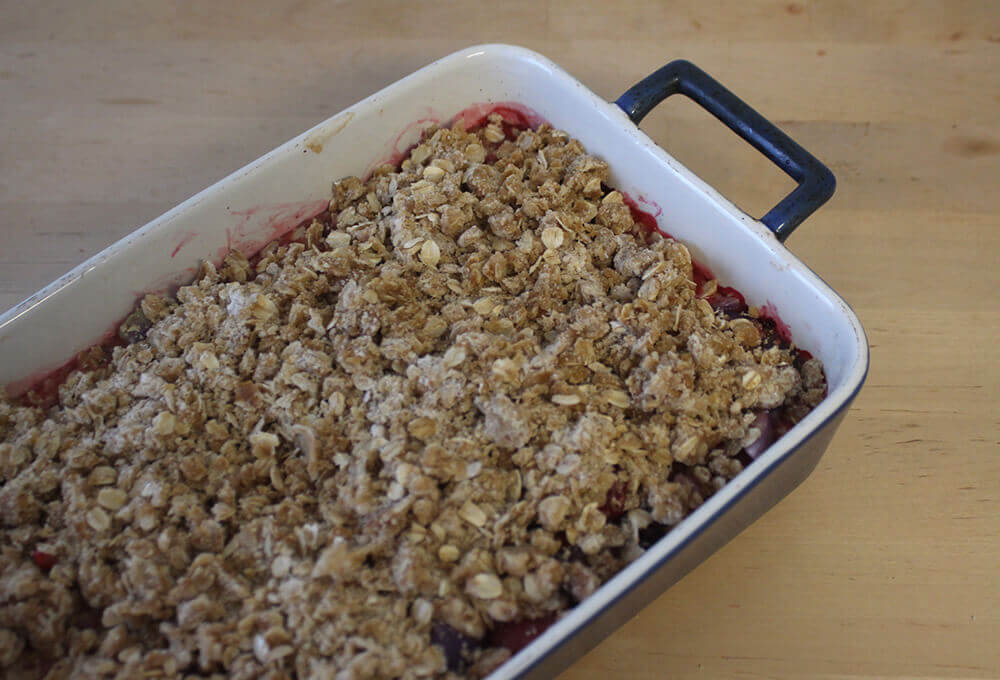 I think my husband was blown away by the flavor. The berries don't over power the tomatillos but most people aren't use to the flavor of cooked tomatillos. So the end result is something really unique. Guests will be scratching their heads about what flavor combination is going on.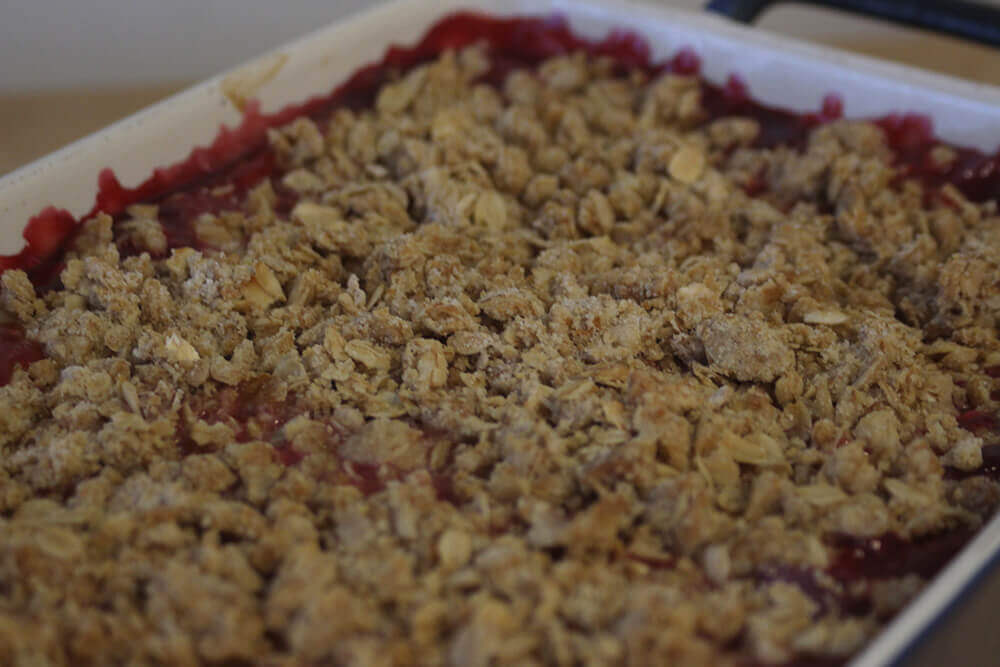 Sadly the purple tomatillos are reaching their end at my CSA so I won't be making another batch of this. I can say that I will definitely be making this again next year!
Tomatillo, Blackberry, & Strawberry Crisp
2015-08-26 07:21:33
A tart berry crisp using purple tomatillos, blackberries, and strawberries
Ingredients
Filling
4 cups purple tomatillos*
2 cups blackberries**
2 cups strawberries**
juice from one lemon
1 cup sugar
2 tbsp tapioca flour
1/4 cup flour
Crisp
1 cup rolled oats
1 cup all-purpose flour
1/2 sugar
1/2 tsp baking powder
1/2 tsp cinnamon
1/4 tsp salt
1/3 canola oil
3 tbsp tequila***
1 tbsp molasses
Instructions
1 Preheat oven to 425°
2 Remove husks from tomatillos and wash off the sticky coating. Chop tomatillos in half, and then each half into quarters, making 8 pieces all together. You want to make the pieces about the size of a blackberry to make sure they cook evenly. Place in big bowl.
3 Clean berries and chop strawberries depending on their size. Place in the same bowl with tomatillos along with the rest of the filling ingredients. Toss with your hands, making sure they are evenly coated.
4 Place the filling in a 9x13 pan. Cover with tin foil and place in the oven for 20 minutes.
5 While the fruit is cooking mix the crisp topping. Place oats, flour, sugar, baking powder, cinnamon, and salt in a bowl and mix together. Then add the oil, tequila, and molasses and mix with your hands, making sure all of the dry ingredients are moistened.
6 After the fruit is done baking for 20 minutes, lower the heat to 350° and remove from the oven. Remove tin foil and give the fruit a stir with a spoon. Add the crumble mix to the top of the fruit, trying to spread evenly.
7 Place the crisp back into the oven for another 20 minutes.
8 Once the 20 minutes are up, remove from the oven and let set for 20 minutes to an hour. Then dig in!
Notes
* You can use normal green tomatillos but the purple tomatillos will give a beautiful color and will be a little sweeter.
** You want to aim for about half berries, half tomatillos. If you really want, pick any type of berries you want that are in season and reasonably priced.
*** Don't have any booze? Just use water or milk of choice.
One Raw Bite https://one-sonic-bite.com/