March 25, 2015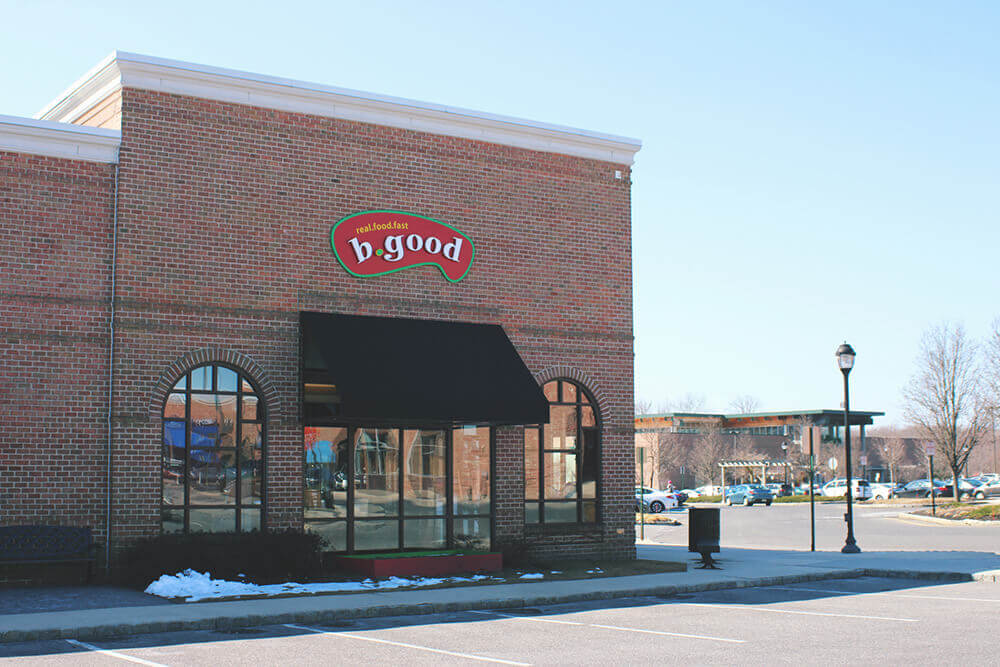 b.good
500 Rte 73 S, The Promenade at Sagemore, Medford NJ 08053
More locations in MA, NH, CT, ME, NC, and RI
website | facebook | instagram | twitter | youtube
I have an unspoken rule that I try to avoid chains when talking about restaurants on this site. There are many blogs that give vegan ordering hacks at major chains like Chipotle and Panera. But I make excepts for budding businesses, or chains that vary drastically for the menu, like Loving Hut.
The other day I was trying to find a good vegan friendly restaurant near by that would be good for a lunch, maybe a smoothie. And I stumbled on the website for b.good foods. They opened a location in Medford in a shopping plaza known for their higher end shopping, including a Mac store, Anthropology, LLBean, and Pottery Barn Kids.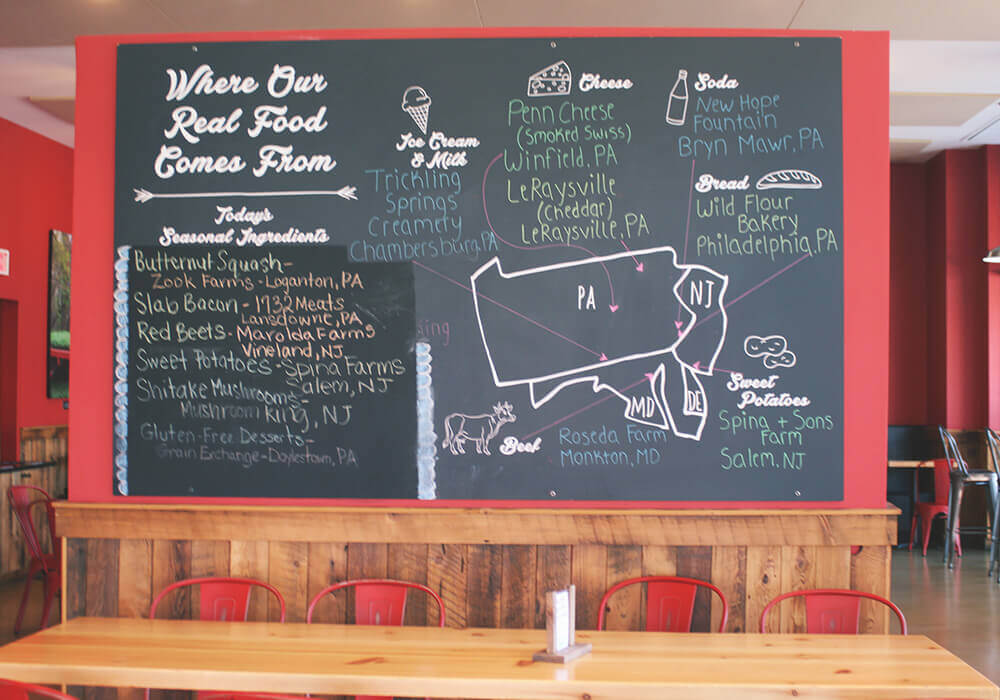 The chain's goals are pretty simple- fresh and local foods. It is hard to promise that with a chain, even when it is still fairly small. But they don't kid around. When entering the store there is a big chalk board with local farmers and bakers that they get their food from. Although it seems like all stores have the same core menu, each location does have some specialized foods. There were even some baked goods to buy from Wild Flour Bakery inside, even with a vegan option.
Although they boast healthy food, I would say it is hit or miss on how healthy your meal can be. There are lots of combo options, which can quickly add up in calories. But if you keep it simple, a burger, salad, or bowl, you are looking for a reasonable meal- ranging on average from 400-600 calories. The lowest calories is in a salad, 284 calories, and the highest calories is in a burger, 710 calories. Neither are vegan so who cares?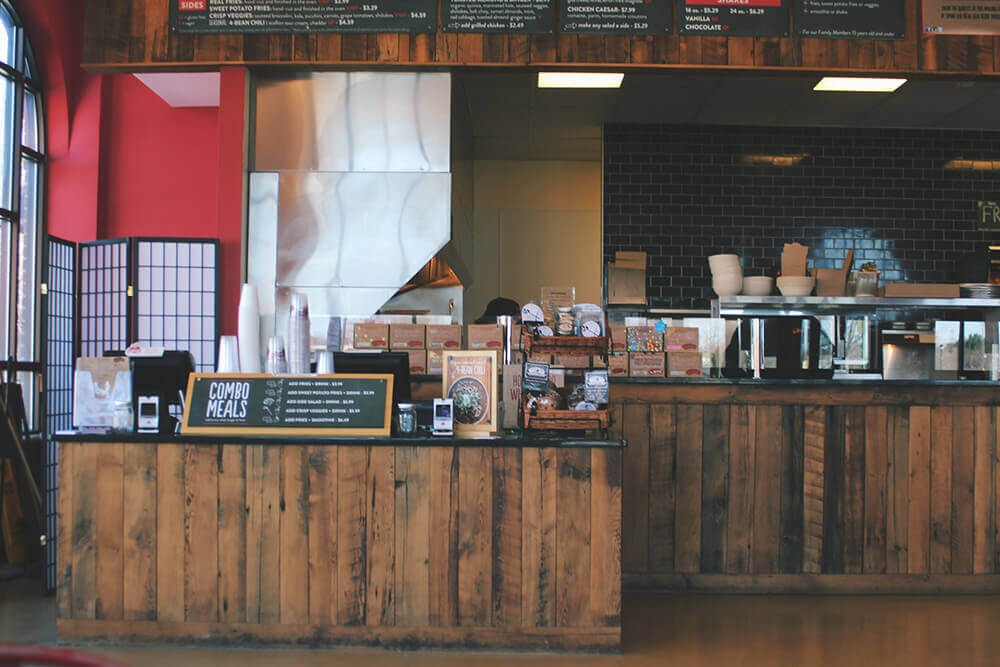 So if the menu isn't 100% vegan, what can you get? Answer: A Lot.
The menu had cute little v's written next to vegan items. But realistically, almost anything can be made vegan. Most the salads and the kale and quinoa bowls are vegetarian and have cheese added which can be taken out (lemon-caesar ving, lemon-mint ving, jalapeno ranch, and croutons not vegan though). They have a vegan burger pattie and vegan buns! Again, you might have to ask for some modifications for their specialty burgers, like no cheese or bacon. So you can come into the store craving a light salad, protein packed kale & quinoa bowl, or super filling burger, with options in each category.
Some of the sides are vegan, though these change the most during seasons so always ask if they are vegan. But even in this category you have a lot to choose from, including fries, veggie chips, and some smoothies. I am sure you could request modifications to make a non-vegan smoothies to be vegan as the only non-vegan ingredients are honey and yogurt. There are no soy options for milk shakes though, bummer.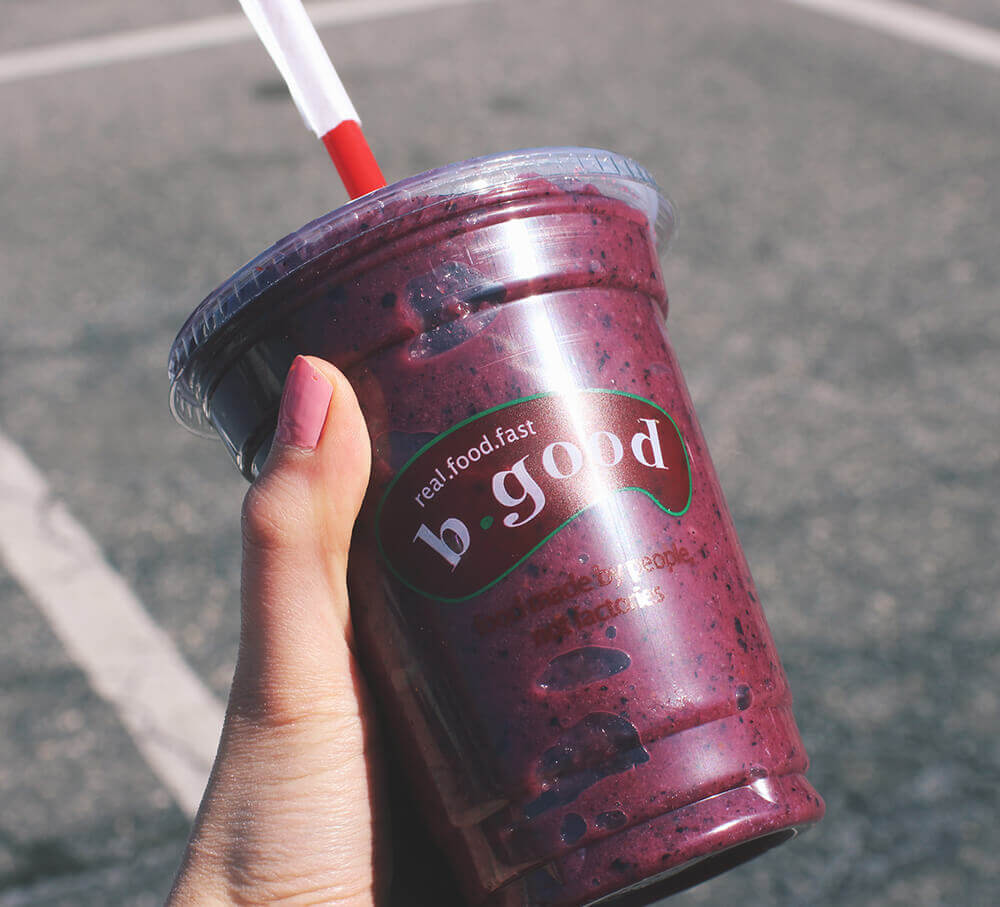 So hows the food? Well I got a acai berry smoothie to drink right away and the spicy avocado and lime kale and quinoa bowl to take home. I wasn't blown away by acai berry smoothie, but this might just be a reflection of my changing opinions on smoothies. This one wasn't too sweet which I liked, but was really icy thick. It was so thick that it probably prevented it from blending all the way. Truthfully, I don't think smoothies are their main focus since most people don't get smoothies to accompany their meals.
After about an hour of running errands I got home and dug into my bowl. Even sitting around for an hour it still tasted great. Because let's face it guys, if you are taking out your lunch or dinner, you might not get to it right away. Everything tasted fresh and flavorful, I could tell the corn and green beans weren't frozen, and cherry tomatoes tasted like they weren't refrigerated. Just to point out, the spicy avocado and lime kale and quinoa bowl technically isn't vegan, I asked for it to not come with cheese.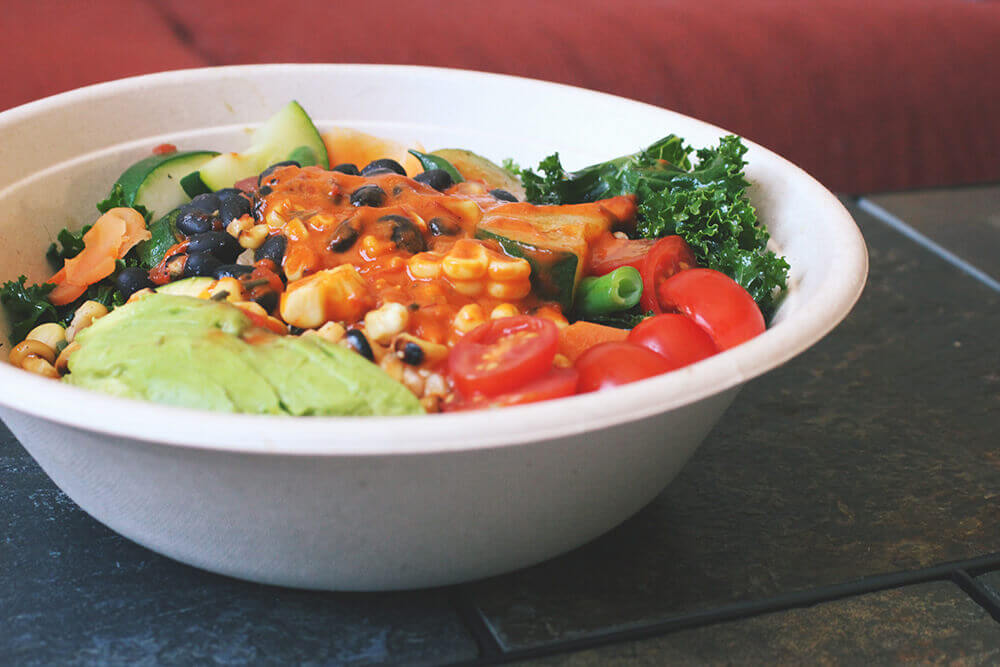 I am a little bummed that I didn't grab a burger during my visit, but before visiting I did my research. The website said that the local bakery they used didn't make vegan buns for the burgers. Bummed out I emailed the company to share my disappointment. Guess what? After I got home with my food, I got an email back saying they changed the recipe to be vegan awhile ago and never updated the site! How awesome is that? I am not putting it against them that they didn't update their website since they are trying to keep track of several different locations. It is hard to have each and every ingredient correct for so many different foods with several locations. But one of biggest pet peeves is when restaurants have vegan burgers but no vegan buns. No Zinburger, I don't want a salad, if I wanted to '86' the bun I would of been reading the salad section. End rant. Point is this place has great customer service and has lots of options for vegans.
Overall this is a nice place to dine with a vegan or non-vegan friend. There is something for everyone. And if you aren't vegan a lot of the salads and kale & quinoa bowls can have chicken added to it for an additional price. There are also lots of sauces and vinaigrettes that are dairy and egg free which is a plus for vegans and allergy sensitive people.