March 11, 2015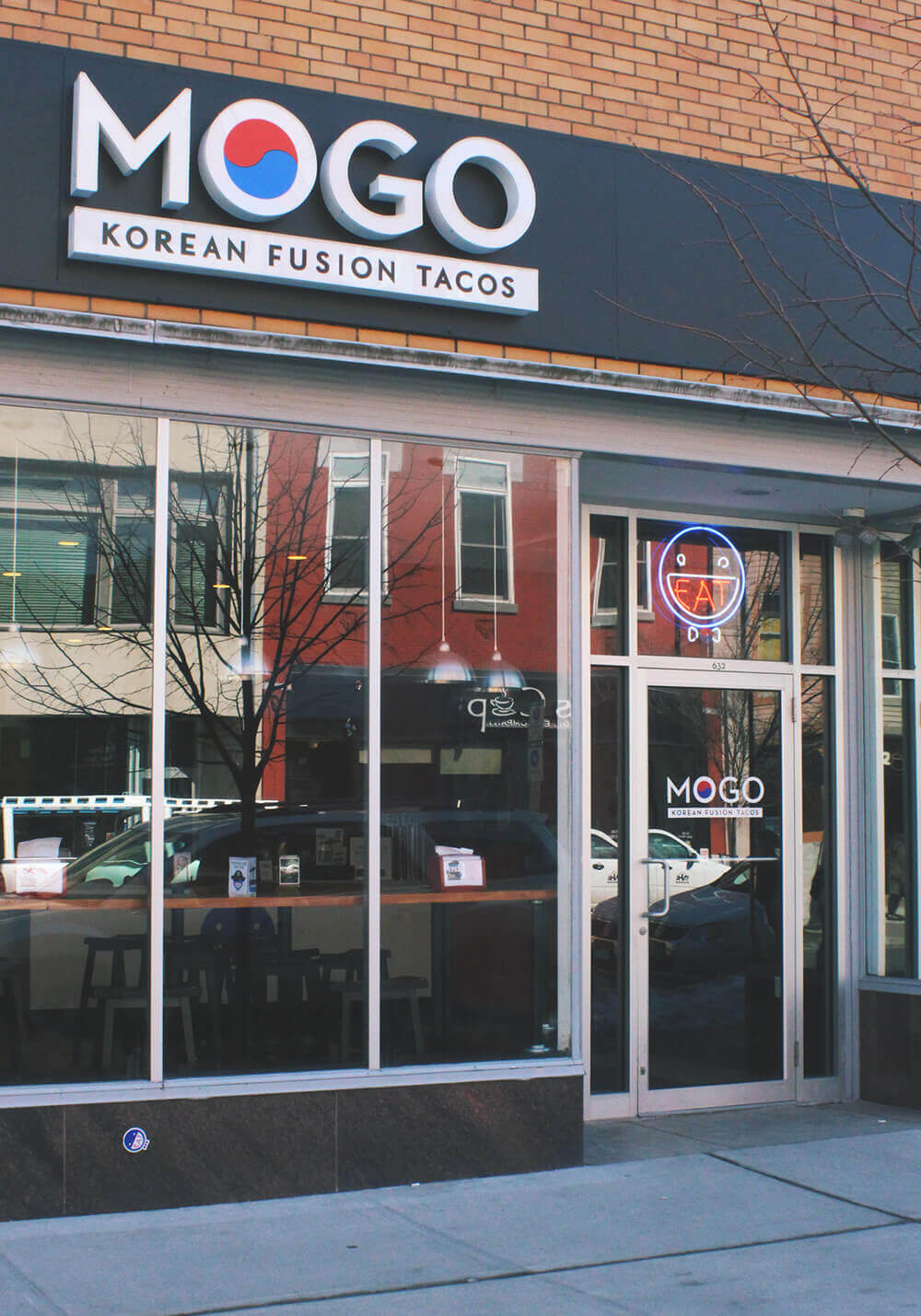 Mogo
632 Cookman Ave, Asbury Park, NJ 07712 (sit down dining)
850 Ocean Ave, Asbury Park, NJ 07712 (boardwalk stall)
website | facebook | instagram | twitter | youtube
Simply put, Alexa and I love Mogo. It has built a cult status in New Jersey. People have gone and become hooked instantly. It started out a cool little stand by the Asbury Park Boardwalk. It featured korean fusion tacos, and had a pretty simple menu- beef, pork, chicken, fish, or tofu tacos. They had a little bit of hot sauce and kimchi to put on top. Alexa briefly talks about the stall on her Asbury Fresh post.
Mogo announced that they were opening a storefront so they could expand their menu and offer a place for people to eat. Their storefront opened in December 2013, and I hadn't been able to check it out until now.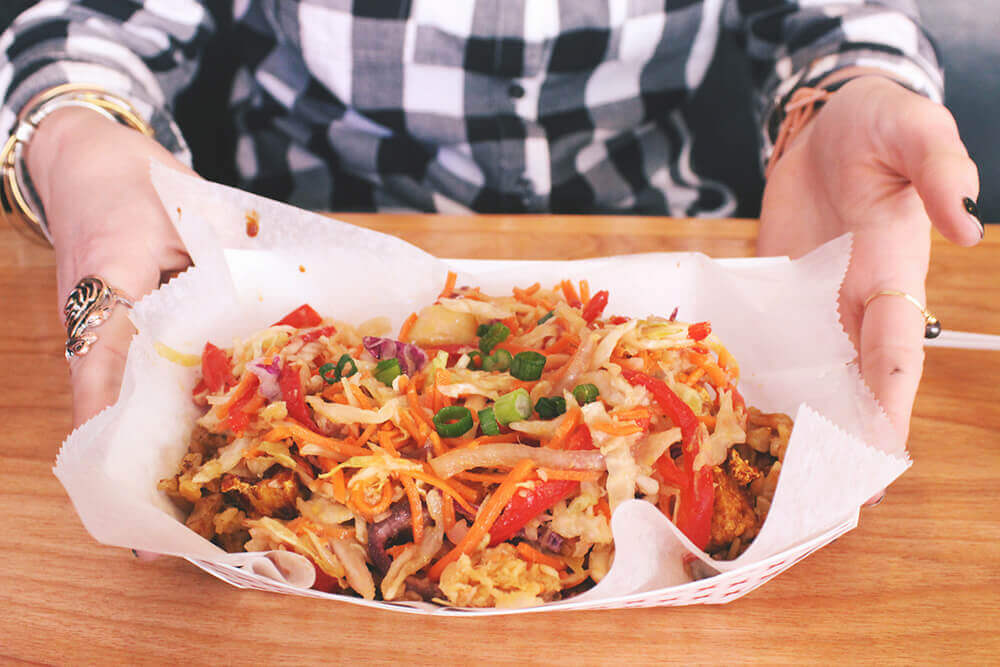 The restaurant has a casual set-up. It is similar to Panera or Chipotle, order at the counter and pick a table. But unlike those chains, workers BRING your food to your table, so you don't have to listen for your name. The menu is similar to the original taco stand. You have six types of proteins: beef, chicken, pork, fish, shrimp, and tofu. Then you have four styles of food: taco, burrito, bowl, and salad. That means as a vegan, I have four different options.
They have other main eating options and sides, but most are not vegan. The only other option is the fried rice side and some of the different kimchi pickles. After placing your order, stop by their condiments bar. They have self serve kimchi and gochujang sauce. They have easy to read labels, showing that the nappa cabbage kimchi has fish in it. BUT the cucumber and daikon kimchi are all good to eat.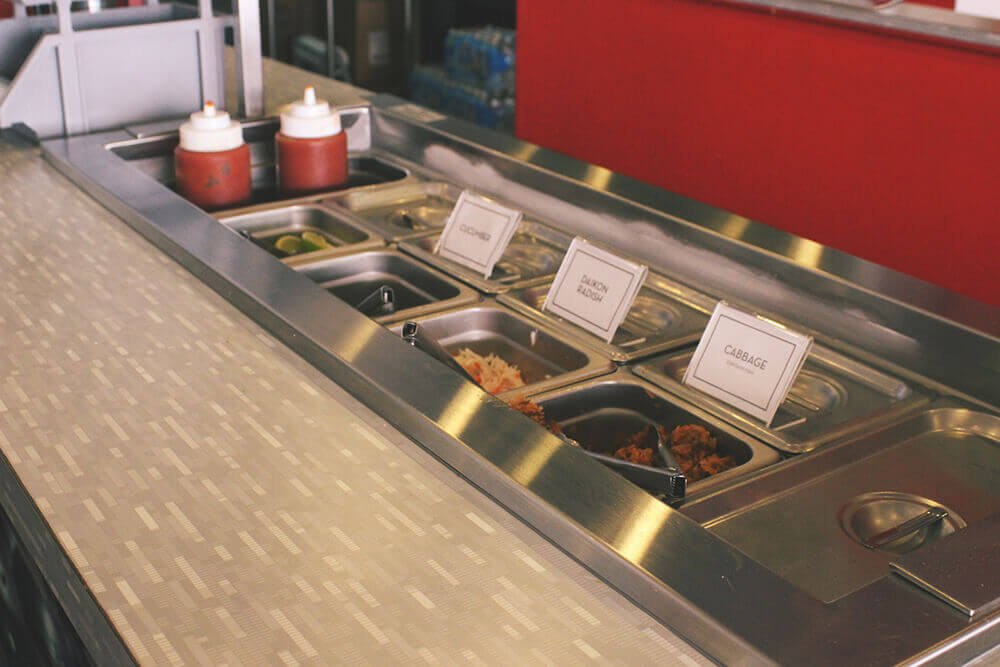 I can say that if you come in saying you are vegan, the staff will happily guide you. I asked if their Hotteok (korean donuts) were made with eggs or milk, they guy immediately said that they weren't vegan. Which means they get lots of vegans coming in.
I also noticed they streamlined their menu (to avoid vegan confusions maybe?). Their original stall location had many different kimchis, krauts, and dressing to be featured in each protein. I remember mixing and matching them, but looking back, some might not of been vegan. This new menu all the condiments are same in a burrito if you get fish or tofu.
So downside? There really aren't THAT many options for vegans at Mogo. But then again, it isn't like going to a restaurant with 30 different options and only one vegan option. It is a place that pretty much has few options and combos are mixed around to make lots of options. Plus as a vegan you are getting something super filling and hearty. Salads? You don't have to get stuck with it.
Curious about visiting the boardwalk stall for tacos on the beach? Due to space they only serve salads and tacos. They serve all six protein options, the only one that's vegan is tofu.