November 8, 2016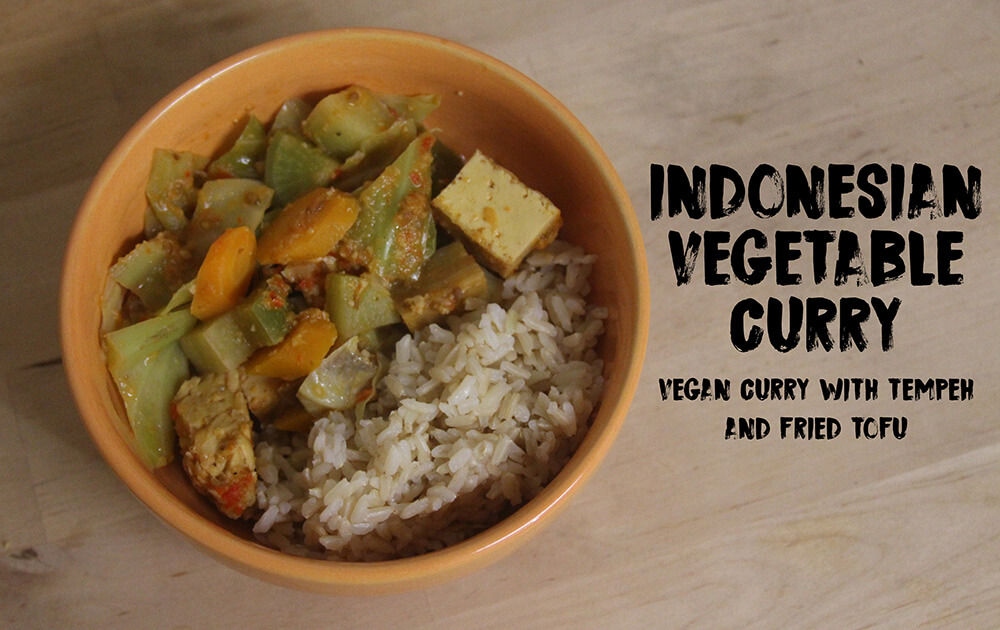 Happy Election Day! At least for the Americans. I have an exit strategy if Trump wins. I'll dig a hole and living in the country on the other side. Sadly, New Jersey ends up in an ocean with no islands nearby. Plan busted. The closest one is Australia, and I thought that there are plenty of Vegan MOFOers from Australia. They probably all posted about local dishes yesterday. So I thought I would pick another country nearby- Indonesia (technically that would be opposite of Brazil… SOOOO not close to New Jersey XD)
I haven't cooked much of their cuisine, but I have three cookbooks that have food from the area (or at least inspired food from the area.) One is Ani Phyo's Raw Asian cookbook, okay so the authenticity is a stretch! The other is a cookbook that goes through the culture of Southeast Asian food in detail. It isn't vegan, at all, so finding recipes were hard. But it is really interesting as they give information about the local produce and customs, so it was interesting to flip through it again.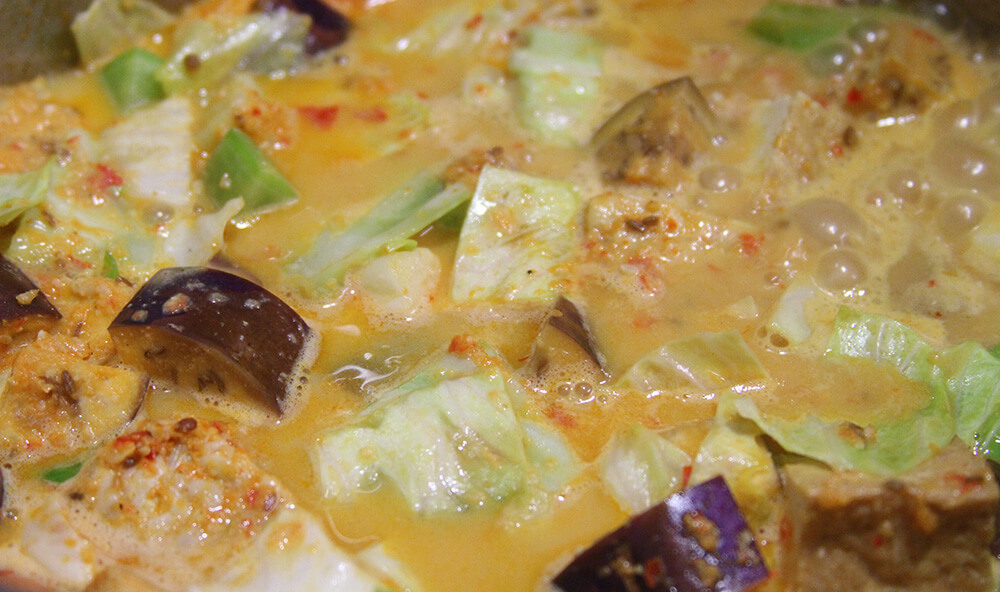 So I took most of the recipe's inspiration from The Asian Vegan Kitchen. Overall, I find the recipes too oily and bland. In fact the Indonesian recipe I reviewed was way too oily from two cans of coconut milk. Yuck. I kind-of took the hint with this recipe, and balanced the recipe out. So you might be thinking what makes an Indonesian curry different from other curries?
Well, it is similar to any of the Thai Red Curry recipes you've might of made. But this is super easy and fast to make. For starters the veggies, tempeh, and tofu are chopped in very large pieces. This makes prep time very minimal. Also the curry paste (or lodeh paste) uses candlenuts. I remember seeing them once at an Asian Food Market, but I wasn't going to make another stop for the recipe. You can use macadamia, brazil, or cashew nuts. I used cashews.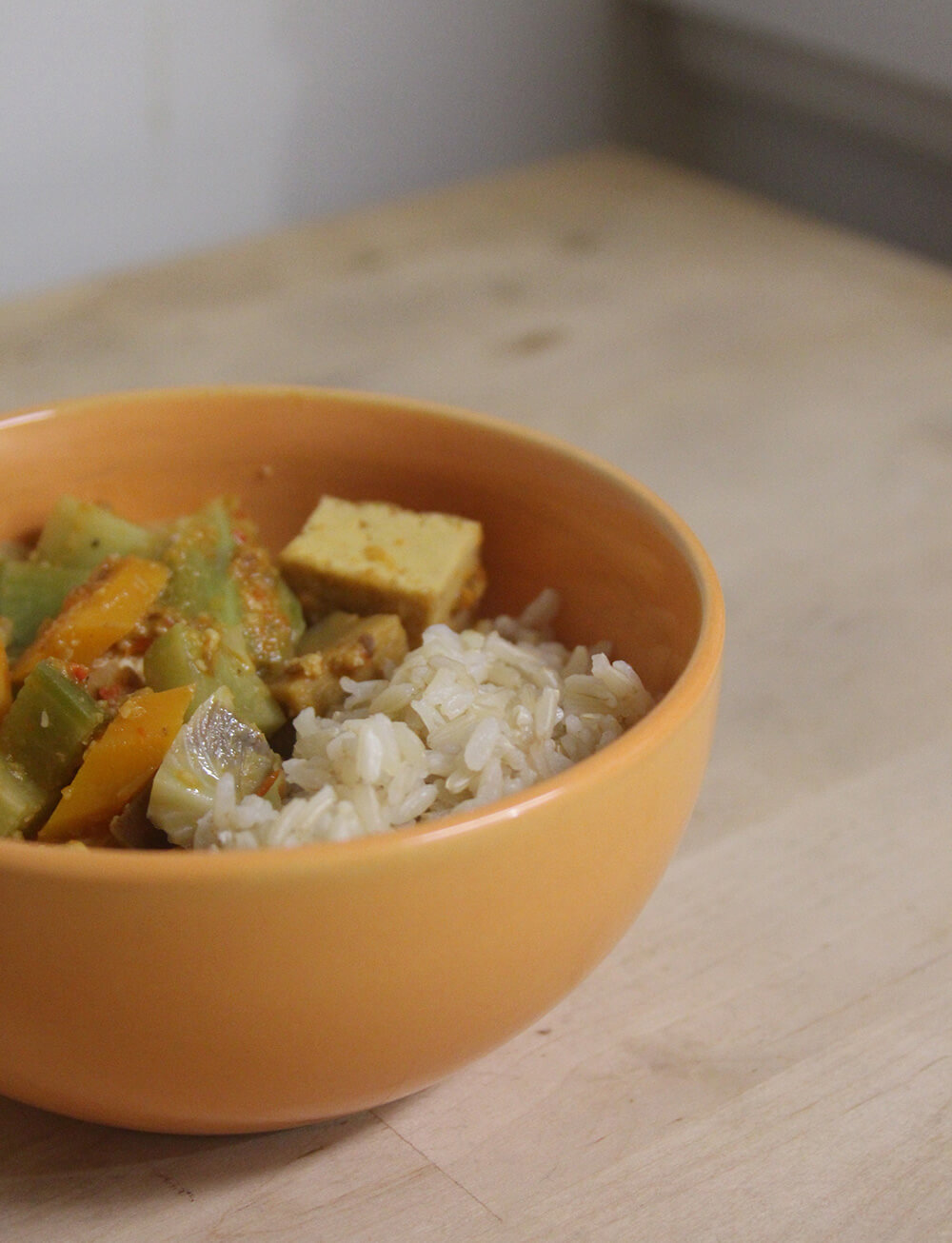 The recipe also uses salam leaves and galangal. I have never seen any of these ingredients in a store before. I omitted it from the recipe, but if you find powdered galangal, try sprinkling into the recipe. As for salam leaves, I subbed it with some curry leaves. It isn't authentic, but I am sure many Indonesian immigrants are making similar substitutes.
Nutrition? Yeah, I've been really into counting the nutritional information about food lately. Sorry. A quarter of a recipe is roughly 41 grams of carbs (9 grams of fiber), 31 grams of fat (hello coconuts and cashews!), and 28 grams of protein. I have a feeling the fat counts are a little high, and will depend on what type of fried tofu you buy. You can sub it with baked tofu as well.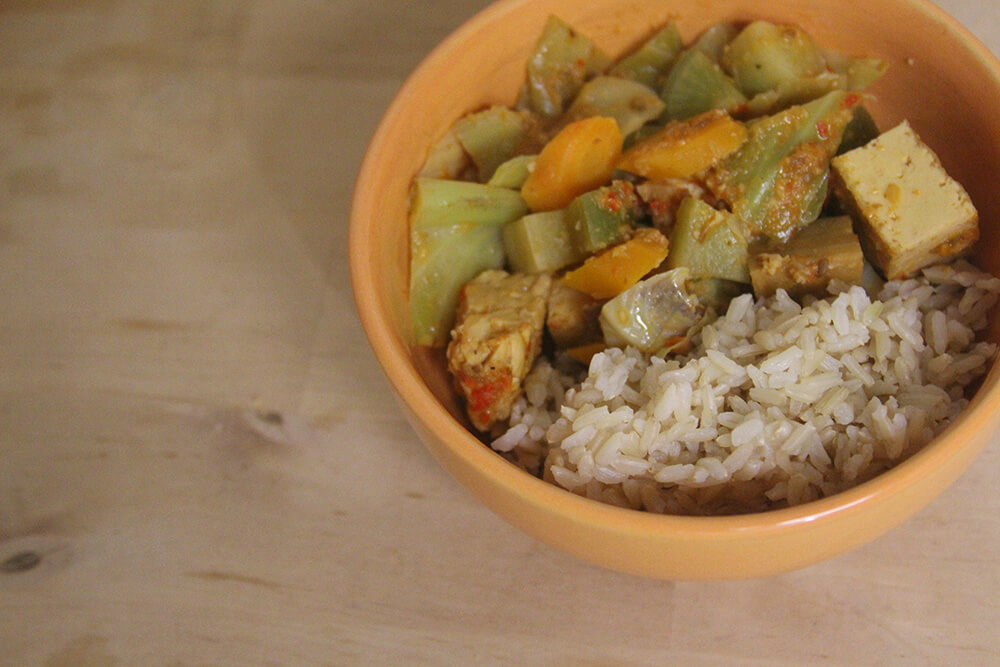 As a quick reminder, these percentages are based off of my current pregnant state. You maybe getting a larger amount. If you are actually tracking your nutrition, I suggest looking at the mg units. The obvious thing that will fill more of your nutritional needs is the iron. I am pregnant so I need a minimum of 27 mg while most menstruating women need 18 mg, men more like 8mg.