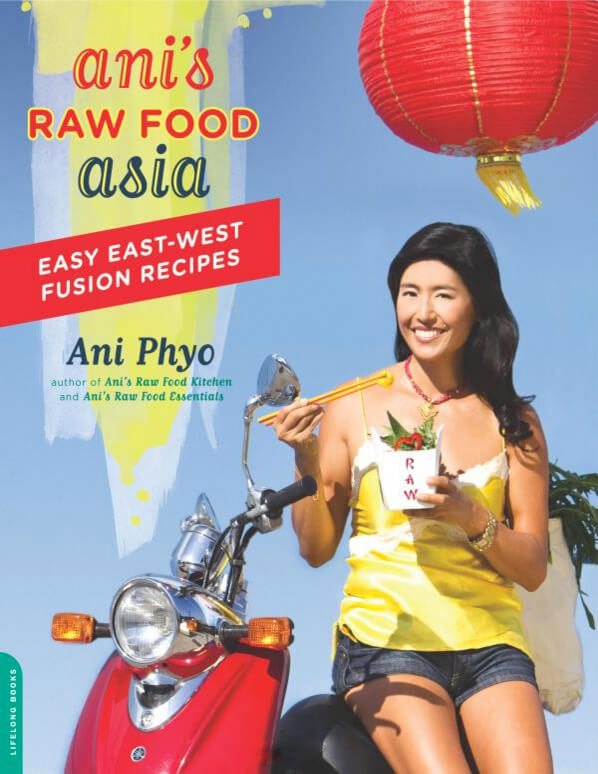 Shop on Amazon or Barnes and Noble
When I first went vegan I did it mostly for health related reasons. In the middle of it all I started to get sucked into the raw lifestyle. I slowly branched away from it, but I am still always interested in eating more raw food. I decided to try and eat more raw lunches and decided to use some of the recipes from Ani's Raw Food Asia cookbook. I love Ani's simple and easy recipes, making it quick and easy to prep a lunch.
Photos
The pictures are pretty true to what the food looks like, which I really like. Nothing drives me more bonkers than seeing a photo that will never match my recipe. Ani's food does look inspiring to make, but there aren't that many photos of the food themselves. The photos in the book are actually more about the sights and people that are in Asia. There are photos of Ani preparing recipes, and posing at markets. I would say this is annoying in a cookbook, but honestly, I like it. I find it relaxing and I like flipping through the book to just look at the photos. And let's be real, do I need a photo for all these salads? Answer- no.
Set-up
Unlike most modern cookbooks, Ani's organization is a little all over the place. This might be a smart move. It isn't often do that people sit down and read all of a cookbook. So Ani takes advantage of how people read a cookbook, by flipping through recipes, and gives information and facts throughout the recipes. Most of her tips are mostly about keeping up health, mentally, physically, and living an eco-friendly life. Before doing this review, I've read most of the note she has written, which I normally don't do.
What does drive me nuts about this style is that certain recipes are scattered all over. I would of liked to have the sauces and pastes all grouped together rather than all over the place. If I just want to make that sauce, it is easier to find in a chapter devoted to sauces, rather than tucked away under the "rice" section. It isn't a huge problem though. Otherwise, like any other cookbook there is an introduction, recipes divided up by types, suggested menus, then some more closing remarks about living a healthy life.
Writing
Ani's writing is always easy, but sometimes a little too dumbed down. It is a little frustrating to read some poorly worded information, that ends up being false. I might know what Ani is trying to say, but it the wording makes the information easily misinterpreted. For example she talks about buckwheat and writes "buckwheat is a seed, not a wheat, so it's gluten-free." Yes buckwheat is gluten-free, and yes, it isn't related to wheat. But "not a wheat"? That is just horrible english, and makes the definition of grains even more confusing for most people.
On the flip side there is also some great information that is very much true. I have to agree with many of suggestions she makes for living a generally healthier life. So I wouldn't say that everything is false, but when it comes for nutritional and food specifics know that she is simplifying the information a lot.
Overview
In general I like Ani's super easy raw style of food. This book is probably better than her other books for starting out with a raw diet since most of the food doesn't use a dehydrator. The dishes are pretty veggie heavy which is what I am looking for in a raw recipe. I do wish she offered up more recommendations for substitutes for recipes that use a dehydrator. She does recommend using the oven but it would of been nice is she suggested other substitutes like using a rice paper wrap instead of her dehydrated coconut wraps.
What I do like about the cookbook is that it isn't very judgmental, particularly at the end chapter. Ani shares her experience with raw food over the years, and admits that she doesn't eat raw all the time. Nor is she totally a vegan anymore, but is more so a pescatarian (or maybe a flexi-pesca-tarian? Basically fish is only a small fraction of her diet.) It takes a lot guts for a person to admit when their health isn't 100% when their whole profession is built on it.
The authenticity of the recipes are a little up in the air. Ani doesn't claim that these recipes are authentic, clearly since some of the originals involve cooking. Some of the Korean namul and kimchis are probably rather close to being authentic since she has Korean roots, and says in her book she visits family in South Korea. I think it bothers me when Ani tries to call a recipe after an specific dish, and it just isn't even close. For example the samosas were delicious, but didn't use potatoes, nor did it have a wrap around it. The only recipe that really made me annoyed was the "black rice pudding" which was a recipe for chia pudding. Neither are anything alike, and it really should of just been left out of the cookbook in my opinion.
Overall, I think I would recommend this book to anyone who is trying to eat more raw foods. There are some light dishes that are quick to make. I don't think there was a recipe I wouldn't make again (except the 'rice,' but that isn't exclusively something Ani has made up, just give me normal rice please.) Sure there are some modifications people might have to make if they don't have a dehydrator, but if you have a blender and food processor, you will be able to make most of these recipes.
If you are interested in individual reviews of recipes just click to expand the review.
Cashew Nut "Rice"
Section: Rice
Country: Hawaii
This is a nice twist to a normal raw rice. The cashews add a little protein and heft to the dish. This makes dishes more filling and adds more flavor. It is quick to make and my favorite raw rice recipe out there. Although it was a nice raw rice, it is in my opinion never going to be a substitute for real rice. Sorry!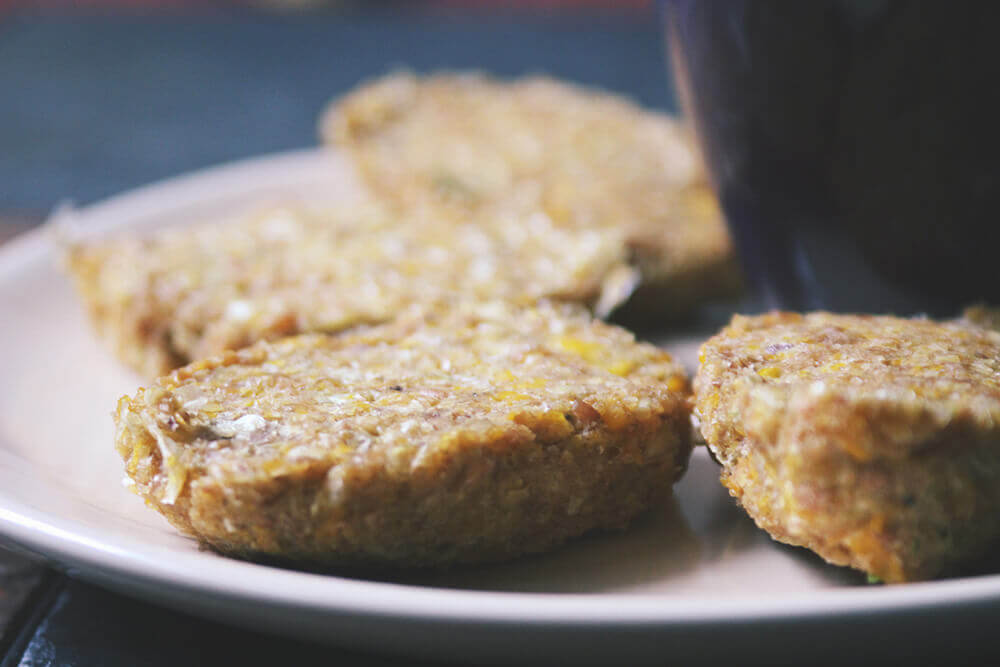 Corn Fritters with a Hot and Sour Cucumber Dipping Sauce
Section: Rolls, Wraps, and Pancakes
Country: Indonesia
These were amazingly yummy. I would do a few changes. I would make the fritters smaller, this would make the dehydrating process faster, and create more surface area for dipping. I would also think I would prefer the dipper sauce blended. The sauce was so thin and the fritters can't absorb the sauce. If the pepper and cucumber were blended up in a thick sauce more would cling to the fritters and I think make a taster dish. Saves well, which means making one batch and eating it for the rest of the week for lunches.
Gochujang
Section: Rice (it is really a paste)
Country: Korea
I tend to not like posting recipes for pastes and ganishes, but this one I found very nice. Ani gives a recipe for a make shift gochujang, that is raw, as most commercial gochujang have coloring and are pasteurized. I made this recipe when I was in a jam and ran out of gochujang, and I think it would be a great substitute if you can't get your hands on any. I made a similar recipe on my blog for people who are curious of Korean cuisine.
Moo Shoo Vegetables with Hoisin Sauce
Section: Rolls, Wraps, and Pancakes
Country: China
This dish was almost there. I loved the hoisin sauce which is surprising similar in taste to the original. I don't really understand how that worked out! The cabbage and mushrooms softened up some, but I had to use rice paper instead of the coconut wrappers since my dehydrator isn't suited for thin wraps. BUT the cabbage was a little too tough, breaking each time. Bummer. I broke down at some point on used a wheat wrap, and added a little tofu to make it a little more filling.
Mung Bean Sprout Namul
Section: Pickles, Condiments, and Accompaniments
Country: Korea
This recipe doesn't stray too far from the Korean original. The recipe is fast and easy, and makes a great side dish. One thing she doesn't mention in the recipe is that it is always smart to cut off the bean part of the sprout. The picture shows it that way which I don't like when photos and recipes don't match up. Otherwise it is a no-brainer yes sort of recipe.
Okra Namul
Section: Pickles, Condiments, and Accompaniments
Country: Korea
I get okra from my CSA share, and I never know what to do with them, you know, all that slimy-ness. So I tried this namul, which was alright. My husband said that the slimy factor got worse the longer it sat in the fridge. Okra lovers might love the recipe, but I wasn't feeling it.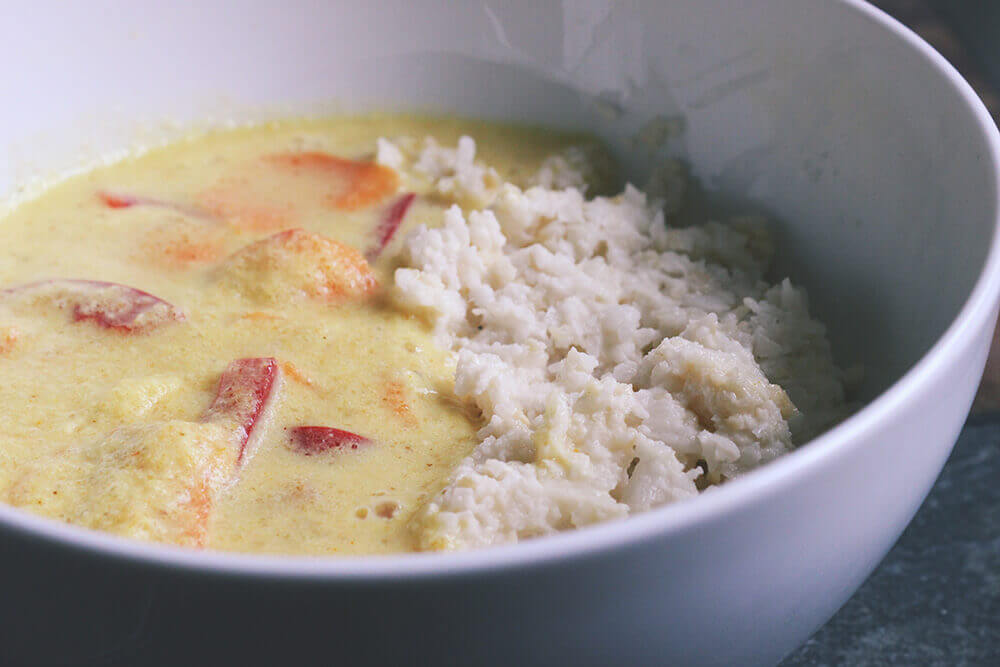 Orange Coconut Curry Sauce
Section: Soups and Curries
Country: India
This is a dish that is yummy on the first day but does not keep well in the refrigerator. The next day most of the orange flavor disappears. But when made fresh the dish balances curry seasoning, orange, and coconut. I ate it with some thinly sliced carrot and bell pepper in it. Then I served it over some cashew nut rice. But I think Ani's suggestion of eating over greens sounded pretty nice as well, but then it would of just been a salad. For all the little steps needed to make this curry, I don't think I would make it again since it needs to be eaten the day of.
Samosas with Tomato Dal and Mock Tamarind Sauce
Section: Rolls, Wraps, and Pancakes
Country: India
These were pretty yummy. I had some trouble with the suggested size being too big for my dehydrator, which wasn't that big of a issue, just change the shape or size. So I got more small "samosas" than suggested. I paired it with the tamarind sauce, and enjoyed it. I think it is pushing it by calling them samosas, they are more like cashew patties. They are a nice little side to a lunch, or could be a main meal.
Spicy Mixed Vegetable Noodles
Section: Noodles
Country: Korea
I liked this meal, and spread it out as 3 different servings for lunches. I want to first point out that Ani says it is 4 servings that only last one day, which I would have to disagree. I found it just as yummy, if not more, as the days went on. I didn't find that my kelp noodles got soggy. I really like gochujang, and I think I used real gochujang as apposed to her make shift recipe in the book. I would happily make this recipe again.
Spinach Namul
Section: Pickles, Condiments, and Accompaniments
Country: Korea
This is a great recipe for anyone who is going raw and misses cookied veggies. The nama shoyu and oil softens the spinach and make it more like the cooked kind. I have only made this recipe once, but I think it is one of the stronger namul recipes in the book. I could picture myself making it as a side for a normal dinner.
Spinach with Kreamy Miso Dressing
Section: Salads and Dressing
Country: Japan
This dressing was super yummy. I know I will be making it several times on my own. I usually don't like Ani's dressings as they tend to be more oil heavy but this one got it's creamy thick base from celery and miso. My only complaint is that Ani's recipe only uses spinach, which is still okay, but I thought it would be better if I mixed in a few other things to make a more filling lunch, including red bell pepper and pumpkin seeds. It was amazing guys.
Sweet Sesame Halvah
Section: Desserts
Country: Korea
This was super yummy. The recipe calls for almond butter I think I used tahini instead, which the cookbook suggests. Although the candies are really tasty, it didn't really work out with the candy molds. I think because of all the suggested modifications, tahini instead of almond butter and agave instead of yacon syrup, the candies didn't set in the freezer enough to be popped out of a mold. Which is fine, it just means I would hand shape the candies on my own. No biggie. They are perfect for a quick little snack when I am too hungry to wait for dinner. And since they make so many small candies (I got way over the suggested 16) they last for a really long time.
White Kimchi
Section: Pickles, Condiments, and Accompaniments
Country: Korea
Aside from Ani using more salt than I personally liked, this dish is a nice twist to the traditional view of kimchi. Yes, White Kimchi is a traditional dish, but most Westerners don't know about it. I love giving it to my husband for lunches since regular kimchi can be too overwhelming sometimes. It has a great balance between salty, sweet, and sour and it usually lasts for a long time, so it is worth the wait when initially making it.