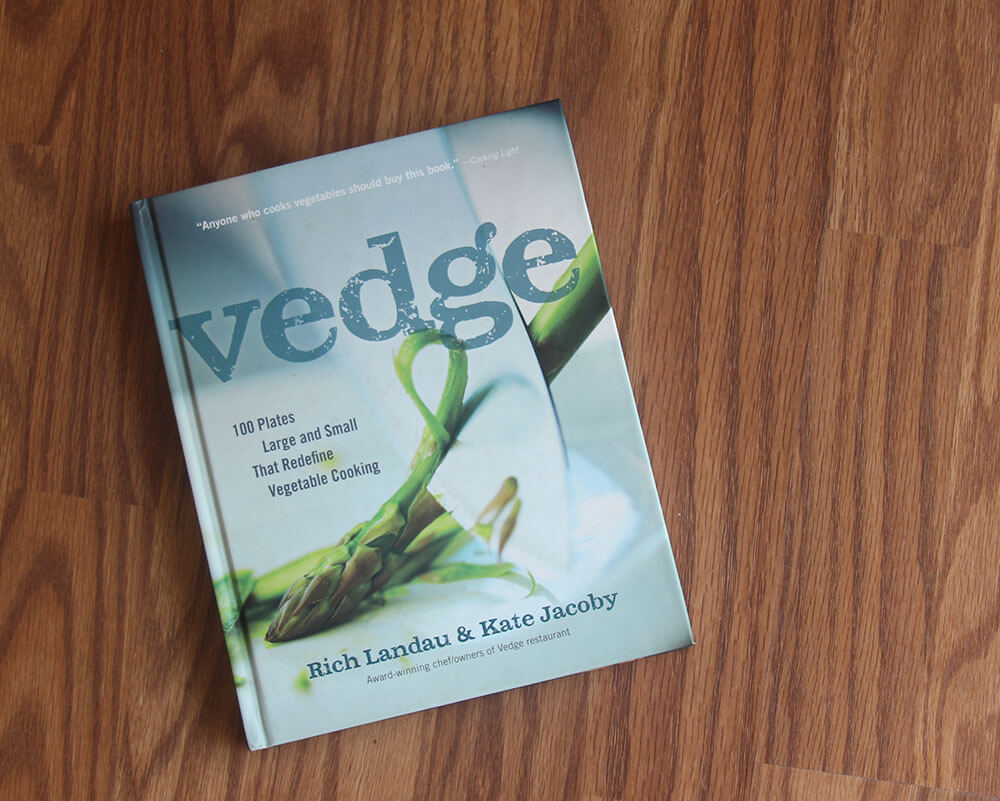 Shop on Amazon or Barnes and Noble
Most vegans know about Vedge, a fancy restaurant that all the omnivores eat at. Naturally, when a place is popular there are haters. I've herd people complain that the food is too salty, tastes burnt, or too hippy-dippy (yup, that was said about the book at least.) But when I went, I only have wonderful things to say.
That said, I've always been a little intimidated about this book. It sat on my shelf forever, and I am pretty sure it was gifted to me by my Mother in Law, otherwise I think I would of felt it would be too fancy for me. But once we went to Vedge, my husband demanded a birthday dinner made completely from this book. *sigh* So I made some food from it, and it wasn't so hard. So I made even more from the book and here we are now with this review. So let's go!
Photos
The photos in this book are beautiful. They are done by Michael Spain-Smith- who has a few shots on his website. The photos show shots of food and the restaurant itself, heck even some shots of the food within the restaurant (you know, as if it was being served to someone.) I am a little sad that there aren't more shots of the plated foods. This is suppose to be high end food, and the visuals are an important aspect. It would be nice to have an idea of how to serve the dish. The authors say to use your imagination, and because of this I don't demand the recipe to match the photos perfectly. For example the recipe for the breakfast radishes show chunks of avocado when the recipe tells you mash them up.
Set-up
A fairly typical setup- an into by Joe Yonan (because the authors are now famous enough for someone to write about them), then an introduction from the authors, and some "before you cook" tips. Overall I like how quick and to the point the authors are. It doesn't take long to get into the recipes, and they do stress the importance of fresh ingredients, and basic cooking skills. I didn't like their chapter on pantry essentials. It felt a little pointless, and dumb, it would be nice if they ditched it.
They divide up the recipes into 6 categories- Small bites and small plates, Soups and stews, The dirt list, Plates (aka mains), Desserts and baked goods, and finally Cocktails. This is KIND-OF how they set it up at the restaurant. Small bites and small plates I guess are normally listed as their vedge bar. They are usually things you could get with a drink at a fancy cocktail bar, or as they suggest in the book something like tapas. The dirt list tends to be cooked veggies, something that resembles a side dish. I find that this category there is a very thin line to the Plates (aka mains) category, which is listed as "The Grill" on the menu. The mains tend to be a little heartier and more umami. But it is pretty hard to figure out the difference in my opinion. The organization is so arbitrary. There is a stew listed under plates- even though there is a soup and stews chapter. Luckily they are pretty on topic for the cocktails and desserts. No confusion there.
Writing
I like the writing, it is quick to the point but very informative. The instructions are pretty simple for the recipes, which feels a little odd since we are talking about a fancy pants restaurant. Although it doesn't give massive clues to a perfectly charred pepper, I think it makes the recipes a lot more accessable. I easily read this book now that I've made a few of the recipes, and it feels really easy to tackle on 3 recipes at once. At the very least one recipe that I serve with leftovers.
Overview
The recipes really need to be tried out before anyone dismisses this cookbook. I've read some reviews on Goodreads, half say how much they love it, and other half usually poo-poos recipes without actually trying them out. I will admit, there are some pretty crazy sounding things, especially in the desserts. A sweet potato and cabbge dessert? An apple wardof salad sweet?!
But just with following the few recipes that I have made, it has given me more confidence in the kitchen with more unusual vegetables. I now have a better idea what I would like to do with radishes. I don't feel like I have to keep layering flavors to get something that tastes good.
But when you have a cookbook that has such spectacular recipes, but maybe not other inspirational, educational aspects, you need to deliver on the recipes. I found that almost every single vegetable dish needed more time in the oven. Period. There is no mistaking "just cooked" with "not cooked." I had to add as little as 3 minutes, but sometimes as much as 20 minutes. It happened so often I didn't bother adding the notes in the recipe reviews. I also felt there was a little sparse detail on what to look for in cooking, I would have to give 4 out of 5 stars for this cookbook. If the devil is in the details, give me all the details please.
The Recipes
As always, I give reviews for individual recipes. If I am able to find the recipe online with a publisher approved website, I'll link it. I think it is a great way to "test out" a cookbook before buying it. The next best thing is checking it out from the library.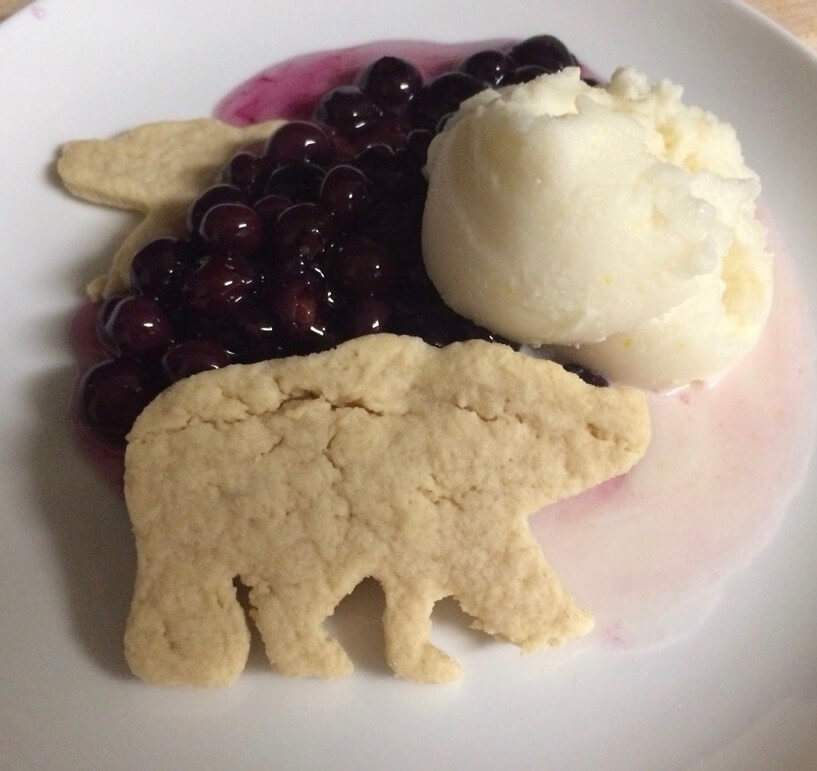 Blueberries with Pie Crust and Lemonade Ice Cream
Section: Desserts and Baked Goods
Instead of a cake this year, Jon decided he wanted this dessert. He lucked out that Aldi's was having a sale of blueberries, so we went ahead and made this. The recipe is pretty simple, but very time consuming due to the many different parts. You had to make the ice cream, the pie crust, and the blueberries. I was a little disappointed with the recipe because a lot was lost in the details, and luckily I knew from previous experience how to remedy the issues. Most of the problems was with the ice cream. There just simply wasn't enough "cooling" time! The recipe called for 30 minutes of cooling for the ice cream before putting into the ice cream maker, it was hardly cool by that point. I probably had it sitting in my fridge for 2-3 hours. Then it asks for it to set for 1 hour in the freezer, it was still so liquidy! And I know it was sitting in my freezer for much longer.
But how did it all taste? Awesome! I loved the ice cream, it had been awhile since I've made such a yummy ice cream. I could of eaten it by itself. I am not sure if I am in love with the pie crust, I think I would of rather had a regular old shortbread cookie instead. But I loved how perfect the blueberries were. The recipe calls for them be blanched and then the sugar water be boiled to a syrup. I like how plump the blueberries were instead of the usual mush that they turn into with a pie. Not sure I would make this again, but nice pie alternative since the oven was only on for 20 minutes (including preheat)
Eggplant Braciole
Section: Plates (aka Mains)
This is one of Vedge's classic dishes. I think it is on their menu year round, and I've found lots of recipes online though none that looked like it was approved by the publisher. I even found a low fat version on Weight Watchers. They listed the recipe as easy, which it kind-of is, but clearly their photo doesn't look nearly as amazing at the one above, so maybe not as easy as what they make it seem.
My Mother-in-Law has made this recipe at least two times. It is one that I love to eat, and I get excited when she makes it. When we went to Vedge and ordered this dish, her first remarks was "mine doesn't look that good." But I liked hers more. One reason was that I liked how her slightly thicker cut of eggplant gave more to bite into. Looking at the recipe, it seems like it should be easy, but has quite a few steps and will mostly likely end with a LOT of dishes to do.
The Elder Sage
Section: Cocktails
My Father-in-Law made a dinner for my husband's birthday with recipes from Vedge, so you will read a few reviews for the dishes he made. This was a cocktail he made. We also got a very similar version when we dined at Vedge, though I think there were some subtle differences in the ingredients.
Our cocktails were okay, but this was at fault of my Father-in-Law (sorry!) but he never added ice when shaking the drink. I STRONGLY recommend doing this. The overall drink ended up being a little too pungent. Having that melted ice chills the drink more, but helps unlock some of the flavor. If you don't forget this step, you will have a wonderful drink.
Fingerling Potatoes with Creamy Worcestershire Sauce
Section: The Dirt List
This dish I made for Jon's birthday dinner. It was really simple and easy to make, just roast the potatoes and toss in the a sauce. That's it. We didn't use fingerling potatoes, but some small potatoes we got from our CSA, which I remember taking so much time just to scrub down. *sigh* My biggest question was "how do they serve these?!" The recipe says to toss the potatoes in the sauce, which isn't the prettiest presentation. Well, apparently they drizzle it. But is it yummy? Yes. It is. This was one of Wolfie's favorites of the night, and I think possibly my husbands favorite. This was so simple to make that I would probably make these again as a side dish.
French Breakfast Radishes with Nori, Tamari, and Avocado
Section: Small bites and small plates
Recipe: UC Davis Integrative Medicine
I feel a little ashamed I've never tried this recipe until recently. It is SO EASY! Plus, I always thought I had to roast the radishes, but it is more like pickling. Every spring I get these delicate and pretty breakfast radishes, and I never know what to do with them. This recipe is super easy. I didn't have any ripe avocado at the time, so I just pickled the radish and wrapped with the nori. They looked cute, and was super tasty. I did wish I could of served them on a bed of mashed avocado because I think the creamy fat would of balanced the bright flavors of the radish. This will be a dish I will make every spring from now on.
Fresh Chickpea "Bourdetto"
Section: Soups and Stews
I didn't make this dish, my Father-in-Law did, probably a good thing. All the soups in this book are so simple it tempts me to change up the recipe. This dish is very light and has a bit of a bite to it. We didn't use fresh green chickpeas like recipe calls for, but followed the recommendation to used regular cooked chickpeas instead. I can't say if it is similar to the fish stew, but it was pretty tasty.
Heirloom Tomatoes with Grilled Shiitakes and Green Goddess
Section: Small bites and small plates
Recipe: PA Veggies
This is a very simple recipe to make and one I would think about serving as an appetizers during the summer. It is simply sliced tomatoes, topped with a dressing and grilled mushrooms. The dressing I wasn't 100% on board with though. I think this might be because I use Just Mayo and the book suggests a milder mayo like Veganaise. As a result I found the dressing too thick and too tangy. I might be interested in looking for different recipe for a green goddess dressing in the future.
Kohlrabi Salad with White Beans with Horseradish
Section: Small bites and small plates
Just like the french breakfast radishes, I get kohlrabi every year and I am not sure what to do with them. Almost every recipe is a slaw, and I just don't love that idea. But most cooked recipe never worked out for me, or involves an oven so broke down and made this slaw recipe. Just kidding, I didn't realize that it was a slaw until I started to make it. Oh well.
This was super quick to make, and is a great dish to make since you can make early in the day and serve it later. It is slightly pungent, which is expected with horseradish. I have one major question- how the hell do they serve this?! It just looked like a pastey white pile of garbage. It was yummy, but I would not be impressed if in the restaurant. Hmm…
Peas and Carrots with Jamaican Curry
Section: Soups and Stews
Recipe: Splendid Table
I was not impressed with this recipe. It was very spicy but not enough depth and flavor. This recipe does a good job at getting the peas and carrots to JUST the right texture, but the broth was lacking. Plus it felt like a lot of work since I had to roast the carrots then put them in the soup. And as I mentioned, it was pretty spicy, so I had to rinse off the carrot and peas before giving it to Wolfie.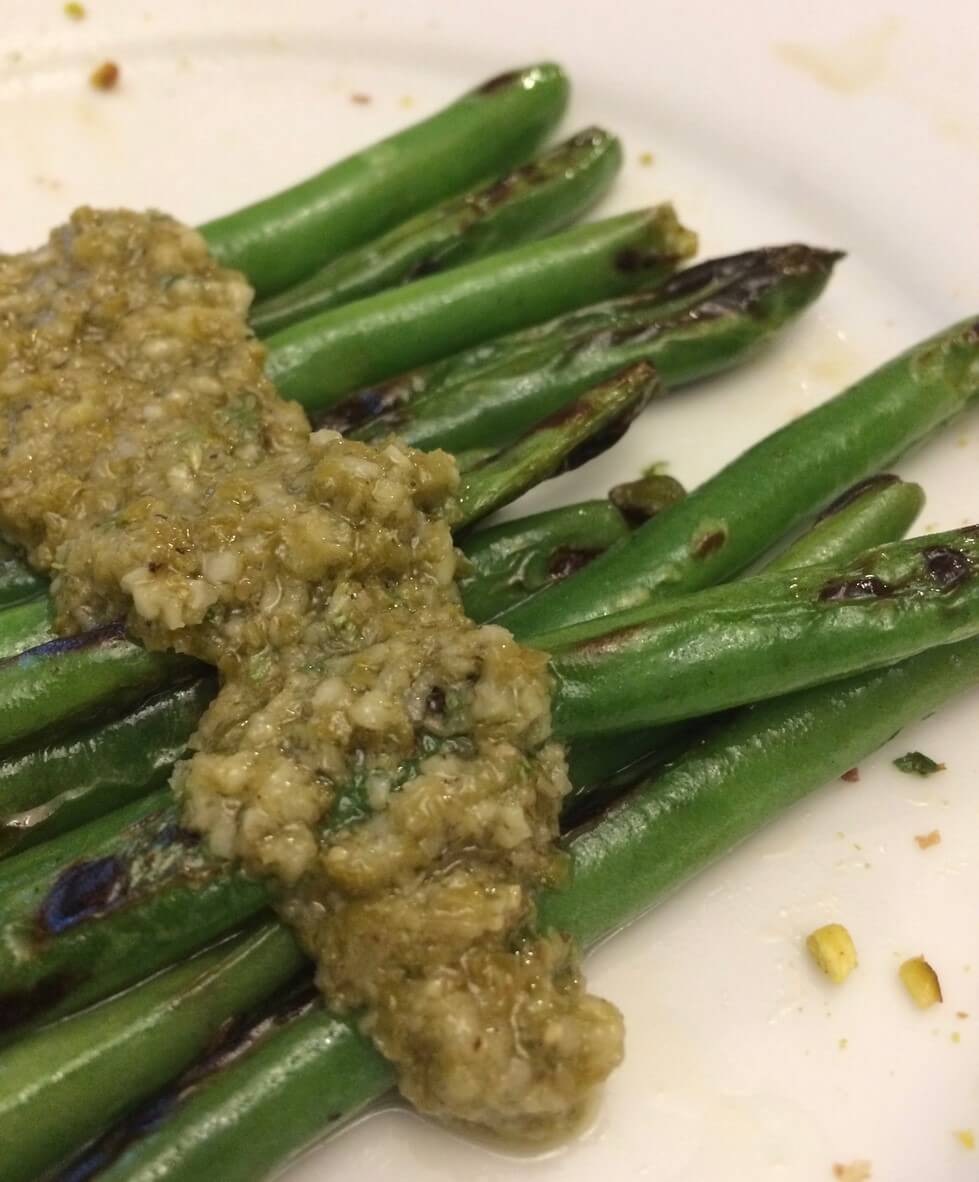 Seared French Beans with Caper Bagna Cauda
Section: The Dirt List
Recipe: Food 52
This is a pretty simple recipe, sear the beans, and puree that sauce. It was very yummy, but I thought a little oily. It is worth noting, I didn't actually make THIS recipe, my Father-in-Law did, so maybe he used more oil than recommended? But the salty bagna cauda cut through the oil and overall really well balanced.
Spiced Little Carrots with Chickpea-Sauerkraut Puree
Section: Small bites and small plates
Recipe: Food 52
This was part of Jon's 2017 birthday dinner. He picked out this recipe, which was nice because we actually had tiny little spring carrots that the recipe calls for. Most of the time was spent scrubbing the carrots clean, but otherwise the recipe is really simple. Toss the carrots in salt and oil, roast, toss a bunch of stuff in a food processor, puree, serve together.
The carrots are wonderfully spiced, and very delicious on their own. But the sauerkraut-chickpea puree is a nice balance to the carrots. The bright acidity cuts the sweetness from the carrots. We both loved the dish, but Wolfie mostly was in love with the puree. He ate it by the spoonful throughout the week.
Summer Corn with Green Chili Cream
Section: The Dirt List
Super yummy and super easy. The book gives two methods- oven and grill. I did the oven method which was as simple as toss all ingredients together, put in oven, toss with vegan sour cream. That's it. We loved it and my husband polished any of the remaining corn. This is a quick and delicious side dish, but I will admit, I NEVER buy sour cream so I might not make this often.
Swiss Chard with Pickled Golden Raisins and Pistachios
Section: The Dirt List
Oh man, they weren't kidding in this book about blanching your greens first. It made a massive difference in flavor, and although I like bitter flavors, the chard tasted clean and refreshing this way. I love the vinegary and plump raisins next to the crunchy pistachios. It works so well together. Naturally it is worth noting that I did not make this dish, my Father in Law did, so I can't vouch on how hard it is to actually make.
Zucchini with Pesto Trapanese
Section: The Dirt List
This is a SUPER simple dish to make. The pesto was quick to make, and all you have to do is slice some zucchini, place in a dish, cover with pesto, and bake. Naturally with all recipes from this book, I had to keep it in the oven a little longer than recommended. I doubled the baking time, but there was various reasons for this. I loved the end result, which was a very flavorful dish. I am usually at a loss on what to do with zucchini, but this is a great option, even with having to turn the oven on. I am sure you could easily scale this dish up as well.