August 30, 2018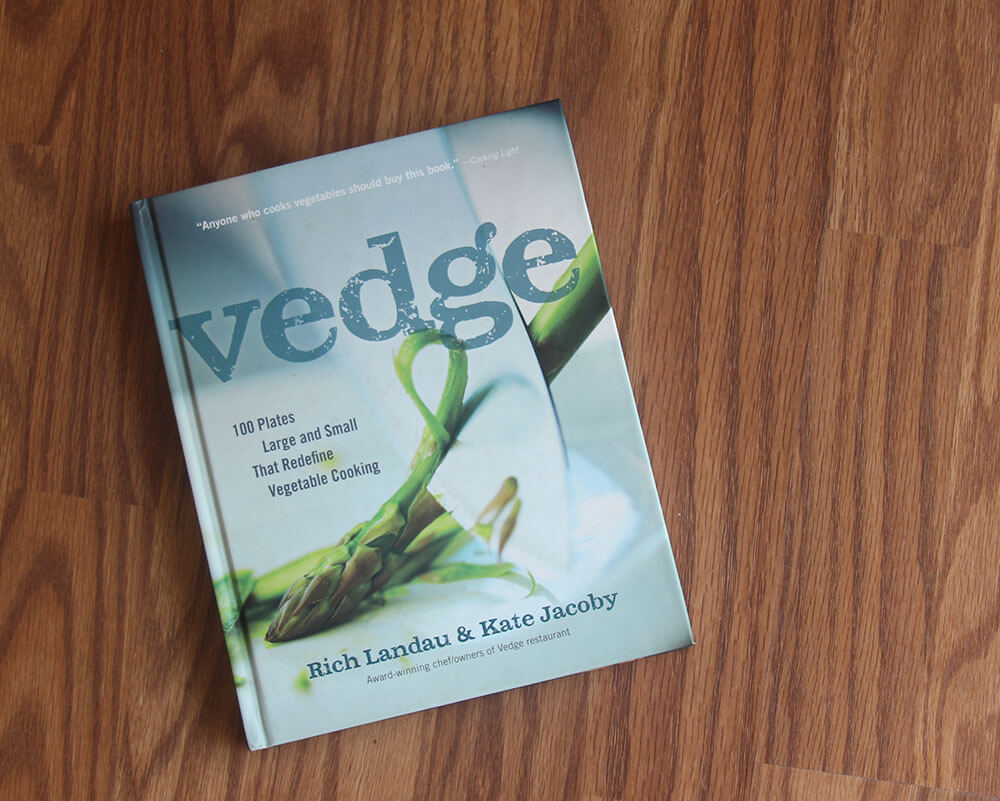 Shop on Amazon or Barnes and Noble
Most vegans know about Vedge, a fancy restaurant that all the omnivores eat at. Naturally, when a place is popular there are haters. I've herd people complain that the food is too salty, tastes burnt, or too hippy-dippy (yup, that was said about the book at least.) But when I went, I only have wonderful things to say.
That said, I've always been a little intimidated about this book. It sat on my shelf forever, and I am pretty sure it was gifted to me by my Mother in Law, otherwise I think I would of felt it would be too fancy for me. But once we went to Vedge, my husband demanded a birthday dinner made completely from this book. *sigh* So I made some food from it, and it wasn't so hard. So I made even more from the book and here we are now with this review. So let's go!
Photos
The photos in this book are beautiful. They are done by Michael Spain-Smith- who has a few shots on his website. The photos show shots of food and the restaurant itself, heck even some shots of the food within the restaurant (you know, as if it was being served to someone.) I am a little sad that there aren't more shots of the plated foods. This is suppose to be high end food, and the visuals are an important aspect. It would be nice to have an idea of how to serve the dish. The authors say to use your imagination, and because of this I don't demand the recipe to match the photos perfectly. For example the recipe for the breakfast radishes show chunks of avocado when the recipe tells you mash them up.
Set-up
A fairly typical setup- an into by Joe Yonan (because the authors are now famous enough for someone to write about them), then an introduction from the authors, and some "before you cook" tips. Overall I like how quick and to the point the authors are. It doesn't take long to get into the recipes, and they do stress the importance of fresh ingredients, and basic cooking skills. I didn't like their chapter on pantry essentials. It felt a little pointless, and dumb, it would be nice if they ditched it.
They divide up the recipes into 6 categories- Small bites and small plates, Soups and stews, The dirt list, Plates (aka mains), Desserts and baked goods, and finally Cocktails. This is KIND-OF how they set it up at the restaurant. Small bites and small plates I guess are normally listed as their vedge bar. They are usually things you could get with a drink at a fancy cocktail bar, or as they suggest in the book something like tapas. The dirt list tends to be cooked veggies, something that resembles a side dish. I find that this category there is a very thin line to the Plates (aka mains) category, which is listed as "The Grill" on the menu. The mains tend to be a little heartier and more umami. But it is pretty hard to figure out the difference in my opinion. The organization is so arbitrary. There is a stew listed under plates- even though there is a soup and stews chapter. Luckily they are pretty on topic for the cocktails and desserts. No confusion there.
Writing
I like the writing, it is quick to the point but very informative. The instructions are pretty simple for the recipes, which feels a little odd since we are talking about a fancy pants restaurant. Although it doesn't give massive clues to a perfectly charred pepper, I think it makes the recipes a lot more accessable. I easily read this book now that I've made a few of the recipes, and it feels really easy to tackle on 3 recipes at once. At the very least one recipe that I serve with leftovers.
Overview
The recipes really need to be tried out before anyone dismisses this cookbook. I've read some reviews on Goodreads, half say how much they love it, and other half usually poo-poos recipes without actually trying them out. I will admit, there are some pretty crazy sounding things, especially in the desserts. A sweet potato and cabbge dessert? An apple wardof salad sweet?!
But just with following the few recipes that I have made, it has given me more confidence in the kitchen with more unusual vegetables. I now have a better idea what I would like to do with radishes. I don't feel like I have to keep layering flavors to get something that tastes good.
But when you have a cookbook that has such spectacular recipes, but maybe not other inspirational, educational aspects, you need to deliver on the recipes. I found that almost every single vegetable dish needed more time in the oven. Period. There is no mistaking "just cooked" with "not cooked." I had to add as little as 3 minutes, but sometimes as much as 20 minutes. It happened so often I didn't bother adding the notes in the recipe reviews. I also felt there was a little sparse detail on what to look for in cooking, I would have to give 4 out of 5 stars for this cookbook. If the devil is in the details, give me all the details please.
The Recipes
As always, I give reviews for individual recipes. If I am able to find the recipe online with a publisher approved website, I'll link it. I think it is a great way to "test out" a cookbook before buying it. The next best thing is checking it out from the library.