Ever made a recipe and have it be so awful that you had to revisit it again? This happens to me often. A recipe is floating around with some great flavor back bones. You think they should have a perfect flavor combo but it just lacks basic cooking know how. This happened with some pumpkin black bean burgers. The recipe was made by a non-vegan, and clearly didn't know how to bind together the burgers. In their defense, they were probably also trying to avoid grains.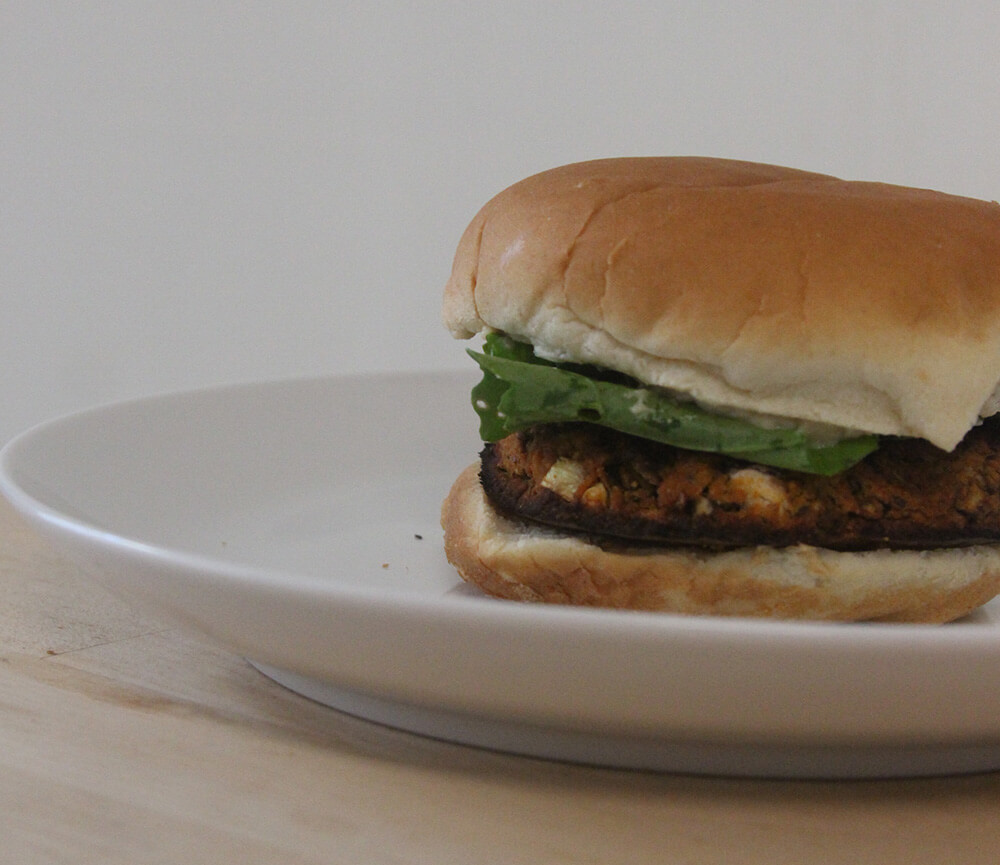 So when Vegan MOFO did the prompt asking what my "easy cook" meal would be, the answer was frozen burgers. But I know it would of been pretty boring if I pulled out some existing burger from my freezer and slapped it on a bun. So it gave me the chance to make a much better tasting pumpkin black bean burger.
When given the chance I ALWAYS try and bake my burgers. Why? It makes freezing much easier. It also makes grilling much easier. I can just grab a few burgers from my freezer and hand them to a host of a BBQ. People will always ask how to "grill" it, and I just say load up on oil, and heat all the way through. You can also toss these guys back in the oven, or just flip them in a small skillet. Heck sometimes these burgers make their way crumbled on a salad or in a wrap (did you check out my WIAW yesterday?).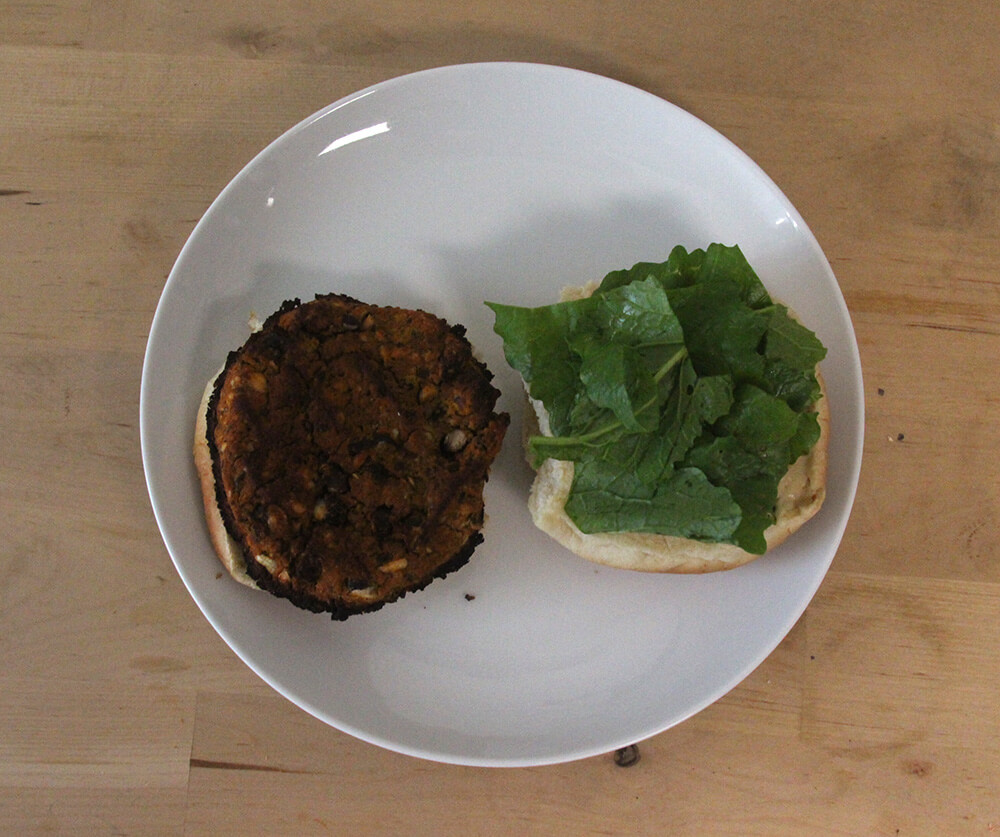 This recipe specifically makes A LOT. I mean 8 on the low end if you like big thick burgers, 12 if you like small burgers for those store bought bagged hamburger buns. I am a firm believer that if you are using a food processor, you might as fill that bad boy up since it takes up so much space on the drying rack.
Now that I have baby on the way, these burgers will get eaten for sure. There will be too many nights where I won't want to or don't have the time cook.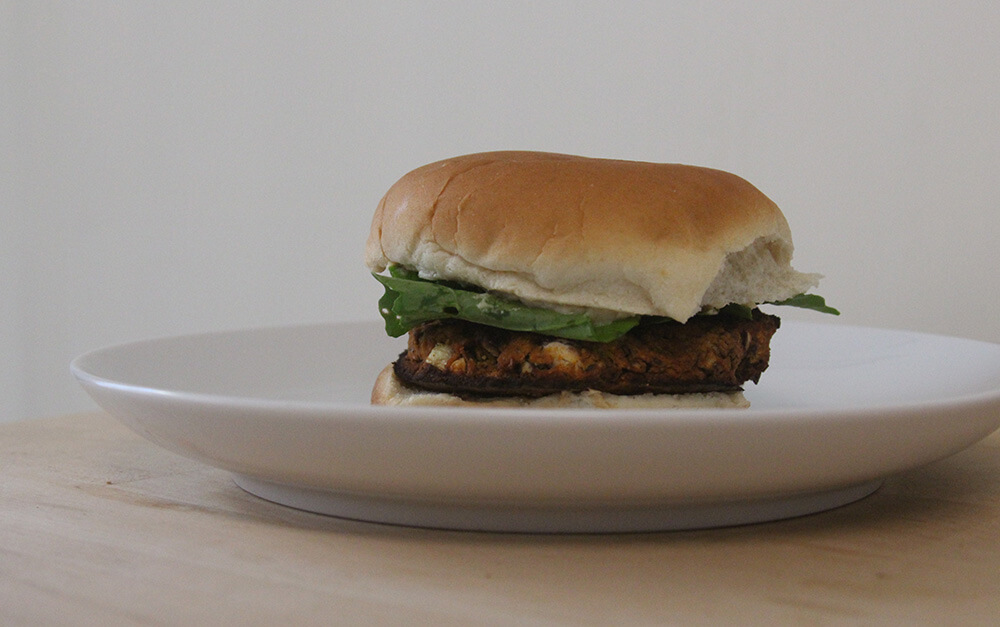 Curious about some nutritional information? Well I happened to plug the recipe in Cronometer and I am happy to report these burgers are pretty good for the body (and soul). Remember these numbers are for if you divide the recipe up into 11 patties, so if you get 8 patties the numbers per burger will be higher. I got 7 grams of protein in that small patty, 5 grams of fat (with 37% of your omega-3!), and 27 grams of carbs (with 8 grams of fiber.)
I just screencapped the nutritional values for people see. And if you are thinking that isn't that many, it just gives you more reason to eat a second burger, or make a double stacked pattie! I mean we haven't even added the nutritional values from the lettuce, tomato, onions, hummus, bun, or whatever your imagination can think of the dress up that burger.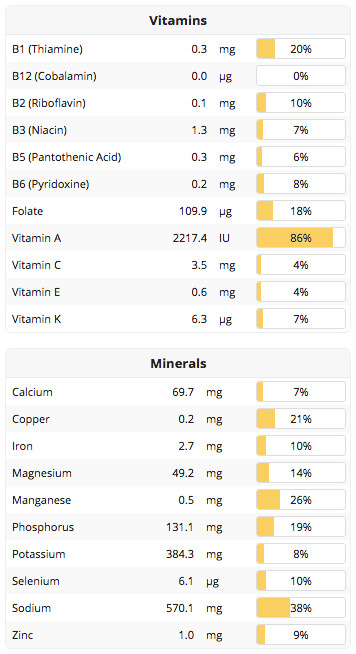 Pumpkin Black Bean Burgers
2016-10-31 12:28:48
a BIG batch of vegan bean burgers to eat a little that night, and freeze the rest for later
Ingredients
1 1/2 cups pumpkin puree
2 small onions
4-6 cloves of garlic
1 tsp paprika
1 tbsp cumin
2 tsp salt
2 tbsp ground flax seed
2 cups large stale bread crumbs
4 cups black beans
Instructions
1 Preheat the oven to 450°F
2 In a food processor, combine all the ingredients except for the black beans. Puree until everything is well mixed together.
3 Add the black beans and pulse in. You may need to scrape down often. You some beans to stay intact for texture.
4 Line 2 baking sheets with silpat liners or parchment paper. Form patties. Shape the patties for the size buns you will be using. You may get only 8 patties, or you may get as many as 12. I got 11.
5 Bake the patties for 20 minutes. Take them out of the oven and very carefully flip. You should have no problem if you are using a silpat liner, but if using parchment paper, you might have some breaking. Place back in the oven for 15 minutes.
6 Once baking is done, serve the burgers on a bun with whatever condiments and veggies you want. I ate mine with garlic hummus and radish greens.
7 To freeze, let the burgers cool to room temperature. Place in a freeze bag and toss in the freezer. To reheat you can either heat them up in the oven, or on a frying pan. Add oil to avoid a dry patty.
One Raw Bite https://one-sonic-bite.com/