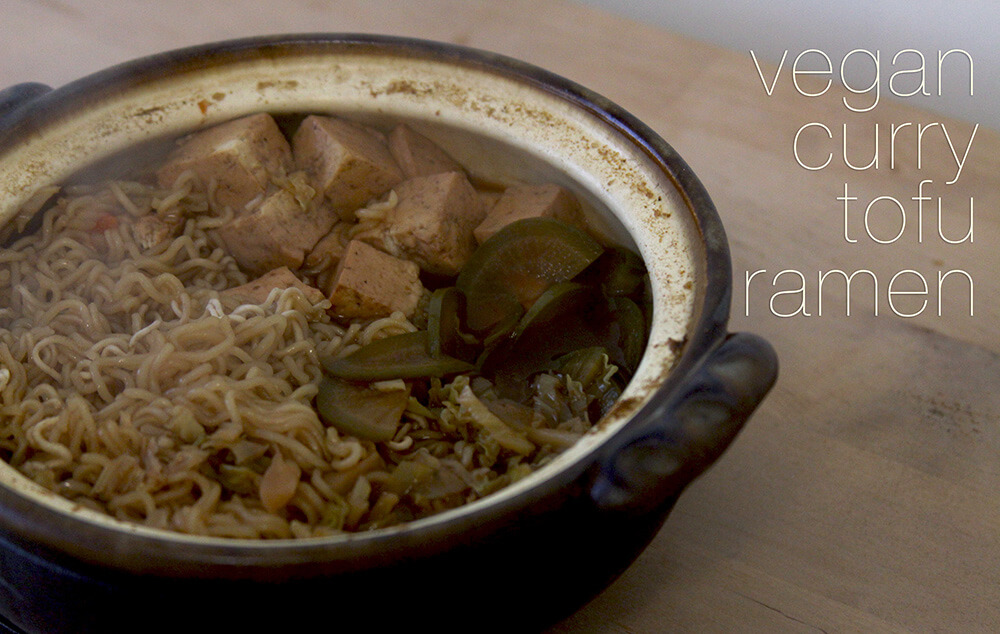 It has been awhile since I've posted a recipe on the blog. I guess I needed a break from Vegan MOFO, where I posted a whopping 14 recipes, that is almost a new recipe every other day! And there is the holidays where I get a little scared of breaking out the new recipes and try to stick with the classics. And I really haven't been feeling like cooking as of late. I think my new house set up seems like such a bigger commitment to either be in the kitchen or be on the computer. In the old apartment the computer was so close to the kitchen I could hear if something would overflow and hear timers, etc. Now the computer is on the second floor, and I just get anxious that something bad would happen.
But before I talk about this hot pot, can I stop and talk about mourning someone who died awhile ago? Last night I noticed that my husband has been really preoccupied, and more stressed than normal. Sure work might of been really crazy, but something seemed different. Turned out he found out one of the girls he dated in high school died, but it happened several months ago and he was just finding out.
I know this can suck, and can happen often in smaller town. It has happened to me, with my friend Pete. We were friends senior year of high school and he wanted to hang out during our breaks during college, but I was sadly in another state and couldn't hang out. I made some comment about his brother with Alexa, then proceeded to ask about Pete. She was dumbfounded and told me he past away, like 2 years ago. Nobody mentioned it to me because everyone thought someone else told me.
It was weird, because I couldn't really talk to many people about it, because everyone already knew for such a long time. They had already passed the different grieving phases, so I was kind-of left alone with my feelings. I felt terrible for not being able to go to the funeral, not being able to hang out when we could of, and I felt bad for his brother, who under the circumstances of the death, felt responsible. Where do you turn? Luckily I could talk to Alexa about it, and I had a friend in my area who actually went to college with Pete, and also thought I knew about the death. So it we talked about awesome he was.
For my husband this girl got his by a car while running, so maybe it hit him on a closer level since we both go running. So now I am a little nervous what my next run will do to his nerves. But it is bound to happen. I don't know, it is such a weird feeling about finding out someone passed away so long after it happened, it can feel embarrassing and isolating on top of all the feeling you get from mourning.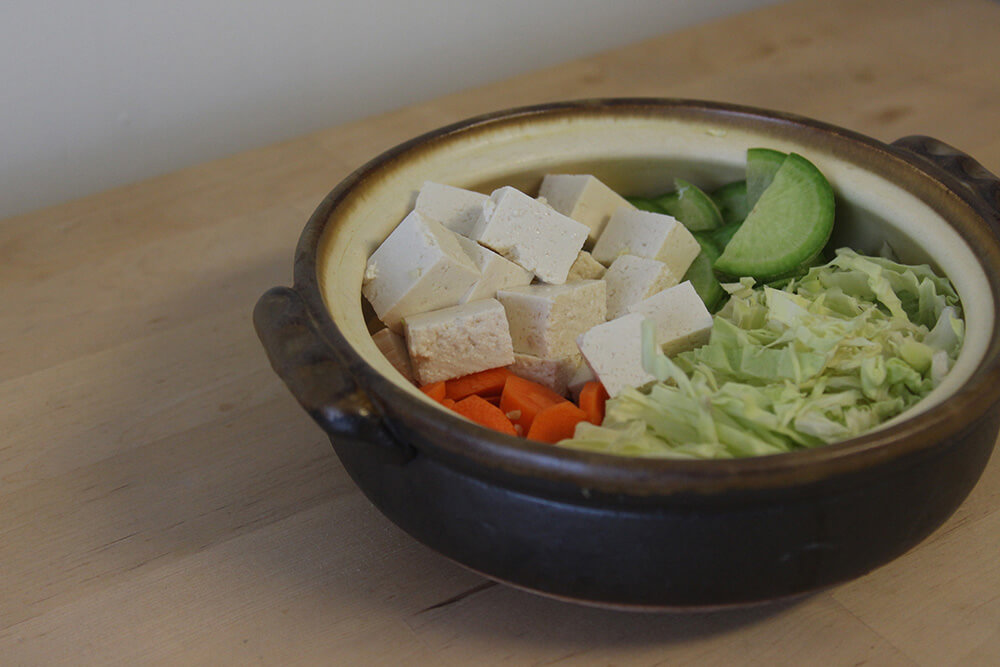 But this post is about soup, so we will change the topic. This curry hot pot is one of my favorite weeknight dinners. It is super simple to make, and probably only need 10 minutes of prep time. Just chop, add broth, and boil. No sautéing, or prepping the protein. And even better, it is super easy to customize! That can be great when your partner doesn't totally jive with your palette. In this case it is my husband not wanting his soup as spicy as mine. And if they don't want tofu, it is easy to sauté some meat or faux meat for them. One wants a gluten-free diet? Use some other noodle (I've tried bean noodles, it is bitchin)
It is worth noting the star of this recipe are individual hot pots. It was something I never bought because I thought it was silly and maybe a waste of money. It went on a wishlist for our wedding, and my sister and brother in law bought them for us. I mean it is an expensive item- $36 a pot, and you need to buy TWO for a couple. But I can safely say this is the greatest thing for two people living with each other. It is nice to have our own bowls for own meals. I've already posted recipes for dolsot bibimbap and mushroom hot pots with these pots. Again, this made it so I could have my super spicy bibimbap, while my husband could have his whimpy version. If you in a serious relationship and living with your significant other, I totally recommend buying them. You get the satisfaction of making what you want but sharing a similar experience.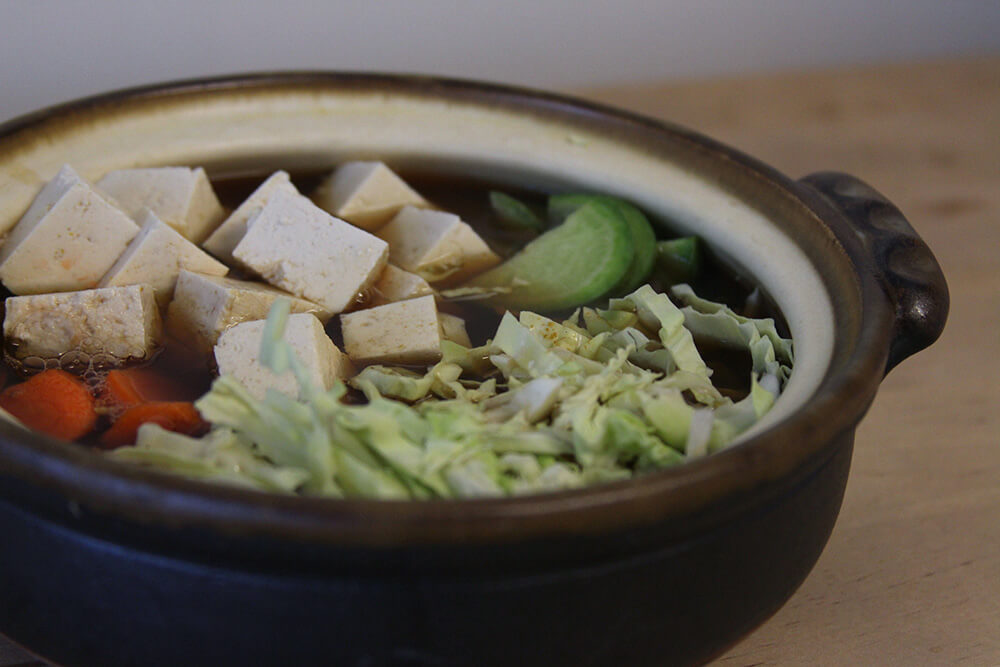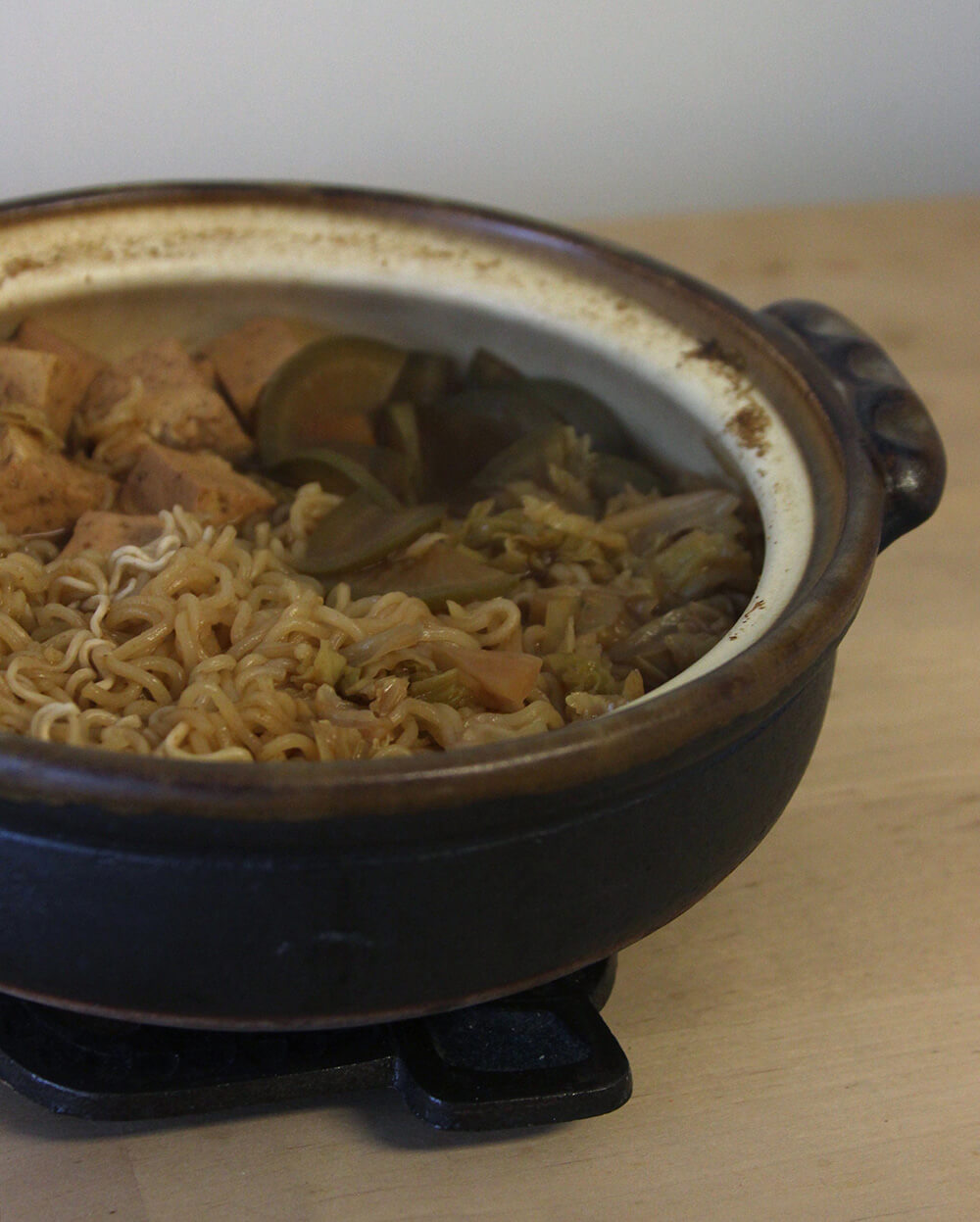 Keeping with the idea of customizing, this recipe is super flexible. I posted what I made in these photos, but I've switched around the ingredients. I've made this with seitan sausage instead of tofu, grilling the seitan and adding it in with the ramen. I switched noodles, switched the veggies (using sautéd onions, raw celery, potatoes, etc), this is a forgiving recipe. If you are thinking of different veggies to use, I usually use winter vegetables that last long in the fridge. Celery, radish, root veggies, cabbage, nappa, green onions, carrots, heck try out some beets. Go crazy. That is what I love about hot pots. Super simple stuff here.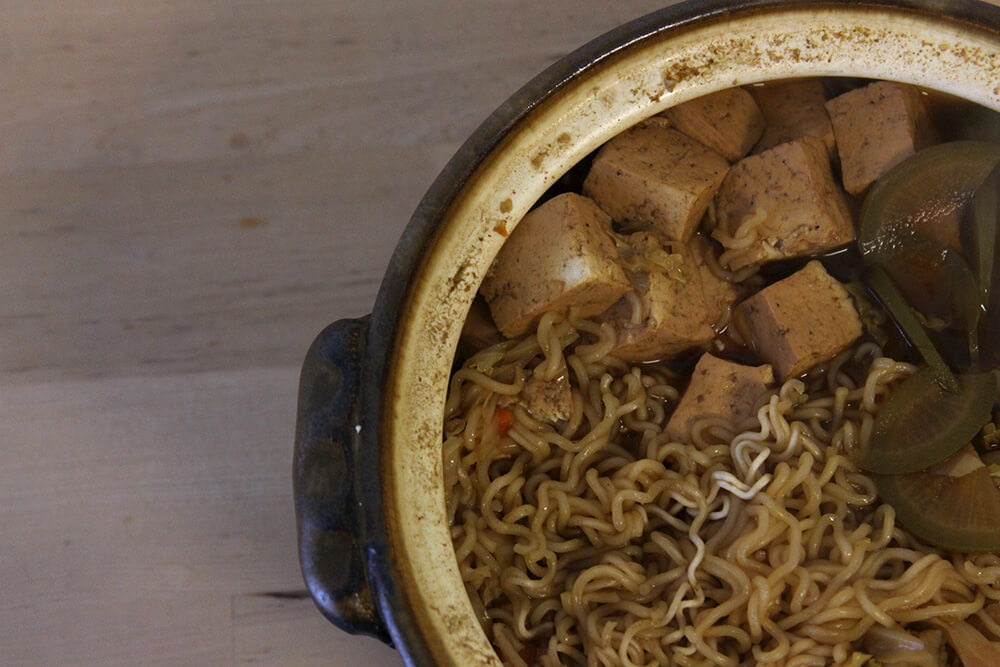 If you are wondering where to get vegan ramen there are a few places. Some of the style of mainstream American ramen (oriental and chili) are vegan, and you can just toss the flavor packets. But that seems a little wasteful, but easy to find at your local supermarket. There is an organic all vegan ramen line called Koyo Natural Foods. They sell organic ramen noodles that are plain and have no flavoring. They also sell packets with powders, but I think my hot pot packs more flavor. Your next bet is to check out an Asian Market and look down their aisles. Look under the noodles aisle, ramen package aisle, and refrigerated sections. Read ingredients as egg can be a common ingredient in some of the fresh noodles. I found a package of noodles that came in round dried blocks, and came in one bag. So it saved money and packaging. Once you find a ramen source, you will likely go nuts for it.
Vegan Curry Tofu Ramen
2016-01-29 17:29:56
Serves 1
A quick vegan hot pot recipe that will be done in 30-40 minutes. This makes one serving, you can double the recipe and put it in a larger pot.
Ingredients
1 carrot - peeled & sliced at 45 degree angled rounds
1 quarter of a radish - sliced into quartered circles
2-3 cabbage leaves - thinly sliced/shredded
1/4 block of tofu - cubed
2 tbsp sake or mirin
3 tbsp soy sauce
1 tsp sugar/sweetener of choice
1/2-1 tsp curry powder
1 tbsp minced ginger
2 cups vegetable stock
1 block of ramen*
Instructions
1 In a single serving hot pot arrange your carrot, radish, cabbage, and tofu.**
2 In a separate bowl or measuring cup, mix together the sake/mirin, soy sauce, sweetener, curry powder, ginger, and stock. Stir to roughly mix. Pour the broth over your veggies and tofu.**
3 Place your hot pot on the stove, and turn burner on full heat. Bring the broth to a boil. Cover the pot, and lower heat to low. Simmer for 20 minutes.
4 After twenty minutes, add the ramen to the pot. Try your best to submerge the ramen in the broth, cover, and simmer for 5 minutes.
5 Remove lid and serve hot pot. Make sure you put a hot plate between the hot pot and your table when eating.
Notes
* Feel free to use any type of noodle. I used wheat ramen noodles that I bought from an asian food market. But I have made this recipe using bean noodles. Just adjust cooking time in the last step if the noodles need more than 5 minutes to cook.
** Steps 1 and 2 are pretty much to make a pretty pot. If you don't care, just toss everything in the hot pot at once. Everything will mix together perfectly fine.
One Raw Bite https://one-sonic-bite.com/