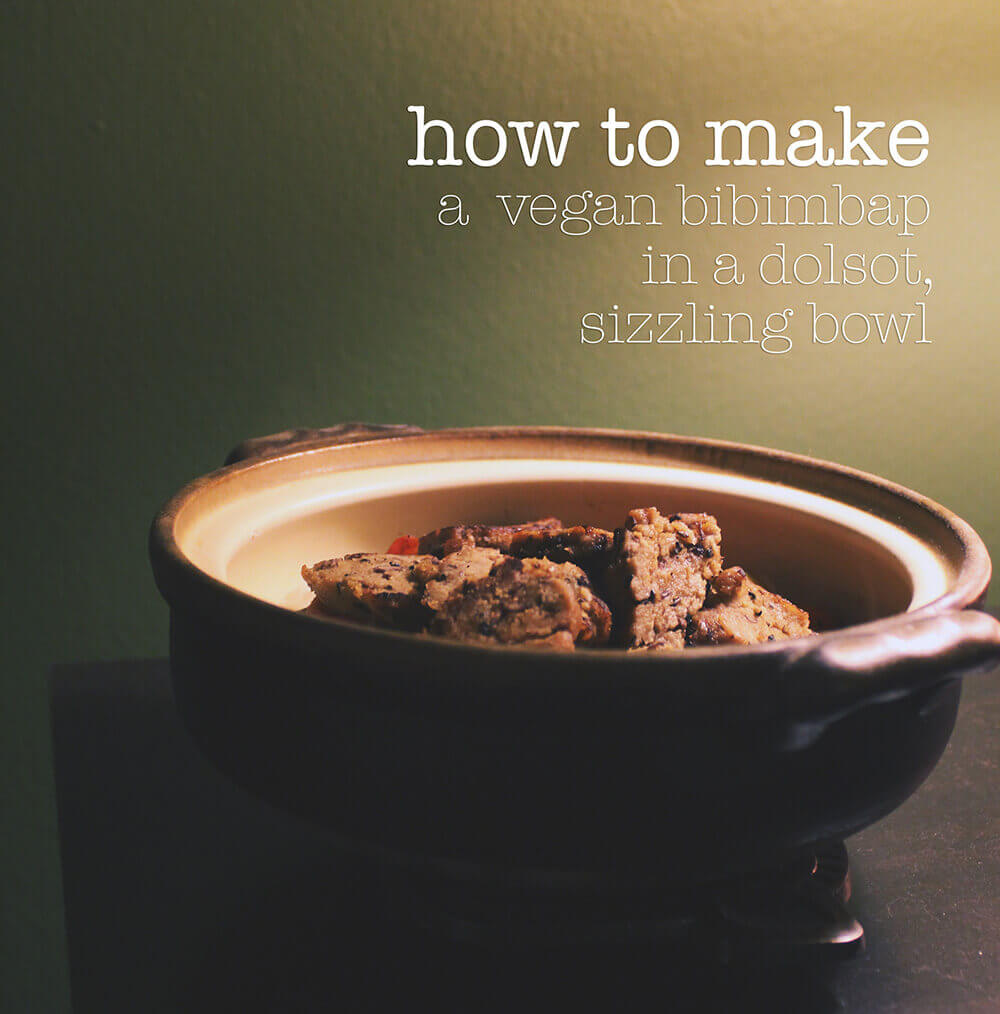 I've probably passed by hundreds of bibimbap recipes on blogs. And can you blame people? Bibimbap is super easy to make. It is also the father of the "vegan bowl." Think about it- the grain (rice), the veggies, greens (spinach, kimchi), protein (traditionally egg or meat), and a sauce (gochujang). An authentic bibimbap uses up various "namul," or veggie side dishes. Plop on some rice, dress with side dishes, give a protein, and plop on some gochujang. Your dinner is done.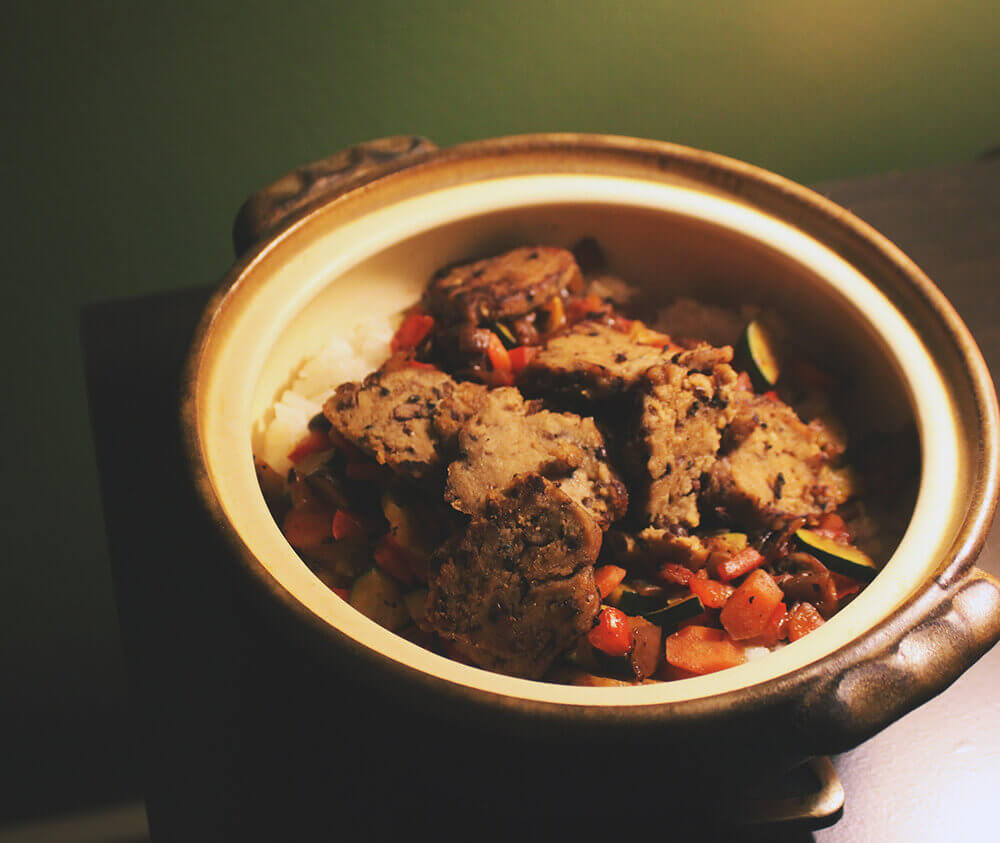 But if you actually go to a Korean restaurant and order a bowl, you might not have the beautiful bowls you can find on google. You might get a bowl where all the veggies and protein are all sautéed together. This is an easier method when making the dish at home. Though the traditional style is a great way to use up leftovers from a big Korean style dinner.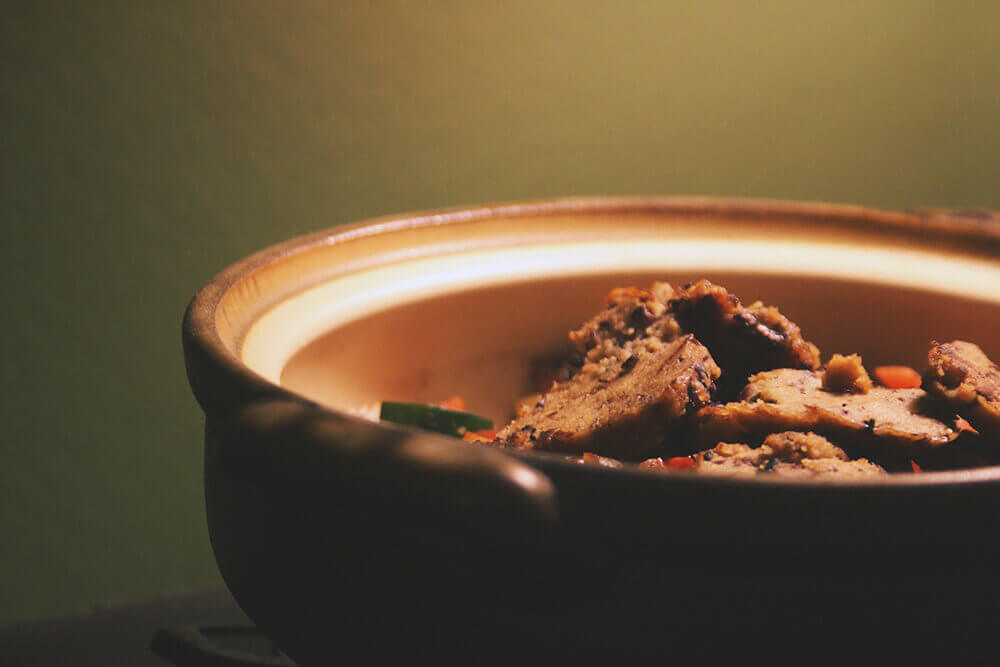 But one of the secrets I will teach you is how to make bibimbap in a dolsot. Dolsot is the Korean word for a stone pot, and many styles are available online. I personally use my nabe, a Japanese styled hot pot, which is sized for one serving. The biggest difference between the two styles is that a dolsots come with a tray to carry it with so you don't burn yourself. If you use a stone pot, you will get a yummy crispiness to bottom of the rice. It is easy to burn and takes practice, so be patient.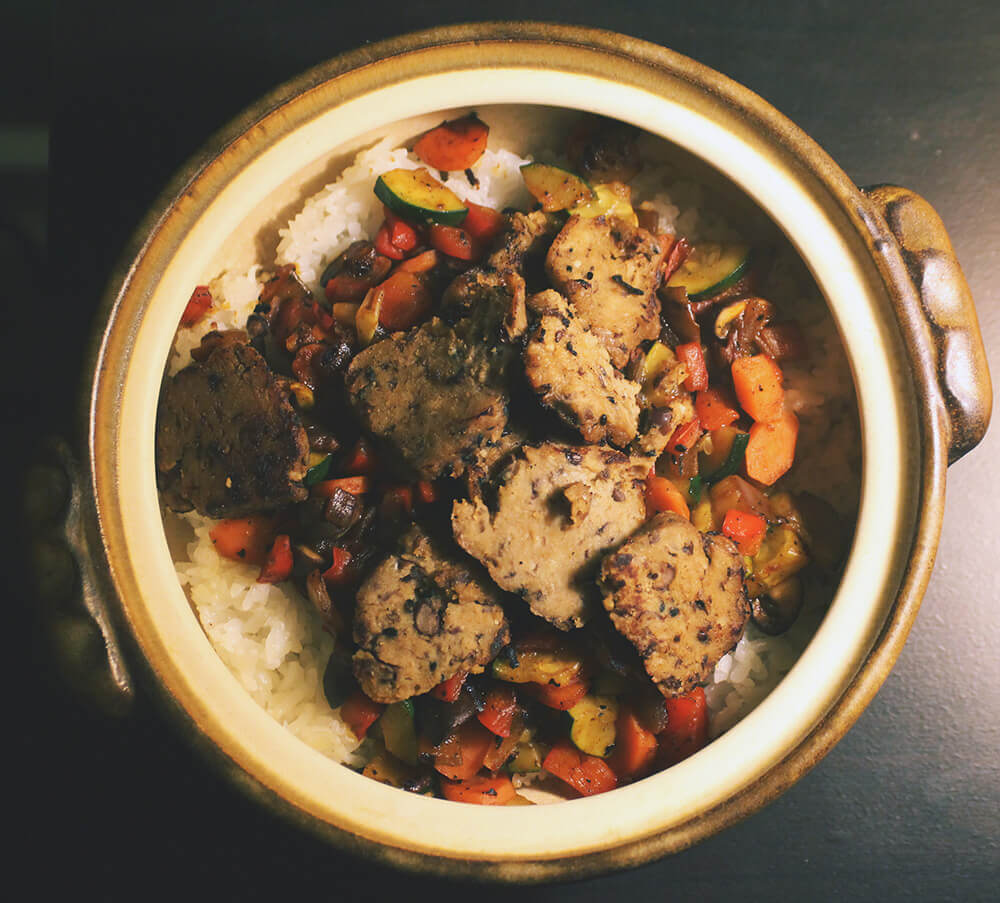 The beauty of bibimbap is that is simply translates into mixed rice. So it is flexible with ingredients. Don't want seitan? No problem, use tofu or beans. Don't like carrots? Just skip them. Don't want gochujang? You can use miso or doenjang. The key is to use fresh and cheap ingredients.
Vegan Bibimbap in a Stone Pot
2015-02-16 07:48:36
Serves 2
How to make a mixed rice bowl in a dolsot, getting that yummy crunchy rice on the bottom of the pot.
Ingredients
1 cup short grained rice
1 1/3 cup water
1 small onion diced
1 large carrot, cut 1/4 in on a diagonal
1 small bell pepper diced
1 small zucchini 1/4 inch quarter moons
4 oz mushrooms cut into quarters
2 tsp to 2 tbsp gochujang*
1/2 cup water or vegetable stock
Instructions
1 Put the rice in a mesh strainer and run water through until it comes out clear. Add the rice in a pot with water. Turn heat on high until the water starts to boil. Put the lid on the pot and lower heat to low. Cook for 12 minutes. Once the time is up, turn the heat off, and leave the lid on for at least 10 minutes.
2 While the rice is cooking slice your seitan sausage in thin rounds. Heat a small frying pan with olive oil and lightly cook the seitan until edges are browned and crispy, about 5 minutes. Set the seitan off to the side.
3 Chop and divide you veggies, you will cook eat veggie at different stages in the same pan. Keep the onion together, carrot and bell pepper together, and then zucchini and mushrooms together. In another bowl whisk together the gochujang and stock.
4 In the same pan as the seitan, add more oil to the pan. Once heated, add the onion and saute for 3 minutes, when the onions start to soften. Add the carrot and bell pepper and saute for another 3 minutes. Add the mushrooms and zucchini stirring for one minute. Add the gochujang-stock mix and mix in. Cook until the sauce cooks down and thickens.
5 While the veggies are cooking in the gochujang sauce, take the dolsot/stone pots and put on burners. Turn heat on high for 5 minutes, with nothing in them. Turn heat down to medium.
6 Once the stone pots are hot, and all sides are done cooking you will add your food. Divide the rice in half between the two pots. You should hear some sizzling as you add them. Patting down the rice is fine if you need to spread it out. Add the veggies, dividing them between the two pots. Then add the seitan on top, dividing it between the bowls.
7 Cook the bowls for about 2-3 minutes. If you smell cooking rice, TURN OFF THE HEAT! You bowls will continue to cook even when removed from heat. Serve and enjoy.
Notes
* If you are sensitive to heat use only 2 teaspoons. If you have two people eating with different heat preferences first cook the veggies for the minimum heat desired. Divide the cooked veggies in half, putting the first batch in one bowl, and keeping the other half in the pan. Add any extra gochujang and stir before putting the rest in a second bowl.
One Raw Bite https://one-sonic-bite.com/