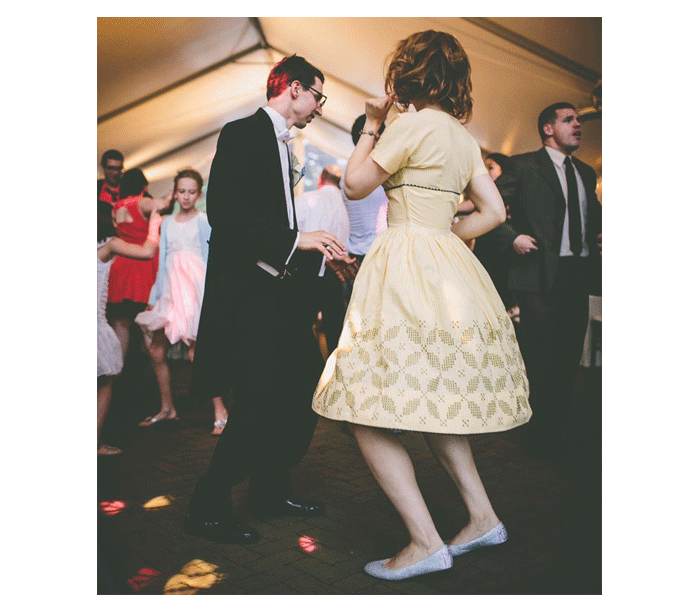 This is my first wedding anniversary. I am pretty excited,, and I am celebrating with the hubby with lots of hiking (which will be posted later this week). I had worked 12 days in a row right up until this anniversary and felt pretty burned out. It is quite surreal to think that it has already been an entire year. And looking back, I have so many fond memories. I know my wedding was featured on A Practical Wedding, but I figured I should share more details and photos for my readers.
Giving you guys a heads up- this will be pretty image heavy….
My vintage dress came from Millcrest Vintage. I have to say it was one of the smartest things I could have done. The dress was PERFECT for me. I mean PERFECT! I altered nothing. Everyone at the store quickly picked up on my style, and found a great headpiece of flowers that wrapped around my ears. I used my Mother In Law's veil from her wedding and stitched it into the headpiece. It was so nice to give a dress a second life and have a veil that was already part of my family's history.
My bridesmaid Justine folded these beautiful origami flowers for my bouquet as well the bridesmaids'. I am beyond impressed with the intricate designs and how much time she devoted to them.Each flower took about 8 minutes to fold, and I think there were at least 8 in the bridesmaid bouquets… I can't remember how many were in mine. We then used some ferns and baby's breath to fill them in. So much thanks Justine!
Alexa was my Maid of Honor. She went above and beyond for this wedding. She also listened to endless night about wedding/family drama when Jon was tired of listening to me. Funny story, Alexa almost DID crash a car on the way to the rehearsal dinner. It isn't her fault though, I almost made the same wrong turn as she did once.
My mother embroidered our wedding ring box (which is now a bobbin pin holder). I specifically asked for a stumpwork design, which she hasn't done in years. She'll point out how "sloppy" the stitch-work is, but I can barely see anything. Our rings were custom made from Bario-Neal. I LOVE them. They were so helpful with us especially with my husband who, like most men, haven't put much thought into jewelry. Although the style of the rings are different, we created a match by using rose and yellow gold combos.
We got married at our CSA. We joked about getting married there even before we Jon and I got engaged. Fernbrook Farms means a lot to us. Jon's parents have had a share in the CSA for several years now. Jon first brought me here during some summer weekends when we were still in college. We've been going with his parents for several years, but we never purchased our own share. But the year we got married was also the first year we got a share, and we picked up our first bunch of veggies the week after our honeymoon.
We've gotten a lot of compliments on our ceremony. We aren't religious people so we struggled a bit with ceremony structure. But Jon majored in screenwriting so I figured I would let him tackle on the ceremony readings. In the end, he used the ceremony text as an opportunity to quote Woody Allen and Bruce Lee. Jon's mother also read a touching passage from The Prophet by Kahlil Gibran, which was also read during her wedding ceremony.
Jon wanted us to write our own vows, but we were so busy that we didn't get to write them until the night before. (Oh and Alexa didn't write her speech until the night before either. What a terrible Maid of Honor! Or does that mean I was a bad bride?) Jon endlessly hassled me, "Are you going to be able to read your handwriting? You're not going to mess this up?" Sure enough, when we were at the alter and after Jon flawlessly read his heartfelt vows, it was my turn. I looked down at my cards and I started to read but couldn't finish the first word…it was all jumbled. My mind went into a panic… Jon's half serious nagging concerns came true. I stammered through a few words and just hoped that it would eventually come out right.
It did. It all worked out. Everyone told me how endearing it was seeing me get all choked up. They must not have realized that while I was trying so hard to squeeze out some words, I accidentally squeezed out some gas. Lesson learned: It's "endearing" to have nervous toots.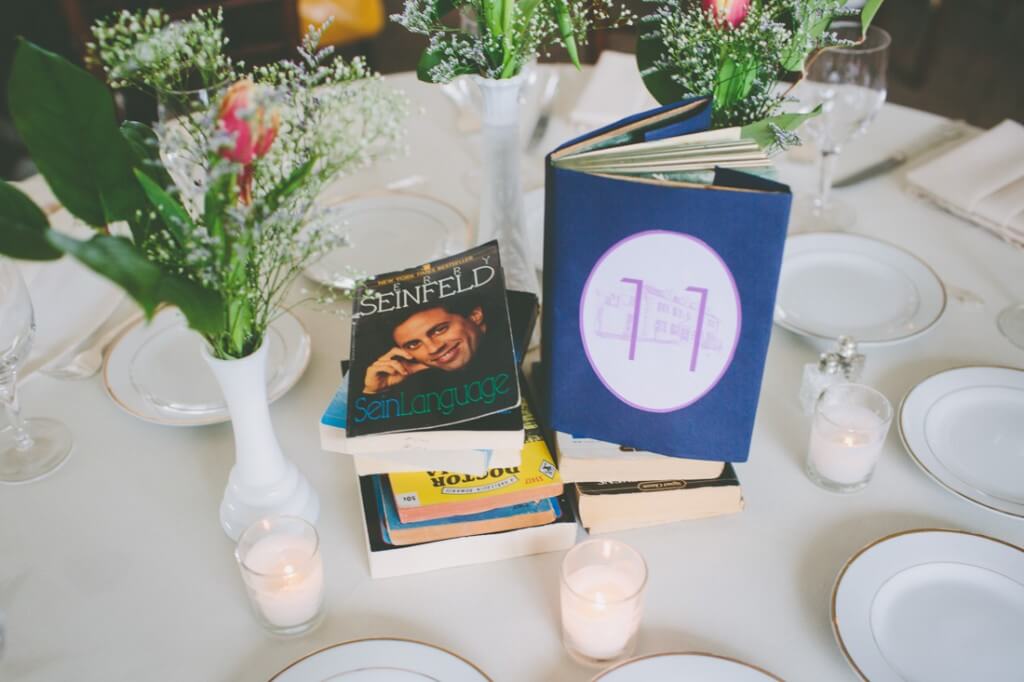 I hate the idea of party favors. No one cares. Hell I am already paying for YOUR food, so why should I give you more stuff? Well the idea of buying used crap to give our guests was the perfect compromise. Jon and I love storytelling so we scoured several library book sale and came home with bags of books. In the end, we got to support a local library and hopefully get a few people to read a book.
Not everyone took a book, but we got great feedback. My friend Mandi was excited to pick up SeinLanguage. Alexa had a pokebook fight, and some people left with stacks of books. What did we do with the leftovers? Some we kept for ourselves, and the rest was donated back to the library in hopes that they'll be able to sell them once again to new readers.
Jon didn't want to see my dress before the wedding, which I found terribly annoying. So I said I wanted him to pick out his suit and not tell me before the wedding. I gave a few suggestions of styles that were popular, but he picked out a very traditional white tie style tux. How dapper.
I cannot stress how amazing our Photographer Katch was. She brought Ted, who was equally awesome. (that's him photobombing his own wedding job) They took so many great candid photos. When we met up I said to take whatever felt natural. As an artist I didn't want to "force" any artist's creativity. By the end of the wedding I had a sudden rush of "OMG! She didn't take a photo of this, there won't be enough photos!" I was very wrong. Katch was a little photo-ninja sneaking around taking amazing picture of personal moments like that photo of Jon and me practicing our first dance.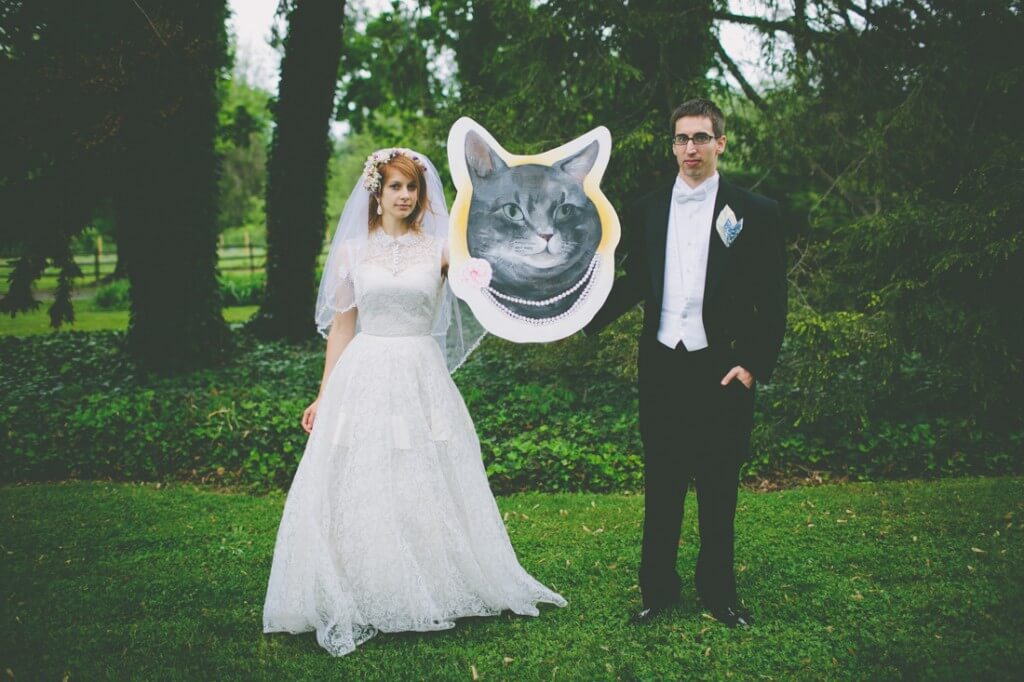 We love our cat Toulouse and wanted her to be part of our wedding. It began as a joke, but then we had Alexa sketch out the cat on a plywood board. Jon's father cut out and sanded the cat head. And we asked our groomsman Ian to paint her. He is an awesome painter and perfectly captured her personality. We placed her in front of the entrance with a sign guiding guests to their seats. She became our honorary usher. After the wedding we hung her up above our bed.
Seeing as this is a food blog, I guess I should mention the food we served at the wedding. Man, a lot of thought went into it! I was starting to be a strict vegan again, and we had several guests with food allergies. We sat down and thought about who would eat what and whether it would be enough. The solution was to feature two food stations: one with South American foods and one with Asian foods. Although we had meat kabobs, we also offered vegetarian sushi and vegetable dumplings.
We went a bit nuts on the desserts. We weren't interested in having one boring cake. So, we had four cakes: 1 gluten-free vanilla, 1 chocolate stout, 1 blueberry velvet (We used this for our cake cutting ceremony), and 1 banana chocolate cake. And in addition to all that, we also had an ice-cream and milkshake bar. There were so many options that some people missed out on the ice-cream bar and wished they could go back and have some. We also made sure to include lots of craft beers (Smuttynose and River Horse to name a few) and some cocktails (whiskey sours and cosmos). There was wine too but who cares?
At one point before the cake-cutting ceremony, a guest pulled me aside and told me the blueberry velvet cake was collapsing. I panicked, but then I figured why not just wheel it out with the bad side in the back so it wouldn't face the guests? Simple as that. We bumped up the cake slicing sooner than expected and busted that bad boy open. It is a great way to sum up the mood of the wedding. I was more concerned about having a good time than appearances.
This was the first time I really saw Jon dance. I guess that is just how much joy he felt from the wedding. I switched into my reception dress from Ruby Chic Boutique and hair piece from Flair. We danced and drank and had a good time. There were lottery ticket bouquet and garters tossed (Ali won $5, that's like a free subway ride!), pants were ripped, gangnam style was rocked, and we piddled in style.
The best part was that the wedding party all rented rooms for the night at the Inn on the farm. We didn't have to worry about cleaning up before leaving, sobering up before driving, or forgetting anything. We all talked several hours after the reception, and went to bed. We all woke up the next day at the Inn and had brunch together, then packed up.
I think the biggest lesson learned was to try not to over-think your wedding. People have asked me about party favors, guestbooks, and many many small details. And they may be nice, but I learned it is best to just ignore and let go of some of the small things if you just don't care. Details are fun, they make weddings fun and pretty, but in the end people will forget them.
Everyone remembers our heartfelt ceremony, our awesome food, my excellent dancing skills and my ability to sing the non-english lyrics of Gangnam Style. We both have so many stories and memories about our wedding day that I can't possibly share. Seriously this post is already way too long.
I love my husband and I am happy to spend the rest of my life with him.