March 26, 2018
I might be a little immature, as I find anything with the word "balls" a little funny. But they are all over the world, everyone in different countries take food and roll them into round shapes. Here are just a few vegan recipes I get a go. These are purely ones that are savory, not sweet. Those will be saved for another recipe round up.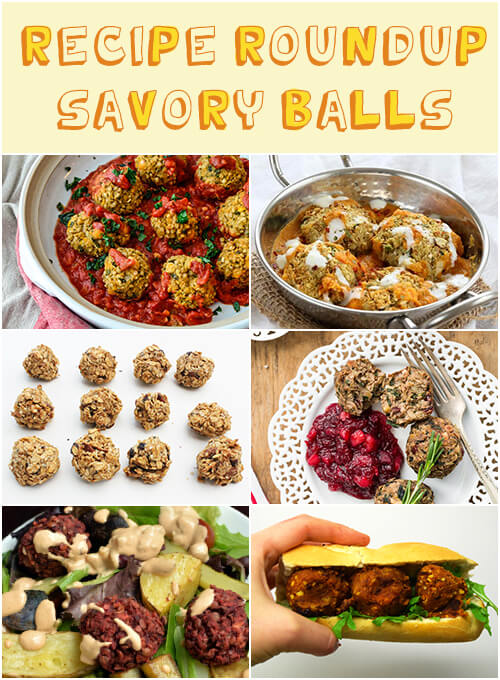 I saw this recipe and thought- I have a lot of turnip in my fridge- this recipe will be great! Sort-of. Lets talk about prep before the taste. The recipe calls for 4 cups grated turnip, claiming one smallish-medium turnip would yield that much… WHAT?! I grated probably 8-9 turnips (mind you I made a double batch) and tried to lightly fill the measuring cup, and ended up taking away a whole cup of turnip from the recipe (half a cup for the a non-double batch) This drives me nuts! Please include weights! So people can have a better idea if they are using about the right amount.
Then the recipe has a lot of steps. Cook some buckwheat, cook onion, then turnips, then mix, roll, and bake. I spent probably an hour in the afternoon getting the mix all ready. I feel like you probably could of used buckwheat flour and saved lots of time.
So what about the taste? Well, if these were the most amazing veggie balls, I might be okay with all this work. They weren't. They were just okay. Not bad, not great, but still tasty. Yeah I used up so much turnip, and freed up a lot of space in my fridge (thank goodness) but I wouldn't make these again because of time.
Bottom Line: Not bad, but a lot of work
File this under "WHY DIDN'T THIS WORK?!" Flavors were perfect. The sauce was amazing, and there was some leftovers that I used for leftover naan pizzas. But the kofta balls just were not staying together. The cabbage fell apart in the sauce, and I think they just needed something more to bind them together. Maybe even deep frying them? I would gladly make the creamy tomato sauce again for curry styled pizzas though.
Bottom Line: Big Thumbs Down
What I love about these Miso Tahini Oat Balls is that they aren't a "dinner" sort of ball like a meatball, or protein replacement. These are made for mid-day snacking, which is great since most mid-day snacks revolve around sugar. It gets very annoying after awhile, and the savory snacks are usually heavy on salt and fat (hello potato chips!)
Hands down Lacy NAILED these! Everything is well portioned and doesn't use too much of any specific ingredient, which is nice since most are kind-of pricey. The time it took to make them is low, like maybe 10 minutes of mixing, grinding, and rolling, and bake time takes as long as it would for cupcakes.
The downfall is that the balls are a little crumbly, which isn't the end of the world. Next time I might try making these in a large brownie pan and cutting them into a bars. This might make a little bit less of a mess and make it easy to pack for on the go. I wouldn't change a thing.
Bottom Line: These are a great snack food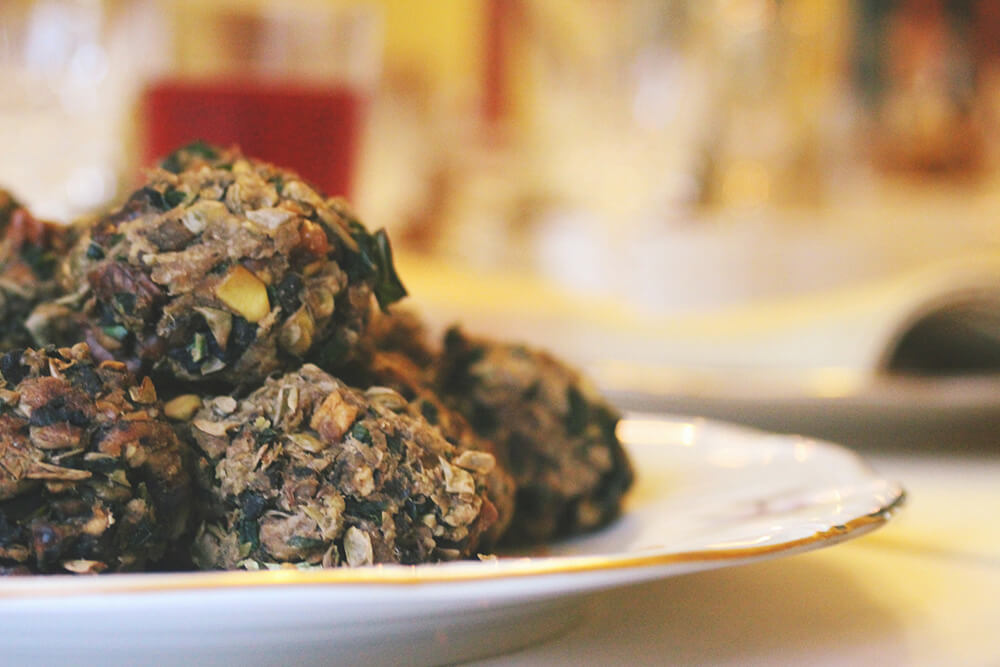 These lentil mushroom balls were a recommendation from the Oh She Glows website as a good Thanksgiving dish. I figured that these would be a good protein for my dinner. The balls weren't particularly hard to make, but took a good bit of time to finely chop the mushrooms, greens, and pre-cook some of the food.
The end result is delicious, but didn't travel well to a dinner. To reheat the balls became dried out. Looking back, I probably would of made these balls far in advance and freeze them. Somehow I think the freezing process would keep the moisture in the balls.
Bottom Line: Eat right away, time consuming
This was a yummy flavor combo but I had a little trouble with the beet balls. They were very delicate, but that might of been because my lentils didn't cook all the way with the instructions provided. I am wondering if a soften lentil would of resulted in a better ball?
I think my husband just wanted to have beet burgers and fries, but I kind-of liked the salad combo. Maybe because it means more dressing? Maybe because I just want more lettuce? Who knows. It is a great way to satisfy a burger craving when you know you need to cram in a few more veggies in your meal.
Bottom Line: Delicate balls, yummy combo
I saw these kidney bean koftas on Vegan MOFO, and it is worth starting out that the theme was "zombie apocalypse" aka cook with what you have at home. So this recipe first got me thinking "she should of had this sauce" or "it would taste great with this." But that isn't the point of the recipe. The point is give a base to your meal to work around.
These came together really easily. I technically used dried beans that I cooked up, so not in the last minute put it together spirit. But whatever. It was a long day, I didn't even think I would make dinner, but I figured I would see how much I could get done before Wolfie freaked out. I GOT IT ALL DONE!
I made half a batch with half the curry powder and no salt for Wolfie. The other half I adding the salt and the rest of the curry. We ended up halving the size of the balls, and making sandwiches with leftover fennel slaw and chutney. It was AWESOME! I strongly suggest pairing these balls with a "wet" ingredient. A sauce, chutney, slaw, etc. Wolfie had the same idea dipping his in his yogurt and pear.
Bottom Line: Quick, yummy, baby approved. Continue reading →