November 10, 2015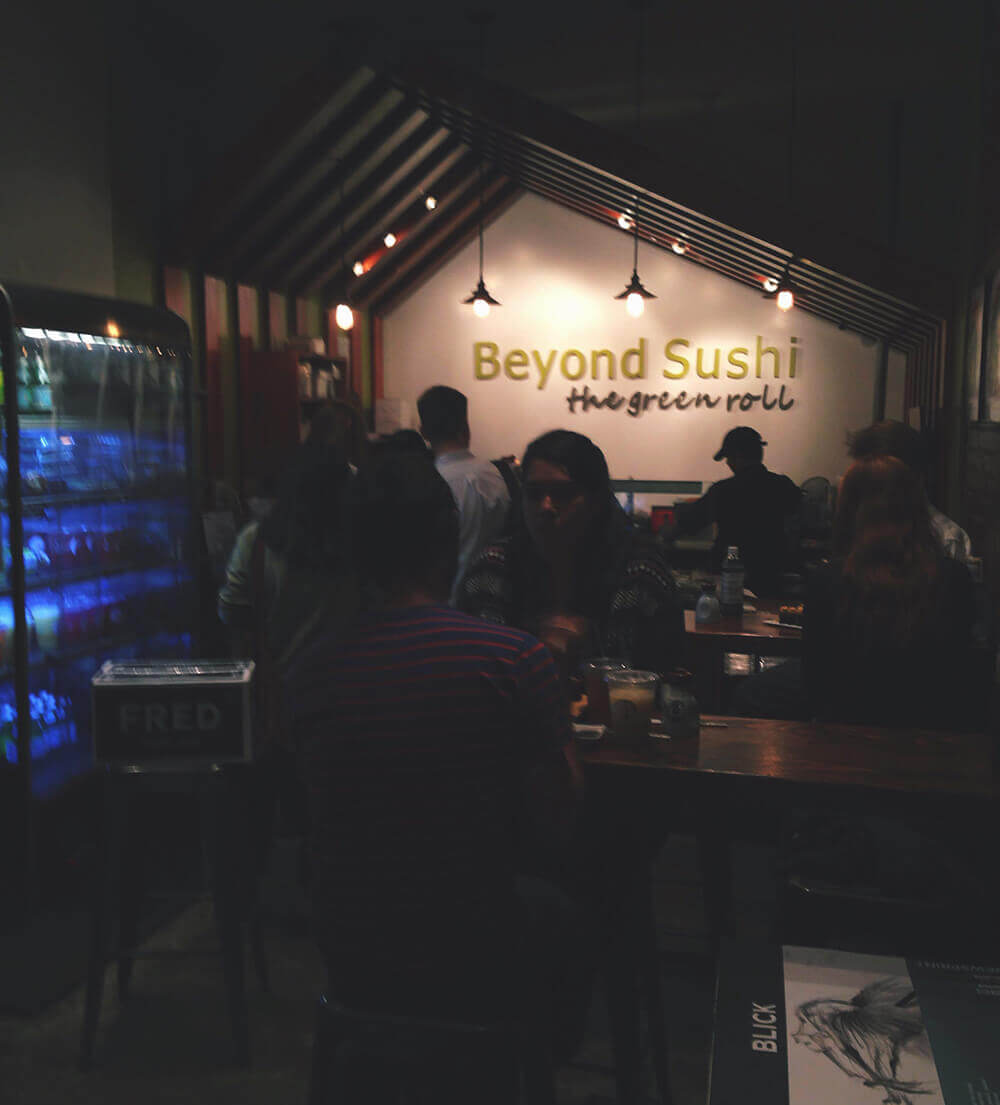 Beyond Sushi
229 E. 14th St (Between 2nd & 3rd Ave), New York, NY 10003
75 9th Ave (Between 15th & 16th St) New York, NY 10011
62 W 56th St (Between 5th & 6th Ave) New York, NY 10019
website | facebook | google+ | instagram | twitter | youtube
You may of read in one of my posts that I had a surprise concert in September. I got a call from my Father in Law asking if I was free, he bought tickets to see a concert but his wife was sick. He said he would invite my husband, but he knew that he had a particularly bad work week (apparently he didn't get home that night until 9!) So we rushed plans, caught a train into New York City, and I looked for some vegan grub for us to get. I found out the venue was really close to Beyond Sushi. I've heard of Beyond Sushi from an instagram post by Terry Hope Romero– and yeah I dug deep in the instagram archive to share that image with you.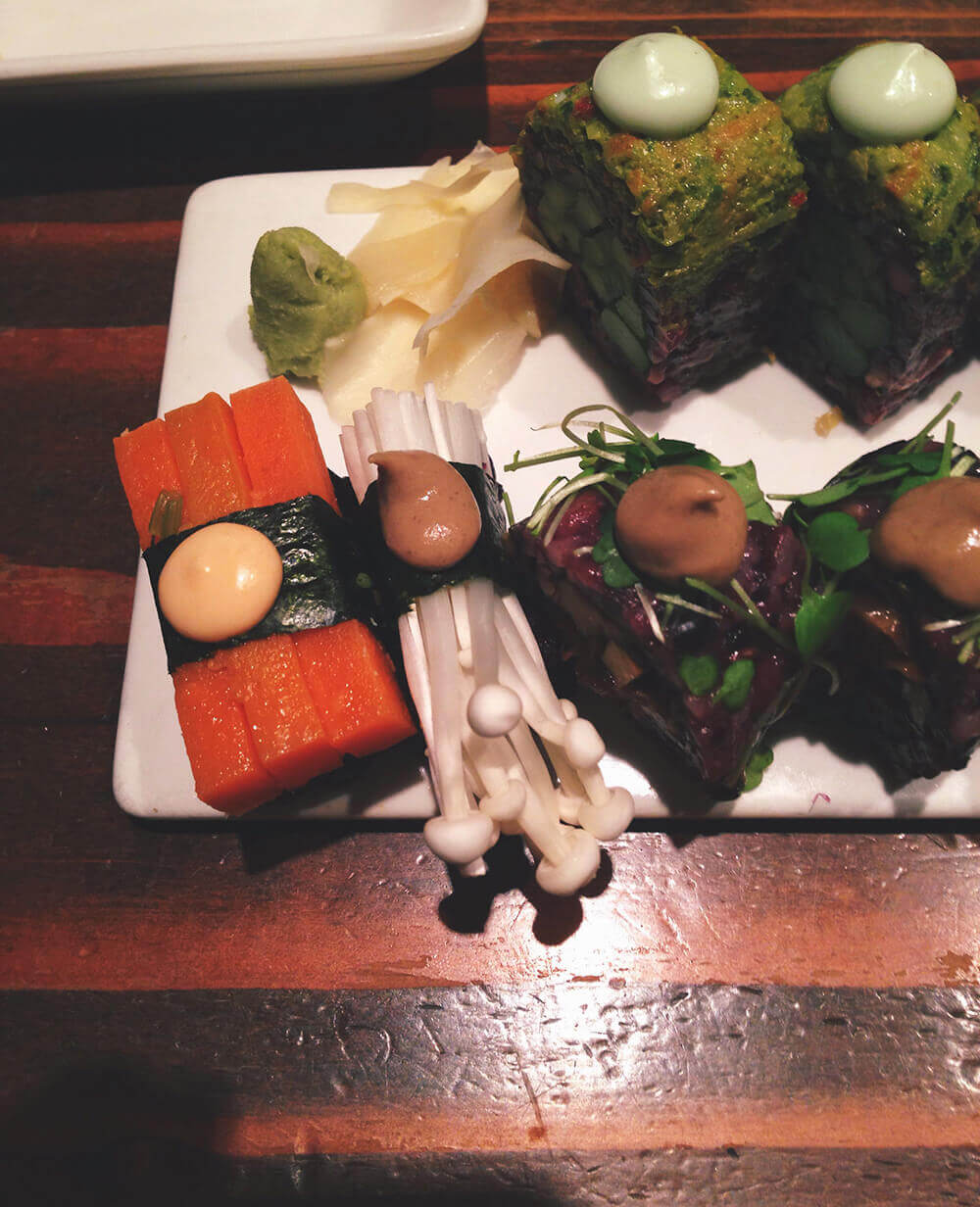 First sorry for the photos, we were kind of rushing. I am not sure why. I knew it would be awhile for the band to start, but there is still that hardwired feeling to get to the venue when the doors open. Plus I didn't want to carry an expensive camera to a show or look like weirdo with my Father in Law… though I doubt he would of cared. So you get poorly lit iPhone photos! Oh well. We decided to kind-of share our sushi and get two different combos (combo number 2, two rolls, and two a la cart/individual pieces for $14.25) We got the following rolls:
Might Mushroom: Six-grain rice – Enoki – Tofu – Shiitake – Micro arugula; Sauce: Shiitake Teriyaki
Green Machine: Six-grain rice – English cucumber – Asparagus – Basil marinated veggies; Sauce: Jalapenõ Wasabi
Spicy Mang: Black rice – Avocado – Mango – English cucumber – Spicy veggies; Sauce: Toasted Cayenne
Pickle Me: Six-grain rice – Gobo – Carrot Pickled daikon – Avocado; Sauce: Carrot Ginger
Individual Pieces: Baked Tofu, Carrot, Enoki, and Seaweed
The store also provides some other non-sushi options. They will make some rice paper wraps, ranging from about $6 to $10. There are also hand rolls, side salads, side soups, and meal salads. There were also desserts and juices that looked like they might of been made at a different site. I didn't get a good look at the company that makes them, but I assume it is another vegan shop located in New York City.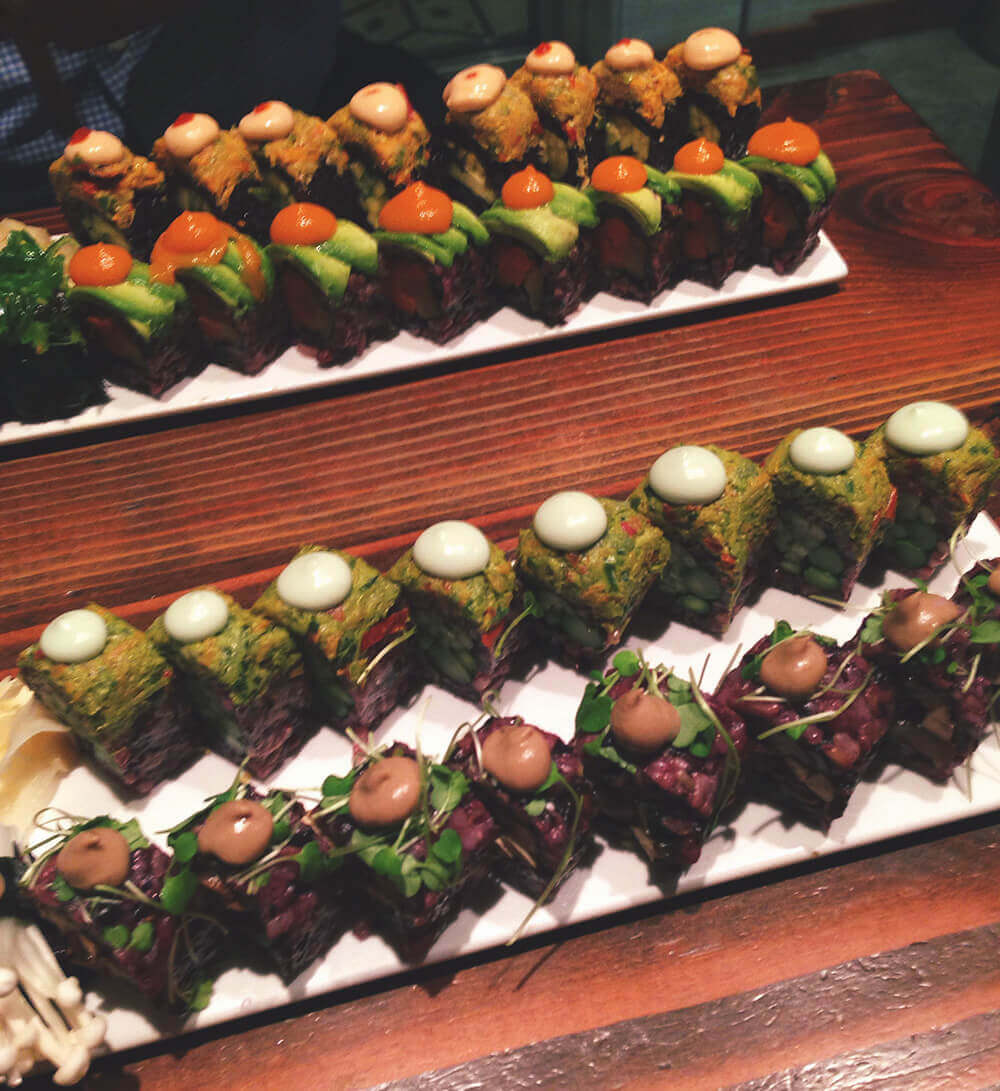 Combo number 2 was pretty filling, and I would probably get again. My FIL (father in law) didn't quite eat all of his plate, like maybe two pieces too many. I found the seaweed and baked tofu individual pieces pretty awesome, the tofu being really firm and the seaweed perfectly spiced. My FIL seemed happy with his enoki mushroom and carrot choices. His favorite overall was the Green Machine, which had nice crunchy veggies inside, and a mildly spicy topping. My favorite was the Mighty Mushroom which had lots of umami flavors and made me think of eel rolls that I use to love to eat. The spicy mang packed a nice punch, making it most comparable to spicy tuna rolls. And the pickle me was yummy, but truthfully the most unoriginal for vegans, since pickled daikon rolls are common place vegan option in sushi bars. It was still good, but if you aren't from the area, you might want to try the other rolls first.
I definitely would like to take my husband here next time we go into New York City. The place is awesome but truthfully not the most relaxing spot. We went to the Union Square location (229 E. 14th St) and it was a hole in the wall, as many of the stores are on that block. There aren't many seats, and some seasoned New Yorkers might be a little rude and take up extra space to prevent you from sharing a table (though I am sure they would just move their shit if you ask if you could sit down). I would suggest coming during off hours to grab a seat, or ordering take out, which sushi holds up well for that.