January 14, 2015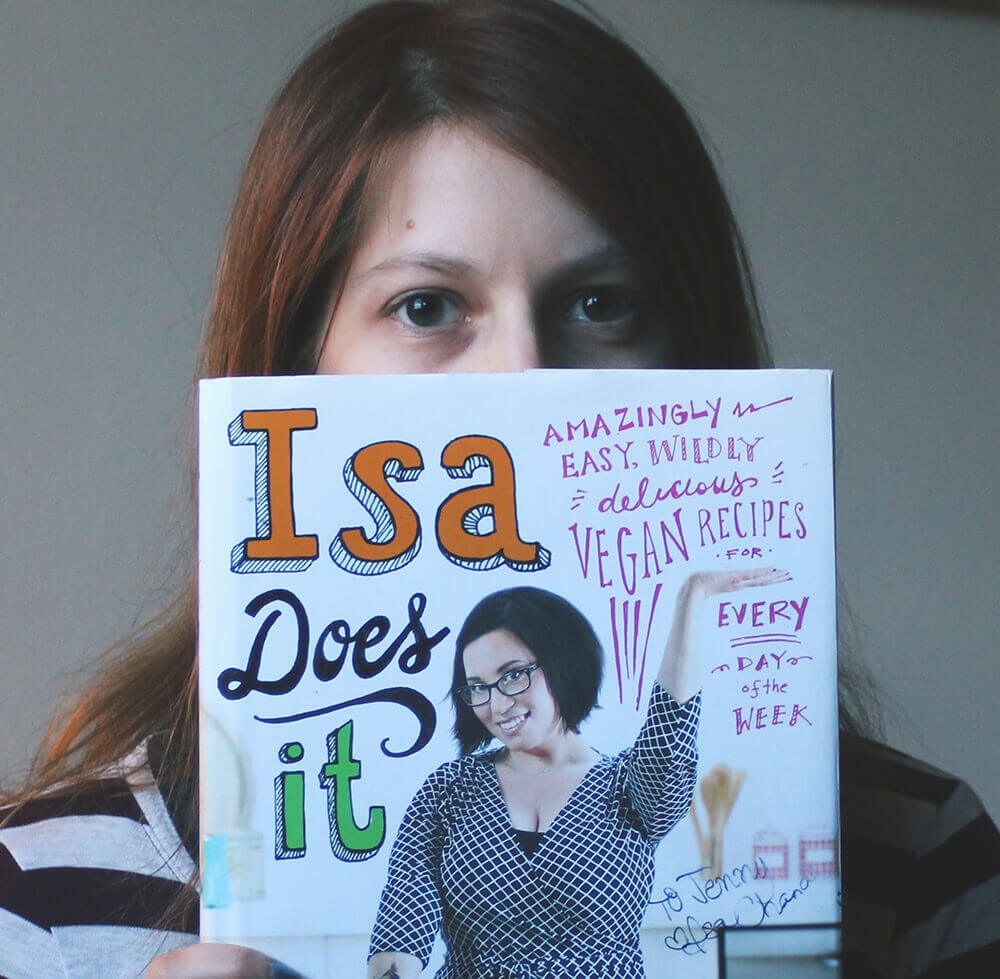 Shop on Amazon or Barnes and Noble
Isa Chandra Moskowitz is known for her decadent vegan recipes from Veganomicon and Vegan with a Vengeance. Here recipes, although delicious, sometimes would be very complicated. I would hesitate to cook anything from her books since the amount of dishes seemed intimidating. Most recipes were set up by veggies sides, a grain, and a protein. Sure the tofu would be manageable, but making the rice and the veggie side? It's all just seemed too much for two adults on a weeknight.
But then came Isa Does It. The book focuses on weeknight cooking for people who are cooking for themselves, or for two. It always felt like Veganomicon and Vegan with a Vengeance was cooking for a large family setting, or perhaps for a pot luck dinner. Isa Does It is quick and most importantly cheap. Yes, the focus on cheaper ingredients really helped me take a dive into the cookbook.
Photos
There are lots of photos in this book. I am so glad that the publishers ditched the grouped photos that appear in Veganomicon and Vegan with a Vengeance. I always find it hard to associate the recipe with the photo that way. Although there isn't a photo for each recipe, majority of the recipes are covered. It is always nice to see what Isa got compared to what I got. Nothing is more frustrating than when you find out your snickerdoodle looks totally different than your friends, even with the same recipe.
The photos are beautiful, each photo is more of a scene than just the cooked meal. Each photo has a story set up, making the reader feel like they are viewing a window into the kitchen. Ingredients line up against the wall, flour spreads out on the counter, and utensils are waiting to be picked up. Some plates are plopped in a bowl for your weeknight dinner, some are plated as if you are going to a four star restaurant.
There are even a few instructional photos of how to cut tofu and tempeh. Sure it is a pretty simple task, but it is always a good idea to try and have your food as close to the recipe as possible. You know, for consistent results. Plus, when you first start out on a vegan diet, tofu is REALLY intimidating. I mean scary.
Set-up
The book is set up to be read from beginning to end. She gives basics about how to cook, what to have, chopping your tofu, etc. It is pretty simple, not overwhelming for a newbie, but not too simplified to bore a seasoned chef. Then Isa moves to Soups, stating they are the best recipe to start when learning how to cook. They are hard to mess up, according to Isa. I would probably have to agree. Then she moves to salads, which are still pretty simple. Handheld foods are next, things like burgers and tacos, then moving to the other common dinner categories (stews, pastas, sautes, etc).
It wasn't until the last few chapters I felt a little weird. She put a chapter for Sunday Night Suppers, which to me defeat the purpose of the whole book. These recipes are more complicated, time consuming meals that are suggested for nights that you have more time to kill. Then she moves to Breakfast and Brunch which is a big carb-fest. Considering most of the book centers around dinner, it felt a little out of place, and the recipes didn't personally speak to me. Then she has a chapter for desserts, which isn't the worst. I just feel like there isn't many new recipes brought to the table since she has three different books devoted to dessert.
Writing
I was getting a little fed up, my husband kept complaining about dinner. He meant well, he would get a little bored with the dinners I picked out, and I get that. I was picking what I wanted, not what he wanted. I remember eating with his parents and getting tired of not choosing my dinners. So I handed him Isa Does It, and asked him to pick out some recipes. He read a little and came back saying how he could understand why I like Isa Chandra Moskowitz so much. He thought her writing was honest, fun, and non-judgmental.
Isa continues with her signature writing style with this book. She takes all the romanticism typically associated with food writing and pokes fun at it. My favorite example? Isa proclaimes that she created the perfect dish to eat outside on a porch, or maybe your fire escape, don't have either, just open a window and stick your head of it. Pop culture and jewish references are still overflowing out of the book.
As for errors? I think I might of read one recipe that might of skipped what to do with the salt, but nothing that would make or break a recipe.
Overview
I have to say when my husband said his one co-worker picked up this book to try and eat less meat and dairy, I couldn't think of anything better to start with. I think this out of all Isa's cookbooks give a great collection of easy to make recipes with realistic ingredients. Sure the seitan and tofu might be a little intimidating, but she provides recipes on how to make you own seitan which saves lots of cash. And even if you stay away from all seitan, tofu, and tempeh recipes you can easily find recipes to make throughout the book. Recipes that are filling, and don't need "vegan specific" foods like soy milk or faux butters.
I can safely say that this cookbook will be one I will be using over and over and over again. These recipes are perfect for everyday cooking since they are fast and use cheap ingredients. One average I don't think I would spend more than $10 overall per dish, which divides up as being fairly cheap per serving. Ingredients are flexible so it is easy to switch out ingredients (if you own a CSA) and Isa tells you how.
This is a cookbook for vegans, omnivores, beginners, or advanced chefs that are just trying to give weeknights more flavor. I would recommend people pick up this book over Veganomicon, as you will find more recipes to make in this.
Recipes
I always test some recipes from a book to give personal reviews on it. This book, I have a ton. I could blame my husband (who I told to pick things that he wanted to eat, they were almost always soup) or I could blame how relevant this book is to my life. Ingredients are cheap and recipes are fast, which made weeknight menus revolve around this book.