February 14, 2019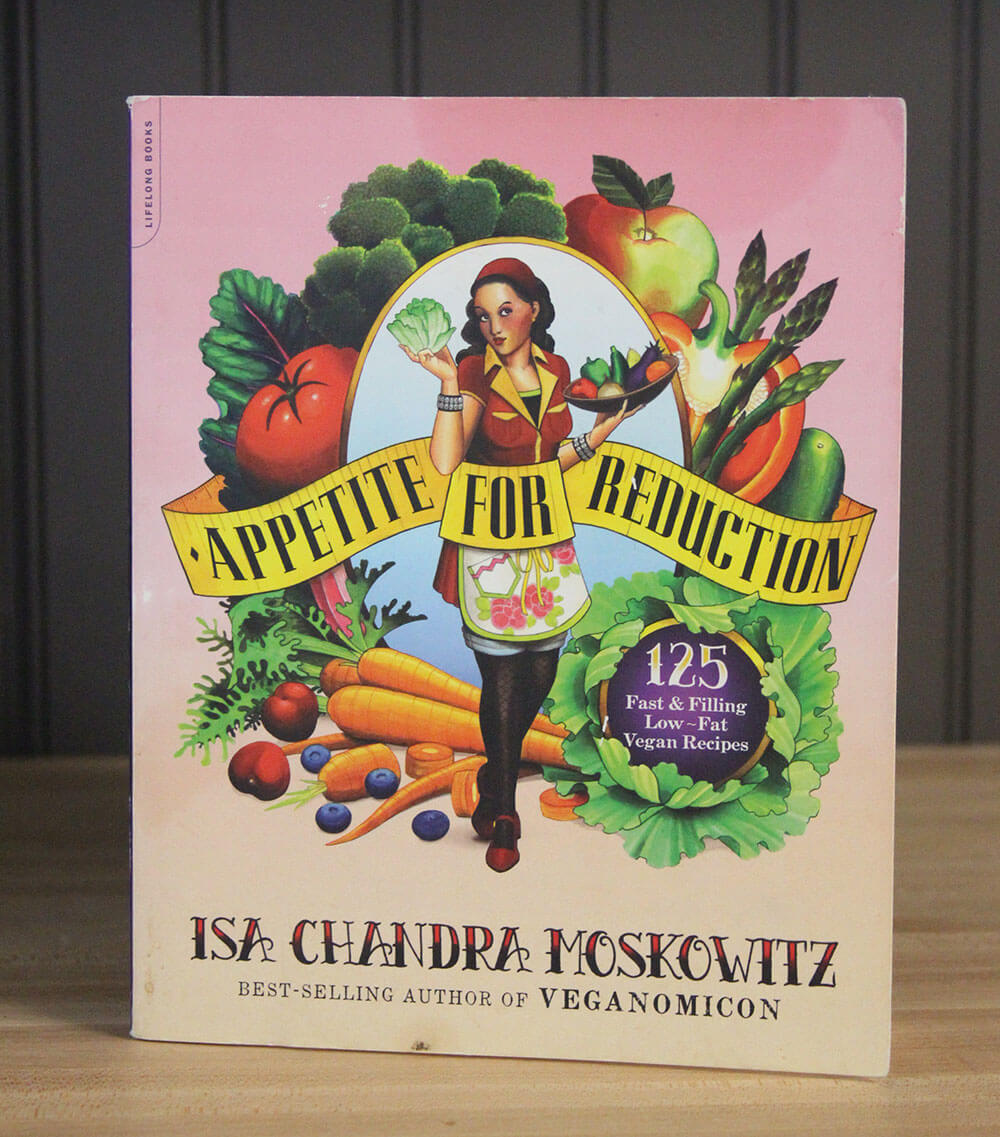 Shop on Amazon or Barnes and Noble
How did I get this far in my cookbook reviews and not do this one? I first bought it not knowing it was a "dieting" book. I jumped head first into the recipes and about few recipes into it I realized it was a low-fat, low calorie cookbook. So here I am giving the long review, but the TL:DR; it is one of my most used cookbooks that I recommend to everyone.
Photos
Biggest pitfall of this book is the lack of photos. There are a few sandwiched in the middle, which I never found particularly inspiring. I usually don't have a problem picking recipes that I want to make, they have great titles, that make it clear what to expect. But when I started to read through the book, reading each and every recipe description, I found myself making mental bookmarks of recipes I want to try when my CSA starts up. I wonder if there were photos if they would of caught my attention more. I doubt this would get a fancy reprint, but if they did, adding lots of photos I think would be AMAZING. I also noticed that there were a lot of recipes where I couldn't remember if I made them or not, which I think wouldn't of been such an issue IF there were photos.
Writing
This book has a little more writing than most books by Isa Chandra Moskowitz, at least her newer ones. She writes a lot about prepping food to be low calorie, lots of nutritional information, and great ideas for meals using the recipes in the book. For example she might suggest taking one dish and put on some pasta. Which is sad since many people would probably just gloss over these sections. As always, this book has all of Isa's usual wit, cultural references, and makes cooking seem more… blue collar? Average? I don't know what the right term is, but it definitely makes it feel like you don't need to be some thin, white, rich cis-lady to be in the kitchen.
Oh, and since it IS a dieting cookbook, I will give heads up to any types of trigger warnings. Overall I think it is VERY body positive. There are no muffin top puns, or recipes for the lowest cal cookies. Just reasonable recipes for mostly lunch and dinner. But there are calorie counters on the side of every recipe. It has some basic nutritional information, which I know can be a trigger for some people. So be warned by that. I've almost always just ignored them, so it isn't distracting if it isn't something you care about. It won't subtly discourage you from making a dish because it has too many calories (because that always happens to me when restaurants put their calorie counts on the menu)
Overview
I've read so many people say how much they love this cookbook. I think that is saying a lot since it is paperback, not as pretty as Isa's other books, not many photos, and well, a dieting book. But over and over I've heard people say they love this regardless. So I tried looking on Goodreads, and surprisingly there are people out that there don't like the book. Who knew? Why do they hate it, pretty much the recipes aren't complicated enough.
This is probably the first stepping stone to Isa Does It. Simple, easy recipes for weeknights. Not every dish needs to be rich, decadent, and primo. They can be simple and heck, you can buy that bag of pre-shredded cabbage!
So who would I recommend this book to? Someone is simply trying to eat more veggies. There are tons of recipes that use lots of veggies, and doesn't require super crazy vegan foods like nutritional yeast, fake cheese, etc. Sure you have some seitan and nooch but nothing overwhelming. I also recommend this to anyone who is trying to eat lighter, because there is one simple fact, veggies are naturally low calorie, and therefore you get to eat a lot more than on a standard american diet. I think the dishes are super yummy and are pretty easy. Plus there are plenty of ideas in the back of the book. What about someone who wants to dip their toe in vegan cooking? Well, I probably would recommend Isa Does It, over this one.
Recipes
As always, I link any recipes that are free to read and make. I try and only post online recipes that have approval of the publisher but in this case, there doesn't seem to be many. So I did post unofficial recipes, because you can easily google it yourself. I hope that seeing these recipes will inspire you to go out and BUY the book, because honestly, it is one of my favorites.
Oh and a quick note- the calorie counts in this book are pretty darn close. Some recipes I tracked for dieting reasons, and the number more or less matched the book. There was only one pasta dish that was off by 100 calories. I am not sure if it was a typo or what. But if that is a concern, there you go.