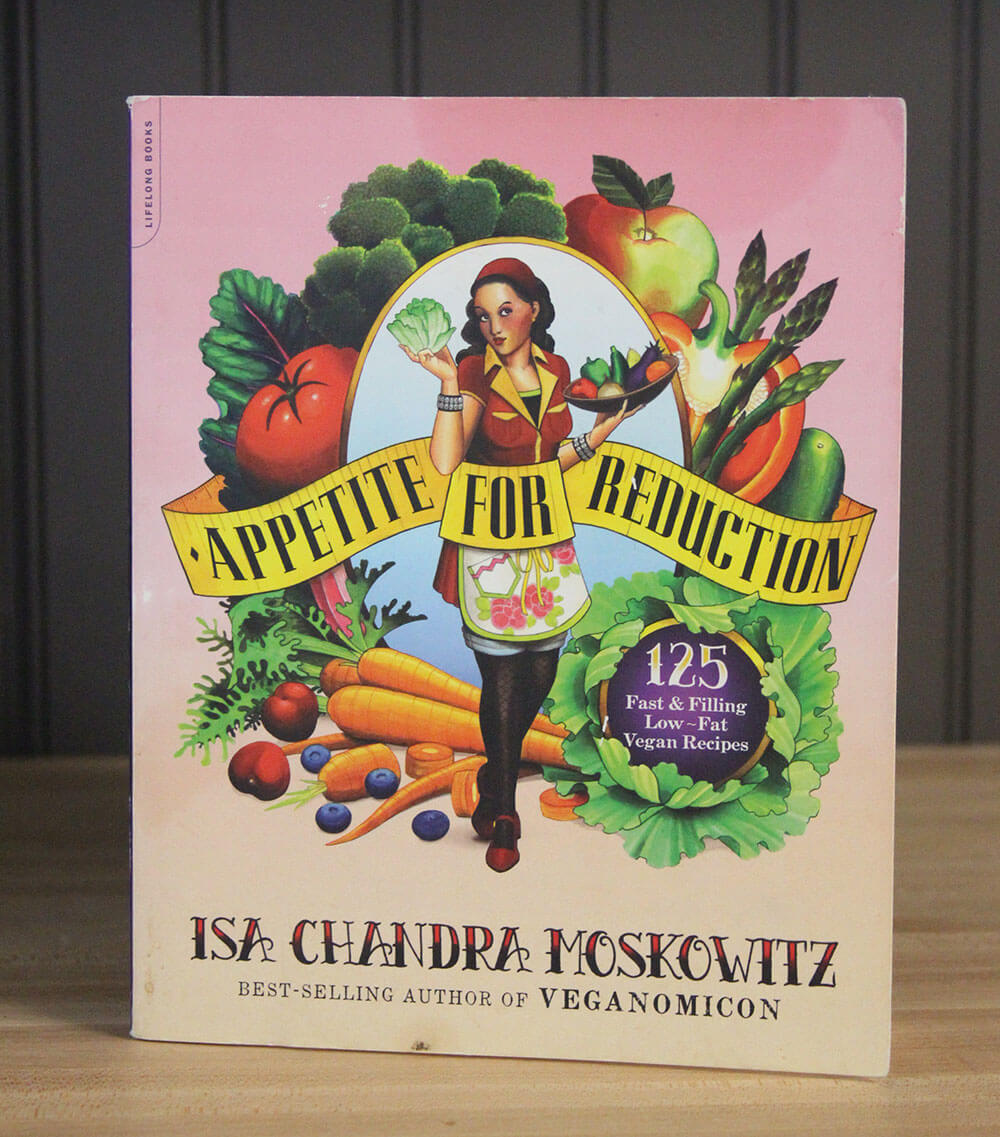 Shop on Amazon or Barnes and Noble
How did I get this far in my cookbook reviews and not do this one? I first bought it not knowing it was a "dieting" book. I jumped head first into the recipes and about few recipes into it I realized it was a low-fat, low calorie cookbook. So here I am giving the long review, but the TL:DR; it is one of my most used cookbooks that I recommend to everyone.
Photos
Biggest pitfall of this book is the lack of photos. There are a few sandwiched in the middle, which I never found particularly inspiring. I usually don't have a problem picking recipes that I want to make, they have great titles, that make it clear what to expect. But when I started to read through the book, reading each and every recipe description, I found myself making mental bookmarks of recipes I want to try when my CSA starts up. I wonder if there were photos if they would of caught my attention more. I doubt this would get a fancy reprint, but if they did, adding lots of photos I think would be AMAZING. I also noticed that there were a lot of recipes where I couldn't remember if I made them or not, which I think wouldn't of been such an issue IF there were photos.
Writing
This book has a little more writing than most books by Isa Chandra Moskowitz, at least her newer ones. She writes a lot about prepping food to be low calorie, lots of nutritional information, and great ideas for meals using the recipes in the book. For example she might suggest taking one dish and put on some pasta. Which is sad since many people would probably just gloss over these sections. As always, this book has all of Isa's usual wit, cultural references, and makes cooking seem more… blue collar? Average? I don't know what the right term is, but it definitely makes it feel like you don't need to be some thin, white, rich cis-lady to be in the kitchen.
Oh, and since it IS a dieting cookbook, I will give heads up to any types of trigger warnings. Overall I think it is VERY body positive. There are no muffin top puns, or recipes for the lowest cal cookies. Just reasonable recipes for mostly lunch and dinner. But there are calorie counters on the side of every recipe. It has some basic nutritional information, which I know can be a trigger for some people. So be warned by that. I've almost always just ignored them, so it isn't distracting if it isn't something you care about. It won't subtly discourage you from making a dish because it has too many calories (because that always happens to me when restaurants put their calorie counts on the menu)
Overview
I've read so many people say how much they love this cookbook. I think that is saying a lot since it is paperback, not as pretty as Isa's other books, not many photos, and well, a dieting book. But over and over I've heard people say they love this regardless. So I tried looking on Goodreads, and surprisingly there are people out that there don't like the book. Who knew? Why do they hate it, pretty much the recipes aren't complicated enough.
This is probably the first stepping stone to Isa Does It. Simple, easy recipes for weeknights. Not every dish needs to be rich, decadent, and primo. They can be simple and heck, you can buy that bag of pre-shredded cabbage!
So who would I recommend this book to? Someone is simply trying to eat more veggies. There are tons of recipes that use lots of veggies, and doesn't require super crazy vegan foods like nutritional yeast, fake cheese, etc. Sure you have some seitan and nooch but nothing overwhelming. I also recommend this to anyone who is trying to eat lighter, because there is one simple fact, veggies are naturally low calorie, and therefore you get to eat a lot more than on a standard american diet. I think the dishes are super yummy and are pretty easy. Plus there are plenty of ideas in the back of the book. What about someone who wants to dip their toe in vegan cooking? Well, I probably would recommend Isa Does It, over this one.
Recipes
As always, I link any recipes that are free to read and make. I try and only post online recipes that have approval of the publisher but in this case, there doesn't seem to be many. So I did post unofficial recipes, because you can easily google it yourself. I hope that seeing these recipes will inspire you to go out and BUY the book, because honestly, it is one of my favorites.
Oh and a quick note- the calorie counts in this book are pretty darn close. Some recipes I tracked for dieting reasons, and the number more or less matched the book. There was only one pasta dish that was off by 100 calories. I am not sure if it was a typo or what. But if that is a concern, there you go.

Black Beans in a Red Velvet Mole
Section: Main Event Beans
There is a divide in the household over these beans. My husband is not a fan, but then again, I don't think he is a fan of mole in general. But I love the stuff, my mother loved the dish, and so did my father. It has a super rich flavor, with a hint of chocolate and lots of bitter smokiness. She recommends just one dish to pair it with, but in the far back she recommends it for a bowl with kale, rice, and beans. It is delicious this way as well.
Black Bean, Zucchini, & Olive Tacos
Section: Main Event Beans
Recipe: Spry Living
While making this recipe it reminded me of when I made a crummy batch of refried beans. I added too much zucchini, making it not very beany. It wasn't bad, just wasn't refried beans. This dish, is very similar except it doesn't break the beans down, and there are some olives for a punch of flavor. I really liked this, though I didn't serve it with the lemon-yogurt sauce as suggested. I thought it was better to pair this off with lettuce and tomato (or more salsa verde.) I found that suggested serving was a little too much for hard shell tacos and the extra trimmings, which may or may not be a bad thing. Would I make this again? Probably, since it is a quick and easy way to use up all that zucchini during the summer.
Braised Cabbage with Seitan
Section: Rub-Your-Tummy Veggies
So many emotions about this dish. If I was served this at a friends house I would love it, praise it, maybe even ask for a recipe. But since I made it at home, it sits oddly with me. It tastes awesome, yes, but I don't know how to serve this! It ALMOST holds up by itself, just serve with a grain, but it lacks just a little bit of something of flavor. Maybe add a few extra spices? Or maybe just serve with a grain dish with more punch? Or maybe I should just serve it with an extra items and shut my mouth. Who knows. It was still really yummy, and I would probably just make this again in the near future.
Caesar Chavez Dressing
Section: Full On Salads
Recipe: Beezel Barb
I love this dressing! Just imagine me saying that in my best Oprah voice, yes I love it that much. It is briney, delicious, and coats the salad greens beautifully. I also love how it packs a big flavor punch so if you are like me and lack salad appropirate veggies, you are fine. I plan on making this again and again.
Cool Slaw
Section: Full On Salads
Recipe: The Daily Dose
I made this salad after seeing the photo for buffalo tempeh with cool slaw. I had spicy buffalo chickenless patties from Aldis, which I thought would be a nice pairing. I left out the raw onion because I didn't feel like cutting up a whole onion for 2 tbsp of minced onion, plus I am not a fan of raw onion like that.
The end result is so so. It is cole slaw and gets the job done. But I do like other varieties that have a little more flavor going on. I think in the future I would add more seasoning to it. But otherwise really quick to make and great side.
Curried Cabbage and Peas
Section: Rub-Your-Tummy Veggies
Recipe: Paris Farmers Market
Oh cabbage. Your so cheap, and in the states, you are sold in massive heads. I struggle to use you up, because well, you just aren't very glamorous. So I tried this recipe to try and add another cabbage recipe to the list. I've almost forgot how much I like it until writing up this review. It is really nice, the curry shines through and it is a great way to use peas. It is pretty simple to make, so it is great side dish. Sadly I don't make it that much, as pointed out in the photos, I think I forget about the veggie section often.
Curry Laksa
Section: Talk Pasta to Me (& Noodles!)
Recipe: Eat Me Delicious
I've made this dish quite a few times. I love rice noodles, and I love red curry paste. It is a little funny because she claims it is a great dish to have leftovers of… I strongly disagree. I mean, sure the flavors meld and the tofu soaks up the broth, but the rice noodles get bloated yet hard. Then when you heat it up the noodles over cook. I strongly suggest only cooking the amount of rice noodles you need.
But otherwise, I love the sweet and sour flavors going on in the dish. The coconut milk add just a hint of fat mouth feel. And you have long slurpable noodles. The combination is probably why I keep coming back to this recipe.
Eggplant Provençal
Section: Comfort Chilis, Curries, & Stews
Let me set the scene- my friend is coming down to visit, slightly last minute. I had to think of something I could make on the fly that she would like, used up veggies from my CSA, AND didn't involve another trip to the grocery store. This recipe fit the bill.
I am ashamed I glossed over this recipe since it seemed too fancy, or something. It was so delicious, easy to make. It was awesome. I think my favorite part is that it is delicious but includes some of the veggies I hate cooking- eggplant and fennel. I will totally be making this again this summer.
Hottie Black-eyed Peas and Greens
Section: Main Event Beans
Recipe: Isa Chandra.com
I've made quite a few different variations of black-eye peas and greens. And this one is pretty tasty, but with the name hottie, I expected something spicier. If you aren't a spice lover, I wouldn't shy away from the full tablespoon of hot sauce. It adds some nice flavor without too much heat. But since I love spice, I would probably triple the hot sauce. I served these in potato skins, which was really yummy. I would recommend serving it this way.
Irish Stew with Potatoes & Seitan
Section: Comfort Chilis, Curries, & Stews
This recipe has been hands down the most used recipe in this book. Honestly, probably it is because it uses beer and because it uses green beans and I never know what to do with them (the beans, not the beer, I know what to do with beer). I love how this recipe uses up things I get from my CSA, carrots, green beans, and potatoes. I've seen similar recipes in other cookbooks by Isa and Terry Hope Romero, but this one is the only one I've tried. The reason is simple, it is the easiest recipe to make. All the others seem just a little too complicated, while this one is super easy during a weeknight.
A quick word- I almost NEVER use seitan in the recipe. The first time I did it, my husband said he didn't like it. So we started to use kidney beans. But I eventually started to use seitan sausage links, two each recipe. This is a pretty happy compromise, but I am sure it is also because seitan probably has grown more on my husband.
Lentils and Eggplant Chili Mole
Section: Comfort Chilis, Curries, & Stews
Recipe: Spry Living
I love this recipe, and if you read the red velvet mole review, you might guess that my husband didn't love this one. I love making this because it uses up eggplant from my CSA, so great news for me. But I remember even making this way back for my wedding shower. Gosh I've had this book for a really long time, that is over 6 years ago! It was so good that I am pretty sure my friend Justine eventually got this book just for the recipe. (Justine hit me up if this true!)
What I love about this dish is that it has such a deep rich and umami flavor going on. It isn't too hard to actually make, and you get tons of leftovers. And if you are actually trying to loose weight, you get a lot food for the calories. Heck, even writing this review is making me sad that eggplants are so expensive (well, compared to me not dropping any extra $$ for my CSA)
Manhattan Glam Chowder
Section: Soul-Satisfying Soups
I think I sum this up pretty quickly. This soup is good, but not amazing. I love the creamy counter-part that is found in New England. This one felt a little weak, and probably too much like any other tomato based soups. Yeah there are mushrooms in the soup, but doesn't REALLY give that rubbery clam vibe. It isn't a big deal, just feel a little like "did we need to veganize it?"
Moroccan Chickpeas & Zucchini
Section: Comfort Curries, Chilis, and Stews
Recipe: Rocket and Roses Vegan Kitchen
I've made this recipe a fair share of times. Why? Honestly probably because it is cheap and everyone who has access for fresh produce (maybe a friend is growing a garden, CSA, whatever) usually has zucchini coming out of their ears. The other ingredients are pretty cheap and are usually kicking around the house, so it is perfect for a last minute recipe.
As for flavors, it isn't as dense and comforting as a normal moroccan tangine, but fairly light, which actually makes it great for summer. Or maybe I am just saying that since I almost always just make it during the summer? This is one of those few recipes that makes me think "low-fat" or "low-cal" but it is still really delicious.
Mushroom & Cannellini Paprikas
Section: Main Event Beans
Recipe: Rachel's Bite
This is really a nice mix of flavors. The mushrooms and paprikas adds nice flavor to the cannellini beans. I ate it with the suggested Scarlet Barley, the soft beans and slippery mushrooms contrasts the robust plump barley. There is plenty of flavor coming through, and is a perfect warming dish for the winter months. This is a dish that my mother has even made for herself and loved it as well.
Pasta de los Angeles
Section: Talk Pasta to Me (& Noodles!)
I've made this a few times and I really like this, though there is a logical part of me that cringes at the idea of loose beans in my pasta. I am not really sure why to be honest. It pretty much has some whole wheat angel hair pasta tossed in a lightly cooked tomato sauce with beans and jalepenos. It is a quick dinner to put together, on the table in 30 minutes.
Peanut-Lime Dragon Dressing
Section: Full On Salads
Recipe: The Punk Housewife
I made this dressing to have for salads, sometimes resembling the Pad Thai salad it was designed for. But I don't think I would make this recipe again, it was WAY too thin. Sure it clocks in at 60 calories, with lots left for coating, but I would of rather to have less dressing that would coat better. The flavors are pretty awesome, so maybe I would get better results if using a peanut powder, or just making it higher calories with more peanuts.
Scarlet Barley
Section: Totally Stuffed Sides
Recipe: Rachel's Bite
This was a popular dish, though I rarely make it (I think just because it has been a light year for beets.) This is a pretty easy dish to make, mostly cook the barley, add grated beets, a little extra cooking. I've made a similar dish with beet risotto, but I like how strong the barley is. Chewier and compliments the beets better.
I think what I really like about this dish is that you can get a fill of a grain outside of rice and wheat. No it isn't gluten free, but I don't think that is that big of an issue. I even made the barley for Thanksgiving dinner, and my in-laws loved the barley so much they asked for the recipe. It is a great way to give a little twist to the very normal grain.
Smoky Split Pea Soup
Section: Soul-Satisfying Soups
I love a split pea soup, and it felt like ages since I've made it, so why not? I was a little disappointed. I pureed the soup, because I was in the mood for it. But it would normally be chunky, and sometimes I like that. Overall I felt like either the portion size is SUPER small, or too much stock evaporated on a big oops on my part. BUT it is a good soup.
Sushi Roll Edamame Salad with Green Onion-Miso Vinaigrette
Section: Full On Salads
Recipe: Shutterbean
I've made this salad so many times. It is quick and easy to make, and it makes a great salad to meal prep with. The short grain brown rice stores well, and so does the other veggies. Honestly, who doesn't love a deconstructed sushi roll?
My husband and I both LOVE the vinaigrette, but the onion can be a bit overwhelming. But we often make it anyways since my husband prefers the onion to any carrot based dressing. Oh well.
Sweet Potato Drop Biscuits
Section: Comfort Chilis, Curries, & Stews
Recipe: Picture Pups and Pies
I think I've made these biscuits quite a few times, but never for a recipe in this books. I think I've mainly made them for a family get together, like Thanksgiving. They are pretty simple to make, especially if you roast sweet potato and have some puree sitting around. It comes together quickly, but they aren't the prettiest (hence the whole 'drop' thing.) I'll make them over and over again, since the flavor and ease of making are very rewarding.
Tortilla Soup
Section: Soul-Satisfying Soups
Recipe: The Southern Vegan
This is probably the best vegan tortilla soup I've ever had. I use to swoon over totilla soup, and once turned vegan, I found it was hard to find a good bowl (mind you it was hard to find a good non-vegan bowl as well.) This has just the right about of tomato puree to watery stock ratio. I like the use of pinto beans (please, no tofu!) and corn. The recipe is super easy to make, and uses a lot of pantry stable ingredients, making it an easy "oh shit what will I make?!" type of nights.
Tamarind BBQ Tempeh & Sweet Potatoes
Section: Sink-Your-Teeth-Into Tofu & Tempeh
Recipe: Taste Space
I've made this a few times in my day. It is a great way to use up some sweet potatoes. I think I was drawn to the recipe over the other protein tofu/tempeh recipes because of the sweet potato. Making more of a stand alone dish than just a protein. It is also really easy to put together. Just mix and bake, and get some rice/grain cooking and you can just sit back and relax. I love how you can just mix together your own DIY BBQ sauce. Plus tamarind is never appreciated as much as it should.
Tempeh Helper
Section: Talk Pasta to Me (& Noodles!)
Recipe: Isa Chandra.com
I never had hamburger helper when I was little, so I was actually fairly clueless about making this recipe. I even asked my husband when I was done if I had to mix the cheese sauce with the pasta. He said he never had hamburger helper either when he was a kid. I had a moment of "what the fudge did I just make?" It was worth it. I make it all the time and is a favorite of my husband.
The only things I consistently switch up is I use vegetable broth instead of water mixed with broth powder. This is mostly because I can't find broth powder in stores. I also like using a little butter and milk in the cheese powder make it more rich. Although the recipe uses tempeh, I will switch it up from time to time with TVP. It's cheaper, and higher in protein. But this is so easy to make, and so pantry friendly I've made it so so many times.
Yam & Black Bean Soup with Orange & Cilantro
Section: Soul-Satisfying Soups
Here is another example of mixed reviews for a recipe. I loved this dish, but husband was not a fan. Because of this I only made this dish once. So sad. I love the orange with the yams, although oranges are sweet, it added enough of a sour component to counteract all the sweetness. There is so much flavor and texture going on, that you would never know it was only 240 calories.