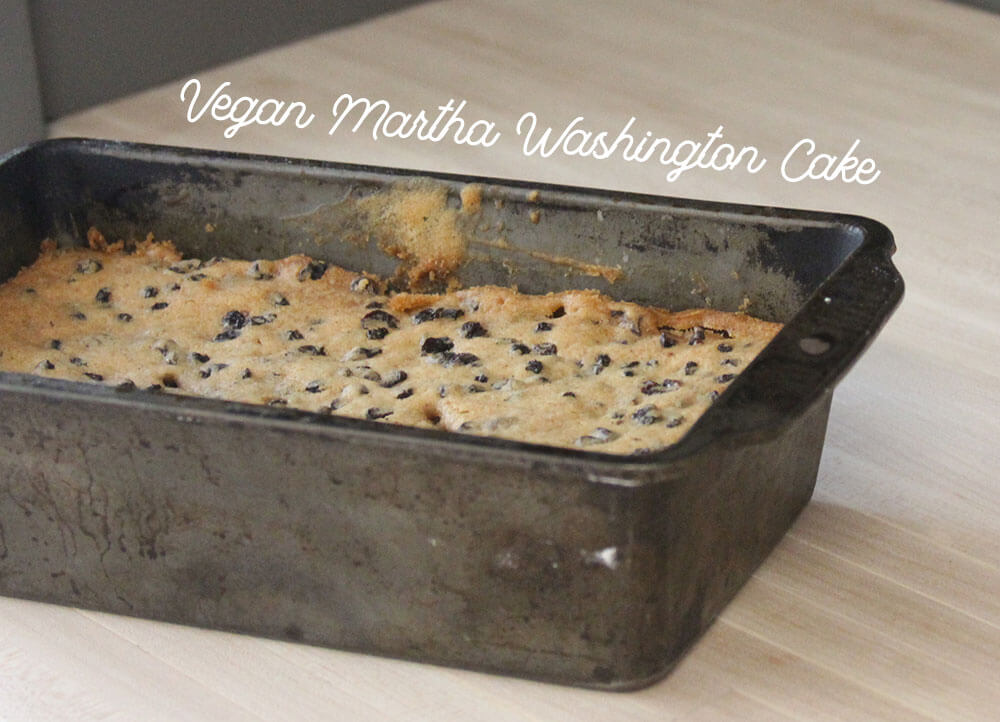 This is a cake I was very excited to try out. I never really had too many fruit cakes, but I found the photos very interesting. There was something very pretty about a pretty golden cake with lots of little berries baked inside. And there was also booze in the cake. I am always down with that. This cake has been altered quite a bit in the American Cakes cookbook. Many changes I am happy about, omitting the citron and lemon peels, and using white wine instead of the more heavy sweet fortified wines like brandy or madeira. Many online recipes also offer a frosting/icing to go on top of the cake, which I think it is too much. This is a rich dense cake, very similar to a pound cake with spiked fruit inside. I think it stands very well by itself.
This cake was made by Martha Washington– the first First Lady. She supposedly made this cake when George was returning home from serving as president, making it in time for Christmas. The recipe was written down by her Great Granddaughter Martha Parke Custis and is the main reason why the recipe still survives today.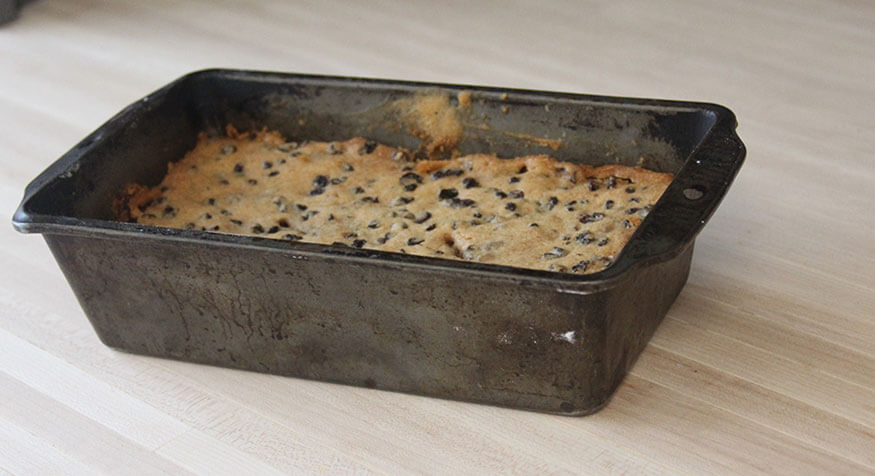 Another thing that I liked from it's modern adaptation is how much it has been scaled down. Part of the "great" in "great cake" is the sheer size. Readers of the blog might remember me describing the massive size of Election Cakes, and this cake was quite large as well.
Take 40 eggs & divide the whites from the yolks & beat them to a froth then work 4 pounds of butter to a cream & put the whites of eggs to it a spoon full at a time till it is well work'd then put 4 pounds of sugar finely powder'd to it in the same manner than put in the Youlks of eggs and 5 pounds of flower and 5 pounds of fruit, 2 hours will bake it add to it half an ounce of mace and nutmeg half a pint of wine & some fresh brandy.
I've even taken the size of the recipe down even further! The original recipe calls for a pound of currants, and I had to buy bulk organic currants. It wasn't terribly expensive, but I found that the currants were quite old, and very dry. So they soaked up a LOT of wine. I later found that it was easier to find 10 oz boxes. The original recipe calls for a larger than normal loaf pan, so I figured I would scale the 16 oz currants to one box. I crunched the numbers and worked out well.
When I first baked the cake I replaced the butter for oil thinking that it would be dense enough to handle the softer texture. I added some baking soda to the mix for some rise, as the original recipe didn't. And finally I replaced the eggs with aquafaba since the cake was light in color and I wanted to keep it flax fleck free. As I started to mix the aquafaba to the sugar-oil mix, I noticed it acting very similar to a pound cake. It made me wonder if I could skip the leavening agent all together.
So the second time making the cake was when I scaled down the size, and baked like a normal pound cake. I was VERY nervous. But it worked! Surprising I know! The photos might look like the cake is under baked, and it might of been just a smidge. I think I over soaked the currants (I did it overnight) making the cake a little too moist. But the texture was definitely cooked!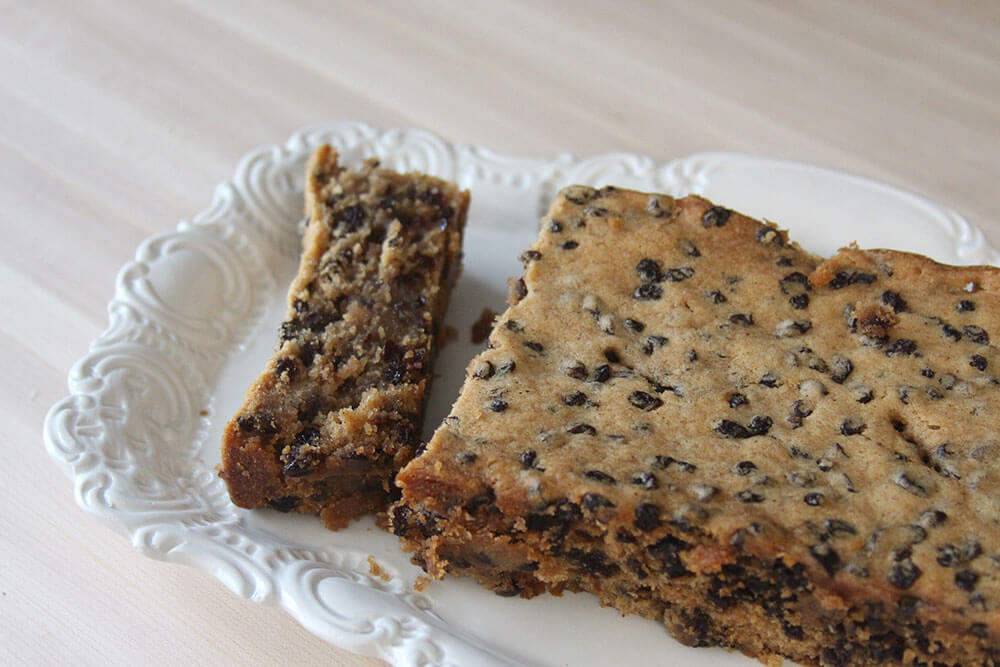 So here are some important notes about the ingredients. You will want a nice white wine. Pick something you would drink, but still have it be on the lower end of cost. I omitted the mace from the recipe, but it should traditionally be in there. I also used Earth Balance and specified it in the recipe. It worked for this, but I can not promise how homemade butters would work.
The oven is also on low and slow! This cake takes over 2 hours to bake! Plus 2 hours of soaking! This is going to take a loooong time to make, but very hands off. I hope this doesn't scare off too many people, because this does make a great cake for the holiday season. One that might get people to question what they think of a "fruit cake."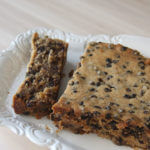 Martha Washington Great Cake
2018-03-12 12:14:42
This classic American cake gets and updated with vegan ingredients and sized down for a more commonly used cake pan
Ingredients
10 oz currants
4-6 oz white wine
5/8 cup sugar (1/2 cup + 2 tbsp or 4.5 oz)
5/8 cup Earth Balance butter (1/2 cup + 2 tbsp or 5 oz)
8 tbsp aquafaba*
1 1/4 cup all-purpose flour (7 oz)
1/4 tsp salt
3/4 tsp cinnamon
3/4 tsp nutmeg
3/4 tsp mace** opt
Instructions
1 Two hours before cooking, soak your currants with the white wine. Depending on how old the currants are, you might need to add a little more white wine. I would not add more than 6 oz, otherwise the will be too moist. Let the currants soak for 2 hours, or more.
2 Preheat the oven to 250°F (yes that cool!) Grease and flour a loaf pan, sized at 8.5x4.5x3.5 inches. This is a standard size. Set aside.
3 Drain the currants, making sure you save 2 oz or 1/4 cup of the wine. If you need more, use some regular white wine. Set both aside
4 Beat the sugar and earth balance with an electric mixer, until light and fluffy. It should take 3 to 4 minutes. Add the aquafaba in 4 different batches (about 2 tablespoons worth). Beat for a minute with each time you add the aquafaba, scrapping down the sides as needed.
5 In a bowl, combine the flour, salt, cinnamon, nutmeg, and mace. Add the flour and wine to the sugar-butter-aquafaba batter, alternating between flour mixture and wine, finishing with flour (flour, wine, flour, wine, flour). Carefully fold in currants.
6 Add the batter in the pan, and place in the oven. Bake for 2 1/4 to 2 1/2 hours. Test the cake with a toothpick, making sure it comes out of the cake clean. Let the cake cool for 15 minutes on a metal rack. Run a butter knife on the edge of the cake, making sure it doesn't stick to the pan. Flip onto a rack and turn it upright and let it cool completely.
Notes
* Aquafaba is the water that beans are cooked in. I specifically used the drained water from canned white beans. Water from canned chickpeas should work as well.
** Mace can be expensive so I left it out. The original recipe calls for it, so if you have it feel free to add it in.
Adapted from American Cake
Adapted from American Cake
One Raw Bite https://one-sonic-bite.com/